This novel is the third book in the popular Bridgerton series, which has captured the hearts of readers worldwide. Set in Regency-era England, Romancing Mister Bridgerton follows fan-favorite Penelope Featherington and her pining of one Colin Bridgerton.
This romantic comedy is stuffed full of witty dialogue, charming characters and isn't without some steamy scandals! Join us as we dive into the world of Bridgerton by Julia Quinn and explore the romance and drama of Regency-era England.
This book is as relatable as it is entertaining.
Taniska, Google Reviews
Table of Contents [CLICK HERE TO OPEN]
About the Series
The Bridgerton series is a collection of romance novels written by Julia Quinn. The series is set in the Regency era of England, and follows the lives of the eight Bridgerton siblings as they navigate love, marriage, and society. Each book in the series is centred on one of the siblings, and follows their love story as they find their happily ever after. The series has gained a large following and has been adapted into a popular Netflix show.
There are nine books in the series:
We are also blessed with a number of collections , as well as two collections:
The Wit and Wisdom of Bridgerton (Lady Whistledown's Official Guide)
The Further Observations of Lady Whistledown
Lady Whistledown Strikes Back
Official Description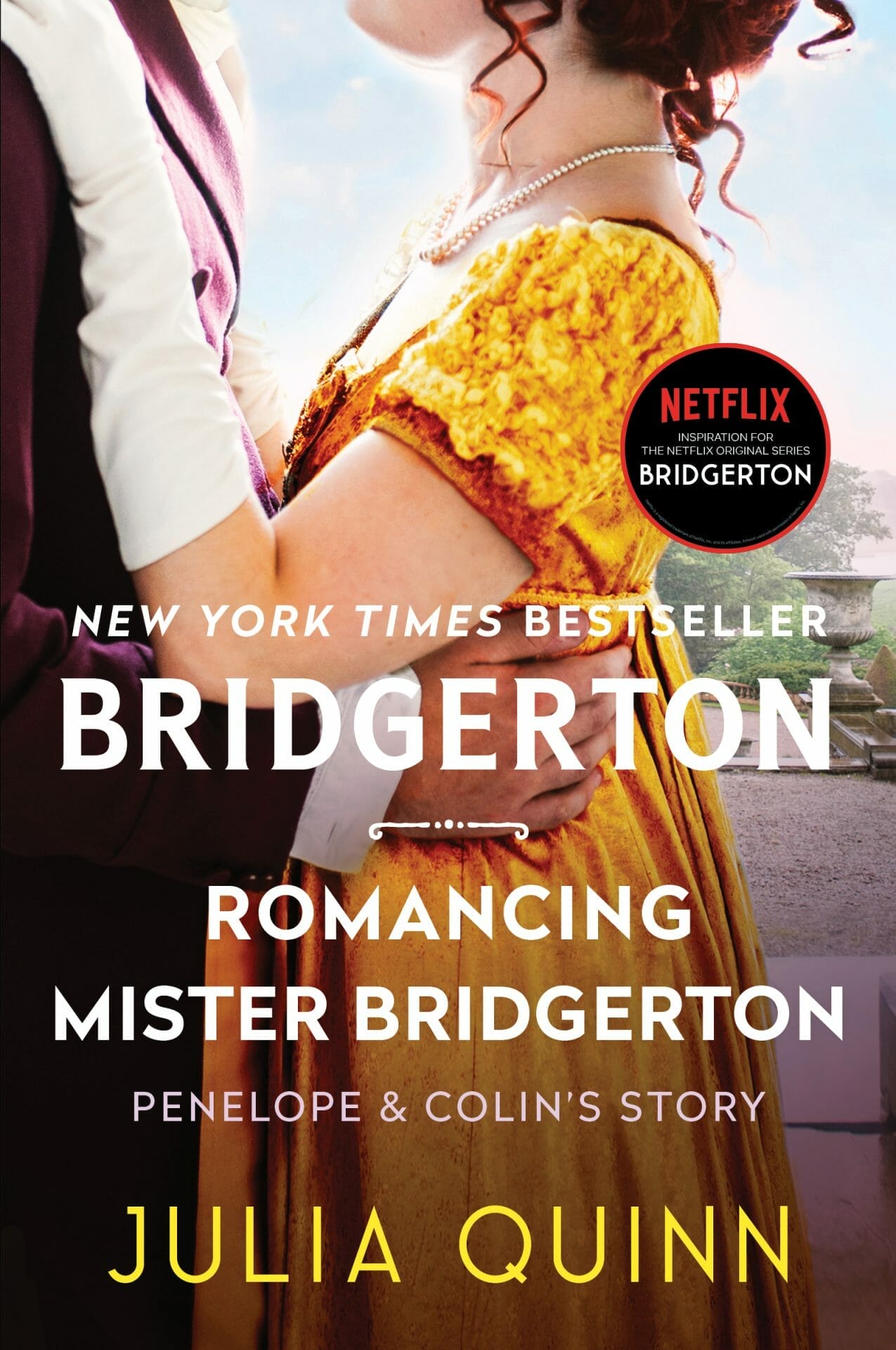 Romancing Mister Bridgerton
PENELOPE & COLIN'S STORY
Penelope Featherington has secretly adored her best friend's brother for . . . well, it feels like forever. After half a lifetime of watching Colin Bridgerton from afar, she thinks she knows everything about him, until she stumbles across his deepest secret . . . and fears she doesn't know him at all.
Colin Bridgerton is tired of being thought of as nothing but an empty-headed charmer, tired of the notorious gossip columnist Lady Whistledown, who can't seem to publish an edition without mentioning him. But when Colin returns to London from a trip abroad, he discovers nothing in his life is quite the same—especially Penelope Featherington! The girl who was always simply there is suddenly the girl haunting his dreams. When he discovers that Penelope has secrets of her own, this elusive bachelor must decide . . . is she his biggest threat— or his promise of a happy ending?
Our Overview
"I love you with everything I am, everything I've been, and everything I hope to be. I love you with my past, and I love you for my future. I love you for the children we'll have and for the years we'll have together. I love you for every one of my smiles and even more, for every one of your smiles".

Julia Quinn, Romancing Mister Bridgerton
We follow the lovely young lady Penelope. She has loved Colin since she was 16. She had come to terms with the fact that the two of them are not suited, years later and working as a spinster, she appreciates the friendship they maintain. Back home from travels, Colin slowly begins to see Penelope in a new light. Colin and Penelope share some sweet moments together while uncovering the truth about the mysterious society paper writer.
The pair are at a ball, when Lady Danbury announces that she will give £1,000 to the person who unmasks Lady Whistledown. As the Bridgerton and Featheringtons discuss the society papers, it becomes slowly clear that the Lady could be anyone.
Colin kept a journal while on his travels. Penelope sees it and adores his penmanship and writings. The two grow closer, and Colin eventually comes to Penelope to confide that he believes Eloise is Lady Whistledown. She disagrees, but he points out that someone else may accuse Eloise and words are very powerful. In an effort to prove his point, he says that if he publicly stated that he seduced Penelope, her reputation would be in ruin. No matter the truth. This hypothetical leads to both minds racing and Penelope asks him to kiss her.
Colin finds himself confused about his emotions and leaves. He regrets leaving her so briskly and plans to apologise at a ball a few days later. However, the moment is stolen as Cressida announces that she is Lady Whistledown.
The next day he goes out to apologize to Penelope and he sees her going to a bad part of the city. She leaves an envelope behind a prayer book. Confronting her, he opens it and discovers that she is Lady Whistledown, resulting in an argument.
They continue to fight en route home, but the fighting soon turns into something else. As Penelope gets out of the carriage, Colin proposes to her. Everything seems honey-sweet, until the couriers come in with a new Lady Whistledown column. Colin is furious, and takes her somewhere private to argue but in the heat of the moment, he realises how deeply he loves her.
The pair get married. Things go well until Cressida shows up to blackmail Penelope. She has figured out the secret. Colin takes care of the situation by announcing what his wife did while they are at a ball.
Our Review
It's so nice to see Penelope taking center stage! The overlooked girl who is considered "left on the shelf" growing into a well-spoken and confident woman. She is a remarkable leading character. She might not fit the image of ideal woman for that time period, all the more reason to love her! Penelope is intelligent, vibrant, and terribly brave.
Colin and Penelope together make an especially charming couple. Colin is playful and he's fairly fun to read! There's a level of relatableness to his character which is a little surprising given the time and setting of the novel.
As always, the Bridgerton family dynamics make these books so much fun. It's delightful to see all the sibling bickering and Violet (Mama Bridgerton) rolling her eyes at her children's outrageous behavior.
Not to mention that Penelope was harbouring such a colossal secret! We can hardly believe it. The ending of the novel set us up perfectly for novel #5, To Sir Phillip, With Love . We can hardly wait! Four down, four to go!
Overall Rating: ★★★★★
Fancy More…?
The Netflix Series
The hit Netflix series has taken off as an international sensation. With Bridgerton being renewed for season 3 and 4, we will surely be seeing the adaptation of Romancing Mister Bridgerton soon. Note that there are some differences between the novel and the series! We'd suggest both watching the series and reading the novels 😉
It's been confirmed that Season 3 will follow Penelope and Colin's love story – so be sure to get yourself all caught up in the series before it's released!
Let's take a look at what our favorite cast are up to!
---
Frequently Asked Questions
Do Colin and Penelope get married?
Colin and Penelope do get married at the end of the novel. Oh, how we love a happy-ever-after!
What is Romancing Mister Bridgerton About?
In Romancing Mr Bridgerton we follow the pining Penelope and follow as her unrequited love, Colin, slowly falls for her beauty and charm. Not to mention the whole 'who is Lady Whistledown' saga!
Do Colin and Penelope have a baby?
By the end of the Bridgerton series, Colin and Penelope pair share four lovely children.
Is Penelope fat in the books?
'Fat' isn't a bad word, people! We've got endless love for all body types, and Penelope is relentlessly beautiful! In the books she is described as being 'cloaked in baby fat'. Perhaps the books may have made more effort to be gentle with their wording, as there are some more descriptors that we'll leave out here.
---
What did you think about An Offer From A Gentleman? Let us know!