It's almost time for Bridgerton Season 2! It has felt like a very long wait since the launch of Season 1 wayyyy back in December 2020. But here we are, only days away from the launch of Season 2! Sadly, we won't be seeing any more of the Dashing Duke played by the delectable Regé-Jean Page as his character arc concluded in season 1. But we do have our new hot lead in the form of Viscount Anthony Bridgerton, played by Jonathan Bailey.
Starting out as a novel series by Julia Quinn, Bridgerton transformed into a hit Netflix series that by this point in time – who hasn't already seen it? And now is the time to get excited because Bridgerton season 2 is on the horizon! Mark your calendar – it's coming March 25. We have rounded up everything you need to know about the new season – cast, what to expect, a guide to the book series and we've even thrown in some fun facts! So check out everything you need to know about Bridgeton Season 2 right here!
Bridgerton Season 2 Trailer
About Bridgerton
It all started with the 9 book series from Julia Quinn, which are saucy and steamy period romps which follow 8 close knit siblings seeking love in high society London in the Regency Era. Then the book series was commissioned for a Netflix TV Series which premiered on December 25, 2020. The TV show proved to be just as sexy as the book series and we were all taken with a certain Duke, played by Regé-Jean Page.
The eight-episode first season was an instant hit and met with gushing positive reviews. It has since become the most watched series on Netflix with a viewership of 82 million household and the series reached No. 1 in 76 countries. To everyone's relief in January 2021, the series was renewed for a second season. In April 2021, creator Van Dusen revealed that the series had additionally been renewed for a third and fourth season so thankfully we have loads more Bridgerton to look forward to!
Bridgerton Season 2 – What We Can Expect
Bridgerton Season 1 was based on the first book in the Bridgerton series from Julia Quinn, The Duke And I. Season 2 will then follow the next book in the series, The Viscount Who Loved Me. This book and therefore Season 2 will focus on the romance between Anthony and Kate, played by Jonathan Bailey and Simone Ashley respectively.
Anthony is the oldest Bridgerton sibling and in Season 2 we will find him embarking on a quest to find a bride. During his search he meets the Sharma sisters, Kate and Edwina (played by Charithra Chandran). Kate initially deems Anthony to be a rogish rake and she takes steps to prevent her sister becoming involved with him. But as the two clash and spar it begins to bring the couple closer together.
Aside from the new romance it is also expected that Penelope Featherington also known as Lady Whistledown, played by Nicola Coughlan will be scribbling up trouble once again. As well as her scandalous antics it has been teased that we might get to see more of the relationship between Penelope and Colin Bridgerton. So there is much to look forward to!
Bridgerton Season 2 Cast
As we have previously mentioned Regé-Jean Page is not back for Season 2 but he hasn't ruled out a possible appearance so we can hope for a small glimpse of the dashing Duke! Phoebe Dynevor will be back but probably in a more minor role than season 1. The main cast will be Jonathan Bailey as Anthony and Simone Ashley as Kate. Along with Charithra Chandran as Edwina, Kate's sister. Shelley Conn will also be joining the cast as the mother of the Kate and Edwina, Lady Mary Sharma.
Also new to the cast are Calam Lynch who will playing Theo Sharpe and Rupert Young assumes the role of Jack, the newest member of the ton.
The cast members that are widely expected to reprise their roles are Julie Andrews as the voice as Lady Whistledown. As well as Nicola Coughlan as Penelope Featherington and Golda Rosheuvel as Queen Charlotte. Joining them should be the rest of the core cast Claudia Jessie (Eloise Bridgerton), Adjoa Andoh (Lady Danbury), Ruth Gemmell (Lady Violet Bridgerton), Polly Walker (Lady Portia Featherington), Luke Thompson (Benedict Bridgerton) and Luke Newton (Colin Bridgerton).
The Bridgerton Series Books That Started It All
So we've covered everything about the TV show. Now get ready for the Bridgerton series books that started it all. Bridgerton series one mostly follows Simon and Daphne's relationship, which falls in line with book one. But that's not where the story ends. Many of the much beloved characters from the Bridgerton family have their own relationships too. And we've even added in some fun facts about your favorite actors from the show! Julia Quinn first released The Duke And I all the way back in 2000, so 20 years before the TV show started. The Duke And I follows the relationship of Simon Basset and Daphne Bridgerton – basically the same as the first season of the Netflix show. The series ended with the eighth and final book in 2006, which follows Gregory Bridgerton

Book 1 – The Duke And I
Simon Basset is on the verge of proposing to his best friend's sister – the lovely and almost-on-the-shelf Daphne Bridgerton. But the two of them know the truth – it's all an elaborate ruse to keep Simon free from marriage-minded society mothers. And as for Daphne, surely she will attract some worthy suitors now that it seems the duke has declared her desirable. And yet, despite their courtship being a sham, somehow Daphne is falling for the dashing duke.

Book 2 – The Viscount Who Loved Me
London's most elusive bachelor Anthony Bridgerton hasn't just decided to marry – he's even chosen a wife. The only obstacle is his intended's older sister, Kate Sheffield. The spirited schemer is driving Anthony mad with her determination to stop the betrothal, but when he closes his eyes at night, Kate's the woman haunting his dreams. And Kate fears that her own heart is vulnerable to the most wicked rogue's charms.

Book 3 – An Offer From a Gentleman
Sophie Beckett never dreamed she'd be able to sneak into Lady Bridgerton's famed masquerade ball – or that 'Prince Charming' would be waiting there for her! Though the daughter of an earl, Sophie has been relegated to the role of servant by her disdainful stepmother. But now, spinning in the strong arms of the debonair and devastatingly handsome Benedict Bridgerton, she feels like royalty. Alas, she knows it all must end when the clock strikes midnight.

Book 4 – Romancing Mister Bridgerton
Penelope Featherington has secretly adored her best friend's brother for what feels like forever. After half a lifetime of watching Colin Bridgerton from afar, she thinks she knows everything about him, until she stumbles across his deepest secret and fears that she doesn't know him at all.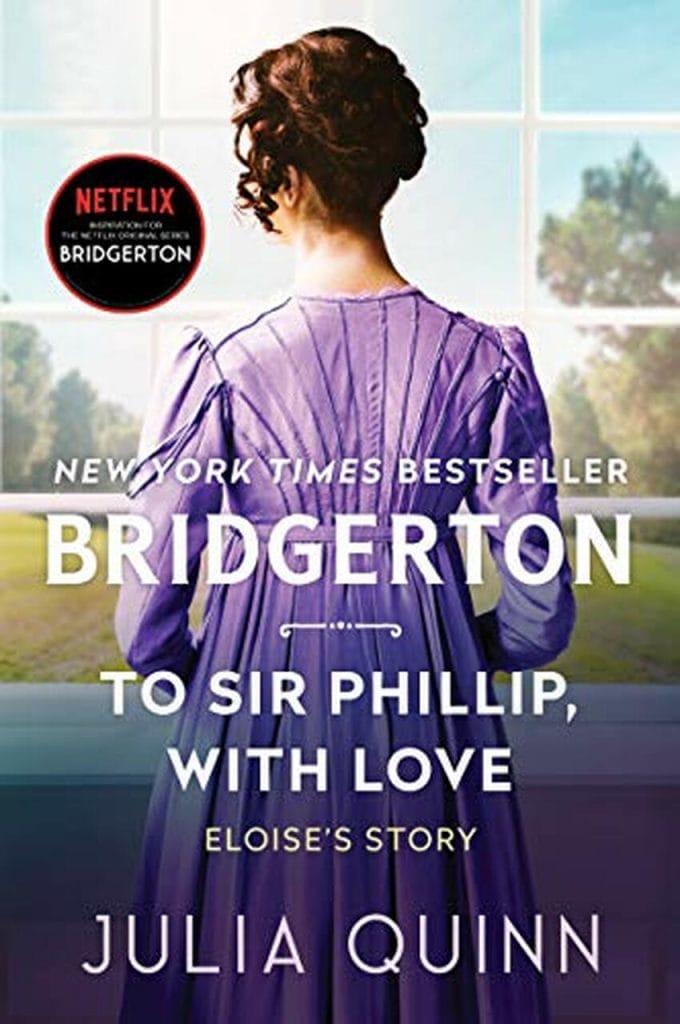 Book 5 – To Sir Phillip, With Love
Moody and ill-mannered, but handsome Sir Phillip knew that Elise Bridgerton was a spinster, and so he'd proposed figuring that she'd be homely and unassuming, and desperate for an offer of marriage. But he was wrong. The beautiful woman on his doorstep was anything but quiet, and when she stopped talking long enough to close her mouth, all he wanted to do was kiss her.

Book 6 – When He Was Wicked
In every life there is a turning point. For Michael Stirling, London's most infamous rake, that moment came the first time he laid eyes on Francesca Bridgerton. After a lifetime of chasing women or being chased, he took one look at Francesca and fell so fast and hard in love that it was a wonder he managed to remain standing. Unfortunately, their meeting was a supper celebrating her imminent wedding to his cousin.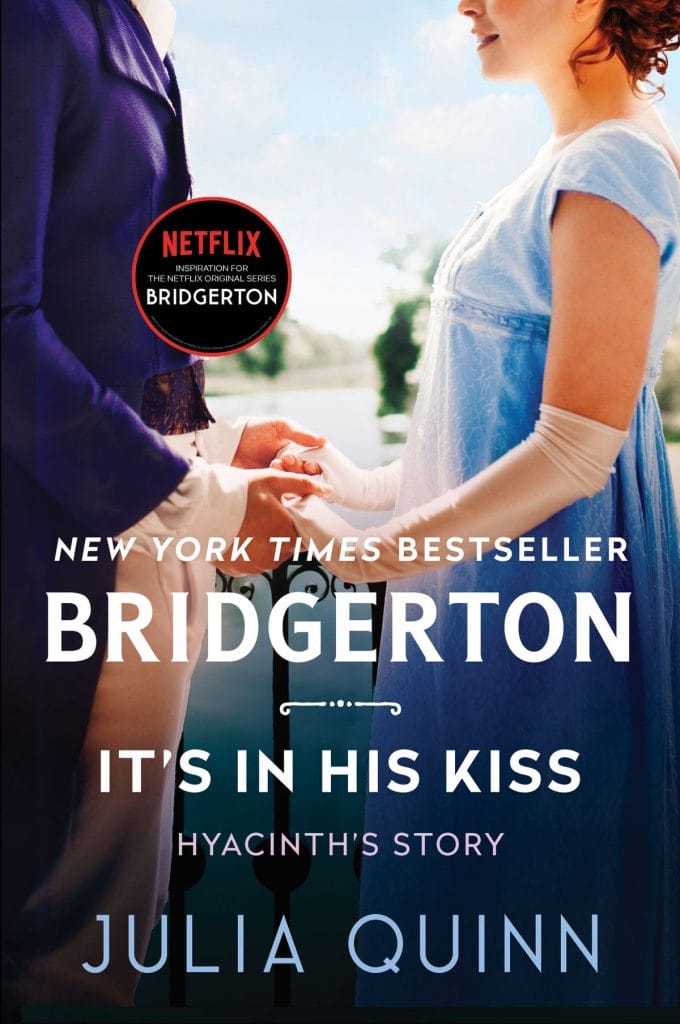 Book 7 – It's In His Kiss
Gareth St. Clair is in a bind. His father, who detests him, is determined to beggar the St. Clair estates and ruin his inheritance. Gareth's sole bequest is in an old family diary. Written in Italian, of which Gareth speaks not a word. Luckily, he comes into contact with Hyacinth Bridgerton, who offers to translate the diary – even if her Italian is slightly less than perfect.

Book 8 – On Th Way To The Wedding
Unlike most men of his acquaintance, Gregory Bridgerton believes in true love. And he is convinced that when he finds the woman of his dreams, he will know in an instant that she is the one. And that is exactly what happened. Except Miss Hermione Watson is in love with another. But her best friend Lucy wants to save Hermione from a disastrous alliance, so she offers to help Gregory win her over. But in the process, Lucy finds herself falling for Gregory herself.

Novella – The Bridgertons: Happily Ever After
The Bridgertons: Happily Ever After includes a novella featuring Violet Bridgerton, beloved mother of the eight Bridgerton siblings, in addition to second epilogues for The Duke and I; The Viscount Who Loved Me; An Offer from a Gentleman; Romancing Mister Bridgerton; To Sir Phillip, With Love; When He Was Wicked, It's in His Kiss; and On the Way to the Wedding sure to satisfy the legions of Julia Quinn fans.
Bridgerton Season 2: Cast Facts
Disappointingly, Regé-Jean Page will not be returning in any of the further seasons as his character Simon's story has been resolved. If the series continues to follow the books, Simon would have only had a very minor part as the rest of the seasons would focus on other couples in the Bridgerton family.
Jonathan Bailey (Viscount Anthony Bridgerton)

He Starred In A Musical Alongside Matt Smith
Bailey was Tim Price in the musical of American Psyhco. Also in this musical was Matt Smith, who is best known for his roles in Doctor Who and The Crown. Additionally, Bailey starred in King Lear, alongside Ian McKellen, Sinéad Cusack and Dervla Kirwan.
He Decided He Wanted To Be An Actor At The Age Of Five
After watching a stage production of Oliver!, Bailey decided he wanted to be an actor. Even though he was only five at the time, he stuck to his dream and now he's an actor that we love!
Simone Ashley (Kate Sharma)
You probably recognize her from some other Netflix show
That's right! Ashley starred in other hit Netflix show Sex Education as Olivia Hanan. She also had cameo roles on Casualty, Doctors, and L'ispettore Coliandro. As well as this, Ashley starred in Detective Pikachu as a minor role!
She comes from a household of academics
Born to Sri Lankan Tamil parents Latha and Gunasekharan, Ashley is from Camberley, Surrey and has an older brother. Despite growing up in a household of academics, Ashley was always drawn to more creative fields. So, she grew up singing classical music and opera and playing piano.
Charithra Chandran (Edwina Sharma)

Bridgerton Is Only Her Second TV Role
If Charithra's face isn't familiar that's because Bridgerton is only her second TV role. She previously appeared in but Bridgerton is her first major role. We are sure that this is just the start of a fantastic career though!
She Is Fluent In Three Languages
Charithra is fluent in English, Hindi and Tamil. That is impressive!
Phoebe Dynevor (Daphne Bridgerton)
Her Mother Is Also Famous
Phoebe Dynevor is the daughter of Sally Dynevor, who is best known for her role as Sally Webster in Coronation Street – a role that she's played since 1986!
Dynevor Will Make Her Feature Film Debut Soon
Dynevor will star in The Colour Room and it will be her feature film debut. It is based on the life of 1920s and 1930s ceramic artist Clarice Cliff, who Dynevor will be playing. Also starring in The Colour Room is Matthew Goode, David Morrissey, Darci Shaw, Kerry Fox and Luke Norris.
Claudia Jessie (Eloise Bridgerton)
Jessie is vegan
As well as being vegan, she also practices mediation (for at least an hour a day). And she has regularly practised Nichiren Buddhism since she was 17 after her aunt introduced her to it.
She Took Ballet Lessons
Jessie was raised only by her mother, Dawn, who worked cleaning houses to provide for the family and to afford Jessie's ballet lessons. She was then discovered by Hannah Phillips who cast her in a lot of local productions. In 2012, she signed with an agent, which was when she had her first roles as Rosie in the short film Rosie and a cameo in Doctors. The year after that, she made several more appearances in shows like House of Anubis, Casualty, The Paradise and more.
How excited are you for Bridgerton season 2? Let us know!
If you love Bridgerton, then you may like: