We're so happy to announce that our favorite historical drama is coming back for a third (and fourth) season! It's been a long wait, with season 2 having been released in March 2022. Sadly, we still have a little bit to wait yet! There's been no official release date, but that doesn't mean we can't get excited for Bridgerton season 3!
Starting out as a novel series by Julia Quinn, Bridgerton transformed into a hit Netflix series that by this point in time – who hasn't already seen it? And now is the time to get excited because Bridgerton season 3 is on the horizon! We have rounded up everything we know about the new season – cast, what to expect, a guide to the book series, as well as answering some burning questions. So check out everything you need to know about Bridgerton Season 3 right here!
Table of Contents [CLICK HERE TO OPEN]
About Bridgerton
It all started with the 9 book series from Julia Quinn, which are saucy and steamy period romps which follow 8 close knit siblings seeking love in high society London in the Regency Era. Then the book series was commissioned for a Netflix TV Series which premiered on December 25, 2020. The TV show proved to be just as sexy as the book series and we were all taken with a certain Duke, played by Regé-Jean Page.
The eight-episode first season was an instant hit and met with gushing positive reviews. It has since become the most watched series on Netflix with a viewership of 82 million household and the series reached No. 1 in 76 countries. To everyone's relief in January 2021, the series was renewed for a second season, which aired on March 25th, 2022. In April 2021, creator Van Dusen revealed that the series had additionally been renewed for a third and fourth season so thankfully we have loads more Bridgerton to look forward to!
Bridgerton Season 3 – What We Can Expect
Bridgerton Season 1 was based on the first book in the Bridgerton series from Julia Quinn, The Duke And I. Season 2 followed the second book in the series, The Viscount Who Loved Me.
We can expect that Bridgerton season 3 will then follow the love story of another sibling. Surprisingly, season 3 will follow the fourth book, Romancing Mr. Bridgerton which will follow the romance between Miss Penelope and Colin Bridgerton, played by Nicola Coughlan and Luke Newton respectively.
Should the series follow the book, we can expect Sophie to sneak into Lady Bridgerton's masquerade ball, where she will meet Benedict. This was confirmed by Nicola Couglan (known for her role as Penelope Featherington) on Instagram.
"Like Lady Whistledown I've been keeping quite a big secret for quite a long time… but I can finally tell you that @bridgertonnetflix Season Three is Colin and Penelope's Story ❤️," Nicola announced the news on Instagram.
Kate And Anthony
It was revealed that Season 3 will explore the honeymoon phase of our newly wed Kate and Anthony, as well as Kate learning to navigate her life as a Viscountess. Kate and Anthony are just getting started on their life as a married couple. In an interview with Vogue Simone Ashley also hinted that we will see a different side to the couple in season 3.
Simone told Vogue, "We're filming a dance this week and tonally, it's so different. Sweet, endearing and light, compared to the heaviness of their story last season."
In the same interview Simone also discussed her character in season 3. She is quoted as saying "Even though she comes across as fierce, people like that are sometimes the softest on the inside. They develop that skin because they're vulnerable. You see her insecurities and fears. She's f*cking nervous, and I think there's strength in admitting that."
And we even have an episode title for the first episode. Episode 1 will be titled "Out Of The Shadows", but the release date has yet to be confirmed.
Bridgerton Season 3 Cast
The following cast members will be returning for season 3:
Simone Ashley as Kate Sharma – now Viscountess Bridgerton
Jonathan Bailey as Anthony Bridgerton
Charithra Chandran as Edwina Sharma
Shelley Conn as Lady Mary Sharma
Nicola Coughlan as Penelope Featherington
Luke Newton as Colin Bridgerton
Are there new cast members joining Bridgerton season 3?
There is a recasting for the second youngest daughter, Francesca. Ruby Stokes played the role in seasons 1 & 2 but has to depart midway through season 2 due to a prior filming obligation (ah, showbiz!). The role will be reprised by Hannah Dodd, who stars in the new Enola Holmes movie.
We can also look forward to seeing the beautiful Hannah New as Lady Tilley Arnold. Who was widowed at an early age and now "enjoys the privileges and power that come with being at the helm of her former husband's estate, living life on her own terms with financial independence and sexual freedom".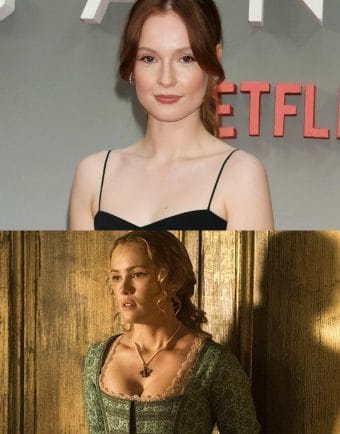 We can also expect the following roles:
Adjoa Andoh as Lady Danbury
Lorraine Ashbourne as Mrs Varley
Harriet Cains as Philippa Featherington
Bessie Carter as Prudence Featherington
Phoebe Dynevor as Daphne Basset (née Bridgerton), Duchess of Hastings
Ruth Gemmell as Violet, Dowager Viscountess Bridgerton
Florence Hunt as Hyacinth Bridgerton
Claudia Jessie as Eloise Bridgerton
Golda Rosheuvel as Queen Charlotte
Luke Thompson as Benedict Bridgerton
Will Tilston as Gregory Bridgerton
Polly Walker as Portia, Baroness Featherington
Martins Imhangbe as Will Mondrich
Calam Lynch as Theo Sharpe
Julie Andrews as the voice of Lady Whistledown
Bridgerton Recurring Cast
The following recurring support cast members are likely to return:
Molly McGlynn – Rose Nolan (Daphne's maid)
Joanna Bobin – Lady Cowper (Cressida's mother)
Jessica Madsen – Cressida Cowper
Jason Barnett – Jeffries (the Bassets' butler)
Hugh Sachs – Brimsley (the Queen's secretary)
Geraldine Alexander – Mrs. Wilson (the Bridgertons' housekeeper)
Kathryn Drysdale – Genevieve Delacroix (a high society dressmaker)
Simon Ludders – Humboldt(the Bridgertons' butler)
Julian Ovenden – Sir Henry Granville
Oli Higginson – Footman John
Please note that this is speculation, and the cast list is submit to change! Be sure to check back with us once we find out more information.
The Bridgerton Book Series That Started It All
The Brigderton Series is a collection of eight novels, each following one of the eight children of the late Viscount Bridgerton: Anthony, Benedict, Colin, Daphne, Eloise, Francesca, Gregory, and Hyacinth.
This historical romance series was originally intended to be a trilogy, but fans fell so in love with the family that author Julia Quinn had to write more!
The relevant novels up to this point are as follows :
We suspect that Bridgerton season 4 will follow book 3, An Offer From A Gentleman, as Bridgerton season 3 is following the fourth book.
Still Can't Get Enough?
Take a look at the beautiful cast of Bridgerton doing a fun portrait challenge on Netflix's official channel!
---
Frequently Asked Questions
Is there a 3rd season of Bridgerton?
Bridgerton Season 3 is in production and likely will be hitting Netflix sometime in 2023.
Will Kate be in Bridgerton season 3?
We learn that we will see a new side of Kate in season 3. The usually confident character will learn how to poise to her new position and will have to navigate her anxieties and vulnerability.
Which sibling will Bridgerton season 3 be about?
On Sunday, May 15, Penelope Featherington herself (Nicola Coughlan) confirmed that she'll be leading season three opposite Colin Bridgerton (Luke Newton).
Why is Francesca barely in Bridgerton?
Due to prior filming commitments, Ruby Stoke had to leave filming mid-way through season 2, making her character's appearances infrequent. The showrunners hope to give the character more screentime in season 3 with a new actress of Hannah Dodd.
Will Simon and Daphne be in season 3?
Phoebe Dynevor, our Daphne Bridgerton, will return to the series to reprise her role. However, as we suspected from Season 2, Regé-Jean Page, who played Simon Basset, will not be returning.
Bridgerton Season 3 release date?
We have no date confirmed yet, but we suspect season 3 to hit Netflix some time in 2023!