Get An Exclusive Look Inside THE SHERIFF AND THE PSYCHIC by Peggy Jaeger
And Enter To Win A Free eBook!

Romance Author Peggy Jaeger is celebrating her book THE SHERIFF AND THE PSYCHIC (Welcome To Renewal Book 1) by giving away amazing prizes to 10 lucky winners! Click here to enter!

Police Psychic Silvestra Coeltrain comes to Renewal, OK to visit with old friends and to heal. After a year in which she was tested physically, mentally, and psychically, all she wants to do is sleep, fish, and bask in the tranquility of the sleepy town.
Sheriff Caleb Blackbear doesn't understand the feelings he's quickly developing for Renewal's newest visitor. She responds to his kisses with a passion that equals his own. But she's an enigma, filled with secrets and evasions, and he's an impatient man.
When several of the local ranches begin losing cattle to a mysterious illness, it's Silvestra who claims the animals are being methodically targeted and killed. As Cal's investigation zeros in on who and what could be slaying the animals, the murder of a prominent rancher's daughter – and Cal's former lover – complicates things. With Silvestra's life now in danger, Cal is determined to keep her safe.
But can he?
Get Your Copy Here
---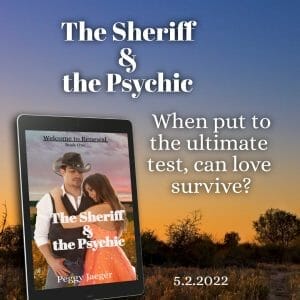 Excerpt From The Sheriff And The Psychic
"Want to dance?" Rising, he put his hand out for hers.
To Silvestra it didn't sound like a question, more a command. Especially when he stood waiting for her.
As Cal led her to the dance floor, she noticed the questioning stares and whispers behind hands as they made their way out to the middle, joining the other couples ready for a night's fun.
"I think I should warn you I'm not very good at this," she confessed when he took her in his arms.
The corner of his full mouth twitched upward. "Just follow me. It's easy after you go around a few times."
Shy tried to concentrate on his explanations, the direction his feet were taking, but acknowledged with regret, that she had more difficulty than usual. Being in arms that were as strong as steel traps, but she knew could be as gentle and soft as a feather, made focusing a hard task. When they should have been watching his feet, her eyes were drawn to where their hands were joined. The small hairs peeking out from under the plaid cuff, the length of his fingers, straight and taut against hers, took her breath away.
Cal maneuvered around the floor, keeping time with the music, quietly instructing her what to do with each turn. Soon Shy found herself enjoying the dance – and more- enraptured by the man holding her.
Shy's head whirled. Touching him, being touched, made her mad with longing. She found herself imagining just what it would feel like to have those long, powerful fingers massaging her naked flesh.
Stop it. This can't be and you know it, so just stop your fantasizing right this instant.
Regret competed with the longing, one emotion proving stronger than the other.
The beat of the music quickened as did the dancer's steps. Silvestra heard herself laugh as Cal swirled her around the floor. In one move, he effortlessly twirled her to the right with a flick of his wrist at her waist. She felt as if her flesh had been seared and branded.
Spinning back into his arms, Silvestra stopped short, her body slamming hard into Cal's chest. Instinctively, her hands came up, bracing, on top of his shirt. She could feel his heart hammering, felt the shifting of his rib cage with each breath. She sensed the pulsing of her own blood when his hands came up to enclose her wrists. Head tilting, she found raven-colored eyes burning and bright with an urgent need equaling her own. Insides quaking, she tried desperately to quell the passion surging within. But gazing into those dark mirrors, the small glimmers shifting within them, burning into hers, Silvestra had no will to silence them.
They stayed this way, rooted, each oblivious to the rest of the crowd surrounding them.
Time didn't move.
Eventually, Cal took a deep breath, his gaze never turning from Silvestra's face. "Not bad. I thought you said you didn't dance well."
Shy shook her head.
"I don't," she said, breathless. "You're a remarkable teacher, Sheriff."
Cal's lips twitched again, a gesture she found herself coming to expect from him. A hidden mirth, rarely shown, but one, Silvestra knew, he felt comfortable displaying to her.
"Want to go another round, or would you prefer to sit this one out?"
The desire to stay exactly where they were weighed heavily. When Shy glanced around and discovered they were the sole occupants of the dance floor, a deep flush flew up her cheeks.
"I think I'd like to have that lemonade now," she said.
He nodded and silently led her back to the table, empty now, as Jake and Mabel made the rounds of their friends.
---
Meet Author Peggy Jaeger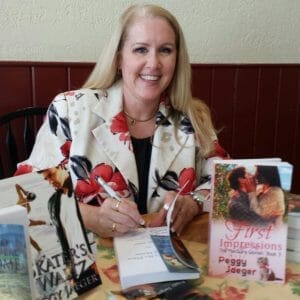 Peggy Jaeger is a contemporary romance writer who writes Romantic Comedies about strong women, the families who support them, and the men who can't live without them. If she can make you cry on one page and bring you out of tears rolling with laughter the next, she's done her job as a writer.
Family and food play huge roles in Peggy's stories because she believes there is nothing that holds a family structure together like sharing a meal…or two…or ten. Dotted with humor and characters that are as real as they are loving, she brings all topics of daily life into her stories: life, death, sibling rivalry, illness and the desire for everyone to find their own happily ever after. Growing up the only child of divorced parents she longed for sisters, brothers and a family that vowed to stick together no matter what came their way. Through her books, she's created the families she wanted as that lonely child.
When she's not writing Peggy is usually painting, crafting, scrapbooking or decoupaging old steamer trunks she finds at rummage stores and garage sales.
As a lifelong diarist, she caught the blogging bug early on, and you can visit her at peggyjaeger.com where she blogs daily about life, writing, and stuff that makes her go "What??!"
Interview With Peggy Jaeger
Q: Hi, Peggy! Tell us about your heroine. What inspired her quirks and struggles?
PJ: Silvestra Coeltrain has had some life! Born a psychic, she's always skimmed the line of wanting to do good for others and keeping her gift a secret. People haven't believed she can "see" things and because of this she's developed trust issues. Plagued by panic attacks as a child, she learned to finally accept her gift with the help of her supportive parents and her psychiatrist.
A year ago, a terrible personal tragedy occurred while she was helping the police solve a missing child case. In a single instant her life was destroyed and she fell apart emotionally, physically, and psychically. She's come to Renewal ,Ok, to visit and heal and she's staying with old friend's of her parents.
Silvestra, whose name means from the forest, is also a YA writer of some renown. Her pen name is SG Coeltrain and she writes a teenage mystery series ala Nancy Drew, set in the present day. Writing, escaping into a fictional world where the heroine is powerful, smart, and logical, was one of the ways she was able to keep grounded while growing up.
She plays the piano, speaks Italian fluently, and is extremely loyal.
I was inspired by Silvestra when I read an article, in of all places, the National Enquirer about a child who was reportedly able to see the future. Now since this was the NE, I took the story with a grain of salt and large helping of skepticism. But it got me to thinking about the WHAT IF's… what if a child really did have the ability to see the future or predict future events; how would that child function? Would people believe her? Would she be shunned or considered a saint? And most importantly, how did she cope, emotionally, with the bad stuff? After putting myself in that child's shoes, Silvestra Geo Coeltrain popped into life.
Q: That's an awesome source of inspiration! What were some challenges while writing this book? I imagine there were some given the topic.
PJ: First and foremost I had to learn the different fields of parapsychology. Psychic is a catchphrase for so many different things a mind can do. There are precognitives, mediums, touch psychics, sensory ones. The list is long. If you've ever read any of Kay Hooper's Bishop books you know what I mean.
Next, I knew nothing about the Western part of this country. I know: I am such a city girl and East Coast gal at heart. I trolled the internet and read a few travelogues about Oklahoma and cattle ranching.
Luckily, I was nurse before I wrote professionally, so the medical stuff that's in the book concerning the deaths of the cattle – I knew about beforehand. I just needed to brush up on a little anatomy before writing how the cows…died.
Q: That's so awesome. How many books have you published and which is your favorite? I sense you write a lot.
PJ: Traditionally: 22. Independently: 10. And asking that question is like trying to figure out who your favorite child is!! Hee hee. I will tell you that two of my books have special places in my heart for different reasons. In FIRST IMPRESSIONS, the hero, Pat Cleary, came to me first – instead of my heroine – fully formed and with all the quirks, angsts, and sexiness he embodies. I love that. Then, in DIRTY DAMSELS, the plot line, the characters, the emotional arc came to me in its entiret,y on a car ride from New York back home to New Hampshire. In those 4 hours I had the book completely mapped out in my head like a movie. I just needed to get it all down on the page once I got home!
Q: Favorite book when you were a kid?
PJ: And still my favorite book to this day: THE LITTLE ENGINE THAT COULD. I truly feel this is the best book ever written about self actualization and achieving what you want to achieve in life. That little engine thought he could get over that mountain, told himself he could, believed it, and VIOLA! He made it. Wouldn't life be better for all of us if we believed in our capabilities instead of doubting them all the time?
Q: What is your favorite food?
PJ: Lobster macaroni and cheese. It's my one indulgence whenever I need to celebrate something! Rich, gooey, tangy. It's the ultimate taste bud carnival for me and sosososos satisfying! But wickedly decadent, too.
Q: Your ideal writing space is?
PJ: My current office. I live in a four story house- the top is the attic. I have a room in there that is just mine. It has a window that overlooks the back of my wooded property and I get to watch the seasons change, the birds come and go, and the woodland animals frolic all day long. It's very soothing and when I take a breather and look up from my laptop I am never disappointed in what I see out that window! I am surrounded by the books of my trade and craft so I always have easy reference, and next to my laptop is an AURA photo displayer my daughter gave me for Mother's day last year, so I can see pictures of my grandson all day long.
This Or That Questions:
Coke or Pepsi? PEPSI, every time!
Book or Movie? Book, always!
Morning or Night? I'm a morning girl.
Print or Ebook? Print. So much easier to read.
Early or Late? Early. I get panic attacks if I'm late to an appointment.
Haunted Mansion or Un-haunted Shack? I love to be scared!!!
Readers, you can follow Peggy Jaeger around the web at:
Website
Blog
Facebook
Twitter
Goodreads
BookBub
YouTube
Instagram
Pintrest
LinkedIn
Amazon Author Page
Authors database
Triberr
Enter To Win Amazing Prizes From Author Peggy Jaeger
Click Here

Did you get your copy of THE SHERIFF AND THE PSYCHIC by Peggy Jaeger? Let us know your thoughts in the comments below.
Like this post? You might also enjoy THE MEMORY OF LOVE by Sophie Bartow.