Get An Exclusive Look Inside NO MERCY by MJ Fields
And Enter To Win An Autographed Book!

USA Today Bestselling Author MJ Fields is celebrating the release of her book, No Mercy (Mercy West Book 1), by giving away an amazing prize to 1 lucky winner! Click here to enter!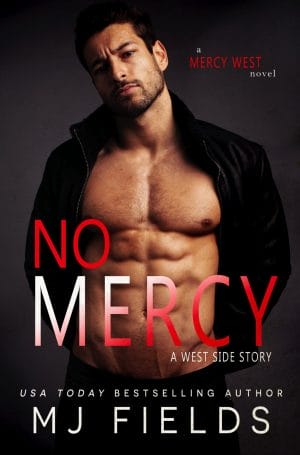 Jersey Shore's most villainous anti-hero is brought to his knees in this raw and gritty romantic standalone novel by USA Today bestselling author MJ Fields
"They may see a villain, but I see a hero who was broken and will rise again."
Like a storm, Marcello Effisto tore through most of his life, wreaking havoc on those who opposed him … unapologetically.
When faced with keeping a promise to a dying man, to care for the person who tortured his soul, he is forced to go to the cross.
Will he allow the wreckage that caused his heart to grow cold keep him on his knees, or will he rise up and allow himself to love again?
Get Your Copy Here:
---

Excerpt from No Mercy
When I open the door, I see her retreating. "Where do you think you're going?"
She stops, and only then do I notice how she's dressed.
Sneakers, leggings, a tee-shirt, and a ball cap is a far cry from what I was accustomed to when I arranged an evening, but I have been out of the game for three months now.
The fact she has blonde hair and blue eyes, is tall, with extra curves and plump lips, the all-American girl type that I recently decided was "my type" … she is in fact, as per my request. But she's not dressed as I requested. The look on her face tells me that she knows this and I'm making her feel uncomfortable, possibly even insecure.
Insecurity could act like a sponge, sucking up all that sweet heat between her sexy legs and taking more time to ready than I'm hoping for.
I curl my finger to her. "Get back here, blondie."
She looks down, playing coy? I can work with that, I suppose.
"I promise not to bite."
She walks toward me and points at the bags outside the door. "I ordered take-out. You hungry?" She looks at me curiously, and I decide I've had enough.
Pulling her into my apartment and slamming the door shut with my foot, I reach out and palm the back of her head, bringing her toward me as I say, "Fuck pretending. Let's do this." My lips smash against hers, and she gasps, giving me a chance to dip my tongue in for a taste test.
Her hot mouth tastes like heat, wintergreen, and … more.
She presses her hands against my chest, and I groan, surprising myself, because I didn't expect to miss being touched like this.
I pull back and look down at her. She looks shook.
"It's a good look, blondie, but you and I both know what's going down here, so feel free to go off script and just feel it." Then I reach down and untuck the towel, letting it fall.
I watch her eyes slide down my body, taking me in, and as she swallows hard while she looks at my cock, I take her hand and wrap it around the base of my shaft.
I hiss at her touch. "Cold hands." I hook my thumbs inside her waistband and press my lips to hers again. "Hot pussy."
"Oh God," she whispers when I cup her in my hand.
"Definitely hot." I lick my lips as I use my thumb to rub over where her clit lies beneath her panties and begin lifting her shirt.
Three sharp knocks on the door, and she jumps back, pulling up her leggings that now encircle her knees.
"Fuck," I snap.
She fixes her shirt as I grab the towel and wrap it around me.
"Don't do that. I'll get rid of whoever it is." And the only people who have access to this floor is family. Cockblockers.
Hand on her back, I guide her. "Just stand behind the door; I'll get rid of them."
When I open the door, I am shocked to see a blonde dressed in red, wearing stilettos, smiling at me as she steps into my space.
Before she crashes her lips against mine, she whispers, "Welcome back. We've missed you."
I can't help but laugh against them, thinking I have spent way too much money for the service to send two women, as I assume, like she said, a welcome back.
When I pull back and shut the door, I look around for blondie number one, but she's not where I left her. In fact, I don't see her at all.
"Love the welcome, but I'm not playing games tonight. I have a guest just down the hall, sleeping off Patron. I'll take you both at once right here."
"What?" she asks. By the look on her face, she's not playing a game.
The fuck? I think as I open the door and see blonde hair streaking around the corner, moving to the elevator bank.
"You okay?" The woman rubs her hand down my back then squeezes my ass.
I look over my shoulder at her. "They send one of you, or two?"
"I assure you, I'm more than enough."
When realization hits, I run my hand over my face then again see the delivery bags on the ground beside my door. I just accosted the delivery girl.
---
Meet USA Today Bestselling Author MJ Fields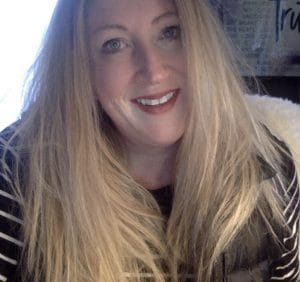 MJ Fields is a USA Today bestselling author of contemporary and new adult romance novels. She lives in New York with her daughter and smoochie faced Newfie, Theo.
When she's not locked away in the cave, she enjoys spending time with her family, live music, the theatre, singing off key, dancing to her own beat, listening to audio books, and reading of course.
Interview with MJ Field
Q: Hi, MJ! What is one thing you hope readers will take away from your book?
MJF: Never judge a person on their past or your perception.
Q: Do you listen to music while writing? Share your Spotify list with us!
MJF: I find songs that remind me of my current couple and add them. While getting in my head to write for the day, I play it.
Exile by Taylor Swift and Bon Iver is number one on No Mercy's playlist.
Q: How many books have you published, and which is your favorite?
MJF: Over 60! I can't choose a favorite. I love them all for different reasons.
Q: How do you handle writer's block?
MJF: Thank God, I haven't dealt with that. It's very much the opposite. I always have a new idea. It's whoever screams the loudest that gets my attention.
Q: Any advice for new writers?
MJF: -Pen and head down.
-Do not compare yourself to anyone.
-I've heard some bloggers say authors sometimes get pissed, rude, even argumentative when they don't want to review their book. *Insert mom look that makes you quake in your shoes*
– Stay OUT of the drama and LOVE on your readers. They are your people.
Q: Your ideal writing space is?
MJF: My office, the couch or occasionally laying on the floor with my dog next to me. I have to switch it up or I get antsy.
This Or That Questions:
Coffee or Tea? Tea
Coke or Pepsi? Coke
Book or Movie? Book
Morning or Night? Night
Shower or Bath? Shower
City or Country? Mood dependant
Print or Ebook? BOTH! One to read and one for my shelf.
Spiders or Snakes? Spiders any day. F*ck snakes.
Summer or Winter? Winter (I'm weird)
Early or Late? On time.
Haunted Mansion or Un-haunted Shack? Un-haunted Shack
Enter To Win An Amazing Prize From Author MJ Fields
Click Here To Enter Now

Did you get your copy of NO MERCY by MJ Fields? Let us know your thoughts in the comments below.
Like this post? You might also enjoy Mix And Match by Peggy Jaeger.