Get An Exclusive Look Inside BOLD by AJ Renee
And Enter To Win A Gift Card And Autographed Book!

Romance author AJ Renee is celebrating the release of her new book, BOLD (Alumbra Pack Book 2), by giving away an amazing prize to 3 lucky winners! Click here to enter!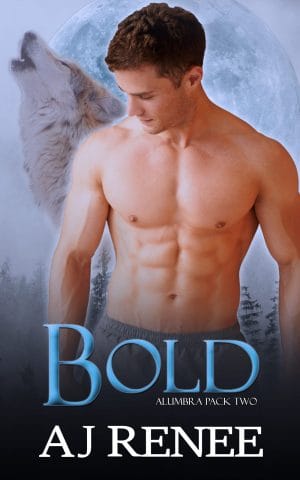 True mates should be protected at all costs, even when their past comes barging back in.
Joel was content in helping his alpha and cousin with pack matters. Protect witches, hunt down pack family members, attend a long pack weekend put on by the alpha's mate? Check, check, and check.
Laying eyes on his true mate wasn't what he expected, but it's the best thing he could have hoped for. When she begins ghosting him, he's forced to dig deep for patience.
Lea was a survivor. At least that was what the psychologist she saw told her. Getting past the horrors her life had become was one thing. Meeting her true mate and feeling worthy of their fated destiny was another.
As if navigating the waters of a true mate weren't hard enough, she runs into the man who set off the horrid chain of events that ruined her life.
Can she accept he's unlike the men of her past, or will their open wounds be the death of them?
Get Your Copy Here
---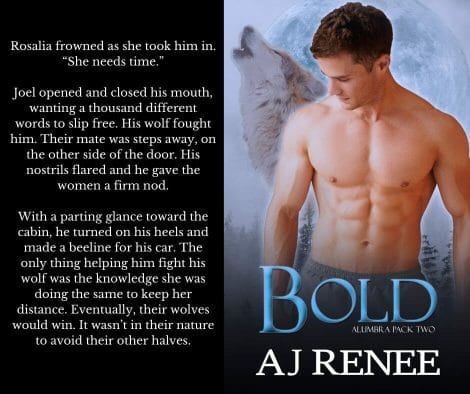 Excerpt From 'BOLD'
Her heart raced with a mix of excitement and fear. Finding Joel was the last thing she had expected or wanted. Joining the Alumbra Pack had been a tactic to not only avoid returning to her family but to protect herself from wheels that had been set in motion.
It was absurd she would even consider rejecting her mate now that she'd found him. As a pup, she'd dreamed of the concept of a true mate. It was the same dream that had caused the big fight with her parents. Needing air from their plans, she'd run out and had been scooped up by the men who would ruin her.
Lea flipped off the light and slid under the covers.
Suzette would find her way easily enough through the darkened cabin and know Lea wasn't up for more of the conversation. Of the three of them, Suzette was the least vocal, and Lea was grateful for it right then.
She woke in the early morning to Suzette's light snores. Listening carefully, she heard only some rustling in the main cabin, where she assumed, by Katia's excited chatter, Claudia was moving about. Memories of the night before had a smile tipping Lea's lips until she recalled the moment her eyes had met Joel's.
Mate! Let's go to mate! her wolf demanded, doing an excited circle and lifting her tail high in the air.
She tensed at the overwhelming pull to him, and her bladder lurched, reminding her it needed to be emptied. She debated shifting and doing her business yards away from the cabin but knew she couldn't trust her wolf's incessant chatter to go to Joel.
After slipping on sandals, she moved along the path toward where the bathrooms and showers were located. She managed to do her business and return to the cabin before any other wolves stirred.
"Is anyone else awake?" Suzette asked, her sleepy voice startling Lea.
Lea rubbed her chest over her heart, hoping to soothe the overworked muscle. "Geez!"
"Sorry."
"I heard Katia in the kitchen, so either Claudia is awake or both her and her mate."
Suzette sat up and ran her hands through her hair. "Are we hiding in here all day? I mean, I'm cool with it if it's what you need."
Guilt filled her. "You can join the others, Suz. I don't expect you to babysit me all day, and I know how much fun you had setting up the obstacle course with Dalton—"
"Eh," she said, waving Lea's words away. "I'm sure there will be other barbecues. Rose had way too much fun planning this weekend."
Lea slipped off her sandals, crawled under her covers, and turned onto her side to face her friend. "If you change your mind, go. Don't stay here on account of me."
"What if we ran back?"
Lea shook her head. "There's no way I'd have the stamina. I've only shifted once or twice in like five years. This weekend, I was supposed to let her free."
"So let her free."
"You make it sound so easy."
Suzette chuckled. "Because it is."
Lea shook her head. "Not now. Not with him here. She'd run right to him, and I don't want that."
"Don't want or aren't ready?"
"No one was at the bathroom, if you want to go before people wake up," she said, ignoring her friend's question.
Going to Joel or not wasn't an easy decision. She had a past. Ignoring the life that had been thrust upon her the last five years, she'd hidden some major points of her life from her friends, and one could ruin her life. If she allowed herself to give into the urge to claim Joel only to lose him later, she'd never survive.
---
Meet Author AJ Renee

AJ Renee is a military wife and mother of three. She graduated from the University of Central Florida with her Master of Science in Criminal Justice and a Bachelor of Science in Psychology.
She loves to read and write steamy romance with a happily ever after. When not working, you can find her playing World of Warcraft, board games, or outdoors for a run or hike.
Interview with AJ Renee
Q: Hi, AJ. Can you tell us more about yourself?
AJR: I'm Puerto Rican and because of my Army father I was born in Colorado. I've moved around all my life and continued when I married my husband who is in the Air Force.
Q: Tell us more about your book, Bold.
AJR: Bold is the second in this series, but Joel made his debut in my Broderick Coven series. Joel stepped up previously to help his now friend when she was rescued from a group of sex trafficking werewolves. When he returns from a mission he sees his mate at a pack event. The problem is she is a woman who's also been rescued. She's not ready to trust men let alone accept her true mate. This book follows the dance between them as he tries to prove he is unlike the men who hurt her.
Q: Tell us about your heroine. What inspired her quirks and struggles?
AJR: Lea is bold, loyal, and has daddy issues. Now that she's got her freedom back, she has choices to make. As the story progresses, we get to watch Lea find her voice and strength regarding not only Joel but the life she's now reclaimed from those who hurt her.
Q: Tell us about your hero. What motivates him?
AJR: Joel is loyal, kind, and protective. After years of searching for his mate, he's shocked to find her among the new group of rescued wolves. He struggles with the fact he'd not been there to protect his mate. Holding back his wolf's need to claim Lea when she's gone through so much and giving her the time to see his true self becomes his mission.
Q: What were some challenges while writing this book?
AJR: Human sex trafficking is a really tough issue and finding a way to drop it in gently without making the story a political statement or a trigger for readers who may be survivors of abuse was a delicate balance.
Q: What is one thing you hope readers will take away from your book?
AJR: I'd love for people to be reminded that we have the power to heal on our own terms. No matter the state of our mental health we get to set boundaries.
This Or That Questions:
Coffee or Tea? Tea
Coke or Pepsi? Coke
Book or Movie? Both
Morning or Night? Night
Shower or Bath? Both
City or Country? In the middle
Print or Ebook? Ebook for weight and ease of travel, print for smell and touch.
Spiders or Snakes? Neither
Summer or Winter? Summer
Early or Late? Late
Haunted Mansion or Un-haunted Shack? Haunted Mansion
Enter To Win Amazing Prizes From Author AJ Renee
Click Here To Enter Now

Did you get your copy of BOLD by AJ Renee? Let us know your thoughts in the comments.
Like this post? You might also enjoy LOVE AND TEQUILA MAKE HER CRAZY by Brittanee Nicole