Get An Exclusive Look Inside ROMANCING THE SPIRIT by CB Samet
And Enter To Win A Free Copy Of Carol's Christmas!
Romance author CB Samet is celebrating the release of her third collection of paranormal romantic suspense novellas, ROMANCING THE SPIRIT: Books 13-18, by giving away an amazing prize to 10 lucky winners! Click here to enter.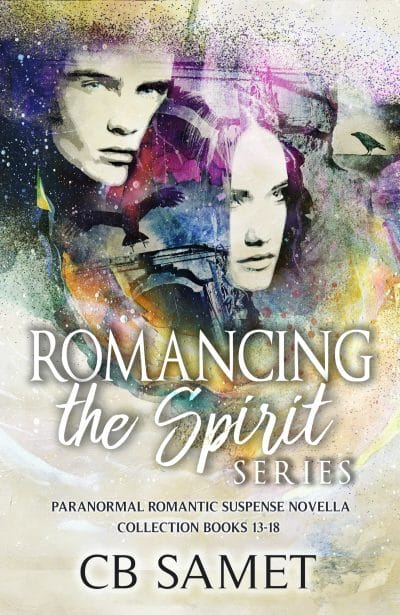 Romancing the Spirit Series is a delightful collection of six novellas, each introducing new couples thrust in romantic suspense adventures with a touch of magic.
Sabrina's Storm. A woman seeking solace. A ghost hunter seeking the truth. And the storm that threatens both their lives.
Jenny's Justice. When prosecuting attorney Jenny Wiley sees the ghost of a murder victim, her hunt for justice thrusts her into a world of secrets and danger. Can Jenny stop the killer, or will she be the next victim?
Stella's Star. When Stella loses her memory, a guiding star leads her to the Orion family Christmas cabin. But danger on the mountain encroaches the peaceful holiday getaway. Will Stella's memories return in time to save them all from disaster?
Gigi's Gift. Detective Gigi Montgomery has been suppressing her ability to see ghosts her entire life. But when her best friend's ghost appears, Gigi is determined to find the culprit-and that means facing her fears of the supernatural.
Phoenix's Phantom. Beneath a broadway theater, Phoenix hears a mysterious and spellbinding voice singing. But is the voice one of comfort, seduction, or danger? And can she unravel the mystery before tragedy strikes?
Fiona's Freedom. When Fiona accepts a marriage arrangement to avoid deportation and the past she left behind, her heart opens to the possibility of love. But a dangerous man from her past threatens to unravel the new life she's trying to build.
Get Your Copy
---
Meet Author CB Samet
Christina is a four-time award winning author in thriller, romantic suspense, and fantasy. She is a mother of two energetic boys and a Jack Russel Terrier, and a lover of suspense, adventure, and happy endings. She completed 19 novellas in the Romancing the Spirit series–each a stand alone romantic suspense with a touch of the paranormal. The Rider Files books 1-6 are complete, and she's writing book 7. She writes action and adventure in fantasy and romantic​ suspense genres with strong female leads. Her favorite quote is: "She needed a hero, so she became one." –Robin Reed
Interview with CB Samet
Q: What inspired you to write a series with ghosts?
CBS: The first novella in the series is Sadie's Spirit—a cross between Just Like Heaven and Ghost. After that, I wanted to keep going with the ghost theme, loving the challenge of weaving suspense and romance together. Now, I have holiday themed novellas: Carol's Christmas (a twist on the Charles Dickens classic), Stella's Star, and Holly's Holiday (who doesn't love a Christmas elf?). I have ghosts who play fun roles: a pirate, an Egyptian ruler, Cupid, a genie, and more.
Q: What are you reading right now?
CBS: I just finished Public Secrets by Nora Roberts. I love her writing and her romantic suspense. She also has some excellent magically trilogies. Of all authors, I read her the most, probably 10 books of hers a year.
Q: Favorite book when you were a kid?
CBS: I'll have to go top three because they are all different genres (and I still read a variety of genres and now I write in a variety of genres). These were books I read as a teenager—Dune (there is no fear!), Patriot Games (loved Clancy), Clan of the Cave Bear (woman vs nature).
Q: Do you like audiobooks? What's your favorite audiobook app?
CBS: Love audiobooks. I especially like memoirs read by the author (last one was Greenlights by Matthew McConaughey). I use Chirp for audio. I'm on their newsletter so I get daily audiobook discounts, no paid subscription required.
Q: Are you a fan of podcasts? Recommend a podcast to readers.
CBS: I enjoy A Way with Words, a podcast about the origin and meaning of words including sayings and slang. It's fascinating and fun with a lively cast.
Q: Your ideal writing space is?
CBS: I write anywhere and everywhere–home, airports, airplanes, coffee shops. When I have a scene visualized in my mind, I will even dictate it on the way to work.
This Or That Questions:
Coffee or Tea? Coffee in the morning, tea in the evening
Coke or Pepsi? Coke (but prefer beverages without sugar)
Book or Movie? Book
Morning or Night? Morning
Shower or Bath? Shower
City or Country? Country
Print or Ebook? Any format, including audio
Spiders or Snakes? Snakes that eat other snakes
Summer or Winter? Fall
Early or Late? Early
Haunted Mansion or Un-haunted Shack? Love shack (baby) … oops, giving away my age
Q: And lastly, where can our readers find you on social media?
CBS: I am on Facebook, Instagram (@cbsametauthor), and Pinterest. I am working on a YouTube channel where readers can listen to the first chapters of all of my audiobooks. You can also follow me on Amazon, Chirp, Goodreads, Bookbub, and Etsy, or join my newsletter.
Enter To Win A Free Copy Of Carol's Christmas by CB Samet
Click Here
Have you read Romancing The Spirit by CB Samet? Let us know your thoughts below.
Like this post? You might also enjoy this Must Read Romantic Thriller By Colleen Hoover.