Get An Exclusive Look Inside MELODY'S SIX by Regan Black
And Enter To Win A $25 Amazon Gift Card + A Free Ebook!
USA Today Bestselling Romance Author Regan Black is celebrating her new book MELODY'S SIX (Athena Project Book 5) by giving away amazing prizes to 3 lucky winners! Click here to enter!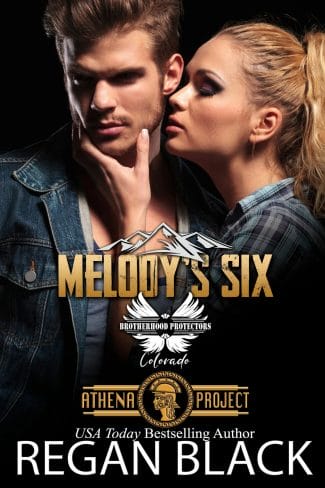 A pretend marriage for a mission is easy… until fake kisses become all too real.
As a Special Forces soldier, Dean Turner gave everything he had to the missions and his teams. When Hank Patterson recruits him into the Athena Project, Dean throws himself into the private protection service with that same focus. After all, there's no one waiting for him at home since his ex-wife betrayed him on every level.
Dean knows marriage is not for him. He's better off alone. Functions best that way.
Except when it comes to his Athena Project partner, Melody Boyd. This former CIA agent is professional, talented, and as dedicated to helping others as Dean. He's tamped down his burning attraction to her from day one—always putting their missions first.
But when a former enemy targets Mel, Dean makes her the priority. He'll do whatever it takes to keep her safe. Even becoming her undercover husband.
If you crave sexy, adrenaline-fueled romantic suspense, you'll love Melody's Six by USA Today bestseller Regan Black!
Get Your Copy Here:
---
Excerpt from Melody's Six
Dean felt more pressure with every step. He couldn't get enough air into his lungs. He'd do anything for this job. Do anything for Mel. Take a bullet? Sure thing. Save her from a spider or snake? He'd handle it.
Be the husband for a week among strangers?
No way. He rubbed his sternum. Couldn't do it. Too much baggage. He'd failed marriage for real. That entire fiasco had wiped him out. Financially and emotionally. He had nothing good to draw on for this op. Mel needed a reliable partner for this. He had to drag himself back in there and tell Beck to make a change.
Admitting his limits would suck, but it was better than letting down Mel.
Hank Patterson had offered him a fresh start, a chance to do valuable, positive work after his military career came to its natural end. He hadn't expected the unique Athena Project opportunity, but he'd jumped on it. And until today, he'd loved every minute with the team as well as his partner.
"Hey, Dean! Wait up." Mel's cheerfulness baffled him. He'd been a jerk downstairs. Why was she pretending everything was fine?
He forced himself to stop running away. Embarrassing to admit that's what he was doing. Turning back, he realized things were about to get worse. She wasn't alone.
---
Meet USA Today Bestselling Author Regan Black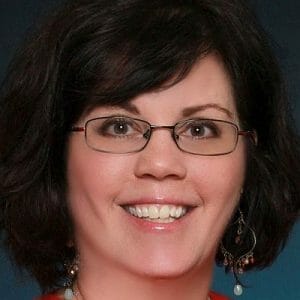 Regan Black, a USA Today bestselling author, writes award-winning, action-packed romantic novels featuring kick-butt heroines and the sexy heroes who fall in love with them. She and her husband currently share their empty nest with two arrogant cats in the South Carolina Lowcountry where the rich blend of legend, romance, and history fuels her imagination.
Interview with Regan Black
Q: What is your favorite trope to write and why?
RB: Reunion romance and friends-to-lovers stories are my favorite tropes to write. Mainly because I believe in the power of second chances and overcoming past heartache or challenging circumstances. Melody's Six is a friends-to-lovers book as working partners, Dean and Melody, go undercover as newlyweds to provide protection to a film location scouting party.
Q: Tell us about your hero. What motivates him?
RB: Dean Turner is a former special operations soldier adjusting to life with a civilian protection service. He's motivated by his passion for the work and the new team. He's a protector to the core and willing to be bold and sacrifice for his partner and the success of their assignments.
Q: What was the highlight of writing this book?
RB: Truly the highlight with Melody's Six was the connection with the other authors on the Athena Project team. Elle James, Desiree Holt, Delilah Devlin, Reina Torres, and Jen Talty are fabulous, talented authors and it's a pleasure working with them. Sometimes writing feels like a solitary road, so collaborative projects like this are extra special. Although each of our books is a standalone read, we all had each other to brainstorm with along the way, which brings a fresh joy to my writing process.
Q: How many bookshelves are in your house?
RB: Not enough! LOL We are a family of readers. Even with the kids out on their own now and fifteen dedicated bookshelves of varying sizes, it feels like I'm always searching for more places to squeeze in another keeper.
Q: What was your dream job as a kid?
RB: As a kid I dreamed of all kinds of careers. Real estate, marine biologist, flight attendant to name a few. In reality I've been a waitress, executive assistant, a floral designer, and entrepreneur. The best is being an author and exploring all those career options through research.
Q: Any advice for new writers?
RB: When you're starting out, I believe it's vital to explore what you love to write, to really follow what fuels you in your writing time. That's how I found my voice and the stories I love to tell. Beyond that, avoid comparison syndrome. Give yourself permission to write that messy first draft and remember that every book you fell in love with as a reader went through an ugly duckling draft stage, too.
Q: Where can our readers find you on social media?
RB: It's a blast connecting with readers on Facebook at my author page or in my reader group. I'm also on Instagram regularly (probably scrolling through puppy videos), and readers can follow me on BookBub, Pinterest, or Amazon.
Facebook Author Page
Facebook Reader Group
Instagram
BookBub
Pinterest
Amazon
This Or That Questions:
Coffee or Tea? Coffee
Coke or Pepsi? Coke
Morning or Night? Morning
City or Country? Country
Print or Ebook? Ebook
Summer or Winter? Winter
Enter To Win Amazing Prizes From USA Today Bestselling Author Regan Black
Click Here
Have you read MELODY'S SIX by Regan Black? Tell us your thoughts in the comments below.
Like this post? Check out SCANDALOUS LITTLE OBSESSION by Rachael Brownell.