Get An Exclusive Look Inside THUG by Leslie Georgeson
And Enter To Win A Free Ebook + A $50 Amazon Gift Card!
Romance author Leslie Georgeson is celebrating the release of her new book, THUG (Something Real Book 3), by giving away an amazing prize to everyone who enters! Click here to enter!

She's the wife of my archenemy. My chance for revenge. Could she also be my heart's salvation?
—–
I have three simple rules. Put family and the Bratva first. Show no weakness. Never bend.
Then Siena Russo explodes into my life, knocking me off my feet. And I forget all my rules. Siena is witty and kind with an inner strength befitting a Mafia queen. My dream girl in the flesh.
It is all smooth going but for one giant hurdle. She is the wife of my archenemy, Salvatore Romano. Prince of the Italian Mafia.
Siena is in a fix, but if I help her, I will violate the Mafia truce. Crossing the ruthless Romanos means certain death.
Sal wronged me once, and I was forced to let it go. To protect my family and keep the peace.
Now is my chance to get even. Save Siena and steal Sal's wife. Revenge is sweet but complicated. How do I choose between love and family?
$0.99 For A Limited Time!
Get Your Copy Here:
---
Excerpt from THUG
"There's movement at the gate," Adrik announced, drawing all our gazes.
We were parked across the street from the address Siena had texted me, having only just arrived moments ago.
We'd shown up just in time.
Sal's property was fenced like most of the fancy homes in the area, and while we watched, the gate opened, and two vehicles emerged: a Tahoe and a sedan.
My gut said Siena was in that Tahoe, probably with Sal.
"Follow them," I ordered. "But stay back. Don't let them see you."
Once the vehicles rounded the corner, Adrik pulled away from the curb and followed.
It was nearly five a.m. now, and the streets were empty, which made it easy to follow them. We stayed back so they wouldn't get suspicious, and about fifteen minutes later, they turned into the Romano estate in Beverly Hills.
Dom's gaze darted to mine. "If she's in one of those cars and they take her inside, our chances of getting her out are slim."
Enzo Romano's property was like a fortress, much like the Popov mansion. He had thugs guarding it from all sides, not to mention the security fence that we would have to get past without alerting the guards. Odds of us getting inside undetected were slim to none.
Adrik pulled the car over several houses away and waited for my instructions.
I ground my jaw. We didn't have enough manpower with us tonight to take on the Romanos. We shouldn't even be here. I had put everyone in this car in danger just by being this close to the Romano estate. To venture any closer would be suicide. His men shot first and asked questions later.
I dragged a hand down my face. We had no choice but to back off for now. We would have to wait for another opportunity to free Siena.
"Fuck!" I slammed my fist into the back of Timofey's seat, startling him. "Fuuuuck!"
Tension filled the car. We all watched in silence as the gate opened and the two vehicles drove inside the property.
I bowed my head, not wanting to admit defeat.
Hundreds of scenarios flashed through my mind of ways Sal might torture Siena. In that moment, I was reminded of what the son-of-a-bitch had done to Cara, and my stomach heaved.
Be strong, Siena. Don't let him break you. I'll get you out of there as soon as I can.
"Now what, boss?" Adrik asked, eyeing me in the rearview mirror.
Heaving out a long sigh, I lifted my head.
"Now, we wait."
---
Meet Leslie Georgeson

From genetically-altered super soldiers (The Dregs) to deceptive, dare-devil rescuers (The Pact), Leslie Georgeson blends romance and suspense to create stories that are laced with danger, action, and plenty of steam. Music and the Mafia combine in her newly released romantic suspense series Something Real.
Leslie is an avid reader, a nature and animal lover, a self-proclaimed plant freak, and enjoys spending time with her family. She lives with her husband and daughter (and an impressive collection of rare and exotic tropical plants) on a quiet country acreage in Idaho.
Interview with Leslie Georgeson
Q: Hi Leslie! Tell us about your publishing journey. Did you always want to be an author?
LG: I decided when I was fourteen that I wanted to be a writer, but like many authors, it didn't happen for me until much later in life. I didn't publish my first book until 2014.
Q: Tell us about your heroine. What inspired her quirks and struggles?
LG: Siena is tough, having lost her parents when she was eighteen and then having to raise her younger brother on her own. Throughout the story she is thrust into difficult situations, but no matter how many times she gets knocked down, she always picks herself back up. She is a fighter, through and through.
Q: Tell us about your hero. What motivates him?
LG: Lev is a strong, alpha male who suffered a traumatic loss as a teen. The experience left him damaged, so now he keeps himself closed off to relationships. Then Siena bursts into his life, zapping him like a lightning bolt, and he suddenly forgets all his rules. He is determined to keep her safe, risking his life and even pitting himself against his own family in his efforts to protect her. He is the type of swoon-worthy hero that will do anything for the woman he loves.
Q: Do you listen to music while writing? Share your Spotify list with us!
LG: I love music, and I listen to most genres. Pop, rock, alternative rock, country. The occasional rap song. Anything that resonates with me. Some of my favorite artists/songs are mentioned in the books of this series.
Q: Any advice for new writers?
LG: Hire a good beta reader and editor; they are invaluable. Be open to constructive criticism. Don't let your ego get in the way. It's going to get bruised from time to time, but that's just life. Not everyone is going to like you or your work. Writing a novel can be a long and arduous journey, so don't give up. And always, just be yourself.
This Or That Questions:
Coffee or Tea? Coffee
Book or Movie? Book
Morning or Night? Morning
City or Country? Country
Summer or Winter? Summer
Early or Late? Early
Readers, you can follow Leslie Georgeson around the web at:

Facebook
Amazon author page
Twitter
Goodreads
Bookbub
Enter to win a free ebook & gift card from Leslie Georgeson
Click Here To Enter Now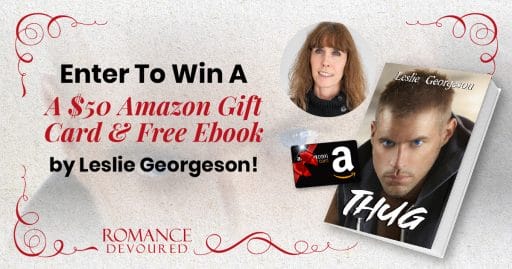 Did you get your copy of THUG by Leslie Georgeson? Let us know your thoughts in the comments.
Like this post? You might also enjoy New Book Releases To Anticipate In 2022.