Prepare for epic adventures, stunning romance, and mesmerising magick with the beginning of Nora Roberts' The Dragon Heart Legacy trilogy. Nora Roberts' The Awakening kicks off the bestselling series, which we just had to read for ourselves! The second book in the series, The Becoming is out now and the third book, The Choice will be released on November 22 2022. Therefore, now is the perfect time to get up to speed on this amazing paranormal romance trilogy. So, check out our thoughts on the novel right now.
Table of Contents [CLICK HERE TO OPEN]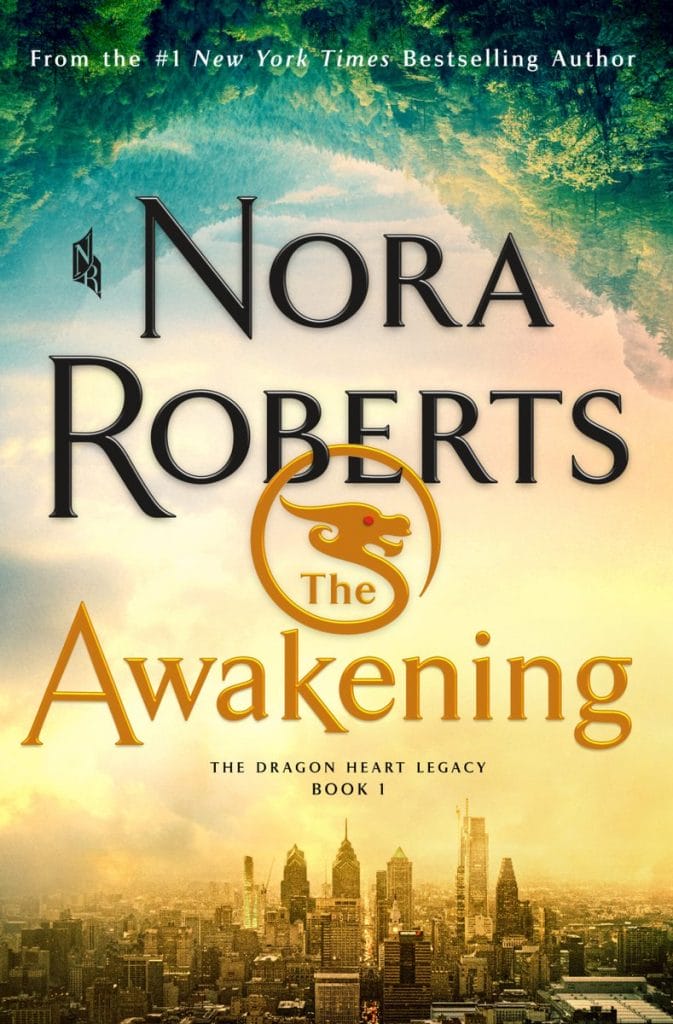 The Awakening: The Dragon Heart Legacy, Book 1
#1 New York Times bestselling author Nora Roberts begins a new trilogy of adventure, romance, and magick in The Awakening.
In the realm of Talamh, a teenage warrior named Keegan emerges from a lake holding a sword—representing both power and the terrifying responsibility to protect the Fey. In another realm known as Philadelphia, a young woman has just discovered she possesses a treasure of her own…
When Breen Kelly was a girl, her father would tell her stories of magical places. Now she's an anxious twentysomething mired in student debt and working a job she hates. But one day she stumbles upon a shocking discovery: her mother has been hiding an investment account in her name. It has been funded by her long-lost father—and it's worth nearly four million dollars.
This newfound fortune would be life-changing for anyone. But little does Breen know that when she uses some of the money to journey to Ireland, it will unlock mysteries she couldn't have imagined. Here, she will begin to understand why she kept seeing that silver-haired, elusive man, why she imagined his voice in her head saying Come home, Breen Siobhan. It's time you came home. Why she dreamed of dragons. And where her true destiny lies—through a portal in Galway that takes her to a land of faeries and mermaids, to a man named Keegan, and to the courage in her own heart that will guide her through a powerful, dangerous destiny…
Detailed Description
In book 1 of the Dragon Heart legacy when we are first introduced to Breen. She is working at a job that she doesn't enjoy and is drowning in student debt from her University degree. She is also very nervous and anxious. Because she is short of money she flat shares an apartment with her best friend, Marco. Breen tones down her naturally red hair with brown dye, wears a lot of beige and tries her best to blend into the background. It is apparent that a lot Breen's lack of confidence in herself and her appearance is due to her mother who has made Breen believe that she shouldn't be seen. Breen was very close to her father when she was a child but her parent's split up and much to her dismay her father disappeared from her life.
When Breen's overbearing mother is out of town Breen is asked to take care of her house. As Breen is doing this a gust of wind knocks over a stack of papers. When tidying up Breen discovers that she has a hefty investment trust in her name that her father was paying into. This was kept from her by her mother. As Breen is legally an adult she is able to withdraw the money and she finds for the first time in her life she doesn't have to struggle financially. One of the first things she plans is a trip to her father's homeland, Ireland. With her best friend Marco she makes the journey.
When they first arrive Breen is fascinated with the country and she seeks to find information about her father. After a few weeks, as planned, Marco has to return home and Breen is left to stay alone in Ireland. She rents a cottage in the countryside, one day when she is out walking she follows a dog into the woods. Breen falls down a hole by a huge tree. At first she thinks that she has merely fallen a few feet but she discovers she is in a different world that is inhabited by Sidhe, Fae, Elves and Were. There she also meets her Grandmother and learns of what really happened to her father. Initially shocked and disbelieving Breen returns to her cottage but promises her Grandmother she will return.
After some deep consideration Breen returns to Ireland to get to know her grandmother and the rest of the community. There is an attack where she is almost kidnapped and then she learns the truth of why she was taken away from Ireland by her parents. Keegan, the Taoiseach of their community saves Breen from being captured. Then she learns of her Grandfather Oden, who is a dark Fae and who wants to have Breen. Keegan agrees to train Breen to hone her skills and Breen starts on a journey of discovery to find out who she really is.
Our Review – ★★★★★
This novel is an amazing introduction to the Dragon Heart Legacy Series. And as always from Nora Roberts this is a flawlessly written book which builds the beautiful of world Talamh. The development of Breen is believable as she wrestles with which world she belongs in. The familiar world of Philadelphia where she has lived her whole life with good stable friends. Or the new and magical world of Talamh with her real family. And wow, Keegan is amazing! Not only is he super hot he is every inch the perfect warrior and gentleman, you really should get to meet him!
This was a fast read and hard to put down. We can hardly wait until Book 2 is released which thankfully we won't have to wait too long for. Book 2 The Becoming is out next week. We will be first in the queue to discover what happens next for Breen and Keegan! Can't wait!
Frequently Asked Questions
How many books are in The Awakening series by Nora Roberts?
There are 3 books in The Awakening Series (The Dragon Heart Legacy) by Nora Roberts. The Awakening is book 1 in the Dragon Heart Legacy trilogy. The Becoming is the recently released sequel. And the third and final book The Choice will be out in May 2022!
Is the Dragon Heart Legacy a trilogy?
Yes, the Dragon Heart Legacy is a trilogy. The Awakening is book 1 in the Dragon Heart Legacy trilogy. The Becoming is the recently released sequel. And the third and final book The Choice will be out in May 2022!
Does The Awakening Nora Roberts have romance?
Yes, it does. Breen and Keegan are a smoking hot couple!
Will there be a third book in the Dragon Heart series by Nora Roberts?
Yes, there will be a third book in the Dragon Heart series. It will be called The Choice and it will be released on November 22 2022. This will be the last book in the Dragon Heart Series and will complete the trilogy.
Will there be a sequel to Nora Roberts The Awakening?
Yes, there is already a sequel to The Awakening Out. Dragon Heart Series Book 2 is called The Becoming and it was released on November 23 2021.
Did you enjoy The Awakening as much as we did? Let us know!