With the recent release of season 2, there's no better time to start Emily in Paris on Netflix (if you haven't already binged the whole first season). It was the most-watched Netflix show in 2020, although it was surpassed by Bridgerton in 2021. With an amazing cast – Lily Collins, Ashley Park, Philippine Leroy-Beaulieu, and Lucas Bravo – combined with a romantic story, Emily in Paris is a definite must-watch. And we've included some fun facts about the show too! So, check it out now.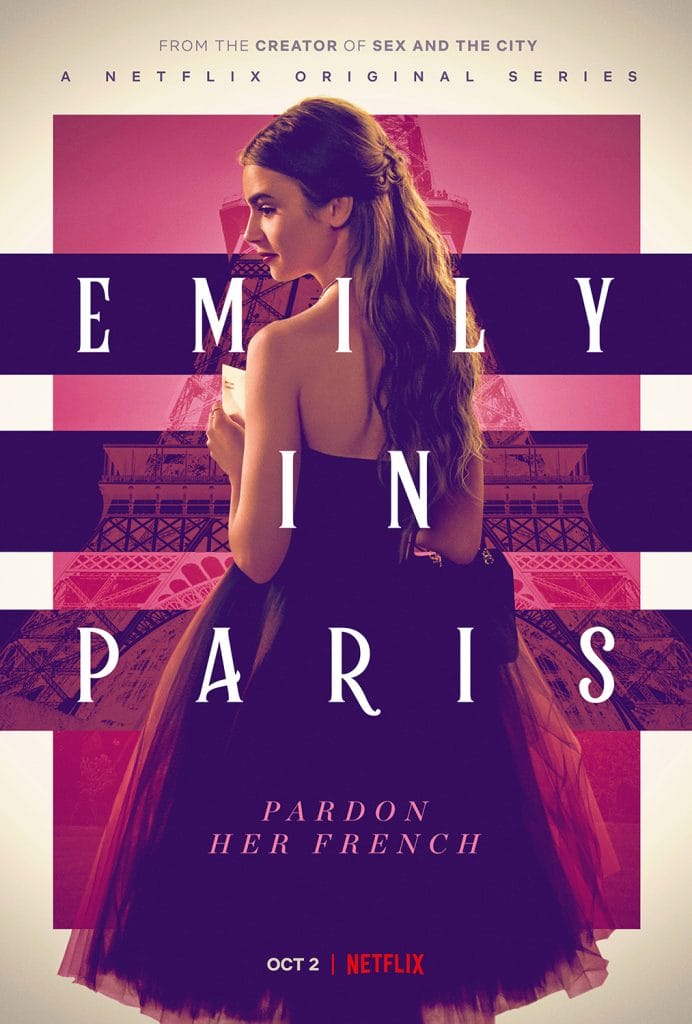 Emily In Paris – Season 1 (2020)
Emily is a driven 20-something American from Chicago who moves to Paris for an unexpected job opportunity. She is tasked with bringing an American point of view to a venerable French marketing firm. However, her life isn't easy as cultures clash and she adjusts to the challenges of life in Paris. As well as juggling her career, new friendships, and love life.
Image credit: Netflix
Emily In Paris – Season 2 (2021)
Now more entrenched in her life in Paris, Emily's getting better at navigating the city, but still struggling with the idiosyncrasies of French life. After stumbling into a love triangle with her neighbor and her first real French friend, Emily is determined to focus on her work. And in French class, Emily meets a fellow expat who both infuriates and intrigues her.
Image credit: Netflix
If you haven't already seen it, check out the season 2 trailer below
Fun Facts About The Show
Emily in Paris' creator – Darren Star – created the shows Sex and the City, Melrose Place, Younger andBeverly Hills, 90210 as well.
The costume designer – Patricia Field – also did the wardrobe for Sex and the City.
Lucas Bravo – who plays the chef Gabriel – used to work as a sous-chef in real life.
Mindy's actress Ashely Park is a broadway star, so it's her actual singing voice we hear in the show.
During filming, Lily Collins spent four months living in Paris as a local. And things that happened to Emily also happened to her.

Collins said that: "I lost hot water for two weeks, my apartment didn't have heating, my elevator stopped working, there was construction everywhere."

Unlike Emily, Lily Collins can actually speak French.
To film the opera scene, they shut down the Paris Opera House for a night.
Lucas Bravo, Ashley Park and Samuel Arnold – who plays Julien – all lived together during the shoot. Ashley hosted the others in her two-bedroom appartment for the last month and a half of filming.

And Lucas accidentally broke into the wrong appartment after Ashley forgot her keys. He tried to get in through the unlocked window, so he had to climb up two flights to get to it. But he went to the wrong window!

According to Lucas, Darren Star can actually speak really good French, but Darren would never admit it.
The joke Emily made about Lou Malnati's pizza was not appreciated by the owner of the Chicago chain.

Marc Malnati's response to the joke was: "We've been serving Chicago's favorite Deep Dish since 1971. When Netflix' Emily in Paris writers chose to take a shot at Chicagoans and our pizza to try to get a laugh, it felt heartless and not humorous in the midst of Covid-19."

The show was filmed entirely in Paris and the writers lived there as part of their research.

Despite this, the show's French critics were not impressed. One critic said: "The berets. The croissants. The baguettes. The hostile waiters. The irascible concierges. The inveterate philanderers. The lovers and the mistresses. Name a cliché about France and the French, you'll find it in Emily in Paris."
Did you love Emily in Paris on Netflix? Let us know!
If you liked this, then check out: