In a world where cynicism clashes with destiny, Christina Lauren's The Unhoneymooners invites readers on a whirlwind romantic adventure that will have you laughing, swooning, and believing in the power of unexpected love. This delightful novel is a perfect escape, filled with humor, witty banter, and enough chemistry to set pages ablaze.
Is The Unhoneymooners right for you?
For fans of:
Comes another warming book to bring yourself into a world with sun-kissed tan and mojitos on tap.
Table of Contents [CLICK HERE TO OPEN]
The Unhoneymooners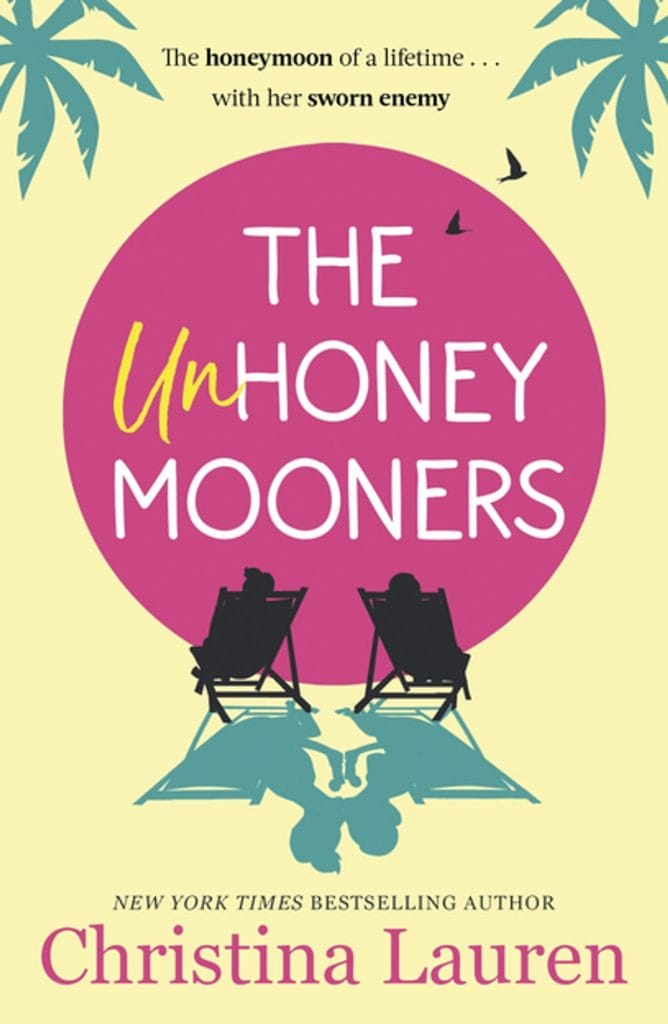 Named a "Must-Read" by TODAY, Us Weekly, Bustle, BuzzFeed, Goodreads, Entertainment Weekly, Publishers Weekly, Southern Living, Book Riot, Woman's Day, The Toronto Star, and more!

For two sworn enemies, anything can happen during the Hawaiian trip of a lifetime—maybe even love—in this romantic comedy from the New York Times bestselling authors of Roomies.
Full Description
Olive Torres is used to being the unlucky twin: from inexplicable mishaps to a recent layoff, her life seems to be almost comically jinxed. By contrast, her sister Ami is an eternal champion…she even managed to finance her entire wedding by winning a slew of contests. Unfortunately for Olive, the only thing worse than constant bad luck is having to spend the wedding day with the best man (and her nemesis), Ethan Thomas.

Olive braces herself for wedding hell, determined to put on a brave face, but when the entire wedding party gets food poisoning, the only people who aren't affected are Olive and Ethan. Suddenly there's a free honeymoon up for grabs, and Olive will be damned if Ethan gets to enjoy paradise solo.

Agreeing to a temporary truce, the pair head for Maui. After all, ten days of bliss is worth having to assume the role of loving newlyweds, right? But the weird thing is…Olive doesn't mind playing pretend. In fact, the more she pretends to be the luckiest woman alive, the more it feels like she might be.

With Christina Lauren's "uniquely hilarious and touching voice" (Entertainment Weekly), The Unhoneymooners is a romance for anyone who has ever felt unlucky in love.
Our Overview
"It's the strangest feeling to be proud simply because I'm taking care of me and mine. Is this what it's like to grow up?"
The Unhoneymooners by Christina Lauren is a captivating romantic comedy that follows the misadventures of Olive Torres, a perpetually unlucky girl who finds herself caught up in a twist of fate.In the picture-perfect Hawaiian paradise, The Unhoneymooners will take you on a rollercoaster journey of mistaken identities, hilarious mishaps, and unexpected love.
Olive Torres is the perpetual maid of honor, always standing by as her twin sister, Ami, basks in the glory of luck and good fortune. When Ami's entire wedding party falls victim to a severe case of food poisoning, the best man and her nemesis, are the only two spared. While everyone else recovers, Olive and Ethan are thrust into the opportunity of a lifetime—the all-expenses-paid Hawaiian honeymoon that was meant for Ami and her new husband.
Reluctantly, Olive and Ethan embark on their "unhoneymoon," a dream trip that was never meant for them. From the moment they set foot on the sunny beaches of Maui, their already tense relationship becomes a ticking time bomb of witty banter, sharp retorts, and undeniable chemistry. Their love-hate dynamic and constant bickering is electrifying.
As Olive and Ethan navigate their shared vacation, they encounter a series of awkward mishaps that range from hilarious to cringe-worthy. From wardrobe malfunctions to awkward encounters with Ami's in-laws, their journey is rife with misunderstandings. Yet, amidst the chaos, a genuine connection begins to form…
But it can't all be cocktails and sunbathing. They soon find themselves embroiled in a scheme involving a deceitful bride and groom. As secrets unravel, Olive must confront her own insecurities and learn to trust her instincts. Alongside her personal growth, she soon discovers that sometimes love and luck are intertwined in the most unexpected ways.
Our Review
Calling all enemies-to-lovers fans! Want bickering? Hating that you're catching feelings? Surprisingly tender moments in the midst of madness? Well, you're about to be well-fed.
Olive and Ethan's love-hate dynamic is an absolute treat. Their constant bickering and playful banter create a sizzling tension that leaps off the page. Watching their relationship evolve from adversaries to unexpected allies and eventually something more is a joyous and heartwarming experience. Their chemistry is palpable, making every interaction crackle with electricity. And it will make your heart flutter!
Beyond the tantalizing romance, The Unhoneymooners also explores themes of self-discovery and personal growth. Olive's journey of realizing her own worth and challenging her perceptions of luck adds depth to the story. Her complicated relationship with her twin sister, Ami, further adds layers of complexity and authenticity to the narrative. Anyone else a sucker for family drama?
The Unhoneymooners is an enchanting escape from reality, providing a much-needed dose of laughter, warmth, and feel-good moments. You will practically feel the Hawaiian sun on your skin and the soft sound of waves. It is a book that effortlessly balances humor, romance, and character development. With its witty writing, endearing characters, and plot filled with twists and surprises, this book guarantees you an engaging and uplifting journey that will leave you with a happy heart.
Sequel Announcement!
As if there weren't enough reasons to read The Unhoneymooners, we've been blessed with a sequel!
Christina Lauren announced on her website that a full-cast sequel is coming on August 1 2023! This Audio-Original promises some sparking romance, a lot of banter, and a handful of awkward moments! So be sure to pre-order quickly!
A perfectionist maid of honor and a carefree, surfer-bro best man team up to plan a wedding and end up finding a spark of their own in the first audio original from author duo Christina Lauren, a full-cast sequel to their New York Times bestseller The Unhoneymooners.
Audible
Google Play
Apple Books
Libro.FM
---
Frequently Asked Questions
Is there spice in the Unhoneymooners?
Wholesome readers rejoice! This is a reletively PG novel. Although there are references to some sexual themes, any spice is safely locked away in closed-door scenes.
Is The Unhoneymooners appropriate?
There is some sexual reference as well as drug and alcohol references. Readers under 16 may want to be wary of this prior to picking up the book.
What are the trigger warnings for The Honeymooners?
Trigger warnings for: vomiting, infidelity, fat-shaming and gaslighting.
Will The Honeymooners become a movie?
The Unhoneymooners is coming to the big screen! BCDF Pictures acquired the rights to the book in June 2021.
---