Colleen Hoover's It Ends With Us is one of her most well-known books for its emotional storytelling. In this heartfelt story, we are introduced to Lily, who hasn't had an easy life but that's never stopped her. And Lily feels a spark with a gorgeous neurosurgeon named Ryle Kincaid, which makes everything in her life seem too good to be true.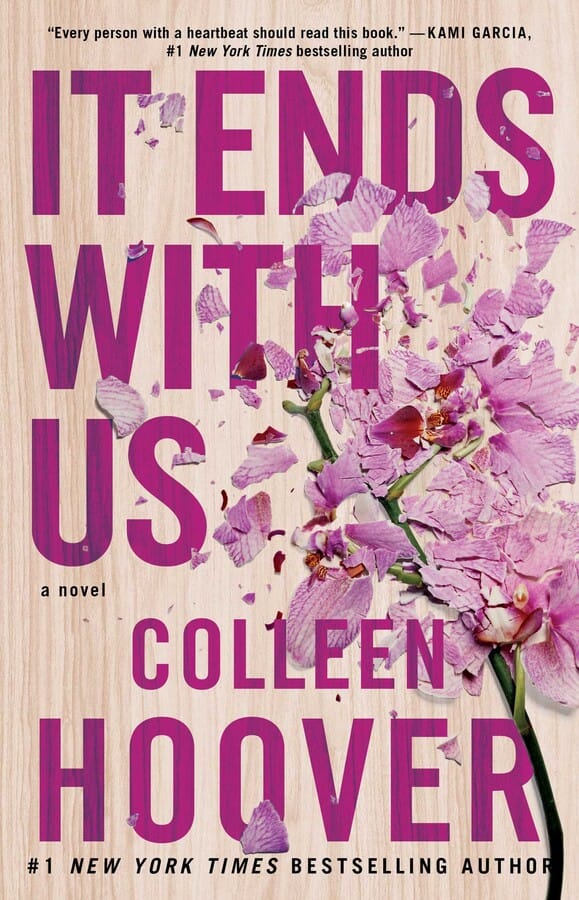 It Ends With Us
SOMETIMES THE ONE WHO LOVES YOU IS THE ONE WHO HURTS YOU THE MOST

Lily hasn't always had it easy, but that's never stopped her from working hard for the life she wants. She's come a long way from the small town in Maine where she grew up. She graduated from college, moved to Boston, and started her own business. So when she feels a spark with a gorgeous neurosurgeon named Ryle Kincaid, everything in Lily's life suddenly seems almost too good to be true.

Ryle is assertive, stubborn, and maybe even a little arrogant. He's also sensitive, brilliant, and has a total soft spot for Lily. But Ryle's complete aversion to relationships is disturbing.

As questions about her new relationship overwhelm her, so do thoughts of Atlas Corrigan – her first love and a link to the past she left behind. He was her kindred spirit, her protector. When Atlas suddenly reappears, everything Lily has built with Ryle is threatened.

With this bold and deeply personal novel, Colleen Hoover delivers a heart-wrenching story that breaks exciting new ground for her as a writer. It Ends With Us is an unforgettable tale of love that comes at the ultimate price.
Detailed Description
WARNING: This book has very sensitive subject matter and elements that may be a trigger to some people, please do not proceed to read this review if you think this may affect you.
When we first meet Lily Bloom she is in the aftermath of the funeral of her father. But she isn't sad as she spent her childhood watching him being physically and verbally abusive to her mother. She is actually relieved that he is gone and cannot hurt her mother anymore.
When we first meet Ryle he is angry. Lily is on a rooftop in Boston where she lives to contemplate the passing of her father but Ryle bursts out, unaware that she is there. Ryle is taking his anger out on a chair until Lily asks him what is wrong. He tells her that he is a neurosurgeon and that he just lost a child patient. The two talk for a bit and begin to connect but Ryle tells Lily that he doesn't do relationships and that he is only interested in a one night stand. That isn't something that Lily is into so despite the deep physical attraction nothing happens between the couple.
With the death of her father bringing Lily's thoughts to the past she goes back to read through her childhood journals that she wrote when she was a teenager. This is where we are introduced to a homeless boy who was squatting in an abandoned house behind Lily's. She realizes that the boy goes to her school. Lily is concerned for his well-being living in a house in the winter with no running water, gas or electricity so she begins to help him.
Back to the present and it is several months later and Lily is living her dream of opening up her own flower shop. Someone comes in and asks for a job. Alyssa and Lily connect and soon become close friends. When Lily injures her ankle in the shop Alyssa calls her brother for help. Lily soon finds out that Alyssa's brother is in fact Ryle. The two connect again but separate again before anything happens between them.
Lily reads through more of her journals and we learn more about Atlas, the homeless boy, and teenage Lily growing closer. As Lily is reading through her journals there is a knock at the door and Ryle has shown up at her apartment. This is despite him not knowing where she actually lived. He went to her block and knocked on every door until he found hers. Ryle begs Lily to have sex with him, with the promise that he will stop bothering if he does. Despite her reservations Lily agrees because she is physically attracted to him.
Despite Ryle's no relationship rule he becomes obsessed with Lily and pursues her relentlessly and breaks this rule for her. Everything seems perfect at first to Lily despite the red flags and to her Ryle's obsessive nature seems romantic.
Through further of Lily's journal entries we learn more of Lily's teenage years. We also find how Lily's father becomes more and more abusive to her mother. And as her mother keeps forgiving him and taking him back Lily grows to hate her father more and more. And she grows more and more closer to Atlas.
Back in present day Lily is having lunch in a restaurant when she comes across Atlas working there after they lost touch as teenagers. Lily is surprised to see him and find that a lot of her old feelings for him haven't died so for the sake of her and Ryle she decides it best that she avoids Atlas.
Then a shocking incidence happens with Ryle and it leaves Lily to question everything. Ryle is full of remorse and promises that it will never happen again. The couple stay together but Ryle's anger issues threaten everything. Lily begins to see glimmers of her father in Ryle and herself in her mother. She tries to remain strong but can she stop history repeating itself?
Our Review – ★★★★★
This book was so very well written and the depth that it reaches clearly shows that this is something that Colleen has established first hand. Which she establishes in the author comments at the end that it is her parents relationship reflected in Ryle and Lily. It was hard to put down and a fast read. This is a very sensitive topic and it was handled with care whilst showing that everything in these situations isn't always black and white. And whilst we route for Lily to make the right decision the author makes it clear it isn't an easy one. We recommend this as a must read!
Did you enjoy Colleen Hoover It Ends With Us as much as we did? Let us know!