In a world where science and romance collide, The Soulmate Equation by Christina Lauren takes readers on a captivating journey that intertwines matters of the heart with the complexities of scientific matchmaking. This contemporary romance novel seamlessly blends elements of love, humor, and thought-provoking themes, creating an enchanting reading experience that lingers long after the final page.
In this article, we delve into the depths of The Soulmate Equation, dissecting its unique premise, compelling characters, and the seamless balance between science and matters of the heart. Christina Lauren (made up of writing duo Christina Hobbs and Lauren Billings), known for their compelling storytelling, weaves a tale that captivates readers from start to finish, leaving us with a renewed sense of hope and a touch of magic.
Table of Contents [CLICK HERE TO OPEN]
Official Description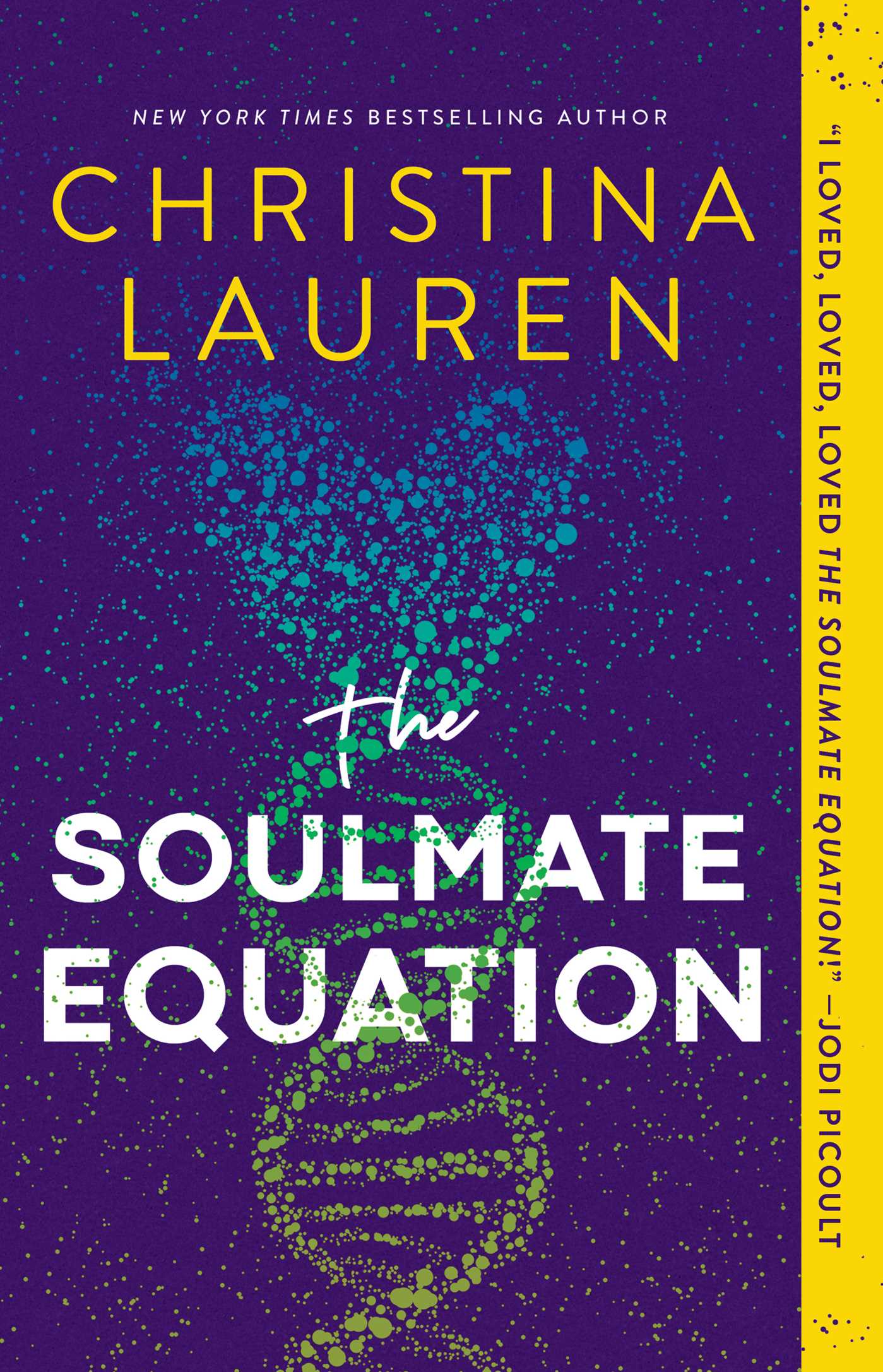 The Soulmate Equation
INSTANT NEW YORK TIMES BESTSELLER

"Writing duo and reigning romance queens Christina Lauren are back with The Soulmate Equation, their most ambitious book to date." —PopSugar

​"A sexy, science-filled, and surprising romance full of warmth and wit." —Kirkus Reviews (starred review)

Chosen as a best pick by Bustle, Marie Claire, Entertainment Weekly, E! Online, PopSugar, BuzzFeed, Goodreads, Country Living, The Pioneer Woman, Woman's World, Bookish, Bookreporter, Frolic, and more!

The New York Times bestselling author of The Unhoneymooners returns with a witty and effervescent novel about what happens when two people with everything on the line are thrown together by science—or is it fate? Perfect for fans of The Rosie Project and One Plus One.
Single mom Jess Davis is a data and statistics wizard, but no amount of number crunching can convince her to step back into the dating world. After all, her father was never around, her hard-partying mother disappeared when she was six, and her ex decided he wasn't "father material" before her daughter was even born. Jess holds her loved ones close but working constantly to stay afloat is hard…and lonely.
But then Jess hears about GeneticAlly, a buzzy new DNA-based matchmaking company that's predicted to change dating forever. Finding a soulmate through DNA? The reliability of numbers:This Jess understands.
At least she thought she did, until her test shows an unheard-of 98 percent compatibility with another subject in the database: GeneticAlly's founder, Dr. River Peña. This is one number she can't wrap her head around, because she already knows Dr. Peña. The stuck-up, stubborn man is without a doubt not her soulmate. But GeneticAlly has a proposition: Get 'to know him and we'll pay you. Jess—who is barely making ends meet—is in no position to turn it down, despite her skepticism about the project and her dislike for River. As the pair are dragged from one event to the next as the "Diamond" pairing that could launch GeneticAlly's valuation sky-high, Jess begins to realize that there might be more to the scientist—and the science behind a soulmate—than she thought.
Our Overview
"I want to be here to bring you coffee. I want to take you out to dinner and order the same food and hear you recite the odds that we would have met. I want to hate-attend fancy social events together." Jess laughed, a surprised burst of sound, and his tone softened. "I want you to call me for help—without an apology already on the tip of your tongue. I want to feel like I can kiss you again by your car at the end of the night."
The Soulmate Equation by Christina Lauren is a captivating contemporary romance novel that explores the concept of using science and genetics to find one's perfect soulmate. (If you enjoyed The One by John Marrs, then this is just up your alley!) The story follows Jess Davis, a single mom and statistics whiz, who becomes an unexpected participant in a groundbreaking matchmaking experiment.
Jess is a struggling single mother, juggling her demanding job as a freelance statistician and taking care of her adorable daughter, Juno. When she learns about GeneticAlly, a company that claims to have developed a scientific equation to identify soulmates, she initially dismisses it as a gimmick. However, her best friend, Fizzy, convinces her to take the DNA test on a whim.
To her surprise, Jess discovers that she has a 98% compatibility score with a mysterious man named Dr. River Pena. He is the renowned geneticist behind GeneticAlly. This discovery throws her life into chaos. Suddenly she is thrust into the spotlight, garnering media attention and becoming the subject of intense public curiosity.
As Jess reluctantly agrees to be a part of the company's publicity campaign. She then finds herself spending more time with River, who is just as brilliant as he is enigmatic. River is fascinated by the potential of their compatibility score and is determined to explore their connection further. Although Jess remains skeptical about the validity of the soulmate equation.
While navigating their growing attraction, Jess and River also face personal challenges and emotional baggage. Jess carries the weight of her troubled past relationships and is hesitant to fully open herself up to the idea of true love. River, too, has his own secrets and struggles, making it difficult for him to fully commit.
As the media frenzy around their match intensifies, Jess and River must confront their fears and insecurities. Learning to trust each other and their own hearts. They embark on a journey of self-discovery and vulnerability. They test the limits of their compatibility score and question whether a scientific equation can truly determine a soulmate connection.
Our Review
"The Soulmate Equation" by Christina Lauren is an absolute gem of a contemporary romance novel that effortlessly combines science, heart, and irresistible chemistry. This book had us completely hooked from the first page, and we couldn't put it down until we finished.
The Soulmate Equation is a delightful blend of romance, humor, and thought-provoking concepts. Christina Lauren's writing style is engaging and immersive, allowing readers to easily connect with the protagonist, Jess Davis, and experience her journey firsthand.
We was particularly drawn to the unique premise of GeneticAlly, a company that uses a scientific equation to determine soulmate compatibility. It added an intriguing twist to the typical romance novel. This allowed us to explore the intersection of love and science in a fresh and compelling way. The concept kept me on my toes, eagerly turning the pages to see how Jess and River's relationship would unfold. It seems like a speculative discussion on how we currently use genetic analysis to trace our ancestory, health, pre-disposed exposure to illness, etc. This is a current controversial topic. Some claim that such genetic analysis is not fair to the families of those who do it, as part of their genetic makeup is also being analyzed. Additionally, these companies may freely sell such data!
Okay… Science out of the way! Onto the romance!
The character dynamics in this novel were superb. Jess, a relatable and strong single mother who is wrought with vulnerability, and dedication to her daughter, Juno. Dr. River Pena, the enigmatic geneticist, is a swoon-worthy hero with his intelligence and charm. Their chemistry was palpable, sparking both fiery banter and tender moments that left us sighing with delight.
This is an easy read, so those who aren't too keen on the science-side of the novel need not worry. The science is presented easily for the average person to easily digest – remember, this is primarily a romance after all! You'll find the pages turning themselves, we promise!
---
Frequently Asked Questions
What is Soulmate Equation about?
In a world where your genetic makeup can perfectly dictate your soulmate, single mother Jess Davis finds herself overwhelmingly compatible with the very man behind the science of the discovery.
Is The Soulmate Equation appropriate?
There is some sexual reference as well as drug and alcohol references. Readers under 18 may want to be wary of this prior to picking up the book.
Is The Soulmate Equation a slow burn?
It doesn't take long for River and Jess to fall in love (they are perfect soulmates after all!). We probably wouldn't class this as a slow burn.
---