The Love Hypothesis by Ali Hazelwood follows a scientist's journey to true love which is packed full with lies, tears, laughter and cringey moments. As Hazelwood's debut novel, her bibliography following women in STEM was an instant hit. The Love Hypothesis boasts being the Goodreads Choice Award finalist, a BuzzFeed Best Summer Read of 2021, and being a New York Times Bestseller.
Table of Contents [CLICK HERE TO OPEN]
Official Description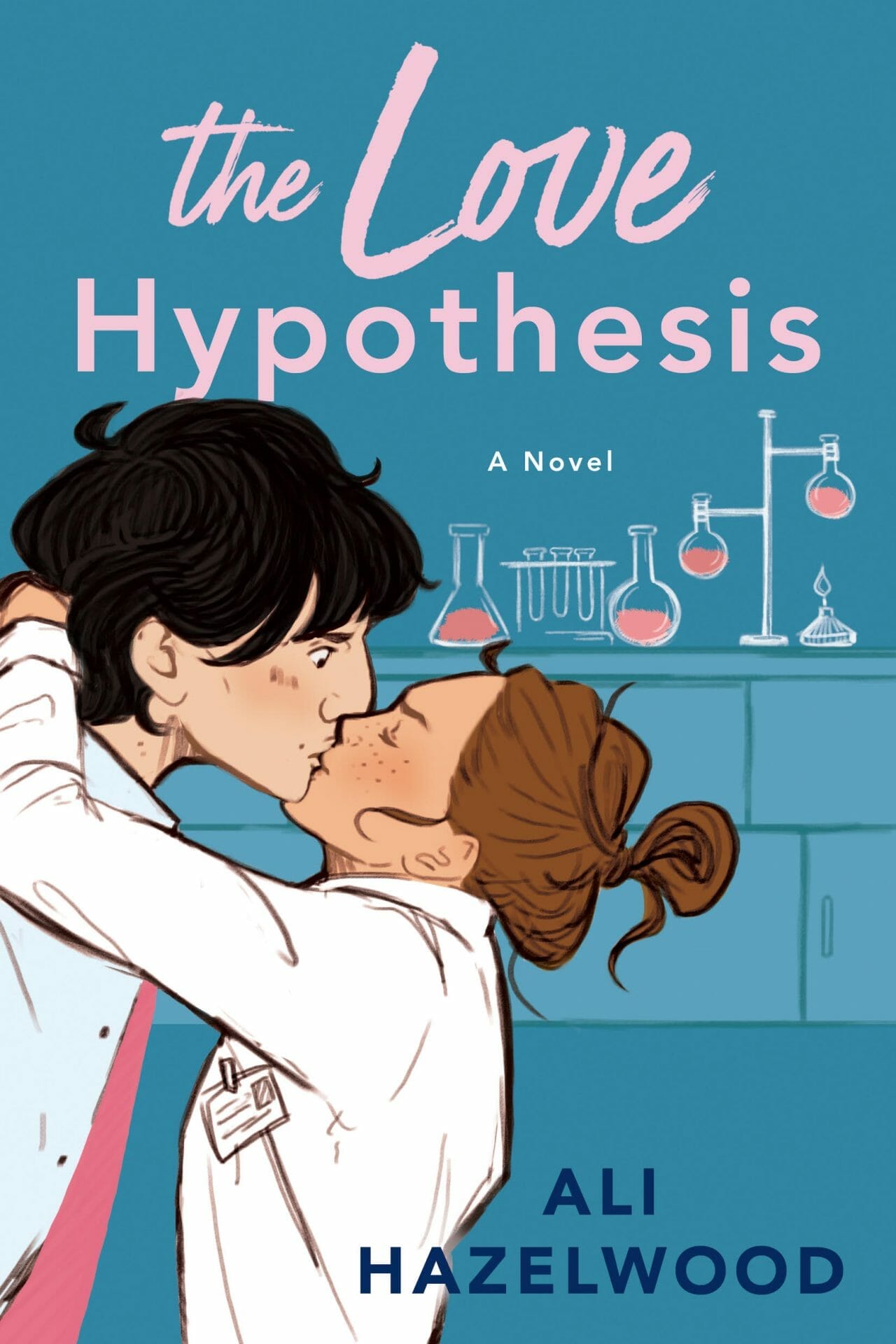 The Love Hypothesis
"I'm starting to wonder if this is what being in love is. Being okay with ripping yourself to shreds, so the other person can stay whole."

Ali Hazelwood, The Love Hypothesis
As a third-year Ph.D. candidate, Olive Smith doesn't believe in lasting romantic relationships–but her best friend does, and that's what got her into this situation. Convincing Anh that Olive is dating and well on her way to a happily ever after was always going to take more than hand-wavy Jedi mind tricks: Scientists require proof. So, like any self-respecting biologist, Olive panics and kisses the first man she sees.
That man is none other than Adam Carlsen, a young hotshot professor–and well-known ass. Which is why Olive is positively floored when Stanford's reigning lab tyrant agrees to keep her charade a secret and be her fake boyfriend. But when a big science conference goes haywire, putting Olive's career on the Bunsen burner, Adam surprises her again with his unyielding support and even more unyielding…six-pack abs.
Suddenly their little experiment feels dangerously close to combustion. And Olive discovers that the only thing more complicated than a hypothesis on love is putting her own heart under the microscope.
Our Overview (Spoilers Ahead!)
The Love Hypothesis follows Olive Smith, a 26-year-old graduate student of Biology at Stanford University. Losing her mother to pancreatic cancer, Olive's research focuses on pancreatic cancer.
Before her interview for PHD candidacy at Stanford, she meets Adam Carlsen, a fellow biologist. His words convince her that grad school is the right path. Two weeks later she accepts her offer to study at Stanford.
Almost three years later, Olive is trying to convince her best friend that she is over her ex-boyfriend so her friend will date her ex. Naturally, her best friend is apprehensive. Olive lies and says she has a date with someone, on that same night her friend sees her working in the lab. Desperate to prove she is over her ex, Olive kisses the first man she sees – Adam.
Known for being abrasive and mean, Adam demands an explanation. Olive explains herself and runs away, embarrassed and hoping she'll never see him again.
A few days later, Olive's friend interrogates her about her kiss. Before Olive can explain herself, Adam turns up and acts sweetly towards her, which finally convinces Olive's friend that their relationship is genuine. As Adam and Claire talk it out later, Olive admits that she wants to keep the charade going until her friend and her ex are together. Adam admits that his research funds are frozen and needs to convince Stanford that he's not leaving to unfreeze them. The two agree to fake-date for a while.
A Harvard researcher responds to Olive's request for better equipment and plans to meet her at Stanford.
During a fake date with Adam, the researcher, Tom Benton, joins them. He is a friend of Adam's and wants to meet the girlfriend everyone had been talking about. After listening to Olive's research pitch, Tom takes a look at her reports and offers her a space in his lab next year.
Adam helps Olive prepare for an important speech at a research conference. Adam's schedule overlaps with Olive's speech so he can't attend as he promised.
After the panel, Tom approaches Olive and forces himself on her. In response to Olive's threat to report him, Tom threatens to publish her research under his name. He insults her and her work. Later, Adam finds Olive crying in their hotel room. She doesn't tell Adam who is the cause for her upset and the two have a heart-to-heart. Emotions rise and the two spend the night together.
Over the next few days, Olive's life is a whirlwind of emotions. She breaks things off with Adam, feeling that the original contract is getting messy with emotions. When she meets her friends, they convince her to report Tom. Tom is later fired from Harvard, and Olive and Adam get back together.
Olive finds a better placement closer to Stanford and the pair stay in California together.
Our Review
Bingeability – ★★★★★
This book must be sold with a poltergeist in each copy – the pages kept turning themselves! Honestly, I'm a little surprised at how quickly I read The Love Hypothesis book. There's something very sweet about this book that makes it not only a delight to read, but incredibly easy to read.
Characters – ★★★☆☆
I'll always have a soft spot for women in STEM, so it's no surprise that I fell in love with Olive. It's heartwarming to see a character go through an unimaginable tragedy and use the trauma for a tremendous amount of post-traumatic growth. Olive has a knack for taking difficult situations, and despite being deeply affected by them, using them to better herself.
Setting – ★★★★★
It's always interesting when reading STEM-focused books. Like stepping into a world I'm half-familiar with and half-in awe of, it always makes for an interesting and provocative environment. Watching a young woman navigating such a space is motivating and inspiring to see and we couldn't help but cheer for Olive each step of the way. We hope to see more settings like The Love Hypothesis!
Storyline – ★★★☆☆
It's a little cliche – but it works. It's a cheery and easy read whose main focus is on the slow and eventual getting together of Adam and Olive. The entire timeline of the story is well-paced, cute, riddled with miscommunication and moments that made us want to shake the couple into sitting down and talking. We wish there was a little more focus on the side characters, but overall we thoroughly enjoyed the entire experience!
Overall Rating: ★★★★☆
The Love Hypothesis book is perfect for fans of YA novels and those who like a light-hearted read. It was an easy read and very easy to digest. Fans of the Heartstopper series or the Boys I've Loved Before series will bite into this book perfectly!
---
Frequently Asked Questions
What is the Love Hypothesis age rating?
The suggested age of this book is 18+ due to the sexual content.
What chapter is the spice in the Love Hypothesis?
The spicy scenes are in chapter 16. Hazelwood isolated all the spice to this one chapter, so those who want to skip it can do so easily!
Which fanfiction is the Love Hypothesis based on?
The Love Hypothesis was originally a Reylo fanfiction on Wattpad. Looking at the similarities, it seems obvious, doesn't it? .
What tropes are in the Love Hypothesis?
These questions are always a little difficult, since the real answer would be countless, but we'll give you the important ones:
Sunshine x Grumpy
Fake Dating
Slow Burn
Workplace Romance
Mutual Pining
Mean to everyone except the girl
Is the Love Hypothesis a long read?
The book is a respectable 356 pages! Definitely not a long read.
What did you think about The Love Hypothesis? Let us know!