From the New York Times bestselling author of The Love Hypothesis comes a new steamy, STEMinist novella – Ali Hazelwood Stuck With You. With Hazelwood's signature enemies-to-lovers trope carrying the theme of her novellas, it's no doubt that if you loved any of Hazelwood's works – you'll love this one too.
The STEMinist Novellas are short enough to absorb in one sitting, and we highly suggest you do! With amazingly fun characters and adorkable meetcutes, Stuck With You is definitely another strong release by Ali Hazelwood.
Table of Contents [CLICK HERE TO OPEN]
Official Description of Ali Hazelwood Stuck With You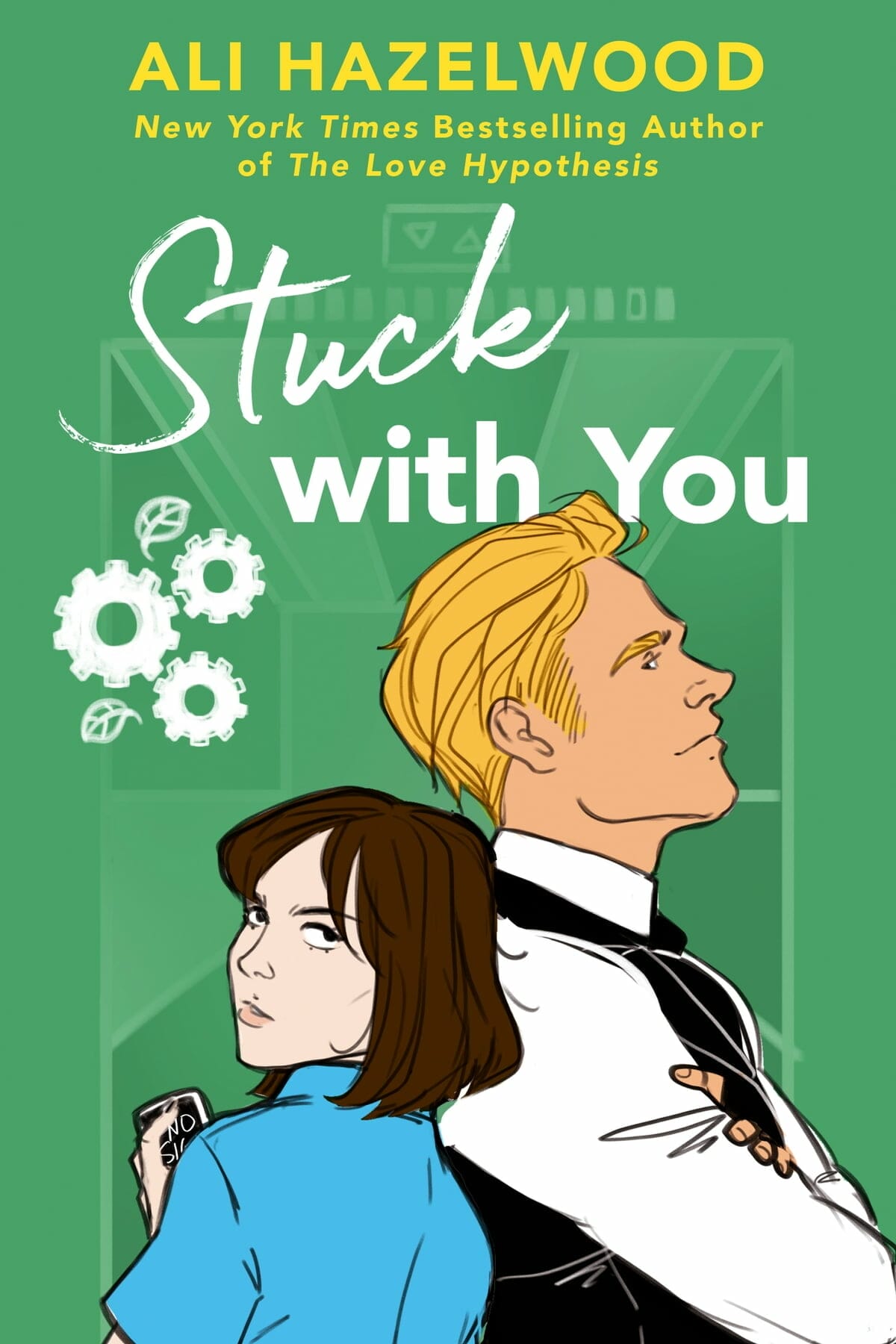 Stuck With You
"I blink, confused, suddenly remembering why I went into engineering. Logarithmic derivatives are so much easier than this relationship shit.

Ali Hazelwood, Stuck With You
Nothing like a little rivalry between scientists to take love to the next level.
Logically, Sadie knows that civil engineers are supposed to build bridges. However, as a woman of STEM she also understands that variables can change, and when you are stuck for hours in a tiny New York elevator with the man who broke your heart, you earn the right to burn that brawny, blond bridge to the ground. Erik can apologize all he wants, but to quote her rebel leader—she'd just as soon kiss a Wookiee.
Not even the most sophisticated of Sadie's superstitious rituals could have predicted such a disastrous reunion. But while she refuses to acknowledge the siren call of Erik's steely forearms or the way his voice softens when he offers her his sweater, Sadie can't help but wonder if there might be more layers to her cold-hearted nemesis than meet the eye. Maybe, possibly, even burned bridges can still be crossed….
Our Overview
The second story in Hazelwoods new STEMinish Novella series, Under One Roof is 127 pages of quirky dialogue and Hazelwood's iconic characters.
Sadie finds herself stuck in an elevator with the man who she hates with her full chest who also shattered her heart. For a full 24 hours, we're going to see exactly what happened between the two and see how their relationship changes once they're rescued from the elevator.
Sadie meets Erik and goes home with him in the same day, it's clear they have an instant connection. A whirlwind of love at first sight. They bond over soccer and their mutual love of engineering (albeit at different companies). After his betrayl, Sadie is hurt and refuses to talk to him.
Throwing us back and forth between the present and the past, Sadie and Erik are forced to talk things out between them in the elevator and we find out exactly what Erik did to hurt Sadie so deeply. Their fiery relationship hasn't smoldered out entirely, and by the time the elevator is fixed the pair are ready to rekindle their short stint at love once again.
Our Review of Ali Hazelwood's Stuck With You
Bingeability – ★★★★★
Readers of The Love Hypothesis may be happy to know that Hazelwood's Stuck With You is just as bingeable – if not more so! Hazelwood did a great job in the pacing of this novella, shooting between the present and the past made it very difficult to ever put this book down!
Characters – ★★★★★
Sadie is a quirky protagonist in all the right ways. Despite being a successful engineer, she still has superstitions which she must honour. We've all been there. Who doesn't have a lucky pair of underwear? Erik and Sadie's meetcute was adorable and we were rooting for them from the start. (Not to mention Erik's pet!)
Setting – ★★★★★
Although the first in the STEMinist novellas, Ali Hazelwood's Stuck With You has little actual science talk. It works perfectly for the storyline though, with half of it taking place in an elevator. The whole 'enemies forced in a small space to hash it out together' trope is a little overdone, but Hazelwood puts such a perfect spin on it that it feels like a lovely freshness to the genre.
Storyline – ★★★★☆
With a little bit of withholding information from the reader, it was really exciting to experience the reason for Sadie and Erik's falling out unravelling throughout the novella! It was cute, fun, really engaging to read and we were a little disappointed when we realised the novella came to an end!
Overall Rating: ★★★★★
There's something about reading Ali Hazelwood's writing that consistently hits that sweet spot. Whilst not the most realistic of relationships, watching how the past and present meld together to show the true colours of Sadie and Erik was really endearing to experience. With perfect pacing and characters that I truly liked, Ali Hazelwood's Stuck With You might be our favorite STEMinist novella yet!
---
Frequently Asked Questions
How many pages is Ali Hazelwood Stuck With You
This is a novella so it carries a sensible 127 pages. Easy to binge in one sitting!
Do you have to read the STEMinist novellas in order?
Nope! These novellas follow three different friends, so feel free to read them in whatever order tickles your fancy!
Is Stuck With You a standalone?
Stuck With You is the second novella in Ali Hazelwood's STEMinist Novella series. The Novella series follows the three friends: Mara, Sadie, and Hannah. The three novellas in the series include;
Under One Roof
Stuck with You
Below Zero
How long does it take to read Ali Hazelwood Stuck With You?
It's a fairly short read, so easily consumed in an evening. Even the audiobook at 2 hours 45 minutes is short enough to listen through if you have a particularly long drive!
What did you think about Stuck With You? Let us know!