Rival physicists collide in a vortex of academic feuds and fake dating shenanigans in this delightfully STEMinist romcom, Love, Theoretically from the New York Times bestselling author of The Love Hypothesis and Love on the Brain.
We're no strangers to Ali Hazelwood, and we doubt you are either. Her books have rightfully blown up on TikTok, Instagram, and Youtube with its unique but consistent contribution to the STEM romance field. Hazelwood is a master at bringing us the enemies-to-lovers workplace romance tropes and has earned herself fame for doing so. If you've been (im)patiently waiting for Hazelwood's next drop – then it's your lucky day. Keep reading to find out if the hype is worth the wait.
Table of Contents [CLICK HERE TO OPEN]
Official Description of Love, Theoretically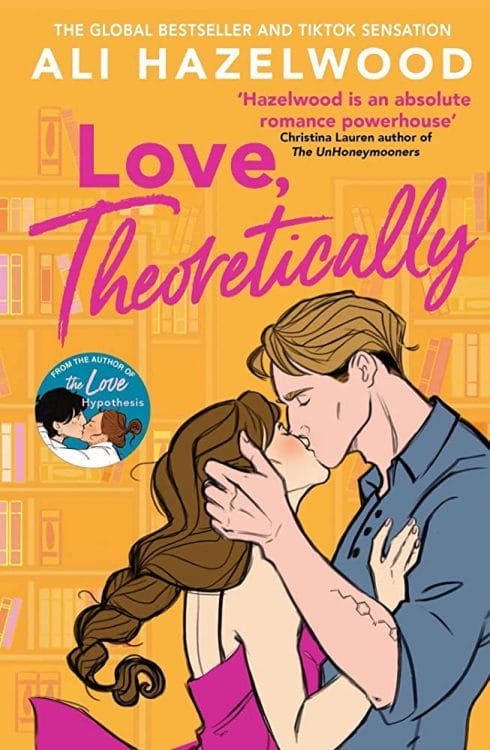 "There is no universe in which I'm going to let you go. I want to be with you, on you, every second of every day."

Ali Hazelwood, Love Theoretically
The many lives of theoretical physicist Elsie Hannaway have finally caught up with her. By day, she's an adjunct professor, toiling away at grading labs and teaching thermodynamics in the hopes of landing tenure. By other day, Elsie makes up for her non-existent paycheck by offering her services as a fake girlfriend, tapping into her expertly honed people-pleasing skills to embody whichever version of herself the client needs.

Honestly, it's a pretty sweet gig—until her carefully constructed Elsie-verse comes crashing down. Because Jack Smith, the annoyingly attractive and arrogant older brother of her favorite client, turns out to be the cold-hearted experimental physicist who ruined her mentor's career and undermined the reputation of theorists everywhere. And he's the same Jack Smith who rules over the physics department at MIT, standing right between Elsie and her dream job.

Elsie is prepared for an all-out war of scholarly sabotage but…those long, penetrating looks? Not having to be anything other than her true self when she's with him? Will falling into an experimentalist's orbit finally tempt her to put her most guarded theories on love into practice?
Our Overview
Elsie, a theoretical physicist, leads a double life as a fake girlfriend to make ends meet. She adapts her personality to suit the desires of her clients. During an interview for her dream job at MIT, Elsie's worlds collide when she discovers that Jack, the older brother of her favorite fake boyfriend, is a renowned experimental physicist and part of the hiring committee. Elsie's chances of securing the position are immediately jeopardized as Jack mistakenly believes she is a librarian who is deceiving her "boyfriend." Furthermore, Jack happens to be Elsie's arch-nemesis due to his past publication that tarnished her mentor's career and criticized theoretical physicists. However, Elsie finds it increasingly difficult to maintain her hatred for Jack when she realizes that she can finally be her authentic self when she is around him.
Love, Theoretically is an academic romance with an enemies-to-lovers dynamic. The novel delves into themes of identity, self-discovery, effective communication, truth versus lies, familial and friendship dynamics, feminism, love and heartbreak, revenge, the struggles of the working class, STEM fields, diabetes, and the aro/ace spectrum. Elsie's story carries a moral lesson: one should strive to be their genuine self rather than conform to others' expectations. Fans of Christina Lauren, Colleen Hoover, or Tessa Bailey should find Hazelwood's work right up their alley!
Do any of these tropes catch your eye?
Our Review
Bingeability – ★★★★★
Readers of The Love Hypothesis may be happy to know that Love, Theoretically includes a lot of STEM-focused dialogue and scenes. We are blessed with interesting Physics jargon which mostly went over our heads and Elsie's MIT Interview. Whilst many of us may be interested, theoretically, in being a woman in STEM for those who are – you'll surely be living vicariously through Elsie in her interview! Unlike other Hazelwood novels, this book is more of a slow-burner. This may put off some, but for us it kept us going. We truly couldn't put this one down!
Characters – ★★★★★
Elsie's character feels a little more dynamic than the characters of other Hazelwood novels. Being a 'fake girlfriend' is definitely an interesting element which didn't only add to the plot, but it made Elsie feel more fleshed-out whilst addressing issues of the steps working-class people have to go through to be at an equal level to their middle-class piers. And for those who remember The Love Hypothesis, we're blessed with a glimpse into Adam and Olive's lives! Maybe this little throwback is what pushed us into the 5-star realm, but can you blame us?
Setting – ★★★☆☆
There was nothing particularly striking about the setting for this novel. First-time readers will likely love it, but for those who have binged all of Hazelwood's novels before, there isn't much difference in the setting here as opposed to Love on the Brain and The Love Hypothesis.
Storyline – ★★★★★
We can gladly say that the setting is the only part of this novel that failed to be shaken up. The storyline goes at a much slower pace, allowing for the slow-burn romance between Jack and Elsie. It didn't feel like a whirlwind romance, which makes sense considering the romance comes from Elsie realizing she can truly be herself around Jack. And that takes time. The pacing of this book is definitely a huge improvement: we can see Hazelwood's craft refining before our very eyes. Moreover, whilst Hazelwood isn't a stranger to addressing deeper commentaries in this novel, the discussion and themes of the struggles of the working class were surprisingly written well. However, such themes don't dampen the lightheartedness of a Hazelwood classic!
Overall Rating: ★★★★★
With romantic tension that will have you on the edge of your seat, student e-mails that will have you giggling, references to our beloved Taylor Swift and our guilty pleasure Twilight, Love, Theoretically is a welcomed addition to the Adult Romance genre. And an even more welcomed addition to my bookshelf. It's fun, it's cute, it's an easy read. If you're in a reading slump, we guarantee this will knock you right out of it.
---
Frequently Asked Questions
Is Love, Theoretically a part of a series?
This is the 3rd book in Hazelwood's STEM romance series – however, they needn't be read in any particular order and can be read as standalones.
Does Love, Theoretically contain spicy scenes?
It does! And unlike other authors, Ali Hazelwood's scenes aren't ones done bashfully. Be ready to blush!
Does Elsie get the job in Love, Theoretically?
Else realises that Jack's candidate was the best person for the job and surprisingly, she gets a job offer herself.