Are you ready to rock 2022? We've put together a list of 22 New Years Eve ideas to let go of the past and look forward to the best you yet! From party themes, date ideas, family fun and more, we're here to help you spark "Marie Kondo joy" in a post-pandemic world. Scroll on!
New Years Eve Ideas – Party All Night
Are you hosting New Years Eve? Here are some great party ideas to make your night the talk of the entire year.
#1 Choose A Theme
Nothing amps up the fun like a theme party! The wackier the theme, the better. Some of our favorites include:
Roaring 20s
Pajama Party
White Party (everyone wears white)
Gold & Black Party
Breakfast At Midnight
Movie Marathon
#2 Make A Signature Cocktail
Mixing your own signature cocktail is easy. There are hundreds of ideas on Pinterest to get started. Pro-Tip: Make a non-alcoholic option too for those who don't drink.
#3 Bring Out The Games
Nothing makes the time fly like a fun game or mini competition. It can be anything from classic board games to a raunchy round of Cards Against Humanity, or even D&D if your guests are into it. Know your audience and plan ahead.
#4 Make A New Years Resolution Station
It's easy to make. Just fill a jar or two with small blank pieces of paper, envelopes, and pens. Encourage your guests to write down their resolutions and take the note home as a souvenir.
#5 Set Up An Instagram-Worthy Picture Station
Fringe backgrounds, balloons, and props are all easily acquired from your local party store. Look up ideas on Pinterest for inspiration. Pro-Tip: Decide on a hashtag for your party such as #JenNewYearEve2022 to make it easy for friends and family to find the pictures on social media later.
#6 Share A Story
This idea is particularly good if you're participating in a social-distancing party on Zoom. Have everyone take a turn telling a favorite moment or memory from 2021.
#7 Share A Dish
Don't feel like cooking? No problem! Do a BYOA (Bring Your Own Appetizer) or potluck. This will cut down on clean up too as everyone will take their dish home at the end, creating less dirty dishes for you.
New Years Eve Ideas – Save The Date
Are you manifesting romance for 2022? You've come to the right place. Here are seven New Years Eve ideas that are both fun and romantic.
#8 Go To That Glam Party
Whether it's a local pop-up bar or watching the ball drop in Times Square, now's the time to splurge on that glamorous New Years Eve event you've been thinking about all year. What better way to make new memories with your special someone?
#9 Go On A Dinner Boat Cruise
If you live anywhere near a pier, chances are there's a dinner boat cruise or restaurant waiting for you. Dinner boats are great because they're usually not as crowded as most NYE parties, but you still get to dress up and enjoy the open bar.
#10 See The Lights
Most people keep their Christmas lights up until after New Years. So why not take advantage and go for a romantic stroll (or drive) through the best-lit neighborhoods with your sweetheart. Remember to bring plenty of hot cocoa.
#11 Go On A Weekend Getaway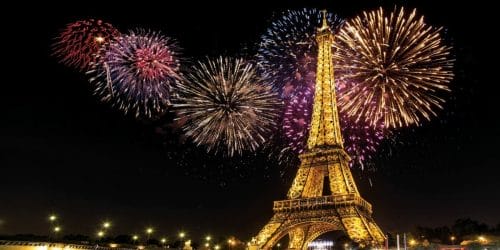 You can splurge and visit Paris, or you can stay at a local resort that has couples massages and other great amenities for a fraction of the cost.
#12 Stay In
Who says you have to go out for NYE? Sometimes the most romantic spot is your own living room. Cook a romantic dinner together or order take out and cuddle on the couch while watching Netflix.
#13 Have A Naked Party For Two
Don a NYE hat and your birthday suit while drinking champagne, playing games, and getting to know each other's most intimate sides. Nudists and very brave couples can even make this a real party with friends – if their friends are comfortable!
#14 Meet The Parents
Hear us out, New Years Eve could actually be the best time to meet the parents! Most families don't have any hard-set traditions or religious rules for you to worry about during NYE, and the champagne will help everyone relax. Plus, many older parents get left behind while their son/daughter paties for New Years Eve, so most of them are sure to appreciate the company, earning you major girlfriend points.
New Years Eve Ideas – Bring The Kids
In need of family-friendly ideas? Here are eight fun child-appropriate things to do.
#15 Have A Noon New Years Eve Party
Don't want your kids up at 12am? No problem! Count down to 12pm instead! YouTube has lots of fake countdown videos for kids who are ringing in the new year early.
#16 Let Them Do The Cooking
With your guidance, let your kids plan and cook a special NYE dish, or bake cookies together.
#17 New Years Eve Crafts
Let the kids make the decorations. There are hundreds of DIY New Year decorations and other fun kid crafts ideas (including DIY noise makers) on Pinterest and YouTube for hours of crafting fun. If you're hosting an adult party later, the kids can feel special for helping decorate the house and your guests will think it's adorable.
#18 Make A Family Time Capsule
Use a jar or box and help your kids fill it with mementos, notes, photographs, favorite toys, old ticket stubs, and anything else they want. Pick a special place to bury it and a special time in the future to dig it out again.
#19 Have A Karaoke Party
No fancy Karaoke equipment required! YouTube has tons of children's playlists already set up in the style of Karaoke videos with lyrics and all. Let your little star and their friends take turns entertaining you for hours on end.
#20 Ring In The New Year All Around The World
For young kids who love repetition (and noisemakers) get ready to yell "Happy New Year" every hour by tuning in to different ball-drops from around the world. Older kids can get into the educational aspect too.
#21 Make New Year Resolutions
Use this teachable moment to explore healthy goal-setting habits. Discuss the importance of setting small realistic goals in order to accomplish larger long-term dreams. Talk to your child about their aspirations. Maybe even start a fund jar for a special goal and work on manifesting positivity as a family.
#22 Countdown Goody Bags
This is an excellent way to keep the kids occupied all night long. Every hour on the hour, give the kids a goodybag. Each goodybag should contain one travel-size kids game that they can play with, a small activity book, a mini set of crayons, bouncy balls, and anything else they can interact with. You can find lots of options online or at your local dollar store. Pro-Tip: Save the more exciting items for later, when the kids are more likely to get bored.
Was our list of New Years Eve ideas helpful? Let us know below in the comments.