Looking for a new bookshelf to store all those books? Sure, we can visit IKEA for the classics, but a ladder bookshelf offers plenty of storage with a sleek and open-space design, perfect for not taking up too much room or drawing too much attention away from other features of the room.
No matter what you're looking for in a shelf, we'll have something here for you. Are you ready to find your new bookshelf?
Table of Contents [CLICK HERE TO OPEN]
The Best Ladder Bookshelves
Space Saving Ladder Bookshelf
Is your reading nook tight in space? Worry not, we've gathered some ladder shelf bookcases which will fit perfectly in all sorts of spaces!
Pipishell Ladder Shelf Bookcase
This 4-tier industrial bookcase has a plethora of 5-star reviews from users. With large spacing between shelves, there's endless possibilities for how you can fill up this case. Perfect for those gnarly books that don't quite fit in the beloved BILLY bookcase (Textbooks perhaps?).
If you like the style of the bookcase but have a little extra floorspace, you can order it in a larger size!
BON AUGURE Rustic Ladder Bookshelf
This simple & clean bookshelf would fit in any room. Despite being short, it still boasts 4 tiers and is made from engineered wood and metal. There's endless possibilities for how you can fill this mighty case! The shelf also boasts adjustable feet.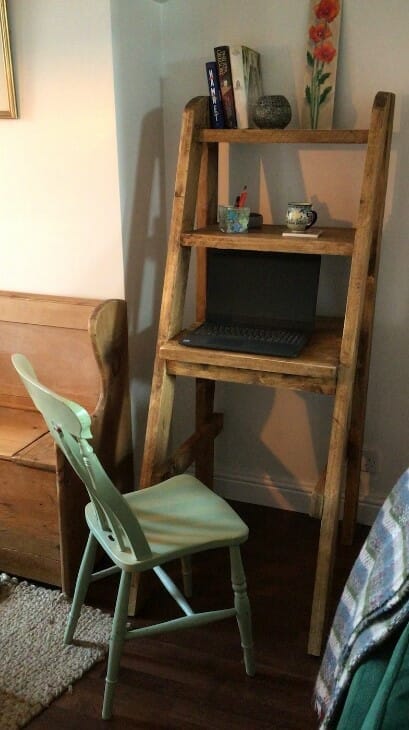 TheWasteNotReclaimer Bespoke Ladder Bookshelf Desk
Are you super crunched for space? Like, no, seriously, do you need the ultimate space-saver? Look no further! This bespoke bookshelf doubles as a desk! The desk portion is the perfect size for a laptop and with two tiers atop, there's plenty of space for books or stationary!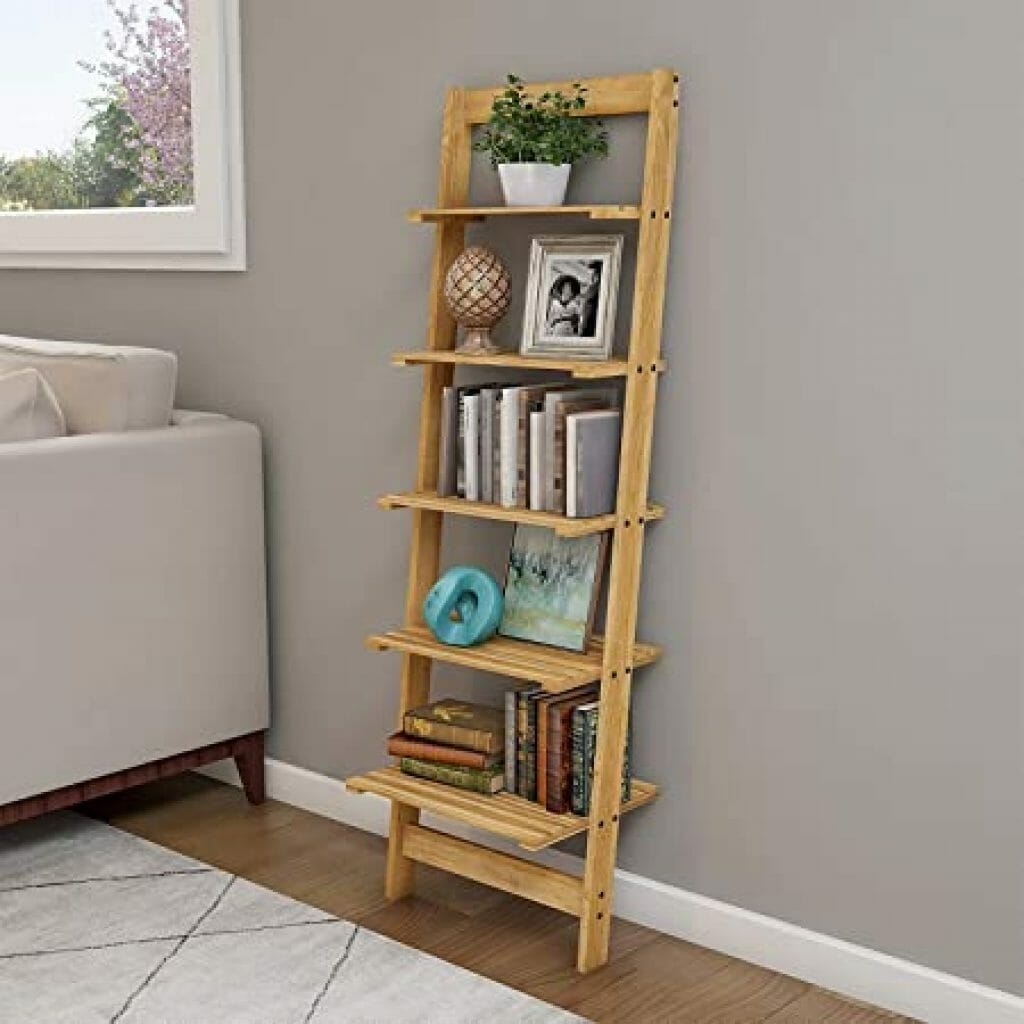 The Lavish Home Store – Boho Leaning Book Shelf
This may be the largest shelf on our 'space – savers' section, but it's here for good reason! Despite not having as small as a footprint as other shelves, with its frameless build and simple design and compact shelves, this bookcase feels small. With 5 tiers, this bookshelf definitely can offer a lot of storage without feeling too bulky!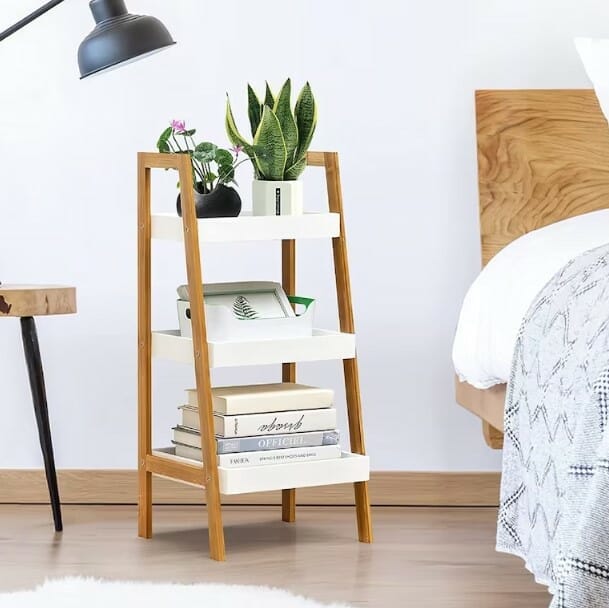 TandLFashions Bamboo Ladder Bookshelf
Other shelves still too big and too bulky? This might be perfect. This short modern three-tiered bamboo bookshelf is perfect for offering storage without being too eye-catching. Like pictured, it's perfect to use in lieu of a bedside table without making the room feel cramped.
Milltown Merchants Rustic Folding Ladder Shelf
This bookshelf offers a rustic and country vibe while also being the most flexible bookshelf for whatever you need. Not only is it cute with a pretty large storage footprint on the bottom shelf (perfect for a storage basket), but this little guy is foldable! Perfect for book-loving college students!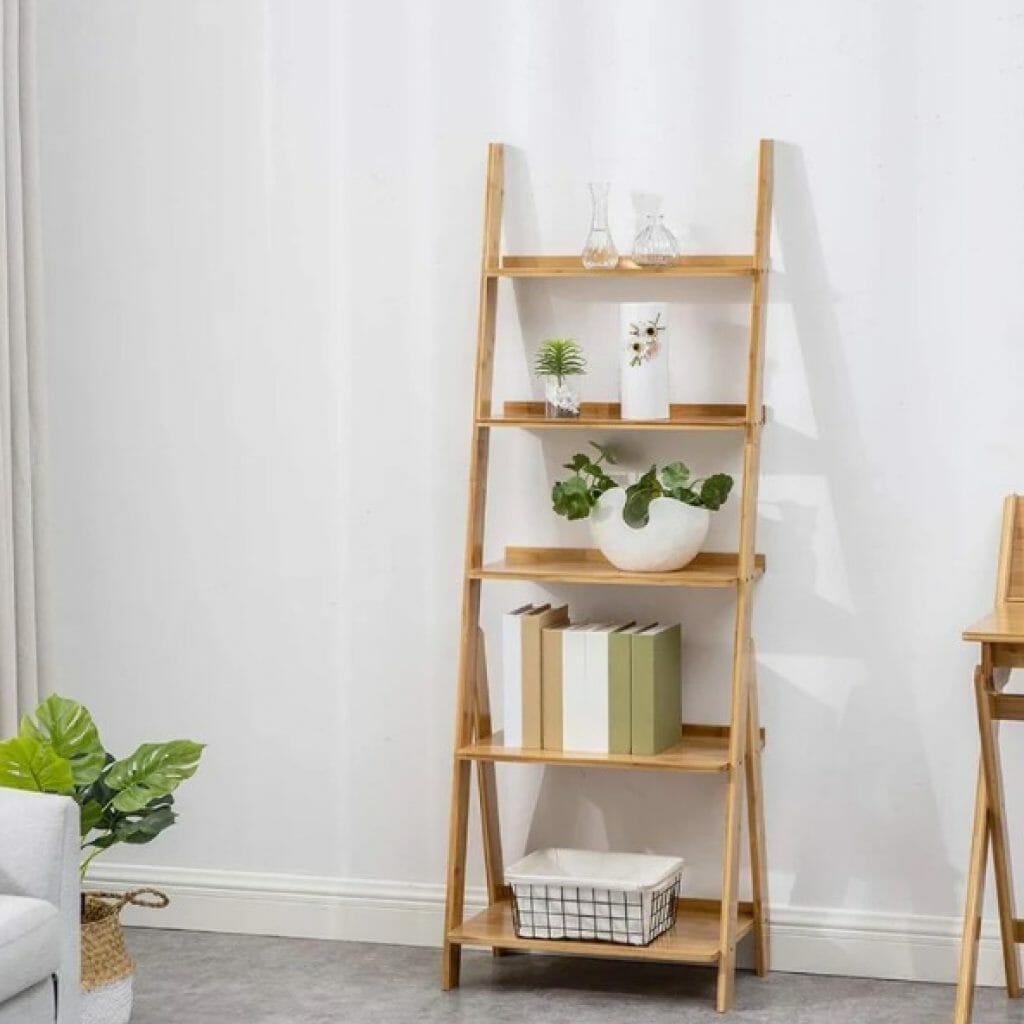 TandLFashions Bamboo Multipurpose Bookshelf
Whilst this case might not have the smallest footprint, this sleek and simple bamboo shelf feels unassuming. It is sturdy and has brilliant reviews without feeling bulky or being a statement in a room. This should fit into any room nicely without making it feel too 'busy'.
TandLFashions Bamboo Multipurpose Bookshelf
Now, we're not suggesting that you should put your books in the bathroom. If your reading nook is very short on space, or limited to a corner of the room, consider this shelf for above your cozy reading chair. With three tiers of increasing size, this shelf will cubby your chair nicely and add a layer of cosiness to your reading nook.
Tajsoon Industrial Wall-Mounted Bookshelf
This wall-mounted bookshelf is thin and very strong. Each panel can hold up to 35lbs. Being bolted to the wall makes it safe and there is no fear of it falling over. This shelf is perfect for studies or living rooms without adding to the furniture taking up floor space.
Statement Pieces
Have you got floorspace to spare? Or want something eye-catching to spice up a drab room? These may be right up your alley!
VASAGLE Ladder Shelf
If you want to make your books the star of the show, this bookcase is the way to go. With a touch of rustic charm, this is a special piece of furniture that enriches every home. Firmly attached to the wall at the top, this is a very safe design for a child and pet-friendly home. (And it's water resistant!)
Homykic Bamboo Ladder Shelf
With fairly secure side-panelling, this bookshelf adds a later of protection to the stability of your books without compromising on design. No more trying to find knick-knacks to use as bookends to prevent your books toppling out the side of the shelf! Additionally, this ladder bookshelf is waterproof and made with very trendy and long-lasting bamboo, making it an easy chic piece to add to your home.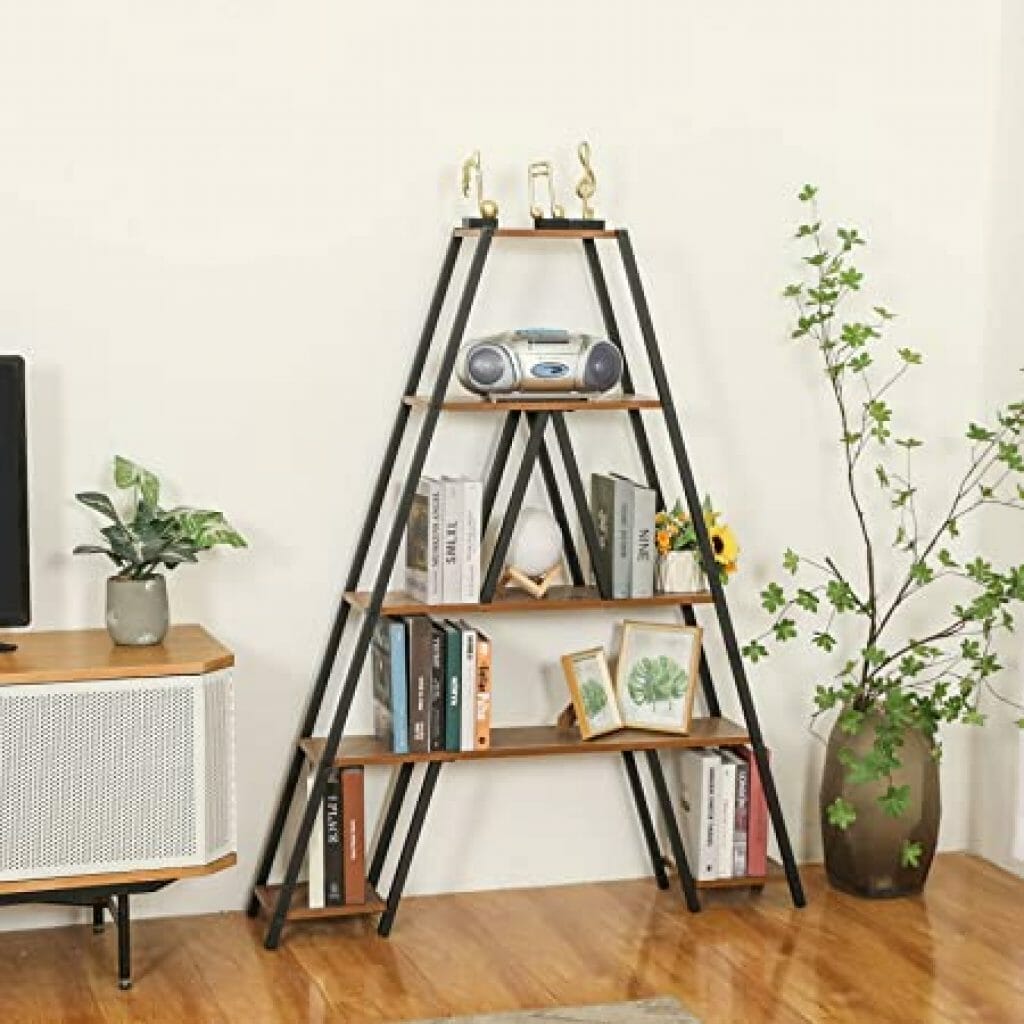 Aibohayi A-Shaped Bookcase
Looking for a ladder bookshelf with an extra bit of pizzaz? Look no further. This A-Shaped bookcase promises to be the centerpiece of the room. Perfect to add attraction to a bland hallway or add some style to a study. It also boasts adjustable leg pads to remain stable on uneven ground.
Tribesigns 5-Tier White Ladder Corner Bookshelf
Want a show-stopping bookcase but not a fan of the industrial or rustic vibes? This modern corner bookshelf is perfect. Its corner design makes it extremely versatile and we have no doubts you'll find the perfect place for it in your home! This shelf comes in white or black and non-slip floor pads to prevent scratching to your floor.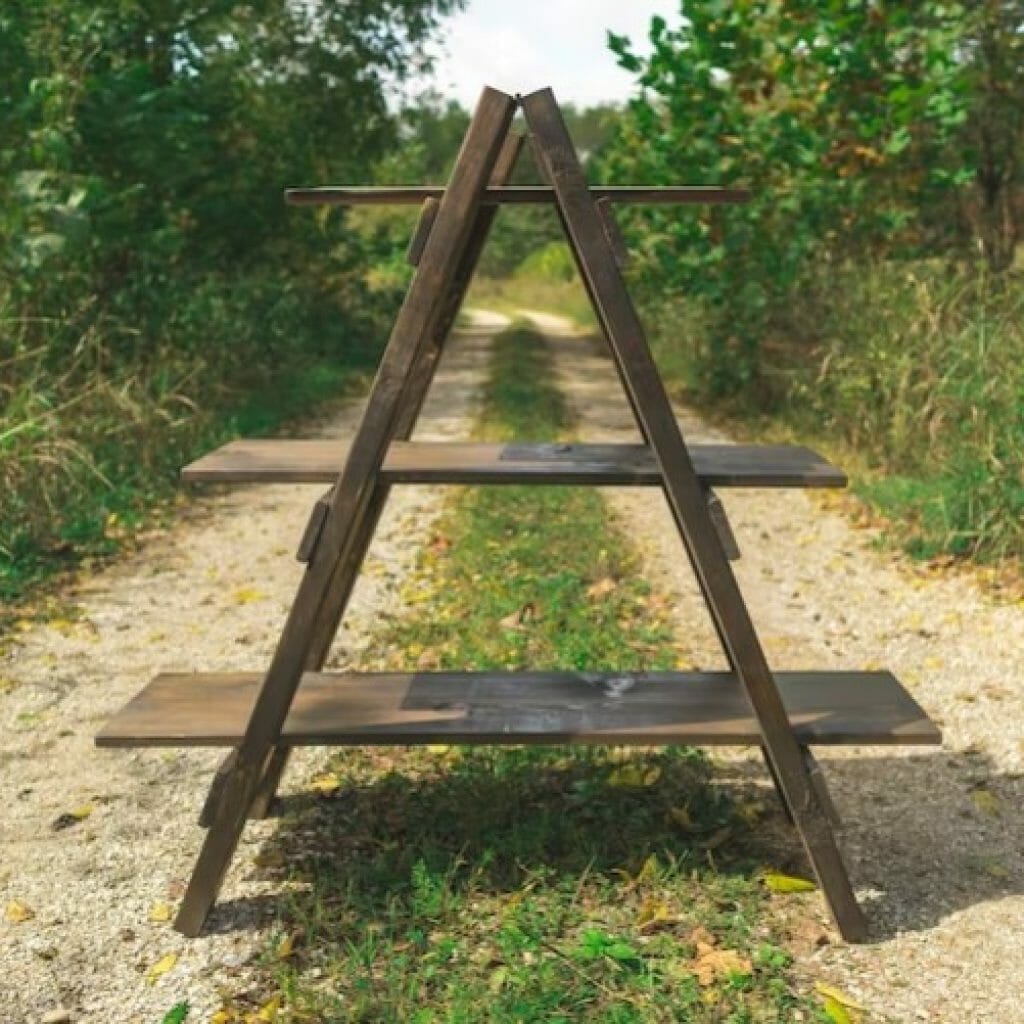 RustyCottonDesign A-Frame Rustic Ladder Shelf
This bookshelf looks just like something out of a Pintrest wedding! With its simple wood structure and charming bespoke frame, this ladder bookshelf will add a level of charm to your reading nook. There are a ton of customisation options available such as stain, number of shelves, depth – so be sure to check it out!
FINETONES 4 Tier Wood Bookcase
Gold and white? It's a classic combo – one we've never seen on a bookshelf so elegant before! This little wonder adds a sparkle to a room and will surely light it up. This shelf comes with an anti-topping strap and back cross iron to reinforce the stand's stability. Additionally, this 4 tier ladder shelf is fully capable of 62lbs!
Ladder Bookshelf: The Classics
What can we say? Ladder bookshelves are so timeless that they hardly need much fanfare. Take a look at these simple, beautiful shelves.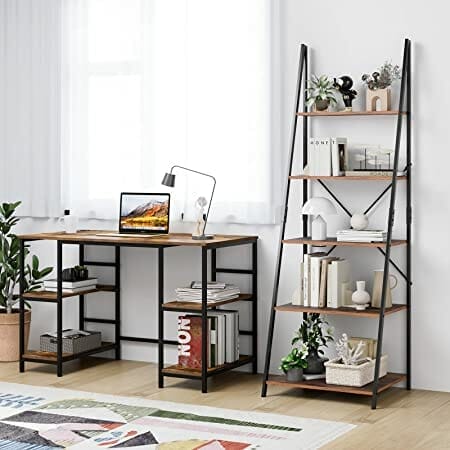 SOMY 5-Tier Bookshelf
This sleek 5-tier bookshelf offers an industrial theme without coming across chunky or overdone. The thin frame allows it to fit seamlessly into almost any space. The metal cross on the back improved durability for a long-standing shelf. This shelf has a strong 5-star rating from over 300 customers!
VASAGLE ALINRU Bookshelf
Dark brown wood and black metal is a very modern style of bookshelf. The bookshelf is also available in a darker brown. Designed in a solid frame, reinforced by X-shaped bars, balanced by adjustable feet, and secured by an anti-tip kit, this ladder shelf features great stability for your book collection. With a max load of over 100kg, this might be perfect for those with a huge collection.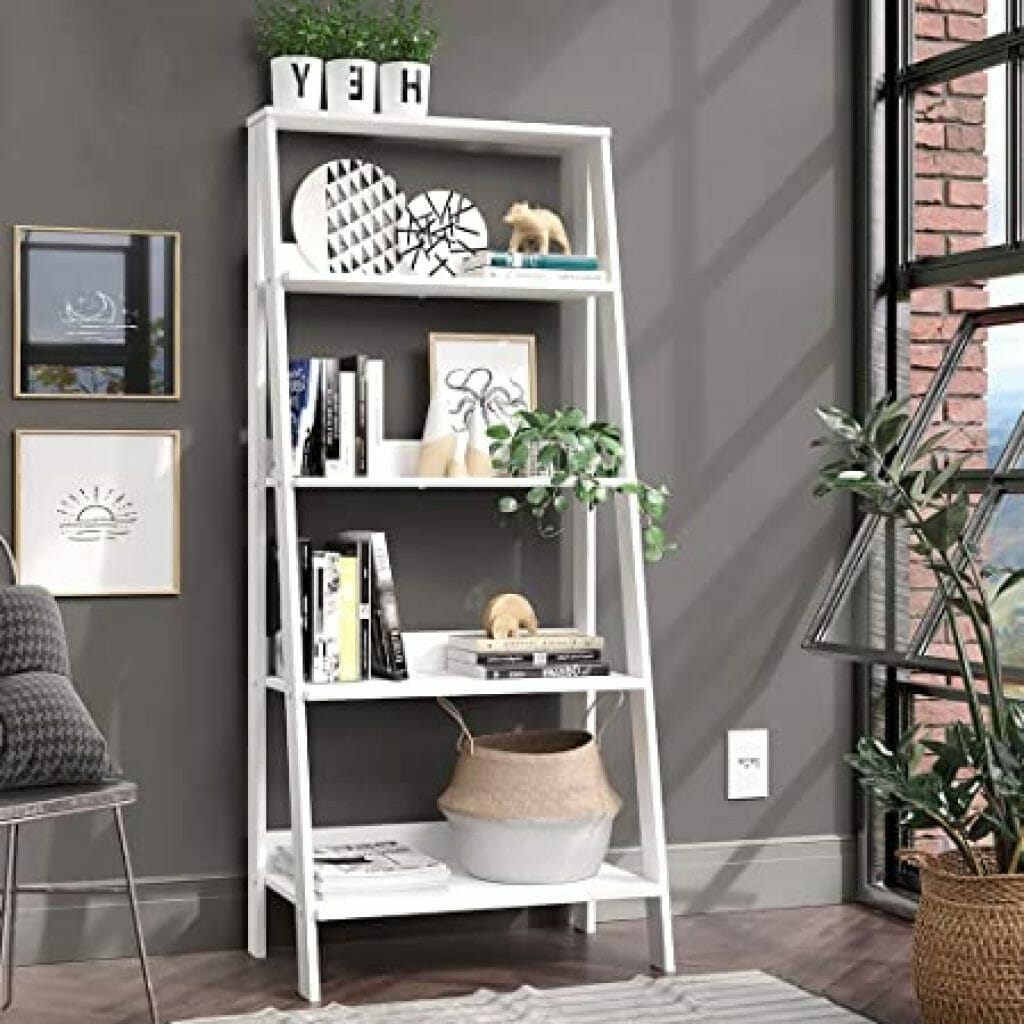 Madesa Ladder Shelf
Available in white, black and gray, this bookshelf will fit into any room no matter the color scheme. The 5 shelves offer tons of space. The design is simple – this shelf may be perfect for those who tend to change their decor often, or someone who wants a timeless piece!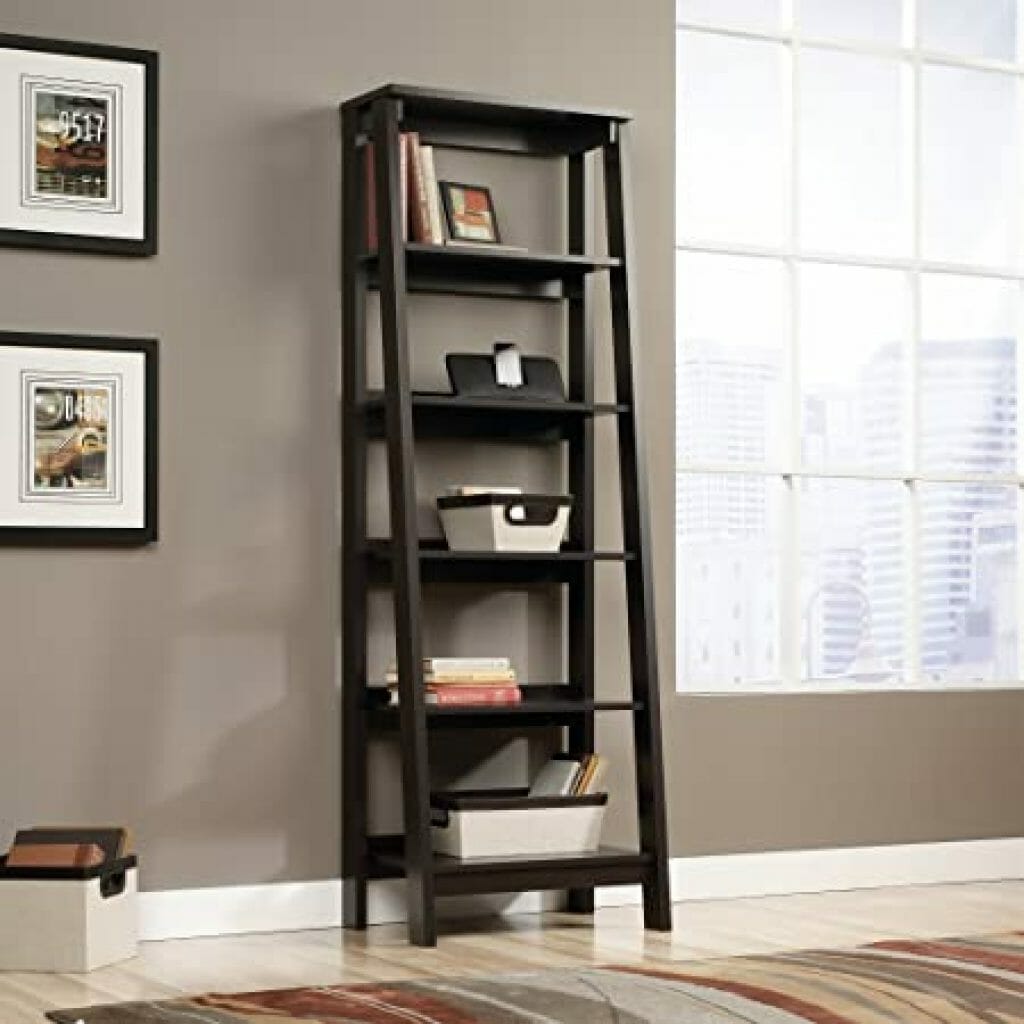 Sauder Trestle 5-Shelf Bookcase
With 5-star customer reviews, this 5-tiered traditional bookshelf speaks for itself. Available in the wood colors of chestnut, oak and jamocha wood, this shelf will fit almost anywhere in the home.
Tribesigns Modern Ladder Shelf
This modern shelf may be ideal for those who like the modern and classic looks for their interior. The shelf also comes in white and brown, making it suitable for any color scheme. This shelf has a huge storage space; the bottom shelf is 11inch in high which allows you to put baskets and other storage containers on it!
Ladder Bookshelf with Storage
Don't tell anyone we said this, but life isn't all about books. Tragically, we may need to utalise furniture for something other than showing off our Colleen Hoover collection. These shelves offer excellent storage opportunities to tuck away items without having to put them on show
GiftWorldMarket 3 Tier Wooden Ladder Storage Shelf
This short ladder storage shelf is perfect for storing items without having them fully closed away. Perfect for the hallway with some books, some plants, and those last-minute essentials like dog leads or car keys. Or perhaps in the living room, utalising the shelves for books, controllers, and the very important fuzzy blankets. The possibilities are endless with this shelf!
IRONCK Bookshelf
You want storage? You got storage! This tall shelf offers 5 shelves with an additional cupboard at the bottom. Equipped with anti-falling accessories to ensure the stability and durability as well as a healthy living environment. The cupboard at the bottom ensures a private storage space, free of prying eyes and of dust!
Convenience Concepts American Heritage Ladder Bookshelf with Drawer
This is a very unique ladder shelf. With slim and simple sleves, the large drawer at the bottom is the star of the show. There is plenty of room for books and plants on the 4-shelves, with a nice private space for miscellaneous items. It comes in a whopping 7 color choices, so better get browsing!
Rolanstar Ladder Shelf with Drawer
This ladder shelf offers the storage on one of the middle shelves, rather than the bottom. This may be unconventional, as the lower shelf has more space, but this is much more human-friendly design. This placement of the shelf allows for more ease of use, and is perfect for putting away things which you may still need often without forcing you to get down low. This beautiful shelf has a lovely rustic feel and is easy to clean and style.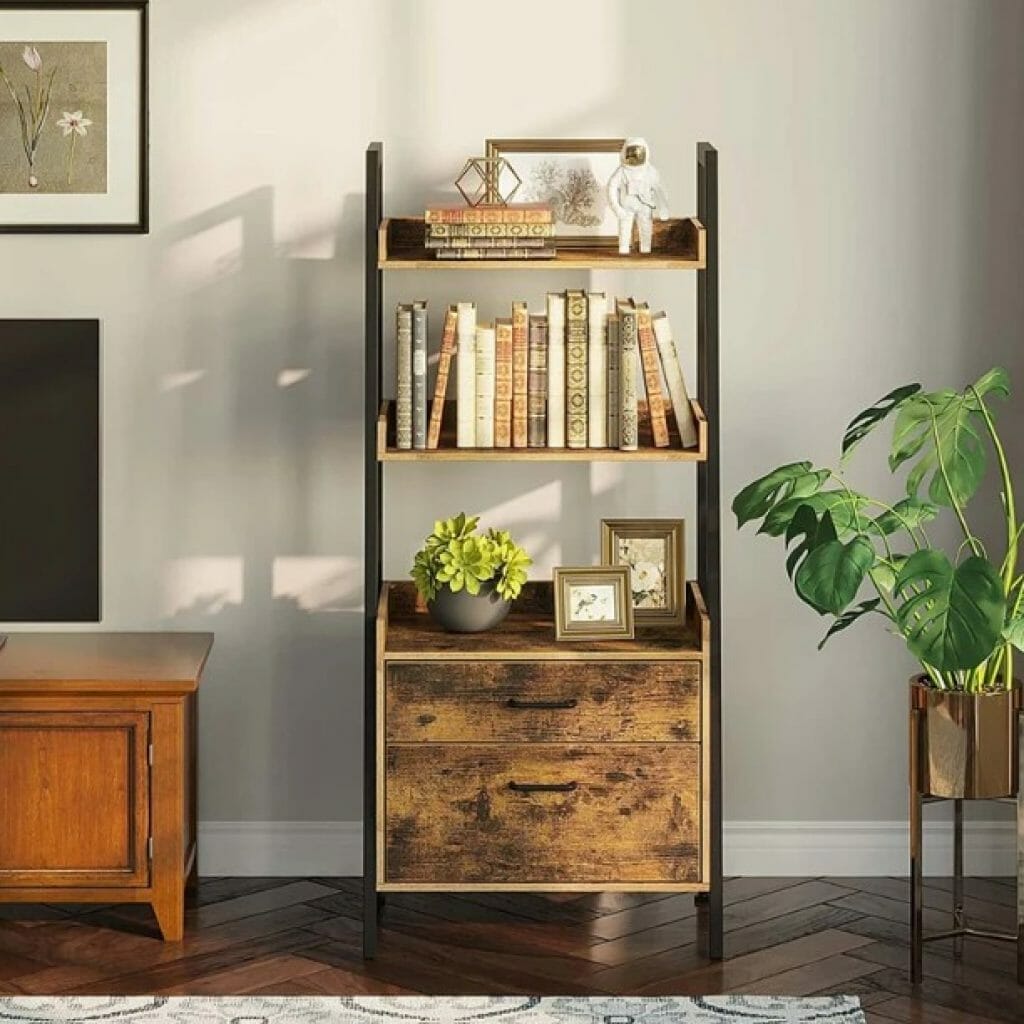 KLOZETSHOP Ladder Shelf with Drawers
Rustic wood for an old-time classic, metal frame for vintage chic, the ladder bookshelf with drawer will bring some warm rustic element to your room. Fitting perfectly in your living room, bedroom, kitchen and office. The double drawer action makes for ample storage. One deep drawer and one shallow drawer allows for maximum storage efficiency.
---
Frequently Asked Questions
Are ladder bookshelves good for books?
Ladder shelves tend to be lighter than traditional bookshelves and offer a storage solution less intrusive than other shelving units. This makes them an excellent companion for storing anything, not just books!
Why are ladder shelves so popular?
They're versatile, they're space-saving, and they look good in just about any setting. Not to mention they are much more open-looking than the likes of other bookshelves (such as the beloved BILLY from IKEA). This aligns with the open-plan, open-space and earthy design choices which are popular these days.
What do you put on the bottom of a ladder shelf?
It's entirely up to you! Busy households may ustalise the bottom shelf with storage baskets or containers to store linens, electronics, toys, etc. Personally, I've purchased some storage boxes which look like books and fill these with my important documents and an agreeable stuffed animal.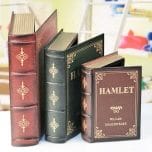 Where do you put a ladder shelf in a room?
We're no design experts! But we feel that ladder shelves are best kept out of the corner of rooms. The open design of the shelves allows for them to be near the natural energy path of a room without feeling too burdensome. By putting them in the corner, you can see the dark corner of the room through the open-style shelves. In my bedroom, I have it beside the door – you have to walk past it to reach the desk and dresser, but it does not feel bulky at all!
Where should you not put bookshelves?
Books are best kept somewhere with a lot of airspace and avoiding areas that are damp. Keep them out of attics, basements, and garages. Likewise, no matter how much of a reader you may be, it's best to keep them out of the bathroom. For those with small kitchens, it might be best to keep the recipe books elsewhere – all that steam can cause books to ripple.
Generally, as a rule of thumb, keep books where you would read books – as these tend to be the best conditions. Bedrooms, study, living room are going to be warm, well-ventilated, and with good traffic.
---
Why not check out some

Book Lights

?