Welcome book lovers! Are you on a mission to find the perfect corner bookshelf to complete your cozy reading nook? Do you dream of curling up with a good book in a space that's both functional and stylish? Well, you're in luck! In this article, we'll explore the world of corner bookshelves, from classic wooden designs to modern minimalist options, and everything in between. So grab a cup of tea, snuggle up, and let's get started on your quest for the ultimate reading nook addition!
Table of Contents [CLICK HERE TO OPEN]
The Best Corner Book Shelves
Tall Corner Book Shelf
Bamworld 5-Tier Bookshelf Corner Shelf
Introducing the Bamworld Bookshelf – the ultimate organizer for book lovers! This stylish bookcase is perfect for anyone who wants to add a touch of fun and functionality to their home decor. Made from high-quality bamboo, this bookshelf is both durable and eco-friendly, so you can feel good about your purchase. Whether you're a bookworm or just looking for a great way to keep your space tidy, the Bamworld Bookshelf is a must-have for any home.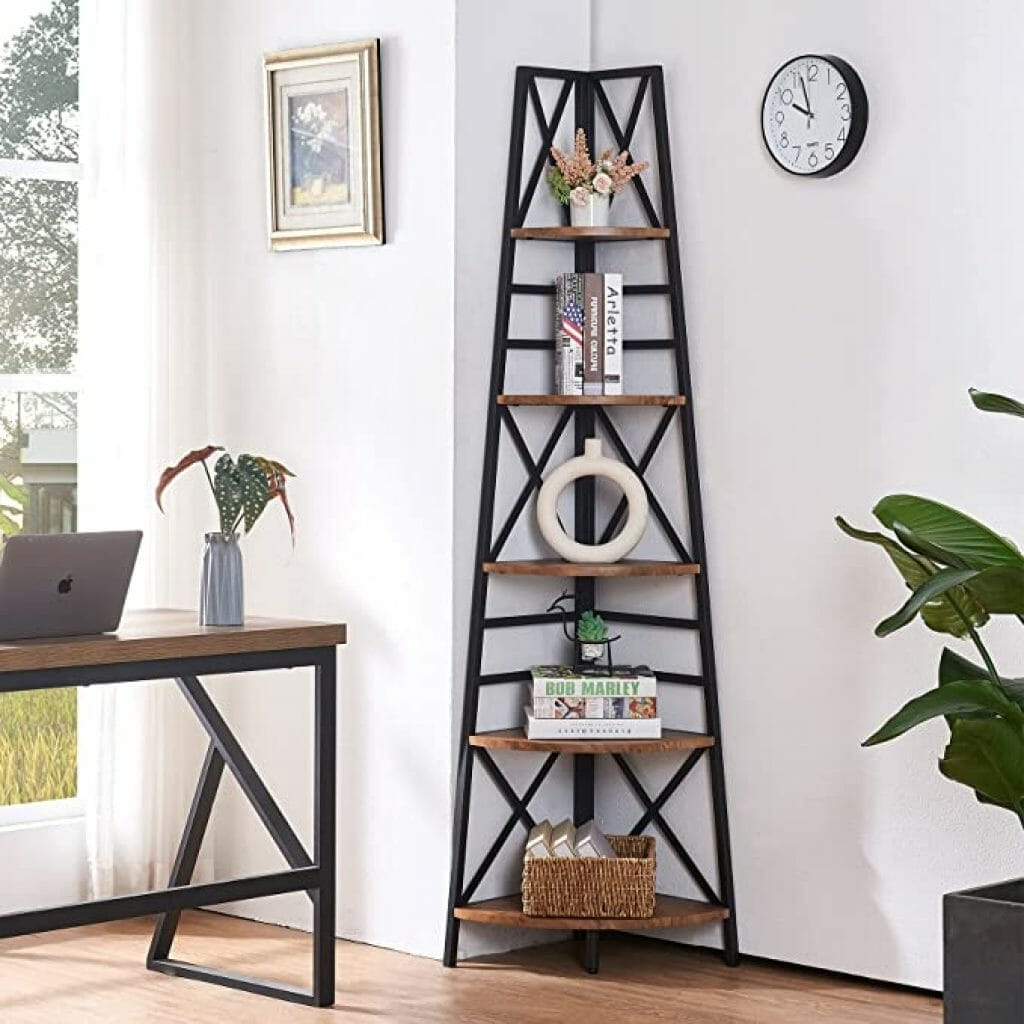 HOMBAZAAR 5-Tier Industrial Corner Bookshelf
Looking for a stylish and functional bookshelf that will take your home decor to the next level? Look no further than the Hombazaar Industrial Bookshelf! With its unique design and sturdy construction, this freestanding organizer is perfect for anyone who wants to add a touch of industrial chic to their space. The Hombazaar Industrial Bookshelf is the perfect addition to any home. So why wait? Get yours today and start organizing in style!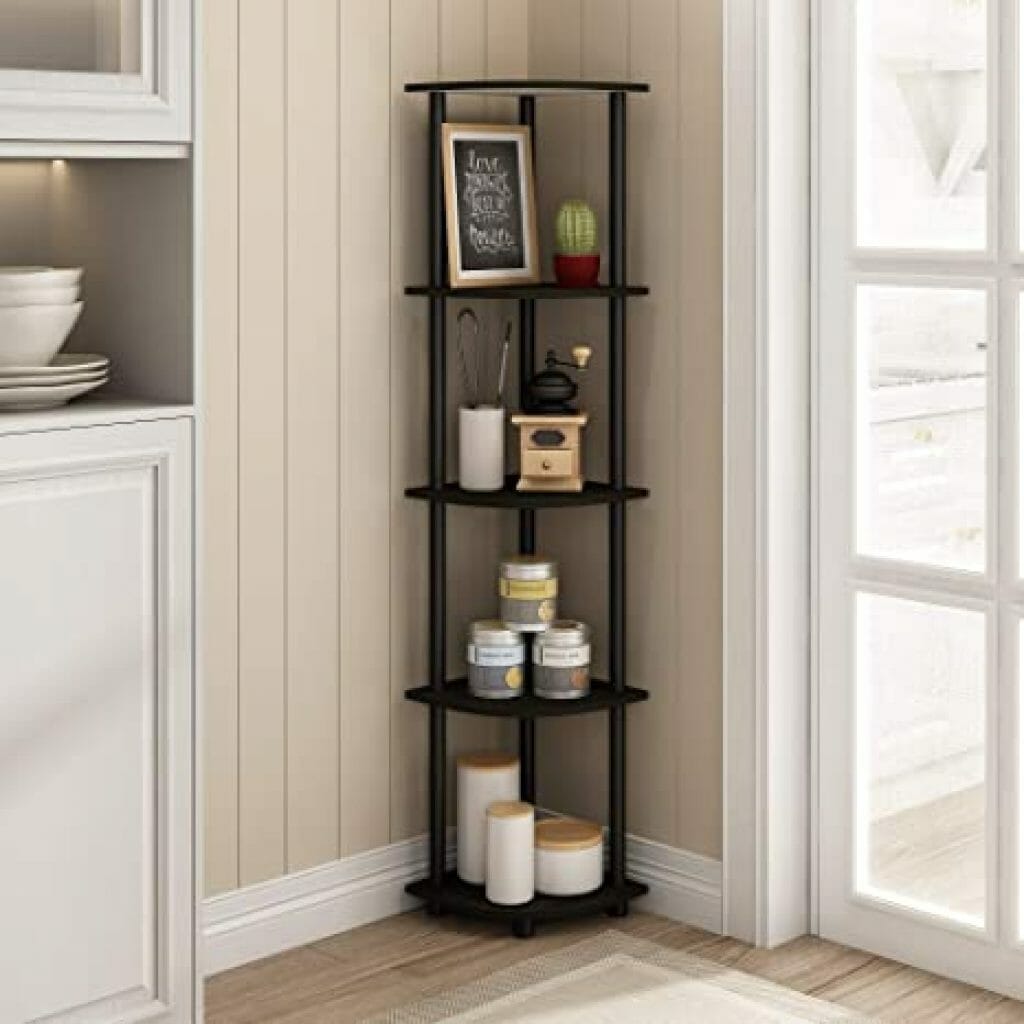 Furinno Turn-N-Tube 5 Tier Corner Display Rack
With tons of colors to choose from, and different design patterns, this floor-mounted corner bookshelf is sure to have a perfect space in your home.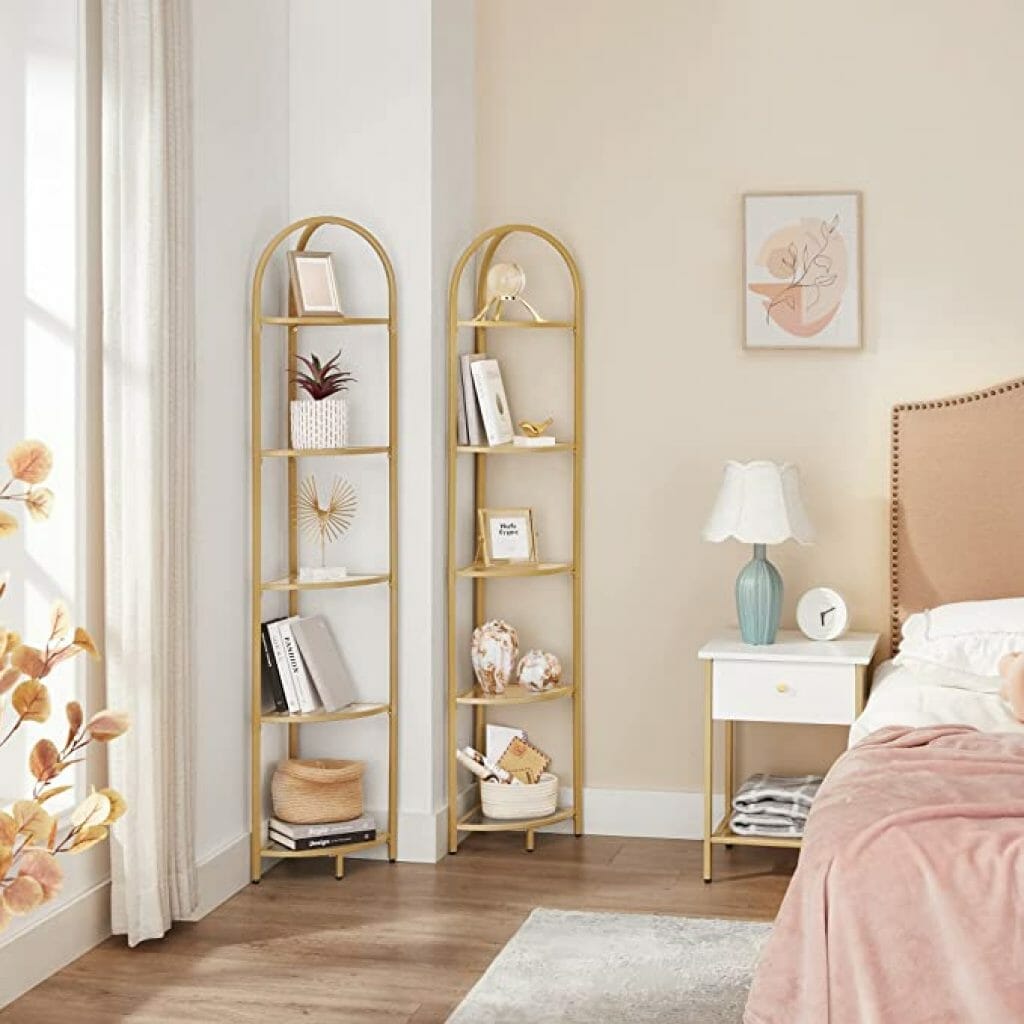 VASAGLE Corner Shelf Stand
ith its stylish design, glass shelves, and golden frame, this modern corner shelf adds a touch of glam to your space. This corner shelf fits perfectly into the living room, bedroom, or kitchen. Do you want to put this floor-standing tall shelf in the bathroom? No problem! The rust-resistant frame makes it possible!

FATORRI Industrial Corner Shelf
Get the most out of that unused corner with this corner bookshelf. It provides ample space to display your books, plants, photo frames or other daily items. You may find that this understated design is an easy fit for both classic and contemporary aesthetics. This wonderful shelf takes only 25 minutes to assemble!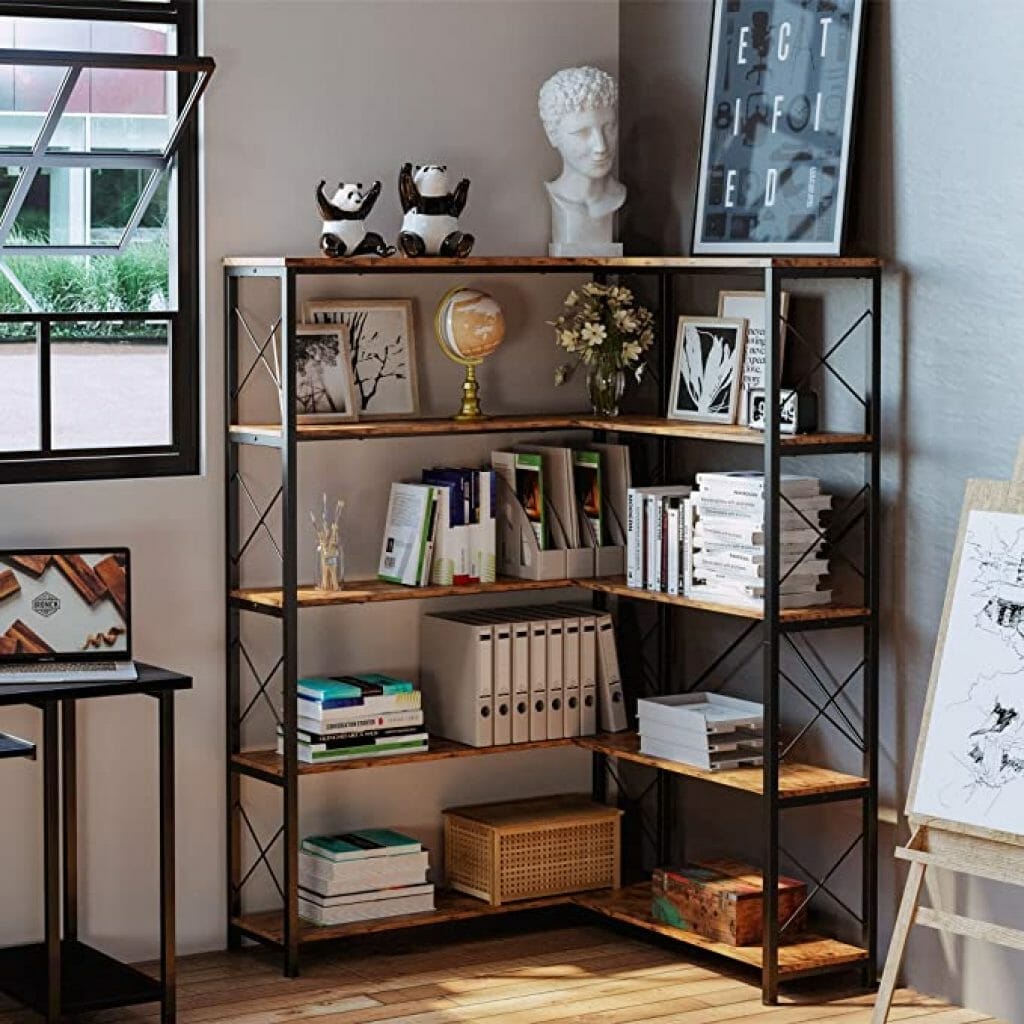 IRONCK 5-Shelf Corner Bookcase
10 open shelves offer plenty of spaces to meet your display or storage needs. This shelf offers tons of space for all your shelving needs. The rectangular frame completes with reinforced metal sidebar to enhance its strength! With load-bearing assembly, this shelf won't tilt or swing easily.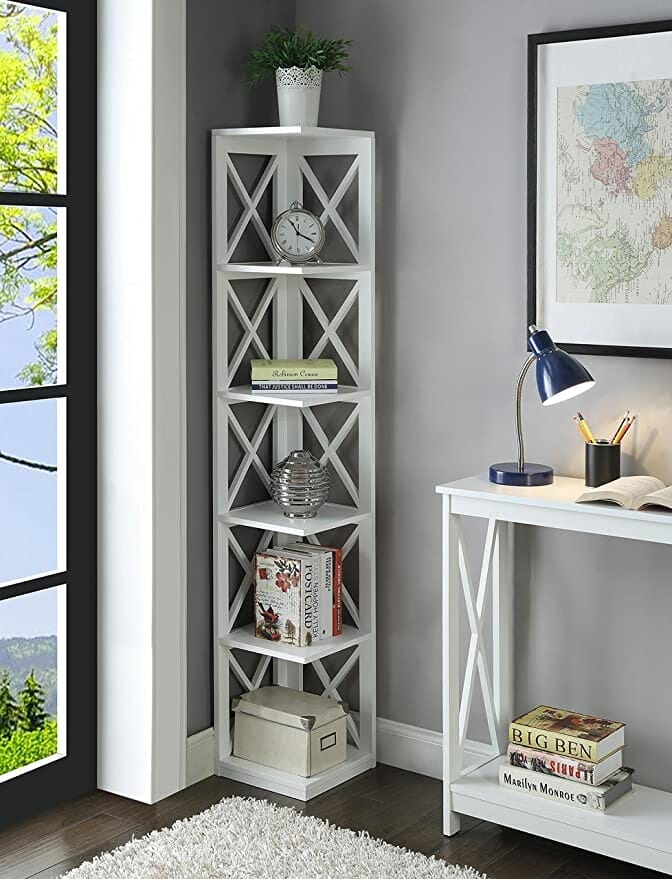 Convenience Concepts Oxford 5 Tier Corner Bookcase
This sweet farmhouse-style shelf has 6 color options available. With crossed x-design, this shelf can hold plenty of books. With its simple design and color options, there is bound to be space in your home for this lovely shelf.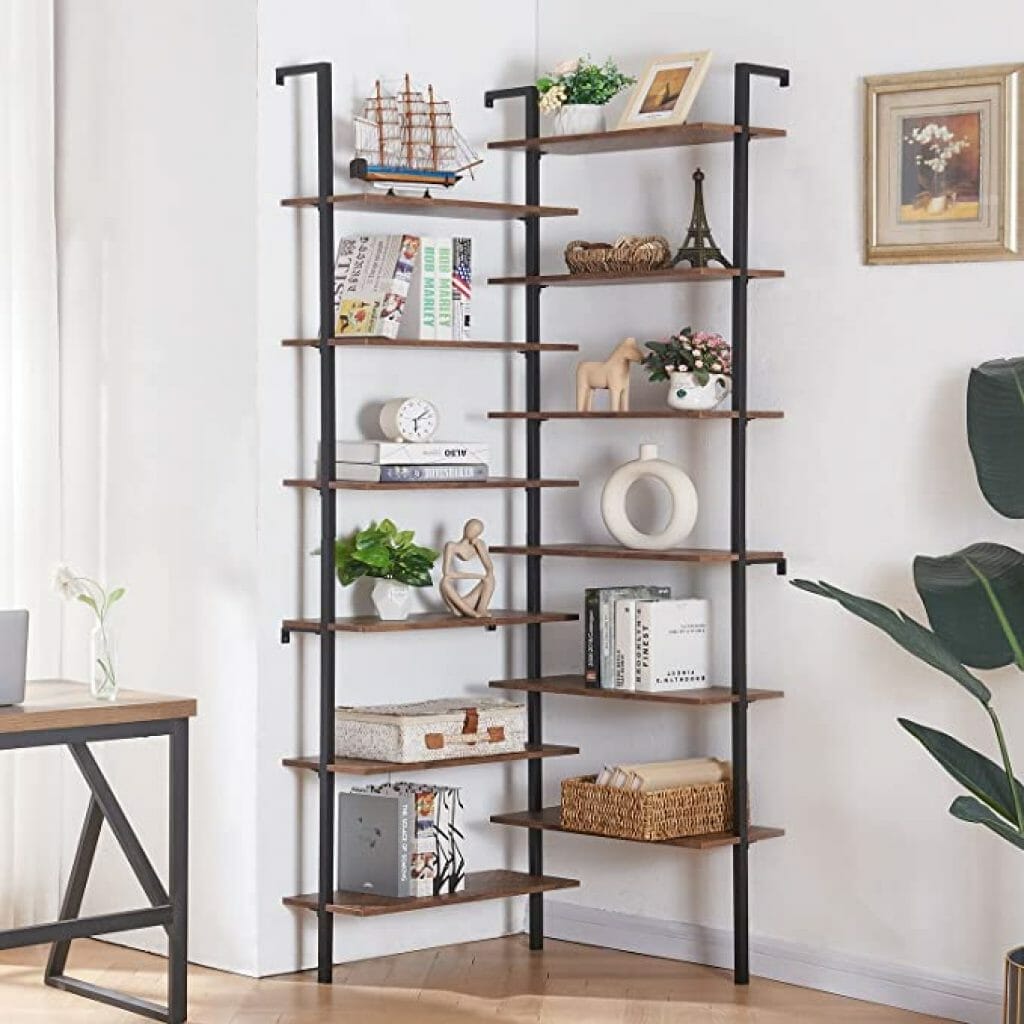 HOMISSUE Bookshelf,12-Tier L Shaped Bookshelf
This L shaped shelf is suitable for multiple scenarios and can be placed in the office as a corner bookshelf. Following a modern design concept, this L shaped bookshelf combines industrial-looking iron pipes and brown stitched wood grain shelves to build a kind of fashion simple style. Any questions? This shelf comes with after-sales service.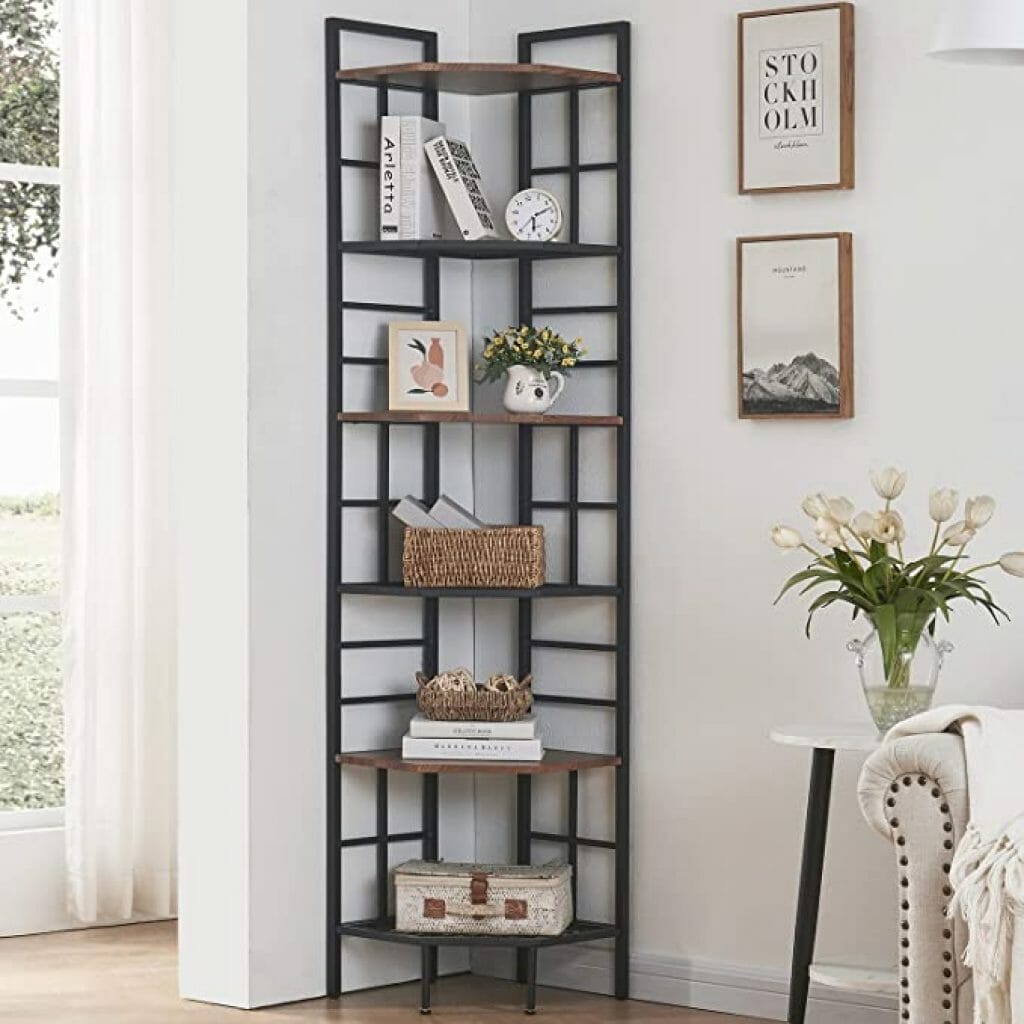 HOMISSUE 6 Tier Industrial Corner Shelf Unit
This slender shelf design for any corner space, which allows you can utilize every last bit of spaces without compromising on storage and add a touch of style to your space. Safety Anti Tipping Kit: Bookcase can not be pulling and tipping down once these are anchored in.
Short Corner Book Shelf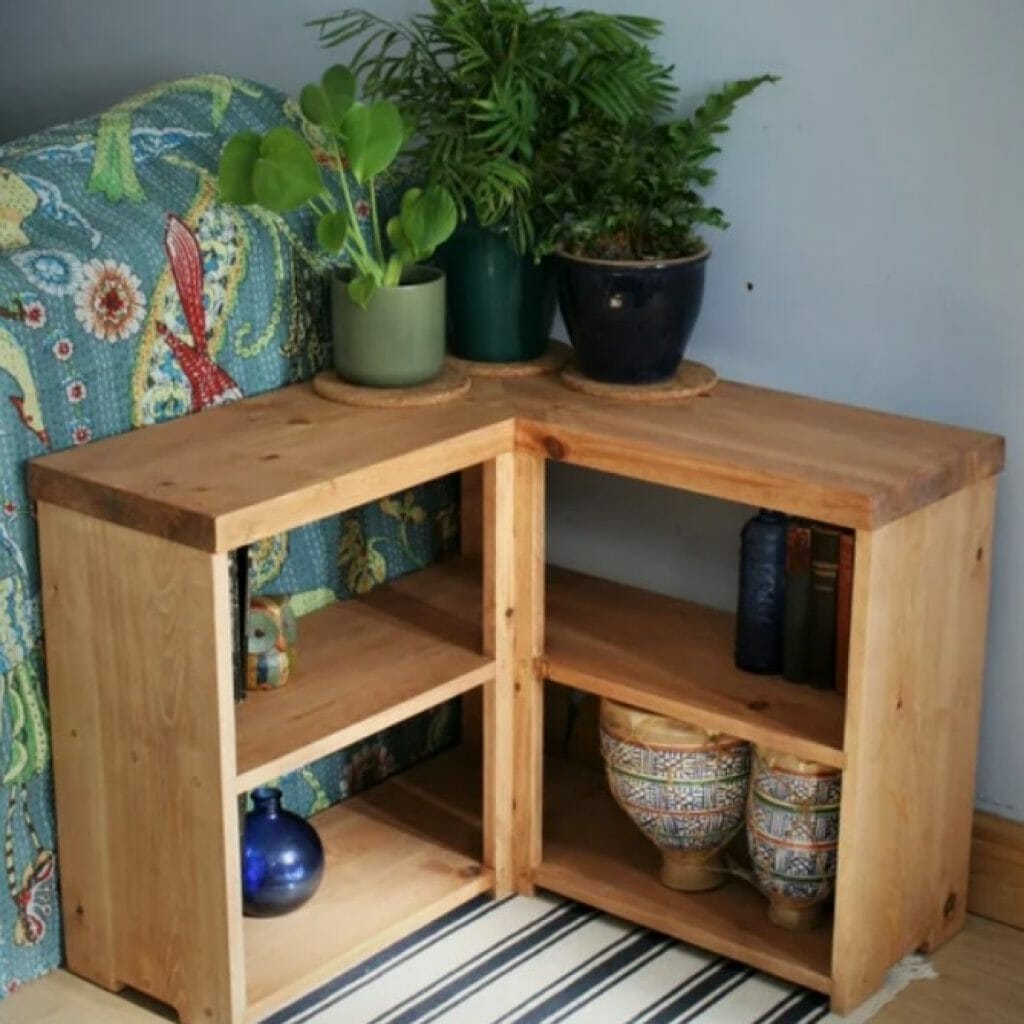 MarcWoodFurniture Corner Rustic Bookshelf
Looking for a bespoke piece for your home? After placing your order, the seller will be in contact. You can add customization to make this piece perfect for your space!

VECELO 4-Tier Display Shelves
This corner shelf is super stable! A small but sturdy piece perfect for holding your favorite books. With its modern design and its wood/black color scheme, this corner book shelf is waiting to find its space in your home.

Aheaplus Corner Cabinet
Looking for a wonderful all-in-one? The Corner Storage Shelf is built in 2 USB charging ports and 4 outlets for your laptop, iPad, phone, Bluetooth headset, table lamp and gaming gear with fast charging, which provides great convenience to your life when you are working or studying! Its black, sleek style makes it an adaptable fit into any room.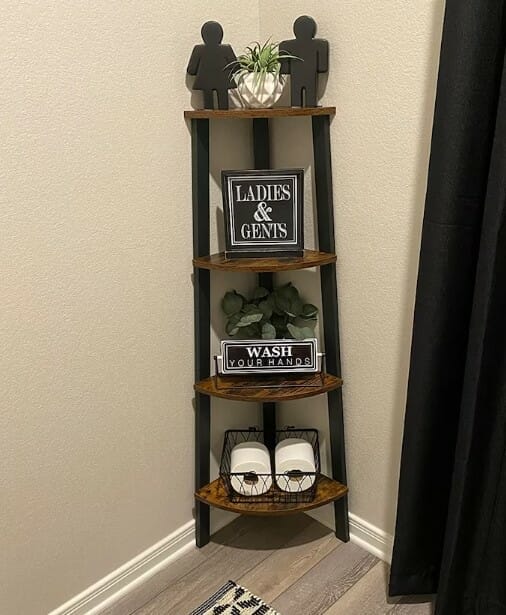 FurnitureHouseGB Industrial Style 4/5 Tier Corner Bookshelf
With over 200 reviews and a sweeping 5-star rating, this seller means business! Handmade shelving in a variety of styles delivered straight to your door might just be what you're looking for.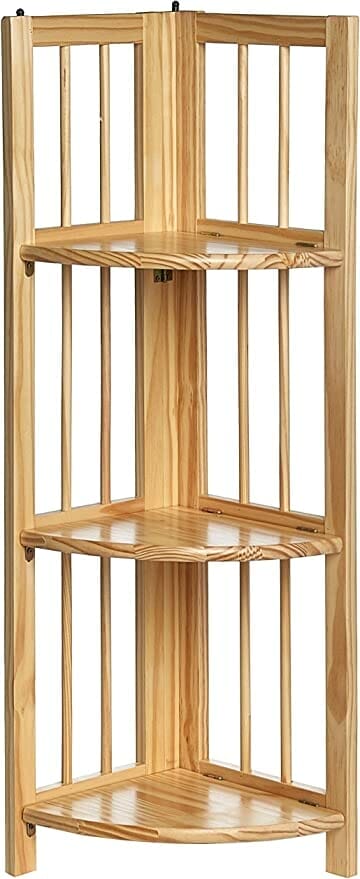 Casual Home 4-Shelf Corner Folding Bookcase
Need the ultimate space-saver? This foldable corner bookshelf makes for the most flexible opt in for book storage! Not to mention, the solid wood makes strong durability, so no worries about the shelf weakening over time.
Floating Corner Book Shelf

VASAGLE Corner Shelf Wall Mount
With curvy lines and black color, this corner floating shelf creates a functional spot that not only holds your knick-knacks, but exudes chic and beauty to your entryway, living room, or office. There is no better place to hold your books!

Love-KANKEI Corner Shelf Wall Mount
Unique leave shape design – The corner shelf features rustic style with special zigzag shape, torched finish solid wood and powder coated metal brackets, this is the ultimate chic floating corner bookshelf to display all those gorgeous hard covers!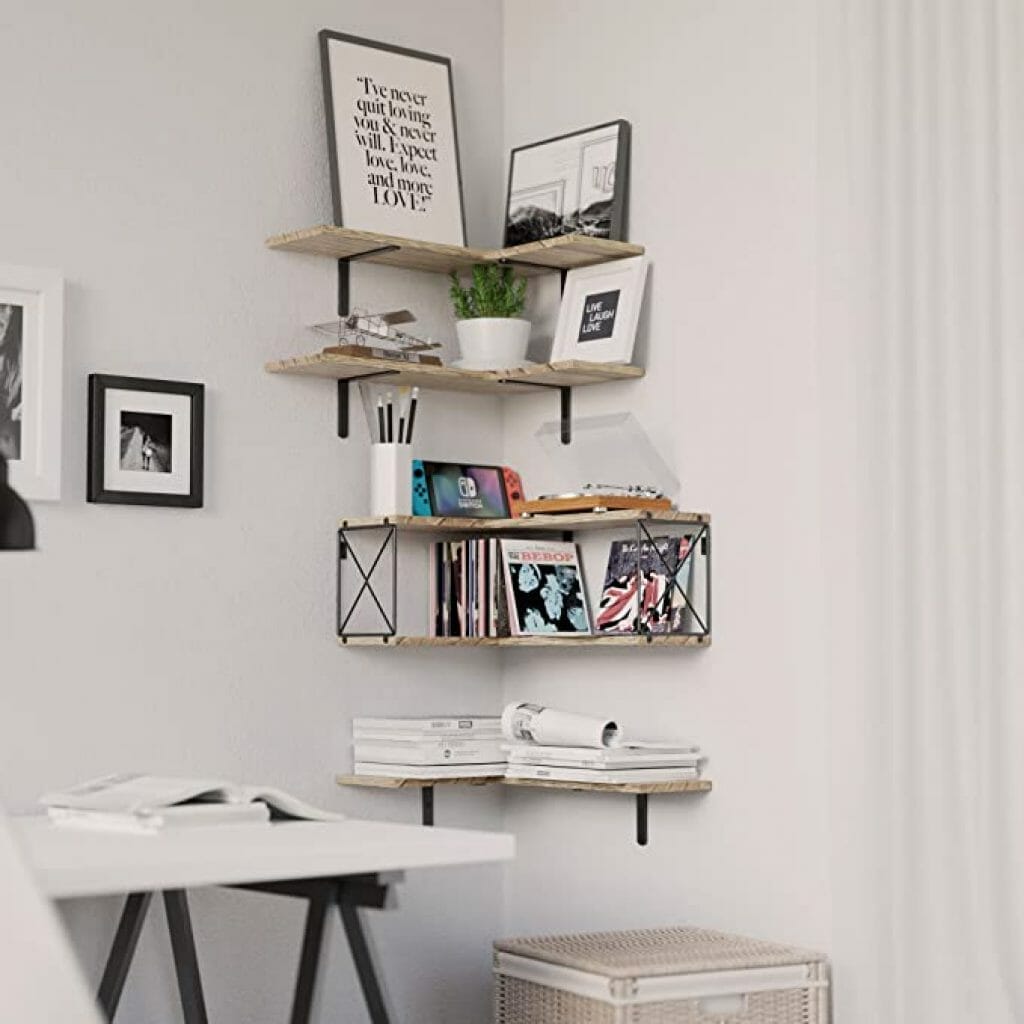 RICHER HOUSE 5-Tier Corner Floating Shelves
Worried that you might need to adapt shelves for something other than books? Worry not. This shelf offers unique-designed cable hole in each shelf, electrical wires can be put through properly. Better display of products with wires, such as wired speakers, monitors, and phone chargers.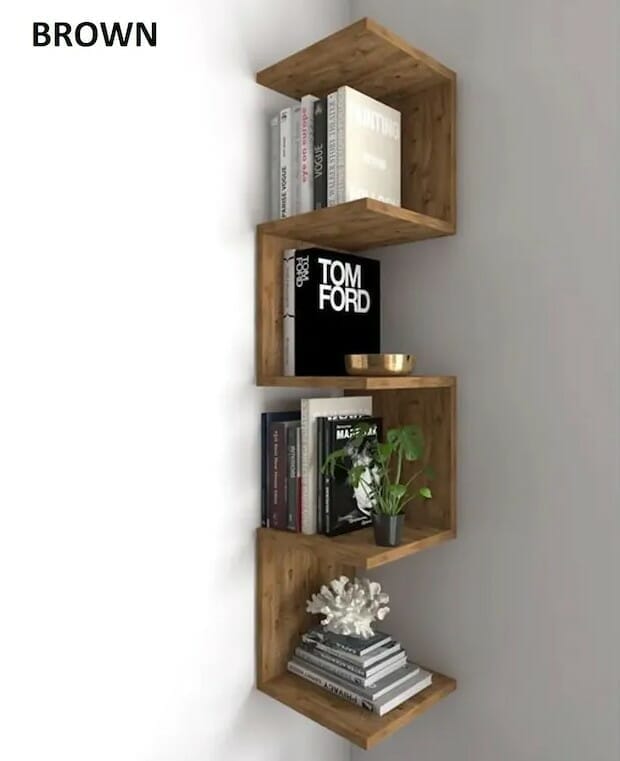 Sawoli Home Corner Wall Shelf
This modern wood-look shelf looks brilliant in the home and elevates the corners of your room. With different colors to choose from you'll definitely find something to fit.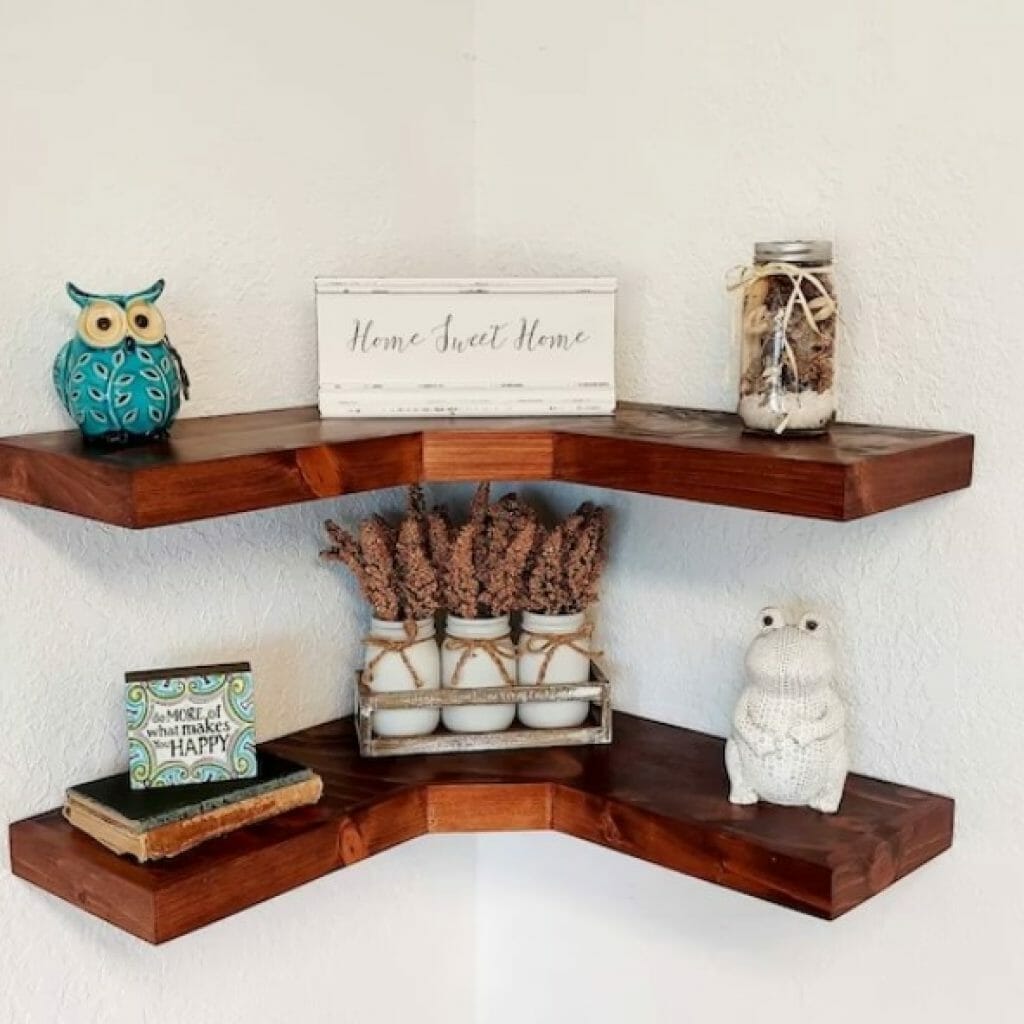 Sumaq Corner Floating Shelves
This bespoke shelf has over 10 staining options. That's right – ten! There is also a world of size options. There's no way that this corner book shelf wont fit somewhere in your reading nook.

Bosfori Liliana Wall Shelf
Sure, a lot of these corner bookshelves have been modern or rustic vibes. Are you a fan of color? Or maybe you just want to add a bit of pop to your reading nook. Look no further, the Liliana corner shelf is sure to brighten up any room.

WoodCraftersEdge Wide Floating Corner Shelves
Ultimate personalisation is here! Select your length, your finish, and even more, personalise if you want matte, satin, or gloss finish. With the option to even add cord access, be sure to order soon!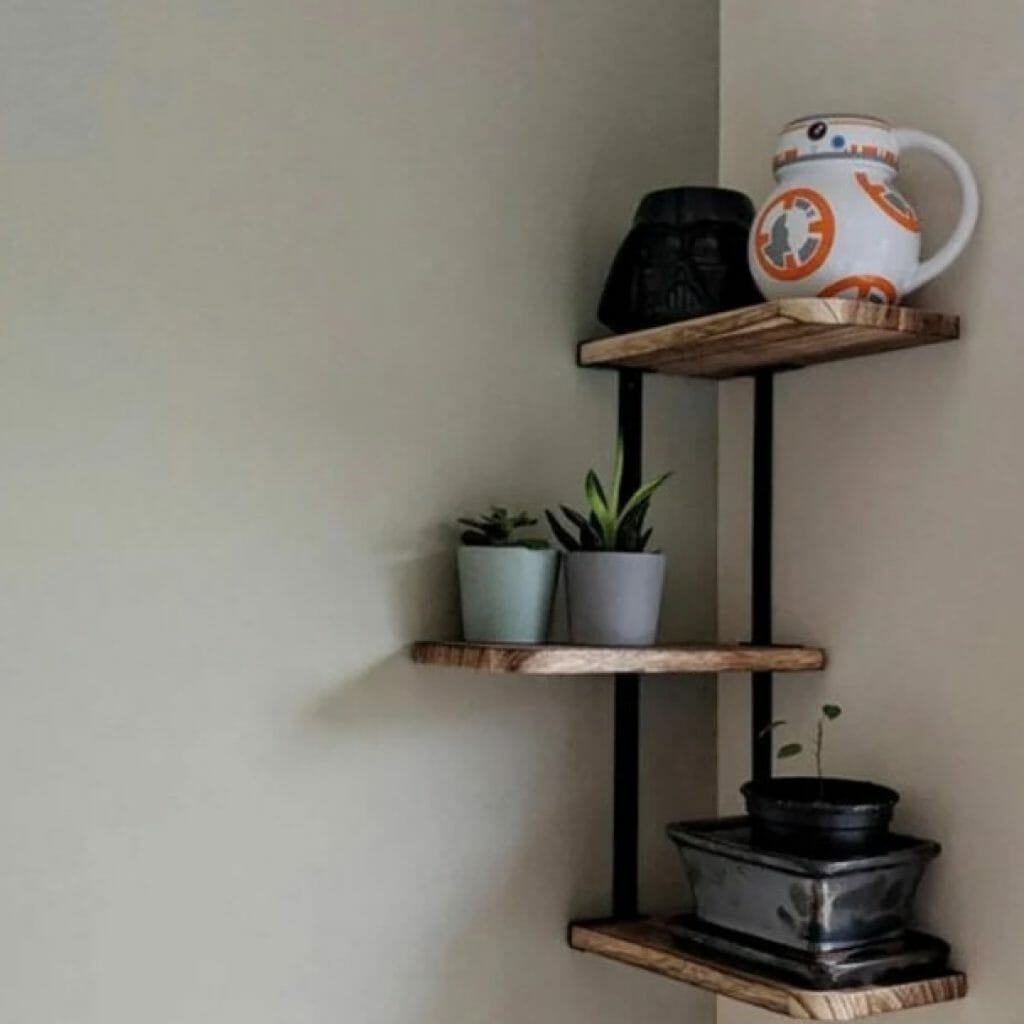 Rustic Wood Corner Shelf Storage
This handmade minimalistic corner shelf is simple and effective. The shelves can hold up to 5kg per tier, so they're perfect for displaying some cute paperbacks and plants. Whether adapting for your reading nook, or elsewhere, this versatile shelf will fit anywhere!
---
Frequently Asked Questions
Can you put books on a corner shelf?
Corner shelves are a great way to maximize space in your living rooms, and they can be used to store books, display knick-knacks, or even hold a TV. Please take note of the maximum weight of your shelf!
What is the difference between bookcase and bookshelf?
A bookshelf is typically one or a few shelves while a bookcase is a large, free-standing group of shelves assembled into a storage unit.
Are floating shelves OK for books?
A quality floating shelf that has been properly installed can support 40–50 pounds of books (or anything!) per attachment point. Please take notes of the weight limit of your floating shelf.
Where can I put my books if I don't have a shelf?
Books make for an excellent cozy decoration! Decorate your coffee tables, counters, end tables with towers of books for a super nice, easy deco space.
---