Are you tired of your bookshelf looking like a chaotic mess? Do your books topple over and fall every time you try to find something? Fear not, dear reader, because we have the perfect solution for you: bookends! Not only are these a practical way to keep your books in order, but they can also add a touch of personality to your shelves.
Lucky for you, we'll suggest some fun and quirky book organisers that are sure to make your book collection stand out. So sit back, relax, and get ready to give your bookshelf the makeover it deserves!
Table of Contents [CLICK HERE TO OPEN]
The Best Bookends
MDHAND Adjustable Bookend
Want your books to look safe and clamped in place? This adjustable bookend is for you. It's durable, adjustable, and allows for supporting all types of books!
MaxGear Book Ends Clear Acrylic Bookends for Shelves
If you're more of the effortlessly simple type, this clear acrylic book end allows you to organise your shelves without looking like you're trying too hard. Also, as a plus, it even doubles as an individual bookstand to put your favorite romance novel on show!
Foreside Home & Garden Cottagecore Bicycle Bookend
Cottagecore is in! Add some whimsy character to your shelf with this beautiful bicycle bookend. It effortlessly grabs some subtle attention. Plus, it's perfect for Anne with an E fans!
HappyHapi Tree Bookend Stopper
With three types of tree design bookends with different features. This gorgeous tree of life is not only a good helper for organizing books but also a great decor for home and office.
DWK Gothic Poe Crow Bookends
Vintage collection of Edgar Allen Poe books to display? Or maybe you're just a fan of aged old books. Nonetheless, this is sure to grab attention! Made to last from durable, high-quality, cold-cast polyresin and hand-painted, this is a brilliant gift for any goth booklovers in your life.
Alsonerbay Bookends Geometric
Butterfly bookends is both ideal for study and reading, and a nordic-style fashionable decor, definitely an amazing present for your friends or family, especially for books collector, avid readers and bookworms.
Agirlgle Metal Men Bookends
Unlike traditional bookshelves, this nordic-style magazine rack is both a bookrack and a fashionable setting, very literary, can be used for decoration, photographing and special art. With black from classic to modern, creates a beautiful and pleasant look, make your books organized, save space and keep your desk clean.
shikaman's BOOKends
It's a BOOK end, for your BOOKS. You can't get more fitting than that.
MyGift Vintage Gray Solid Wood Decorative Pen Holder
Multi-purpose is the way to go! If you're severely running out of space, you can organise 2-in-1! Clean up your books and store all your loose stationary all in one place. With a stylish and unassuming design, this piece is very versatile.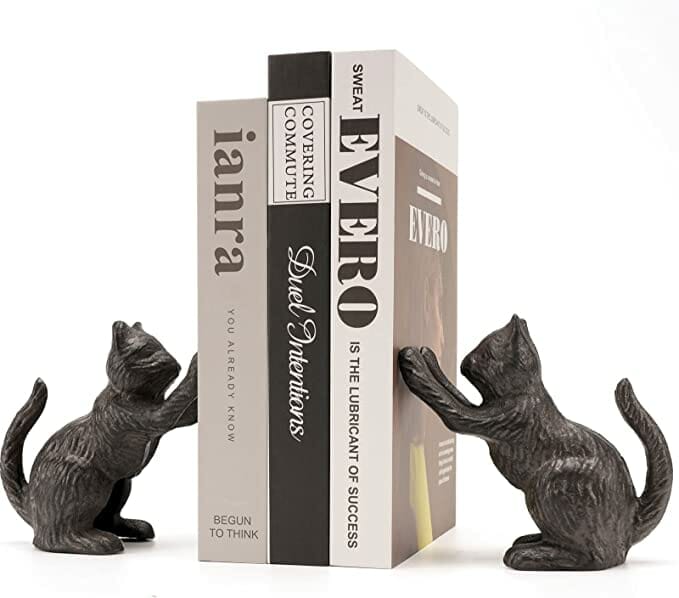 Ambipolar Cat Decorative Book Stopper
These feline friends are perfect for anyone's bookshelf. Sturdy book ends are highly effective in holding large stacks of books. They can also be used as cute door stops or paperweights.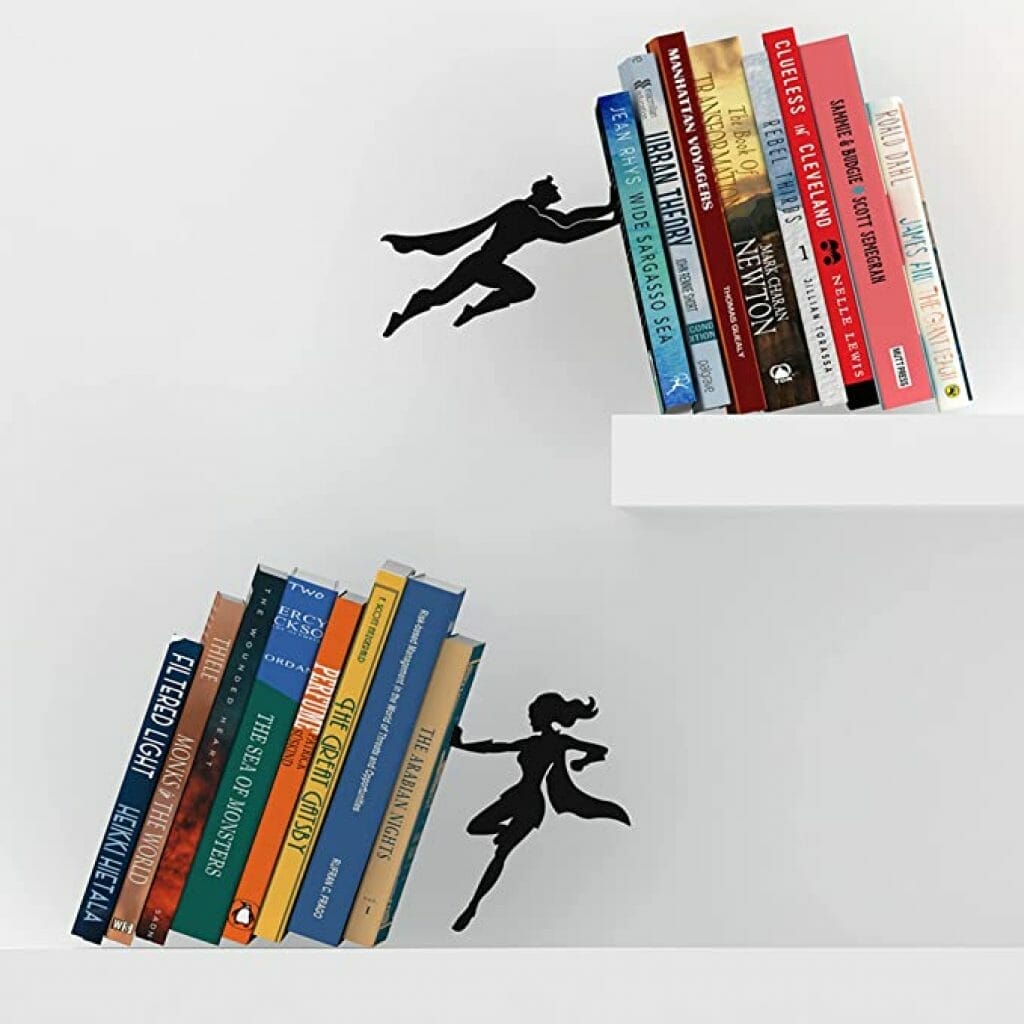 Artori SuperHero Book Stoppers
These might be perfect for Marvel fans or children alike. These superhero black silhouettes can be perfect for storing all sorts of nerdy literature!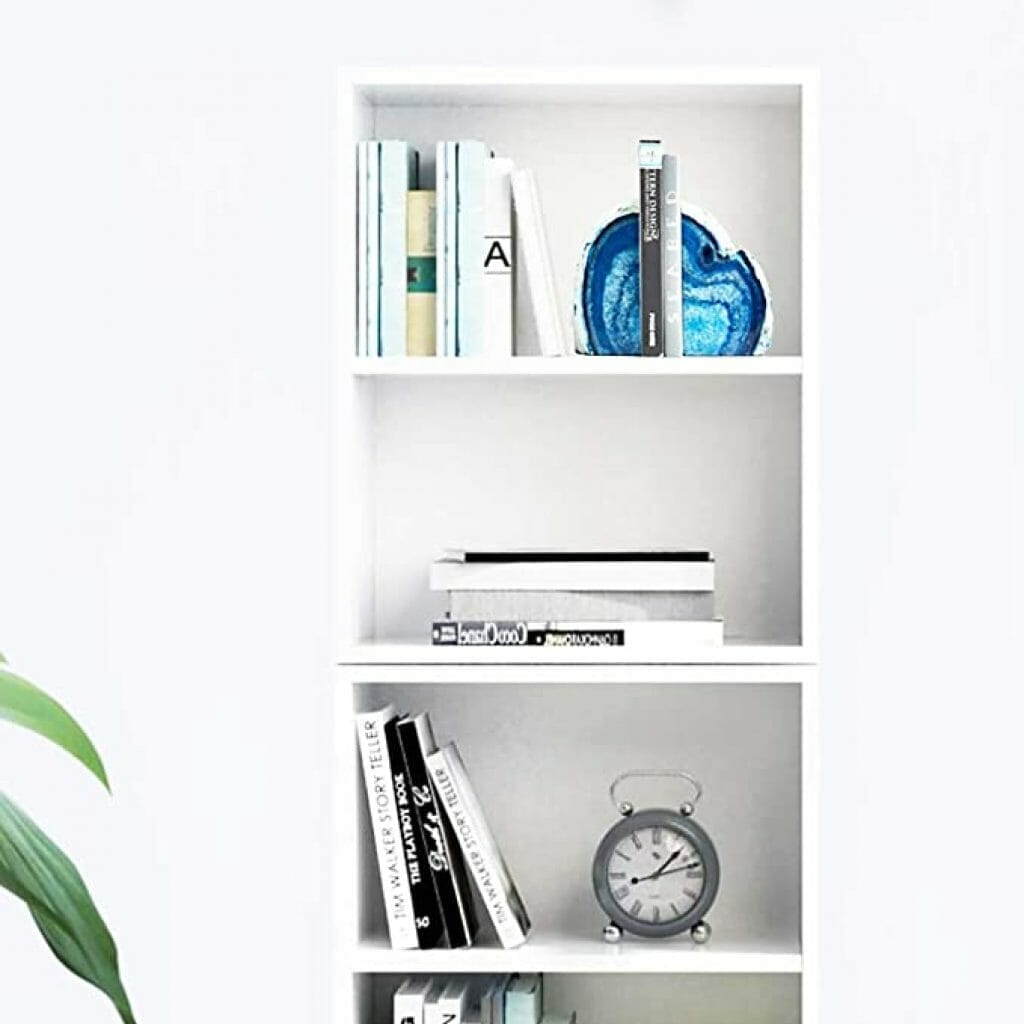 JIC Gem Polished Geodes
Each blue agate bookend is cut, polished and polished from agate geodes, dyed blue, and each pattern and shape is unique. It increases the mystery of the bookend, and the back retains the natural roughness of agate 's shell. These have anti-slip grips, so don't worry about any scratching on furniture!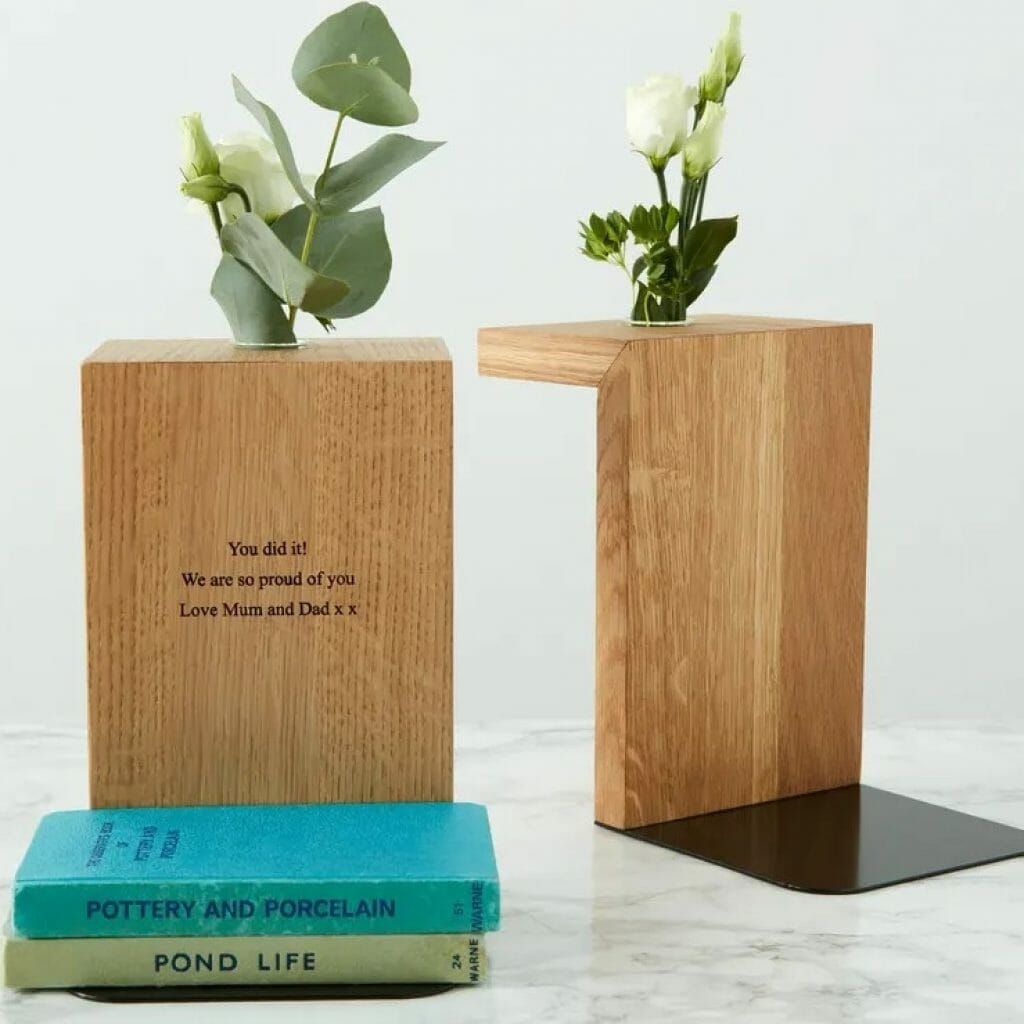 MijMojDesign's Personalised Book End
"Beautiful! I am so excited to give this gift. The shipping was incredibly quick, the packaging was impeccable. The quality and detail of the product are even lovelier than pictured!"
This review from a satisfied customer should be convincing enough!
Artori Design Falling Books Stopper
Wanting to add a little humour to the office? This falling man will forever be anticipating being crushed by your books! Organise your shelf with this heavy-duty fellow!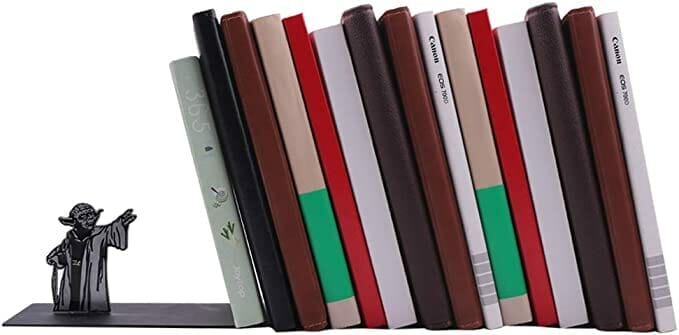 Rongji Yoda Bookend
May the force be with you. We've all tried to use the force to grab our favorite book off the shelf before. Now, leave it to the professionals with this adorkable Yoda book stopper.
jinhuoba Chess Bookends
These charming decorations are made of environmentally friendly resin that is durable and durable.The thick material give it sturdiness and can support 3.5 pounds of weight to hold your books well.
BlackDecoration's Wizard Metal Bookends
Perfect shelf decor for a home or office. Also makes a great housewarming gift for all those who want to stay in-touch with their childhood interests. Or maybe a perfect addition to a child's book nook!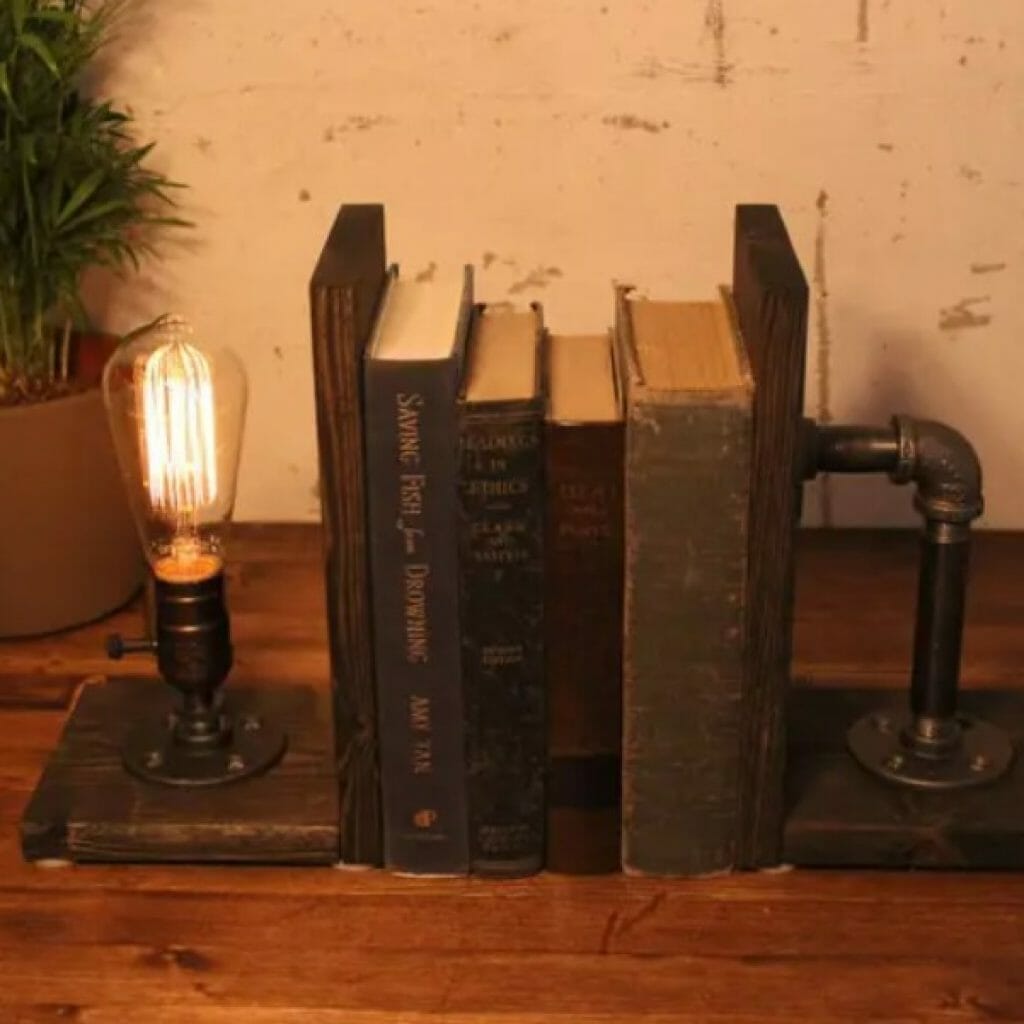 UrbanIndustrialCraft's Rustic Book Holders
With the ability to select your socket color and wood finish, this bespoke rustic piece is a beautiful and unique addition to your reading nook. Features a full range dimming option to set just the right mood, available in high quality Brass and Silver sockets. And, even better, comes with a free bulb!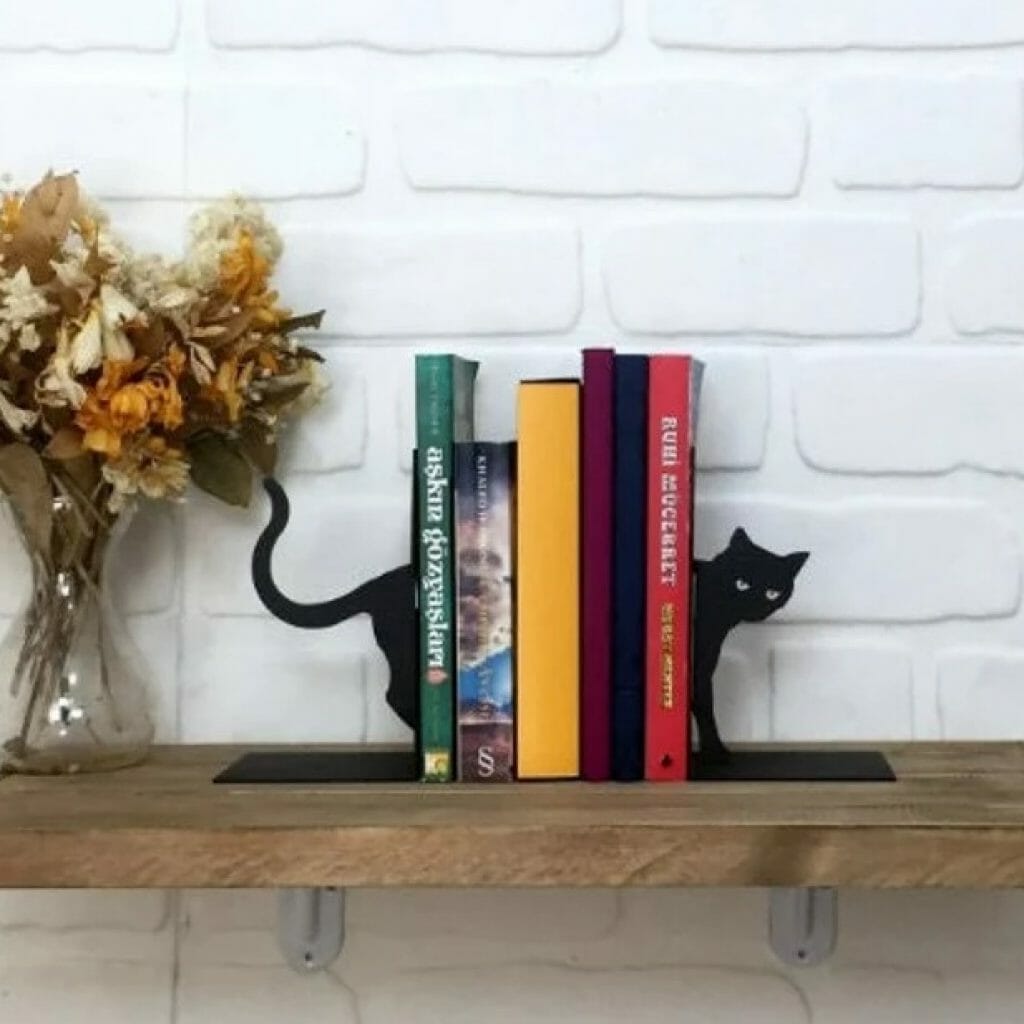 BlackDecoration's Black Cat Book Decor
This subtle book seperator is perfect for those who love their cat. Thin-cut steel allows for a light, but durable, place to store your favourite books!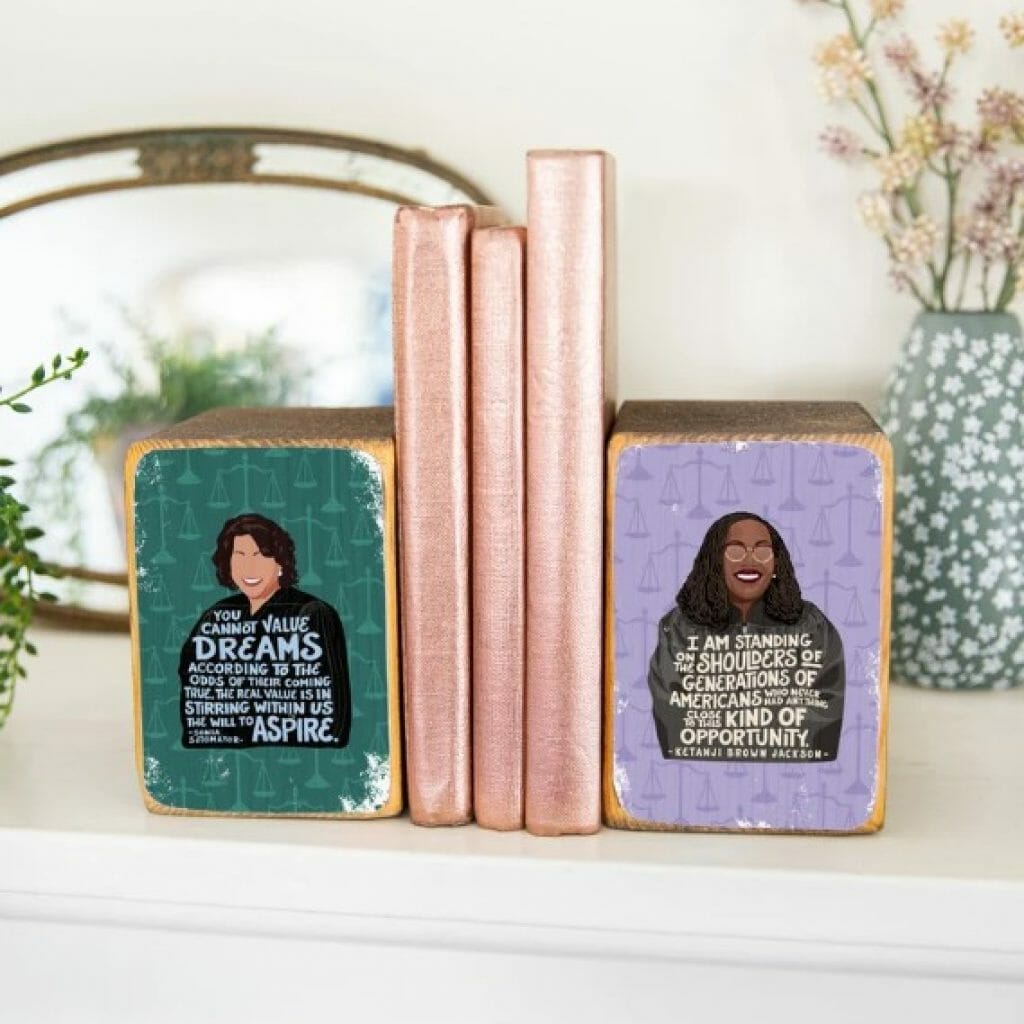 GetARCHd Build Your Own Feminist Icon Book Seperator
Chose any 2 of over 20 feminist icons to proudly display! Includes women such as Michelle Obama, Harriet Tubman, Katherine Johnson, Marie Curie, and more! Reviewers rave in the comments for the simplistic beauty and message.
SlowPrints3D Coffee Mug Book Deco
With 15 styles to choose from, it's impossible there isn't something here to appeal to your shelf. Take that pile of books and have them neatly stacked together with a classy booked shaped like a coffee mug.

VinBee Retro Vinyl Bookends
Light weight record are perfect for light books, DVD's, video games, magazines, or CD's. If you've got a collection of old band magazines you can't quite bring yourself to throw away, this is the perfect thing for them!
HeavenlyKraft Lord of the Rings Metalic Shelf Decoration
J.R.R. Tolkien didn't hold back when writing the many stories of the Hobbit and The Lord of the Rings. Often, these huge, weighty books are too heavy to display well. Now worry no more! This heavy bookstop can display your collection with ease.
Kakizzy Astronaut Book Ends for Kids
The Kakizzy Decorative Bookends gold are made of resin, beautiful and easy to clean and keep. These pieces are so beautiful that they can also be used as a sculpture to decorate bedrooms, living rooms, children's rooms, and even offices.
JUSK Design Bamboo Book End/Book Organizer
Add personality to your bookcase with our bamboo bookshelf ends. They are designed to display your books beautifully while giving you easy access to your all-time classic in just seconds. The luxuriously smooth bamboo texture transforms any bookshelf into the perfect home library.
---
Frequently Asked Questions
What can I use if I don't have bookends?
You can also use toys and figurines to make some really nice bookends. Ideally, anything fairly sturdy and non-slip. Personally, I'm a huge fan of using houseplants as bookends!
What is the purpose of bookshelf ends?
The bookend is an object tall, sturdy, and heavy enough, when placed at either end of a row of upright books, to support them.
Do bookends need to be heavy?
It depends on the book that needs supporting. Small paperpacks will stand upright fairly easily. Oversize hardbacks may be harder to keep upright without a heavy, sturdy weight.
---