The steamy and thrilling story of Laura and Massimo continues in this unputdownable sequel to the international bestseller 365 Days—the inspiration behind Netflix's blockbuster movie; This Day.
Read the first book and aching for more? We don't blame you! With spicy scenes raunchy enough to make anyone blush and action-packed mafia politics, This Day is a strong sequel to the jaw-dropping novel by Blanka Lipińska. So get comfy and get ready to explore the next part of this erotic mafia trilogy!
Table of Contents [CLICK HERE TO OPEN]
This Day
This Day (365 Days Book 2)
Laura Biel's new life in Sicily looks like the perfect fairy tale: a grand wedding, a wealthy and devoted husband, a baby on the way, and lavish luxury complete with servants, extravagant cars, and seaside palazzos. Yes, all of this would be perfect, except for the fact that Laura is constantly surrounded by gangsters as the threat of her kidnapping looms large. Laura is about finally discover what it means to be married to the most dangerous man in Italy.
Our Overview
The second book begins with Massimo trying to leave Laura after proposing to her. She manages to change his mind when she reveals to him that she is pregnant.
Olga hooks up with Domenico and they spend their time intimately, or drinking and taking drugs. Next, Adriano appears, who is another of Massimo's brothers. Laura is shocked when she sees that he is Massimo's twin.
The twins prove to be trouble when Laura walks in on Massimo in bed with his ex, to which Massimo lies and tries to claim to be his twin brother. Laura then leaves Massimo and escapes to Hungary where she hides for weeks with Olga before returning to Poland. Massimo and Laura rekindle their relationship. Unfortunately, Laura catches Massimo getting high and runs from him. She is then captured by Marcelo Nacho Matoas – the son of a Spanish mafia family. Laura begins to develop feelings for her captor.
After a lot of mafia trading and business deals, involving Laura being used as a bargaining chip, Adriano is in possession of Laura. He takes her to an empty building. Both wanting to get Laura back, Massimo and Nacho put aside their differences and show up fully armed. Laura makes a run for it and Antonio shoots her in the stomach as she tries to escape.
Our Review of This Day (365 Days Book 2)
Once again, Blanka delivered! This story is just as spicy and addictive as the first. This new release boasts some interesting new characters. It was especially interesting to see how Laura is easy to fall into the arms of another captor and develop feelings. A running theme, perhaps?
The cliffhanger has us desperately hungry for more. Is Laura okay? Will she survive? The question is a huge one and we can't wait to read the next book to find it out!
Overall Rating: ★★★★☆
---
Check Out The Movie!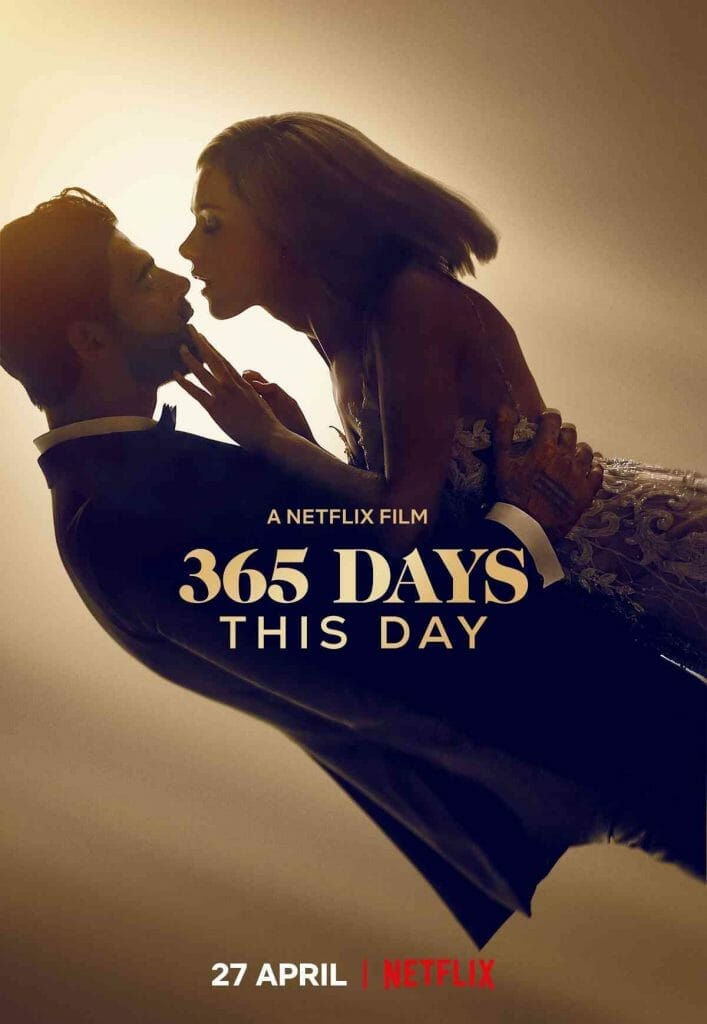 This Day (365 Days Book 2)
Laura and Massimo are back and stronger than ever. But Massimo's family ties and a mysterious man bidding for Laura's heart complicate the lovers' lives.
There's no way you've gone this far and not heard of the blockbuster movies adapted from the novels. They're just as spicy, exciting and bloodthirsty as the novels filled with steamy sex scenes! With the additional aid of some very attractive cast members in alluring positions, it's no wonder that the movie series has exploded in popularity. Check out the trailer!
Watch on Netflix to prepare for the sequel!
The Polish Erotic movies has Michele Morrone and Anna Maria Sieklucka are reprising their roles as the main characters Don Massimo Torricelli and Laura Biel. Along with the rest of the cast – Bronisław Wrocławski as Mario Otar Saralidze as Domenico, Magdalena Lamparska as Olga, Simone Susinna as Marcelo "Nacho" Matos and Tomasz Mandes as Tommaso.
---
Frequently Asked Questions
Is Laura Dead?
We don't want to give you any spoilers! For our overview of the third book, check it out here! Or indulge yourself fully and check the sequel out on Netflix here!
Where is 365 Days filmed?
The filming took place on the beautiful island of Sicily and the region surrounding Warsaw, Poland.
Is 365 Days a Series?
It is! The first book is hugely popular, so be sure to delve in and read them all!

365 Days
This Day
The Next 365 Days
365 Days: This Day release date?
The second movie in the series' release date is 27th August 2022.
What did you think about 365 Days: This Day? Let us know!