When the chill of October winds begins to ruffle the last autumn leaves and nights grow longer, a curious blend of spooky and romantic fills the air. Forget the usual tales of haunted houses and wandering spirits; the world of spooky romance novels offers a thrilling blend of passion and the paranormal. In these pages, love isn't just about stolen glances and whispered promises, but also about forbidden bonds between mortals and specters, timeless love affairs with vampires, or fiery romances with witches. As we embark on this journey, we'll uncover the allure of love stories set against a backdrop of midnight masquerades, eerie manors, and moonlit spells. Prepare to be both haunted and enchanted with these spooky romance books.
Table of Contents [CLICK HERE TO OPEN]
Spooky Romance Books List
As the line between passion and the paranormal blurs, a unique genre emerges, tantalizing readers with tales where love dances intimately with mystery. Before you dive deep into the shadowed corners of these chilling love tales, we've curated a list that promises to send shivers down your spine and set your heart racing. Whether you're seeking the embrace of a ghostly lover, the brooding intensity of a vampire, or the enchanting allure of a witch's spell, our selection beckons you. Delve in, and let these stories of spooky romance sweep you off your feet and into the arms of the unknown.
Mexican Gothic – Silvia Moreno-Garcia

After receiving a frantic letter from her newly-wed cousin begging for someone to save her from a mysterious doom, Noemí Taboada heads to High Place, a distant house in the Mexican countryside. She's not sure what she will find—her cousin's husband, a handsome Englishman, is a stranger, and Noemí knows little about the region.

Noemí is also an unlikely rescuer: She's a glamorous debutante, and her chic gowns and perfect red lipstick are more suited for cocktail parties than amateur sleuthing. But she's also tough and smart, with an indomitable will, and she is not afraid: Not of her cousin's new husband, who is both menacing and alluring; not of his father, the ancient patriarch who seems to be fascinated by Noemí; and not even of the house itself, which begins to invade Noemi's dreams with visions of blood and doom.

Her only ally in this inhospitable abode is the family's youngest son. Shy and gentle, he seems to want to help Noemí, but might also be hiding dark knowledge of his family's past. For there are many secrets behind the walls of High Place. The family's once colossal wealth and faded mining empire kept them from prying eyes, but as Noemí digs deeper she unearths stories of violence and madness.

And Noemí, mesmerized by the terrifying yet seductive world of High Place, may soon find it impossible to ever leave this enigmatic house behind.
Practical Magic – Alice Hoffman

For more than two hundred years, the Owens women have been blamed for everything that has gone wrong in their Massachusetts town. Gillian and Sally have endured that fate as well: as children, the sisters were forever outsiders, taunted, talked about, pointed at. Their elderly aunts almost seemed to encourage the whispers of witchery, with their musty house and their exotic concoctions and their crowd of black cats. But all Gillian and Sally wanted was to escape. One will do so by marrying, the other by running away. But the bonds they share will bring them back—almost as if by magic…
The Ex Hex – Erin Sterling

Nine years ago, Vivienne Jones nursed her broken heart like any young witch would: vodka, weepy music, bubble baths…and a curse on the horrible boyfriend. Sure, Vivi knows she shouldn't use her magic this way, but with only an "orchard hayride" scented candle on hand, she isn't worried it will cause him anything more than a bad hair day or two.
That is until Rhys Penhallow, descendent of the town's ancestors, breaker of hearts, and annoyingly just as gorgeous as he always was, returns to Graves Glen, Georgia. What should be a quick trip to recharge the town's ley lines and make an appearance at the annual fall festival turns disastrously wrong. With one calamity after another striking Rhys, Vivi realizes her silly little Ex Hex may not have been so harmless after all.
Suddenly, Graves Glen is under attack from murderous wind-up toys, a pissed off ghost, and a talking cat with some interesting things to say. Vivi and Rhys have to ignore their off the charts chemistry to work together to save the town and find a way to break the break-up curse before it's too late.
The Dead Romantics – Ashley Poston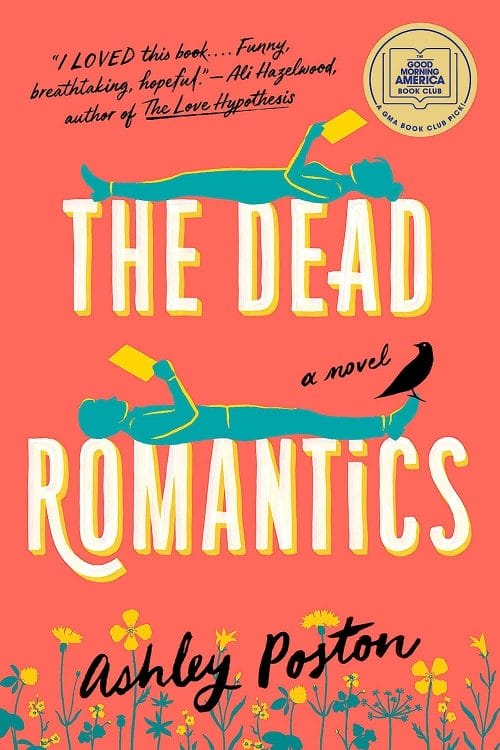 Florence Day is the ghostwriter for one of the most prolific romance authors in the industry, and she has a problem—after a terrible breakup, she no longer believes in love. It's as good as dead.

When her new editor, a too-handsome mountain of a man, won't give her an extension on her book deadline, Florence prepares to kiss her career goodbye. But then she gets a phone call she never wanted to receive, and she must return home for the first time in a decade to help her family bury her beloved father.

For ten years, she's run from the town that never understood her, and even though she misses the sound of a warm Southern night and her eccentric, loving family and their funeral parlor, she can't bring herself to stay. Even with her father gone, it feels like nothing in this town has changed. And she hates it.

Until she finds a ghost standing at the funeral parlor's front door, just as broad and infuriatingly handsome as ever, and he's just as confused about why he's there as she is.

Romance is most certainly dead . . . but so is her new editor, and his unfinished business will have her second-guessing everything she's ever known about love stories.
The Witching Hour – Anne Rice

Rowan Mayfair, a beautiful woman, a brilliant practitioner of neurosurgery—aware that she has special powers but unaware that she comes from an ancient line of witches—finds the drowned body of a man off the coast of California and brings him to life. He is Michael Curry, who was born in New Orleans and orphaned in childhood by fire on Christmas Eve, who pulled himself up from poverty, and who now, in his brief interval of death, has acquired a sensory power that mystifies and frightens him. As these two, fiercely drawn to each other, fall in love and—in passionate alliance—set out to solve the mystery of her past and his unwelcome gift, an intricate tale of evil unfolds.

Moving through time from today's New Orleans and San Francisco to long-ago Amsterdam and a château in the Louis XIV's France, and from the coffee plantations of Port au Prince, where the great Mayfair fortune is made and the legacy of their dark power is almost destroyed, to Civil War New Orleans, The Witching Hour is a luminous, deeply enchanting novel.
The Kiss Curse – Erin Sterling

Gwyn Jones is perfectly happy with her life in Graves Glen. She, her mom, and her cousin have formed a new and powerful coven; she's running a successful witchcraft shop, Something Wicked; and she's started mentoring some of the younger witches in town. As Halloween approaches, there's only one problem—Llewellyn "Wells" Penhallow.
Wells has come to Graves Glen to re-establish his family's connection to the town they founded as well as to make a new life for himself after years of being the dutiful son in Wales. When he opens up a shop of his own, Penhallow's, just across the street from Something Wicked, he quickly learns he's gotten more than he bargained for in going up against Gwyn.
When their professional competition leads to a very personal—and very hot—kiss, both Wells and Gwyn are determined to stay away from each other, convinced the kiss was just a magical fluke. But when a mysterious new coven of witches come to town and Gwyn's powers begin fading, she and Wells must work together to figure out just what these new witches want and how to restore Gwyn's magic before it's too late.
There's Someone Inside Your House – Stephanie Perkins

It's been almost a year since Makani Young came to live with her grandmother and she's still adjusting to her new life in rural Nebraska. Then, one by one, students at her high school begin to die in a series of gruesome murders, each with increasing and grotesque flair.
As the body count rises and the terror grows closer, can Makani survive the killer's twisted plan?
Hollow Heathens – Nicole Fiorina

Once upon a time, there lived a girl named Fallon who was taken far away from home shortly after she was born.
A home that held more than strange traditions and bizarre superstitions.
Twenty-four years later, she returned to Weeping Hollow, a town she'd only heard about in stories during restless nights under a marble moon, to take care of her last living relative.
They called the nosy mortician a freakshow-a ghastly thing.
They said I couldn't go near her.
Still, there was this aching pull to Fallon Grimaldi that I couldn't escape.
A nostalgic pull as if we'd been here before.
Once upon a time, there lived a mysterious boy named Julian with a curse as old as centuries wrapped around his soul.
He was one of the four Hollow Heathens, the very dark creatures who caused the town's people to live in fear.
And the Blackwell name was stained with darkness and death.
They called him a monster. Cold and hollow.
They said I shouldn't go near him.
Still, there was this aching pull to Julian Blackwell that I couldn't escape.
A nostalgic pull as if we'd been here before.
Interview with the Vampire – Anne Rice

Here are the confessions of a vampire. Hypnotic, shocking, and chillingly sensual, this is a novel of mesmerizing beauty and astonishing force—a story of danger and flight, of love and loss, of suspense and resolution, and of the extraordinary power of the senses. It is a novel only Anne Rice could write.
These Violent Delights – Chloe Gong

The year is 1926, and Shanghai hums to the tune of debauchery.
A blood feud between two gangs runs the streets red, leaving the city helpless in the grip of chaos. At the heart of it all is eighteen-year-old Juliette Cai, a former flapper who has returned to assume her role as the proud heir of the Scarlet Gang—a network of criminals far above the law. Their only rivals in power are the White Flowers, who have fought the Scarlets for generations. And behind every move is their heir, Roma Montagov, Juliette's first love…and first betrayal.
But when gangsters on both sides show signs of instability culminating in clawing their own throats out, the people start to whisper. Of a contagion, a madness. Of a monster in the shadows. As the deaths stack up, Juliette and Roma must set their guns—and grudges—aside and work together, for if they can't stop this mayhem, then there will be no city left for either to rule.
Gothikana – RuNyx

An unusual girl. An enigmatic man. An ancient castle. What could go wrong?

An outcast her entire life, Corvina Clemm is left adrift after losing her mother. When she receives the admission letter from the mysterious University of Verenmore, she accepts it as a sign from the universe. The last thing she expects though is an old, secluded castle on top of a mountain riddled with secrets, deceit, and death.

An enigma his entire life, Vad Deverell likes being a closed book but knowing exactly everything that happens in the university. A part-time professor working on his thesis, Vad has been around long enough to know the dangers the castle possesses. And he knows the moment his path crosses with Corvina, she's dangerous to everything that he is.

They shouldn't have caught each other's eye. They cannot be. But a chill-inducing century-old mystery forces them to collide. People have disappeared every five years over the past century, Corvina is getting clues to unraveling it all, and Vad needs to keep an eye on her.

And so begins a tale of the mysterious, the morbid, the macabre, and a deep love that blossoms in the unlikeliest of places.
Scream For Us – Molly Doyle

After wandering into an alluring Halloween party that is said to go down in history, Quinn finds herself captivated by three masked men. As she immerses herself in a night of both pleasure and pain, she finally has the perfect opportunity to bring her darkest fantasies to life.
Or death.
The Phantom of the Opera – Gaston Leroux

A phantom has haunted the Paris Opera House for years. Now he is infatuated with singer Christine Daaé. Despite an astonishing debut performance, Christine fails to win the lead in Faust, and the Phantom's cursed retaliation on the opera house is spectacularly fatal. As the chandelier falls, he kidnaps Christine, and through hidden passages and behind trapdoors, shares his life story with her. To secure her escape, Christine promises to stay true to him forever. But when the Phantom learns of the prima donna's intention to flee, his passion turns terrifying.
With its complex and victimized antihero, a man at once evil and misjudged, Gaston Leroux's Grand Guignol has become a fixture of romantic popular culture and the dark absolute of obsessive love.
Darkhorse – Karina Halle

Perry Palomino seems like your average twenty-something girl on the surface. She's had bad luck dating, her job sucks, and she's disillusioned by her place in life, not sure exactly what she wants or where she's even going.
She also sees ghosts, which makes things extra complicated, especially when she'd do anything to be normal.
But normal people don't go exploring an abandoned and supposedly haunted lighthouse on the Oregon coast, where she ends up getting the attention of Dex Foray, an enigmatic producer who wants to exploit her talent for seeing the dead on his webseries.
At first, Perry's not sure she wants to work with Dex on his amateur ghost-hunting show. He's cocky, sarcastic, mysterious, and perhaps a little disturbed, not to mention aggravatingly sexy. But the more Perry works alongside Dex, her sanity tested at every turn, the more she realizes that falling for this man might just be the scariest thing of all.
Sometimes the ghosts we really need to fear are the ones that live in our pasts.
The Shape of Water – Guillermo del Toro & Daniel Kraus

It is 1962, and Elisa Esposito—mute her whole life, orphaned as a child—is struggling with her humdrum existence as a janitor working the graveyard shift at Baltimore's Occam Aerospace Research Center. Were it not for Zelda, a protective coworker, and Giles, her loving neighbor, she doesn't know how she'd make it through the day.
Then, one fateful night, she sees something she was never meant to see, the Center's most sensitive asset ever: an amphibious man, captured in the Amazon, to be studied for Cold War advancements. The creature is terrifying but also magnificent, capable of language and of understanding emotions…and Elisa can't keep away. Using sign language, the two learn to communicate. Soon, affection turns into love, and the creature becomes Elisa's sole reason to live.
But outside forces are pressing in. Richard Strickland, the obsessed soldier who tracked the asset through the Amazon, wants nothing more than to dissect it before the Russians get a chance to steal it. Elisa has no choice but to risk everything to save her beloved. With the help of Zelda and Giles, Elisa hatches a plan to break out the creature. But Strickland is on to them. And the Russians are, indeed, coming.
Evermore – Alyson Noël

After a horrible accident claimed the lives of her family, sixteen-year-old Ever Bloom can see people's auras, hear their thoughts, and know someone's entire life story by touching them. Going out of her way to avoid human contact and suppress her abilities, she has been branded a freak at her new high school—but everything changes when she meets Damen Auguste.

Damen is gorgeous, exotic and wealthy. He's the only one who can silence the noise and random energy in her head—wielding a magic so intense, it's as though he can peer straight into her soul. As Ever is drawn deeper into his enticing world of secrets and mystery, she's left with more questions than answers. And she has no idea just who he really is—or what he is. The only thing she knows to be true is that she's falling deeply and helplessly in love with him.
Verity – Colleen Hoover

Lowen Ashleigh is a struggling writer on the brink of financial ruin when she accepts the job offer of a lifetime. Jeremy Crawford, husband of bestselling author Verity Crawford, has hired Lowen to complete the remaining books in a successful series his injured wife is unable to finish.

Lowen arrives at the Crawford home, ready to sort through years of Verity's notes and outlines, hoping to find enough material to get her started. What Lowen doesn't expect to uncover in the chaotic office is an unfinished autobiography Verity never intended for anyone to read. Page after page of bone-chilling admissions, including Verity's recollection of the night her family was forever altered.

Lowen decides to keep the manuscript hidden from Jeremy, knowing its contents could devastate the already grieving father. But as Lowen's feelings for Jeremy begin to intensify, she recognizes all the ways she could benefit if he were to read his wife's words. After all, no matter how devoted Jeremy is to his injured wife, a truth this horrifying would make it impossible for him to continue loving her.
Rebecca – Daphne du Maurier

Last night I dreamt I went to Manderley again . . .

The novel begins in Monte Carlo, where our heroine is swept off her feet by the dashing widower Maxim de Winter and his sudden proposal of marriage. Orphaned and working as a lady's maid, she can barely believe her luck. It is only when they arrive at his massive country estate that she realizes how large a shadow his late wife will cast over their lives–presenting her with a lingering evil that threatens to destroy their marriage from beyond the grave.
Other Genres To Try
For those who've found themselves enraptured by the blend of heartbeats and hauntings in spooky romance novels, there's a wealth of related genres waiting to be discovered. While the ethereal mix of love and the paranormal is unique, several other genres capture similar emotions and atmospheres, beckoning readers into worlds of wonder, danger, and desire:
Gothic Romance: An ancestor to spooky romance, this genre features isolated, atmospheric settings, like crumbling mansions or fog-shrouded moors, and often involves mystery, horror, and a torrid romance. If the idea of forbidden love amidst haunting backdrops appeals to you, this is a must-read.
Urban Fantasy: Set primarily in urban settings, these tales weave magic, myth, and often, romantic elements, into the modern world. Think werewolves in New York City or witches running cafes in Paris.
Paranormal Mystery: This genre skillfully marries elements of suspense and the supernatural. With a blend of eerie occurrences, investigative twists, and sometimes, simmering romantic subplots, these tales are sure to grip fans of spooky romance.
Dark Fantasy: Here, readers will encounter morally complex characters, otherworldly beings, and a deep, often ominous atmosphere. Love, though present, may be twisted, passionate, and as unpredictable as the shadowy worlds these tales inhabit.
Historical Paranormal Romance: Dive into the past where dukes, warriors, or even pharaohs might have supernatural abilities or come face to face with beings of legend. The past's allure combines with the mysteries of the paranormal in these romances.
Psychological Thrillers with Romantic Elements: For those who prefer the tension to be as much mental as it is supernatural, this genre offers tales where the mind's darkest corners are as haunting as any ghost, with romance adding another layer of intensity.
For the adventurous reader, these genres promise to expand horizons while still echoing the chills and thrills found in spooky romance novels. The myriad worlds and tales out there are bound to captivate, with each page turned revealing another corner of the shadowed heart.
Frequently Asked Questions
What is horror romance called?
Horror romance is often referred to as "spooky romance" or "paranormal romance" when it combines elements of love and the supernatural.
This genre blends the thrill and suspense of horror with the emotional depth of romance, leading to stories where love battles or coexists with elements of fear and the unknown.
What is considered a dark romance book?
A dark romance book delves into themes of love intertwined with more intense, often taboo or morally complex situations, which can include danger, psychological drama, or power dynamics.
These stories may involve antiheroes, morally ambiguous decisions, and situations that challenge the boundaries of traditional romance.
What is horror romance genre?
The horror romance genre is a subgenre of romance that integrates elements of horror, such as supernatural beings, haunted settings, and eerie atmospheres, with romantic storylines.
This genre can encompass everything from love affairs with ghosts or vampires to romances set in haunted locales, making it a diverse and thrilling reading choice.
Who is the best dark romance author?
The title of "best" is subjective and varies by reader preference, but one of the most recognized dark romance authors is Sierra Simone. Other notable authors include K. Webster and Pepper Winters.
It's recommended to explore multiple authors in the genre to find the one that resonates most with your reading preferences, as dark romance can span a wide range of themes and intensities.
---
As we pull the curtain on our exploration of spooky romance novels, it's evident that this genre, with its intoxicating blend of passion and the paranormal, has carved a unique niche in the literary world. From its hauntingly beautiful settings to the heart-pounding love affairs that defy mortal bounds, these tales beckon readers to journey into realms where love is both the light and the shadow. Whether you're a seasoned fan or a curious newcomer, the world of eerie romance promises tales that linger long after the last page is turned. So, as the nights grow longer and chills run deeper, let these stories be your guide into the heart of darkness, where love shines the brightest. Happy reading!