As the leaves turn golden and the air becomes crisp, there's no better time to cozy up with a heartwarming romance novel. Autumn, with its mellow mood and atmospheric allure, provides the perfect backdrop for tales of love, longing, and serendipitous encounters. Whether it's a timeless classic or a contemporary gem, fall romance books have a way of mirroring the season's magic, capturing the essence of fleeting moments and the promise of new beginnings. We'll take you through some of this season's most anticipated love stories that are sure to warm your heart even as the temperatures drop. So grab your favorite blanket, a steaming mug of apple cider, and get ready to fall in love all over again.
Table of Contents [CLICK HERE TO OPEN]
Fall Romance Book List
Autumn isn't just about the cascade of colorful leaves or the first sip of a pumpkin spice latte—it's also about the stories that pull at our heartstrings, set against the backdrop of cozy sweaters and crackling fires. As the world outside transforms, it's only fitting that our reading list does too. Here, we've curated a selection of this season's standout romance novels that embody the enchanting spirit of fall. From tales steeped in nostalgia to contemporary whirlwinds of passion, prepare to embark on journeys of love and discovery. Without further ado, let's dive into the books that are waiting to be your next fall favorites.
The Night Circus – Erin Morgenstern
The circus arrives without warning. No announcements precede it. It is simply there, when yesterday it was not. Within the black-and-white striped canvas tents is an utterly unique experience full of breathtaking amazements. It is called Le Cirque des Rêves, and it is only open at night.

But behind the scenes, a fierce competition is underway: a duel between two young magicians, Celia and Marco, who have been trained since childhood expressly for this purpose by their mercurial instructors. Unbeknownst to them both, this is a game in which only one can be left standing. Despite the high stakes, Celia and Marco soon tumble headfirst into love, setting off a domino effect of dangerous consequences, and leaving the lives of everyone, from the performers to the patrons, hanging in the balance.
The Ex Hex – Erin Sterling
Nine years ago, Vivienne Jones nursed her broken heart like any young witch would: vodka, weepy music, bubble baths…and a curse on the horrible boyfriend. Sure, Vivi knows she shouldn't use her magic this way, but with only an "orchard hayride" scented candle on hand, she isn't worried it will cause him anything more than a bad hair day or two.
That is until Rhys Penhallow, descendent of the town's ancestors, breaker of hearts, and annoyingly just as gorgeous as he always was, returns to Graves Glen, Georgia. What should be a quick trip to recharge the town's ley lines and make an appearance at the annual fall festival turns disastrously wrong. With one calamity after another striking Rhys, Vivi realizes her silly little Ex Hex may not have been so harmless after all.
Suddenly, Graves Glen is under attack from murderous wind-up toys, a pissed off ghost, and a talking cat with some interesting things to say. Vivi and Rhys have to ignore their off the charts chemistry to work together to save the town and find a way to break the break-up curse before it's too late.
Thanksgiving – Janet Evanovich
When Megan Murphy discovered a floppy-eared rabbit gnawing on the hem of her skirt, she meant to give its careless owner a piece of her mind, but Dr. Patrick Hunter was too attractive to stay mad at for long. Soon the two are making Thanksgiving dinner for their families.
Harvest Moon – Robyn Carr
Rising sous-chef Kelly Matlock's sudden collapse at work is a wake-up call. Disillusioned and burned out, she's retreated to her sister Jillian's house in Virgin River to rest and reevaluate.
Puttering in Jill's garden and cooking with her heirloom vegetables is wonderful, but Virgin River is a far cry from San Francisco. Kelly's starting to feel a little too unmotivated…until she meets Lief Holbrook. The handsome widower looks more like a lumberjack than a sophisticated screenwriter—a combination Kelly finds irresistible. But less appealing is Lief's rebellious stepdaughter, Courtney. She's the reason they moved from LA, but Courtney's finding plenty of trouble even in Virgin River.
Kelly's never fallen for a guy with such serious baggage, but some things are worth fighting for. Besides, a bratty teenager can't be any worse than a histrionic chef…right?
It Happened One Autumn – Lisa Kleypas
Headstrong American heiress Lillian Bowman has come to England to find an aristocratic husband. Unfortunately, no man is strong enough to tame the stubborn beauty's fierce will. Except, perhaps, the powerful and arrogant Earl of Westcliff—a man Lillian despises more than anyone she's ever met.
Marcus, Lord Westcliff, is famous for his icy English reserve and his supreme self-control. But something about the audacious Lillian drives him mad. Whenever they're in the same room, they can't stop themselves from battling furiously to gain the upper hand.
Then one afternoon, a stunningly sensuous encounter changes everything . . . and Lillian discovers that beneath the earl's reserved façade, he is the passionate and tender lover of her dreams. What neither Westcliff nor Lillian suspect, however, is that a sinister conspiracy threatens to destroy any chance of happiness. After a shocking betrayal endangers Lillian's safety—and possibly her life—will Marcus be able to save her before it's too late?
Practical Magic – Alice Hoffman
For more than two hundred years, the Owens women have been blamed for everything that has gone wrong in their Massachusetts town. Gillian and Sally have endured that fate as well: as children, the sisters were forever outsiders, taunted, talked about, pointed at. Their elderly aunts almost seemed to encourage the whispers of witchery, with their musty house and their exotic concoctions and their crowd of black cats. But all Gillian and Sally wanted was to escape. One will do so by marrying, the other by running away. But the bonds they share will bring them back—almost as if by magic…
The Simplicity of Cider – Amy E. Reichert
Focused and unassuming fifth generation cider-maker Sanna Lund has one desire: to live a simple, quiet life on her family's apple orchard in Door County, Wisconsin. Although her business is struggling, Sanna remains fiercely devoted to the orchard, despite her brother's attempts to convince their aging father to sell the land.
Single dad Isaac Banks has spent years trying to shield his son Sebastian from his troubled mother. Fleeing heartbreak at home, Isaac packed up their lives and the two headed out on an adventure, driving across the country. Chance—or fate—led them straight to Sanna's orchard.
Isaac's helping hands are much appreciated at the apple farm, even more when Sanna's father is injured in an accident. As Sanna's formerly simple life becomes increasingly complicated, she finds solace in unexpected places—friendship with young Sebastian and something more deliciously complex with Isaac—until an outside threat infiltrates the farm.
November 9 – Colleen Hoover
Fallon meets Ben, an aspiring novelist, the day before her scheduled cross-country move. Their untimely attraction leads them to spend Fallon's last day in Los Angeles together, and her eventful life becomes the creative inspiration Ben has always sought for his novel. Over time and amidst the various relationships and tribulations of their own separate lives, they continue to meet on the same date every year. Until one day Fallon becomes unsure if Ben has been telling her the truth or fabricating a perfect reality for the sake of the ultimate plot twist.
Can Ben's relationship with Fallon—and simultaneously his novel—be considered a love story if it ends in heartbreak?
Meet Me on Love Lane – Nina Bocci
Charlotte Bishop is out of options in New York City. Fired, broke, and blacklisted by her former boss, she's forced to return to her hometown of Hope Lake, PA to lick her wounds. Although she's expecting to find a miserable place with nothing to do, she is pleasantly surprised to discover it is bustling and thriving.
She's only supposed to be in Hope Lake temporarily until she can earn enough money to move back to New York. And she's not supposed to reconnect with her childhood friends or her beloved grandmother. She's not supposed to find her dream job running the local florist shop. And she's definitely not supposed to fall for not one but two of Hope Lake's golden boys: one the beloved high school English teacher, the other the charming town doctor.
With a heart torn between two men and two cities, what's a girl to do?
First Frost – Sarah Addison Allen
It's October in Bascom, North Carolina, and autumn will not go quietly. As temperatures drop and leaves begin to turn, the Waverley women are made restless by the whims of their mischievous apple tree…and the magic that swirls around it. But this year, first frost has much more in store.

Claire Waverley has started a successful new venture, Waverley's Candies. Though her handcrafted confections — rose to recall lost love, lavender to promote happiness and lemon verbena to soothe throats and minds — are singularly effective, the business of selling them is costing her the everyday joys of her family, and her belief in her own precious gifts.

Sydney Waverley, too, is losing her balance. With each passing day she longs more for a baby — a namesake for her wonderful Henry. Yet the longer she tries, the more her desire becomes an unquenchable thirst, stealing the pleasure out of the life she already has.

Sydney's daughter, Bay, has lost her heart to the boy she knows it belongs to…if only he could see it, too. But how can he, when he is so far outside her grasp that he appears to her as little more than a puff of smoke?

When a mysterious stranger shows up and challenges the very heart of their family, each of them must make choices they have never confronted before. And through it all, the Waverley sisters must search for a way to hold their family together through their troublesome season of change, waiting for that extraordinary event that is First Frost.
The Dead Romantics – Ashley Poston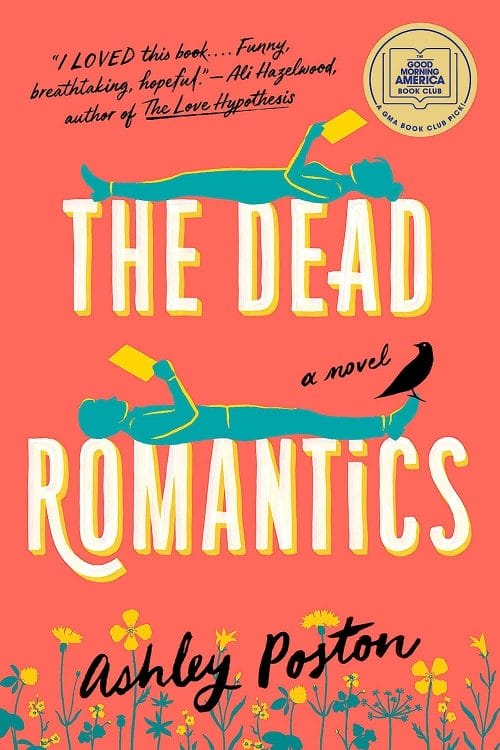 Florence Day is the ghostwriter for one of the most prolific romance authors in the industry, and she has a problem—after a terrible breakup, she no longer believes in love. It's as good as dead.

When her new editor, a too-handsome mountain of a man, won't give her an extension on her book deadline, Florence prepares to kiss her career goodbye. But then she gets a phone call she never wanted to receive, and she must return home for the first time in a decade to help her family bury her beloved father.

For ten years, she's run from the town that never understood her, and even though she misses the sound of a warm Southern night and her eccentric, loving family and their funeral parlor, she can't bring herself to stay. Even with her father gone, it feels like nothing in this town has changed. And she hates it.

Until she finds a ghost standing at the funeral parlor's front door, just as broad and infuriatingly handsome as ever, and he's just as confused about why he's there as she is.

Romance is most certainly dead . . . but so is her new editor, and his unfinished business will have her second-guessing everything she's ever known about love stories.
Well Met – Jen DeLuca
Emily knew there would be strings attached when she relocated to the small town of Willow Creek, Maryland, for the summer to help her sister recover from an accident, but who could anticipate getting roped into volunteering for the local Renaissance Faire alongside her teenaged niece? Or that the irritating and inscrutable schoolteacher in charge of the volunteers would be so annoying that she finds it impossible to stop thinking about him?
The faire is Simon's family legacy and from the start he makes clear he doesn't have time for Emily's lighthearted approach to life, her oddball Shakespeare conspiracy theories, or her endless suggestions for new acts to shake things up. Yet on the faire grounds he becomes a different person, flirting freely with Emily when she's in her revealing wench's costume. But is this attraction real, or just part of the characters they're portraying?
This summer was only ever supposed to be a pit stop on the way to somewhere else for Emily, but soon she can't seem to shake the fantasy of establishing something more with Simon or a permanent home of her own in Willow Creek.
Cemetery Boys – Aiden Thomas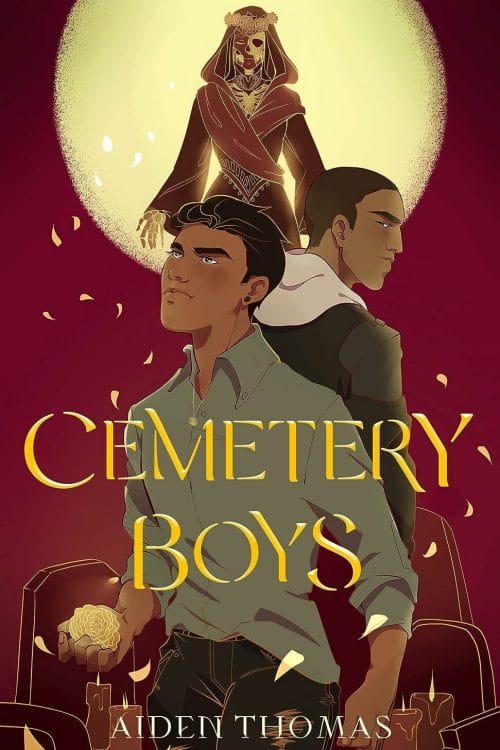 Bestowed by the ancient goddess of death, Yadriel and the gifted members of his Latinx community can see spirits: women have the power to heal bodies and souls, while men can release lost spirits to the afterlife. But Yadriel, a trans boy, has never been able to perform the tasks of the brujas – because he is a brujo.
When his cousin suddenly dies, Yadriel becomes determined to prove himself a real brujo. With the help of his cousin and best friend Maritza, he performs the ritual himself, and then sets out to find the ghost of his murdered cousin and set it free.
However, the ghost he summons is not his cousin. It's Julian Diaz, the resident bad boy of his high school, and Julian is not about to go quietly into death. He's determined to find out what happened and tie off some loose ends before he leaves.
Left with no choice, Yadriel agrees to help Julian, so that they can both get what they want. But the longer Yadriel spends with Julian, the less he wants to let him leave.
Maple Sugar Crush – Beth Labonte
Powerball winner Josie Morgan has learned the hard way that dating, in her financial situation, will only lead to heartbreak. She's been perfectly happy living the single life and running the Pumpkin Everything country store. Too bad her mother can't seem to take the hint. Unwilling to face another lineup of suitors and gold-diggers at this year's Thanksgiving dinner, Josie opts to stay behind in Autumnboro to host a free meal for anybody without a place to go.
When Josie's family turns up in Autumnboro, faking a relationship with funeral planner Riley Parker seems like the only way to make it through the holiday. Like every other man on Earth, Riley's only interested in her money. So what if she has a teeny, tiny crush? If he agrees to help her out, she'll gladly write him a check.
But as Thanksgiving draws closer, turkey and stuffing aren't the only things heating up, and maybe money isn't the only thing on Riley's mind. Josie's already hit the lottery once, dare she hope for anything more?
Faker – Sarah Echavarre Smith
Emmie Echavarre is a professional faker. She has to be to survive as one of the few female employees at Nuts & Bolts, a power tool company staffed predominantly by gruff, burly men. From nine to five, Monday through Friday, she's tough as nails–the complete opposite of her easy-going real self.
One thing she doesn't have to fake? Her disdain for coworker Tate Rasmussen. Tate has been hostile to her since the day they met. Emmie's friendly greetings and repeated attempts to get to know him failed to garner anything more than scowls and terse one-word answers. Too bad she can't stop staring at his Thor-like biceps…
When Emmie and Tate are forced to work together on a charity construction project, things get…heated. Emmie's beginning to see that beneath Tate's chiseled exterior lies a soft heart, but it will take more than a few kind words to erase the past and convince her that what they have is real.
Autumn in the Vineyard – Marina Adair
Frankie Baudouin has a hundred reasons not to trust Nate DeLuca. First, he's a DeLuca. Second, he kissed her—in front of the entire town—and then never called. Oh, and he's after her land. Sorrento Ranch is Frankie's last chance to prove to her family—and to herself—that she has what it takes to be an award-winning winemaker. And she will stop at nothing to ensure her success—even if it means playing nice with the starched, sophisticated, and oh-so-sexy Italian.
For Nate, Sorrento Ranch is more than just soil and grape vines; it was his father's dream—a dream Nate is determined to make a reality. So when he finds himself forced to cohabitate with a hot-headed, irrational, and incredibly gorgeous Baudouin, Nate is surprised to discover that chaos could be so much fun—especially when she sleeps in nothing but lace.
An Autumn Crush – Milly Johnson
After a bruising divorce, headstrong Juliet Miller invests in a flat and advertises for a flatmate, little believing that in her late thirties she'll find anyone suitable. But along comes self-employed copywriter Floz, raw from her own relationship split, and the two woman hit it off. When Juliet's twin brother Guy meets Floz, he is overcome with a massive crush, just as his friend Steve develops the hots for Juliet. But being a shy, gentle giant, Guy communicates so clumsily with Floz as to give her the opposite impression. Can he turn Floz's affection for his family into love for him? And then Juliet makes a discovery, which will turn their lives upside-down …
The Strange Case of the Alchemist's Daughter – Theodora Goss
Mary Jekyll, alone and penniless following her parents' death, is curious about the secrets of her father's mysterious past. One clue in particular hints that Edward Hyde, her father's former friend and a murderer, may be nearby, and there is a reward for information leading to his capture…a reward that would solve all of her immediate financial woes.
But her hunt leads her to Hyde's daughter, Diana, a feral child left to be raised by nuns. With the assistance of Sherlock Holmes and Dr. Watson, Mary continues her search for the elusive Hyde, and soon befriends more women, all of whom have been created through terrifying experimentation: Beatrice Rappaccini, Catherin Moreau, and Justine Frankenstein.
When their investigations lead them to the discovery of a secret society of immoral and power-crazed scientists, the horrors of their past return. Now it is up to the monsters to finally triumph over the monstrous.
Pumpkin Everything – Beth Labonte
After calling off her fall wedding, horror novelist Amy Fox is left with a broken heart, a mega case of writer's block, and a serious aversion to all things pumpkin spice. When she receives news that her grandfather has broken his wrist driving through a Dunkin Donuts—literally straight through the front windows—five hundred miles away, in her hometown of Autumnboro, New Hampshire, Amy has no choice but to return to check on him. If she doesn't make sure that he's back on his feet, Grandpa may be moved into assisted living, and Amy's beloved childhood home will be put on the market.
Knowing she must return, Amy worries about the only thing worse than pumpkin spice—a reunion with Kit Parker—her childhood best friend, first love, and entire reason for skipping town in the first place. As the two reconnect, a second chance seems possible…if only Kit weren't holding on to a secret that just might unravel everything.
The Invisible Life of Addie LaRue – V. E. Schwab
France, 1714: in a moment of desperation, a young woman makes a Faustian bargain to live forever—and is cursed to be forgotten by everyone she meets.
Thus begins the extraordinary life of Addie LaRue, and a dazzling adventure that will play out across centuries and continents, across history and art, as a young woman learns how far she will go to leave her mark on the world.
But everything changes when, after nearly 300 years, Addie stumbles across a young man in a hidden bookstore and he remembers her name.
Cackle – Rachel Harrison
All her life, Annie has played it nice and safe. After being unceremoniously dumped by her longtime boyfriend, Annie seeks a fresh start. She accepts a teaching position that moves her from Manhattan to a small village upstate. She's stunned by how perfect and picturesque the town is. The people are all friendly and warm. Her new apartment is dreamy too, minus the oddly persistent spider infestation.

Then Annie meets Sophie. Beautiful, charming, magnetic Sophie, who takes a special interest in Annie, who wants to be her friend. More importantly, she wants Annie to stop apologizing and start living for herself. That's how Sophie lives. Annie can't help but gravitate toward the self-possessed Sophie, wanting to spend more and more time with her, despite the fact that the rest of the townsfolk seem…a little afraid of her. And like, okay. There are some things. Sophie's appearance is uncanny and ageless, her mansion in the middle of the woods feels a little unearthly, and she does seem to wield a certain power…but she couldn't be…could she?
Ramón and Julieta – Alana Quintana Albertson
Ramón Montez always achieves his goals. Whether that means collecting Ivy League degrees or growing his father's fast-food empire, nothing sets Ramón off course. So when the sexy señorita who kissed him on the Day of the Dead runs off into the night with his heart, he determines to do whatever it takes to find her again.

Celebrity chef Julieta Campos has sacrificed everything to save her sea-to-table taqueria from closing. To her horror, she discovers that her new landlord is none other than the magnetic mariachi she hooked up with on Dia de los Muertos. Even worse, it was his father who stole her mother's taco recipe decades ago. Julieta has no choice but to work with Ramón, the man who destroyed her life's work—and the one man who tempts and inspires her.

As San Diego's outraged community protests against the Taco King takeover and the divide between their families grows, Ramón and Julieta struggle to balance the rising tensions. But Ramón knows that true love is priceless and despite all of his successes, this is the one battle he refuses to lose.
Other Genres To Try
If the allure of fall romance books has captured your heart, you might find yourself wondering what other genres could offer a similar warmth and enchantment. After all, the cozy atmospheres and heartfelt connections aren't limited to just romance. For readers looking to branch out while still retaining the essence of what makes fall romance so special, here are some genres to consider:
Historical Fiction: Dive into bygone eras where love stories unfold against rich tapestries of historical events. The detailed settings and period-specific challenges can evoke feelings similar to those in fall romance novels, adding depth and context to love stories.
Magical Realism: This genre interweaves reality with elements of magic, creating a world where extraordinary events feel perfectly commonplace. The subtle enchantment can mirror the whimsical feelings evoked by fall romances.
Gothic Novels: Think sprawling estates, mysterious characters, and often, a love story at the core. The atmospheric and moody settings of gothic tales can be reminiscent of chilly autumn evenings, making them a fitting choice.
Cozy Mysteries: While the focus is on solving a puzzle, cozy mysteries often incorporate romantic subplots and always provide that comforting, 'curl-up-with-a-book' feel, much like fall romances.
Family Sagas: These tales often span generations and center on familial bonds, love, loss, and legacy. They can be deeply emotional and resonate with readers who appreciate the depth of connection in romance novels.
Contemporary Women's Fiction: Though not always centered on romantic love, these stories often delve into personal growth, friendships, and relationships, all set against the backdrop of modern life.
Frequently Asked Questions
What books should I read in autumn?
For a seasonal reading experience, opt for fall romance books, which often blend love stories with autumnal atmospheres. Titles in this category capture the essence of fleeting moments, cozy settings, and the charm of the season. While fall romance books are a popular choice, autumn is also an ideal time to explore atmospheric genres like gothic fiction, magical realism, and historical novels.
What is considered a dark romance book?
A dark romance book is a subgenre of romance that delves into themes that are more intense, taboo, or psychologically challenging. These stories often involve morally complex characters, situations of captivity, power dynamics, and sometimes even elements of non-consent. The emphasis is on exploring the darker aspects of relationships and human emotions.
Who is the queen of romance novels?
The title "Queen of Romance Novels" is often attributed to Nora Roberts, an American author known for her prolific output and significant influence within the romance genre. While she's widely recognized in the romance realm, it's worth noting that there are several other prominent romance authors, such as Danielle Steel and Julia Quinn, who have also made substantial contributions to the genre.
What is open door romance books?
"Open door" romance books refer to novels where the intimate and romantic scenes between characters are described in detail, as opposed to "closed door" romance where such scenes occur off-page or are only hinted at without explicit descriptions.
---
As the vibrant hues of autumn leaves paint our world, there's nothing quite like finding the perfect book to mirror the season's emotions. Whether you're a devoted fan of fall romance books or just dipping your toes into its cozy waters, we hope this guide has ignited a spark for your next reading adventure. After all, every book holds the promise of a new journey, a fresh love, or a moment of self-discovery. So, as the days grow shorter and the nights cooler, let these stories warm your heart and soul. Here's to autumn reads that make every moment golden. Happy reading!