October's twilight shadows and the crisp hint of approaching winter have long been the backdrop for tales of ghosts, goblins, and all things that go bump in the night. But nestled among these haunting tales is an emerging sub-genre that fuses the spookiness of Halloween with the warmth of romance. Halloween romance books are quickly making their mark, presenting readers with tales where passions ignite amidst pumpkin patches, and love stories unravel under the watchful eyes of the supernatural. Whether you're a die-hard romantic or a Halloween enthusiast, these books promise to sweep you off your feet. Let's dive into the world where love meets lantern glow and midnight masquerades.
Table of Contents [CLICK HERE TO OPEN]
Halloween Romance Book List
As October's amber hues paint the world, the intertwining of love stories with the mystique of Halloween offers readers an enchanting escape. From love affairs that flourish under the shimmer of witching-hour moonlight to romances that are tested by the eerie unknown, these tales offer a unique blend of heart-throbs and heartbeats. Before you cozy up with a blanket and a pumpkin-spiced treat, allow us to present a curated list of Halloween romance novels that will undoubtedly make your heart race—in more ways than one. Dive in and let the allure of autumn romance captivate your soul.
Pumpkinheads – Rainbow Rowell & Faith Erin Hicks
Deja and Josiah are seasonal best friends.

Every autumn, all through high school, they've worked together at the best pumpkin patch in the whole wide world. (Not many people know that the best pumpkin patch in the whole wide world is in Omaha, Nebraska, but it definitely is.) They say good-bye every Halloween, and they're reunited every September 1.

But this Halloween is different—Josiah and Deja are finally seniors, and this is their last season at the pumpkin patch. Their last shift together. Their last good-bye.

Josiah's ready to spend the whole night feeling melancholy about it. Deja isn't ready to let him. She's got a plan: What if—instead of moping and the usual slinging lima beans down at the Succotash Hut—they went out with a bang? They could see all the sights! Taste all the snacks! And Josiah could finally talk to that cute girl he's been mooning over for three years . . .

What if their last shift was an adventure?
Certain Dark Things – Silvia Moreno-Garcia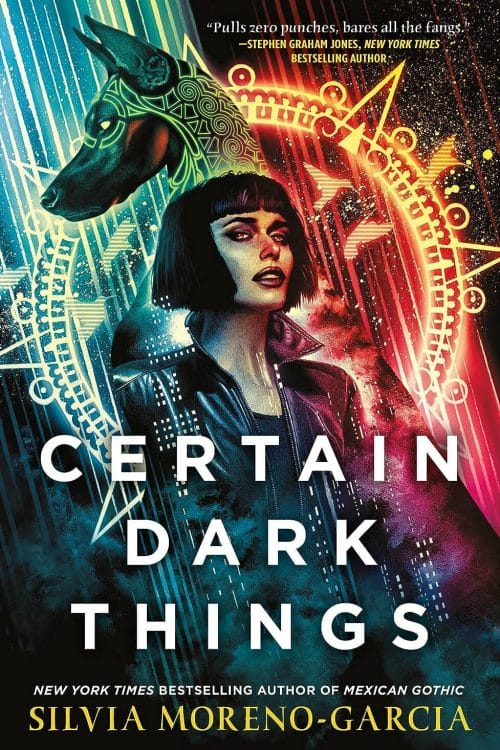 Welcome to Mexico City, an oasis in a sea of vampires. Domingo, a lonely garbage-collecting street kid, is just trying to survive its heavily policed streets when a jaded vampire on the run swoops into his life. Atl, the descendant of Aztec blood drinkers, is smart, beautiful, and dangerous. Domingo is mesmerized.
Atl needs to quickly escape the city, far from the rival narco-vampire clan relentlessly pursuing her. Her plan doesn't include Domingo, but little by little, Atl finds herself warming up to the scrappy young man and his undeniable charm. As the trail of corpses stretches behind her, local cops and crime bosses both start closing in.
Vampires, humans, cops, and criminals collide in the dark streets of Mexico City. Do Atl and Domingo even stand a chance of making it out alive? Or will the city devour them all?
The Cottage on Pumpkin and Vine – Kate Angell & Jennifer Dawson & Sharla Lovelace
There's no better place to celebrate Halloween than Moonbright, Maine, where the crisp night air carries the scent of cider and donuts, and everyone gathers for the annual costume party at the cottage on Pumpkin and Vine. Guests return to the picturesque B & B year after year to snuggle up in its cozy rooms, explore the quiet, tree-lined streets and enjoy all the spooky fun of the holiday. But local legend whispers that it's also a place where wishes have a strange way of coming true.

For three unsuspecting revelers, it's going to be an enchanted weekend of candy corn kisses and midnight black kittens, along with some real Halloween surprises—the kind that make your heart skip a beat—for many more celebrations to come . . .
The Spellbook of Katrina Van Tassel – Alyssa Palombo
When Ichabod Crane arrives in the spooky little village of Sleepy Hollow as the new schoolmaster, Katrina Van Tassel is instantly drawn to him. Through their shared love of books and music, they form a friendship that quickly develops into romance. Ichabod knows that as an itinerant schoolteacher of little social standing, he has nothing to offer the wealthy Katrina – unlike her childhood friend-turned-enemy, Brom Van Brunt, who is the suitor Katrina's father favors.

But when romance gives way to passion, Ichabod and Katrina embark on a secret love affair, sneaking away into the woods after dark to be together – all while praying they do not catch sight of Sleepy Hollow's legendary Headless Horseman. That is, until All Hallows's Eve, when Ichabod suddenly disappears, leaving Katrina alone and in a perilous position.

Enlisting the help of her friend – and rumored witch – Charlotte Jansen, Katrina seeks the truth of Ichabod Crane's disappearance, investigating the forest around Sleepy Hollow using unconventional – often magical – means. What they find forces Katrina to question everything she once knew, and to wonder if the Headless Horseman is perhaps more than just a story after all. In Alyssa Palombo's The Spellbook of Katrina Van Tassel nothing is as it seems, and love is a thing even death won't erase.
There's Someone Inside Your House – Stephanie Perkins
It's been almost a year since Makani Young came to live with her grandmother and she's still adjusting to her new life in rural Nebraska. Then, one by one, students at her high school begin to die in a series of gruesome murders, each with increasing and grotesque flair.
As the body count rises and the terror grows closer, can Makani survive the killer's twisted plan?
The Gargoyle Gets His Girl – Kristen Painter
Welcome to Nocturne Falls, the town that celebrates Halloween 365 days a year.

The tourists think it's all a show: the vampires, the werewolves, the witches, the occasional gargoyle flying through the sky. But the supernaturals populating the town know better.

Living in Nocturne Falls means being yourself. Fangs, fur, and all.

Willa Iscove, fae jeweler, has her first stalker. Really, he's just one of her lovesick customers. The ring she crafted to help him find new love has backfired, making Willa the object of his affections. In a bid to rid herself of her amorous client, Willa makes a wish in the Nocturne Falls fountain using the piece of opal in her pocket and in doing so, unknowingly conscripts as her guardian the sexy gargoyle on duty.

Former Army Ranger and gargoyle Nick Hardwin has some serious suspicions about the pretty fae who just invoked the ancient pact for protection. Her kind have been at odds with his kind for ages. Now she wants his help? He's determined to figure out what she's up to. Which won't be a hardship considering how much fun she is to be around. And kiss.

But then her stalker turns out to be the tip of the iceberg and things go really wrong, really fast. When they're both kidnapped, Willa is forced to make a hard decision. The life of her family or the freedom of the man she's fallen for?
Angelika Frankenstein Makes Her Match – Sally Thorne
For generations, every Frankenstein has found their true love and equal, unlocking lifetimes of blissful wedded adventure. Clever, pretty (and odd) Angelika Frankenstein has run out of suitors and fears she may become the exception to this family rule. When assisting in her brother Victor's ground-breaking experiment to bring a reassembled man back to life, she realizes that having an agreeable gentleman convalescing in the guest suite might be a chance to let a man get to know the real her. For the first time, Angelika embarks upon a project that is all her own.
When her handsome scientific miracle sits up on the lab table, her hopes for an instant romantic connection are thrown into disarray. Her resurrected beau (named Will for the moment) has total amnesia and is solely focused on uncovering his true identity. Trying to ignore their heart-pounding chemistry, Angelika reluctantly joins the investigation into his past, hoping it will bring them closer. But when a second suitor emerges to aid their quest, Angelika wonders if she was too hasty inventing a solution. Perhaps fate is not something that can be influenced in a laboratory? Or is Will (or whatever his name is!) her dream man, tailored for her in every way? And can he survive what was done to him in the name of science, and love?
Filled with carriages, candlesticks, and corpses, Angelika Frankenstein Makes Her Match is the spooky-season reimagining of the well-known classic that reminds us to never judge a man by his cadaver!
Halloween at the Graff – Sinclair Jayne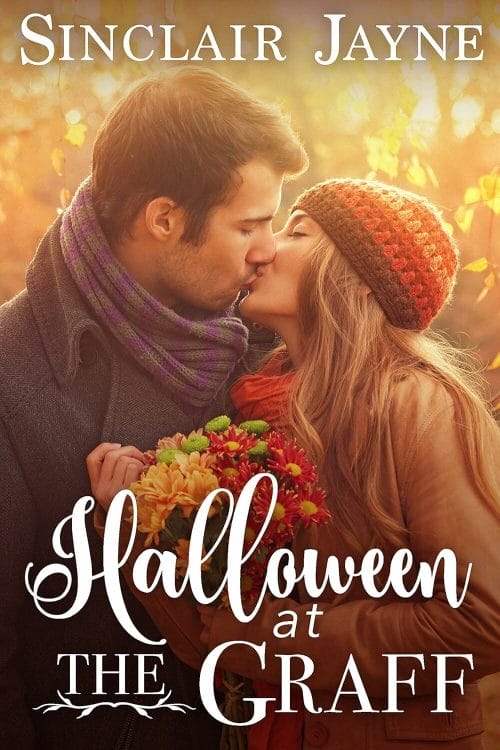 Starting over at thirty-two is never fun, especially in a town the size of a postage stamp. Chasing that with having to beg for a job she's wildly over-qualified for and Walker Wilder's pride is really burned. But now that she's the new events director for the historic Montana Graff Hotel, she's tasked with creating buzz and traditions to fill rooms during the off-season. Halloween may not scream touristy, but hiring a spirit-hunting TV crew will definitely grab some headlines… But when the sexy spirit hunter shows up, he haunts more than her dreams.
Calum Quest is done. He's created an entertainment empire by chasing something he's never seen and is tired of asking questions with no answers. His life has been defined by ghosts he needs to exorcise, yet, when a red-haired, grey-eyed beauty with a body that melts his mind pours him a double shot of Laphroaig whiskey and challenges him to one more round, how can he say no?
The Ex Hex – Erin Sterling
Nine years ago, Vivienne Jones nursed her broken heart like any young witch would: vodka, weepy music, bubble baths…and a curse on the horrible boyfriend. Sure, Vivi knows she shouldn't use her magic this way, but with only an "orchard hayride" scented candle on hand, she isn't worried it will cause him anything more than a bad hair day or two.
That is until Rhys Penhallow, descendent of the town's ancestors, breaker of hearts, and annoyingly just as gorgeous as he always was, returns to Graves Glen, Georgia. What should be a quick trip to recharge the town's ley lines and make an appearance at the annual fall festival turns disastrously wrong. With one calamity after another striking Rhys, Vivi realizes her silly little Ex Hex may not have been so harmless after all.
Suddenly, Graves Glen is under attack from murderous wind-up toys, a pissed off ghost, and a talking cat with some interesting things to say. Vivi and Rhys have to ignore their off the charts chemistry to work together to save the town and find a way to break the break-up curse before it's too late.
The Dead Romantics – Ashley Poston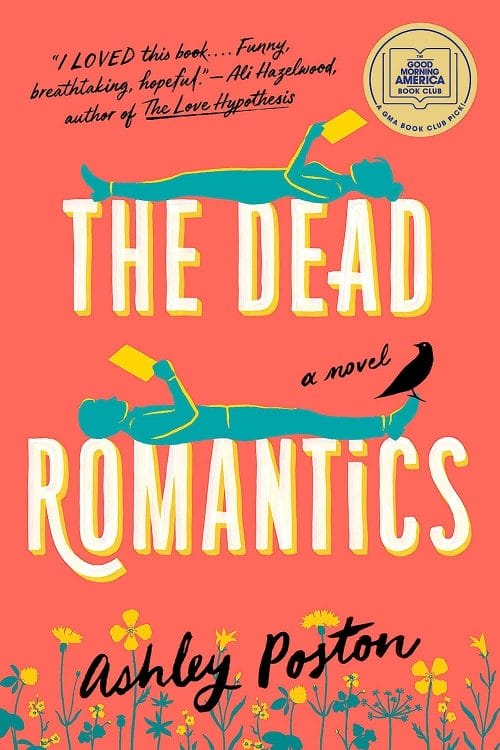 Florence Day is the ghostwriter for one of the most prolific romance authors in the industry, and she has a problem—after a terrible breakup, she no longer believes in love. It's as good as dead.

When her new editor, a too-handsome mountain of a man, won't give her an extension on her book deadline, Florence prepares to kiss her career goodbye. But then she gets a phone call she never wanted to receive, and she must return home for the first time in a decade to help her family bury her beloved father.

For ten years, she's run from the town that never understood her, and even though she misses the sound of a warm Southern night and her eccentric, loving family and their funeral parlor, she can't bring herself to stay. Even with her father gone, it feels like nothing in this town has changed. And she hates it.

Until she finds a ghost standing at the funeral parlor's front door, just as broad and infuriatingly handsome as ever, and he's just as confused about why he's there as she is.

Romance is most certainly dead . . . but so is her new editor, and his unfinished business will have her second-guessing everything she's ever known about love stories.
Halloween Boo – Sarah Spade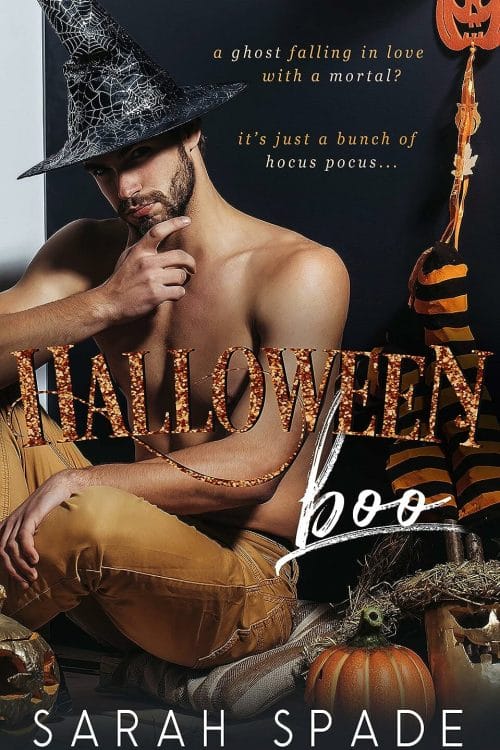 A ghost falling in love with a mortal? It's just a bunch of hocus pocus…

Dani
So, I think my apartment is haunted.
No. Really.
Spooky things have been happening to me ever since I moved in last year. At first, I ignored them. Later, I got used to the idea that I shared my place with a ghost. I even called him Casper. We got along just fine.
Until a sexy hunk showed up the night before Halloween and told me that his name wasn't Casper—it was Zack. And that, on All Hallow's Eve, certain ghosts sometimes have the power to cross over into the human world. Which he did, because he loves me.
Okay then.

Zack
I'm in love.
The only problem?
She's alive. And me?
I'm kinda not.
At least, I'm not on every day except for October 31st. Because on Halloween? Anything goes.
I want Dani. And even if it's only for the one night when ghosts can cross over to the living world, I'll take what I can get. Because I love a mortal, and it's not just hocus pocus.
Danielle Williams doesn't believe in ghosts. But this Halloween, after a year of watching over and falling in love with his mortal houseguest, Zack Banks is ready to prove that this particular ghost might just believe in her.
A Ryan Halloween – Sadie Kincaid
When Jessie Ryan says that nothing about Halloween can scare her, her four determined husbands take up the challenge to change her mind. Will a single night at their lake house in the woods be enough to do that?
Featuring four incredibly hot, possessive, masked men, punishment, praise and a whole load of spice, A Ryan Halloween will leave you gasping for breath and begging for more. This is a novella connected to the bestselling New York Ruthless series, however can be enjoyed as a stand-alone.
Practical Magic – Alice Hoffman
For more than two hundred years, the Owens women have been blamed for everything that has gone wrong in their Massachusetts town. Gillian and Sally have endured that fate as well: as children, the sisters were forever outsiders, taunted, talked about, pointed at. Their elderly aunts almost seemed to encourage the whispers of witchery, with their musty house and their exotic concoctions and their crowd of black cats. But all Gillian and Sally wanted was to escape. One will do so by marrying, the other by running away. But the bonds they share will bring them back—almost as if by magic…
Mexican Gothic – Silvia Moreno-Garcia
After receiving a frantic letter from her newly-wed cousin begging for someone to save her from a mysterious doom, Noemí Taboada heads to High Place, a distant house in the Mexican countryside. She's not sure what she will find—her cousin's husband, a handsome Englishman, is a stranger, and Noemí knows little about the region.

Noemí is also an unlikely rescuer: She's a glamorous debutante, and her chic gowns and perfect red lipstick are more suited for cocktail parties than amateur sleuthing. But she's also tough and smart, with an indomitable will, and she is not afraid: Not of her cousin's new husband, who is both menacing and alluring; not of his father, the ancient patriarch who seems to be fascinated by Noemí; and not even of the house itself, which begins to invade Noemi's dreams with visions of blood and doom.

Her only ally in this inhospitable abode is the family's youngest son. Shy and gentle, he seems to want to help Noemí, but might also be hiding dark knowledge of his family's past. For there are many secrets behind the walls of High Place. The family's once colossal wealth and faded mining empire kept them from prying eyes, but as Noemí digs deeper she unearths stories of violence and madness.

And Noemí, mesmerized by the terrifying yet seductive world of High Place, may soon find it impossible to ever leave this enigmatic house behind.
The Witching Hour – Anne Rice
Rowan Mayfair, a beautiful woman, a brilliant practitioner of neurosurgery—aware that she has special powers but unaware that she comes from an ancient line of witches—finds the drowned body of a man off the coast of California and brings him to life. He is Michael Curry, who was born in New Orleans and orphaned in childhood by fire on Christmas Eve, who pulled himself up from poverty, and who now, in his brief interval of death, has acquired a sensory power that mystifies and frightens him. As these two, fiercely drawn to each other, fall in love and—in passionate alliance—set out to solve the mystery of her past and his unwelcome gift, an intricate tale of evil unfolds.

Moving through time from today's New Orleans and San Francisco to long-ago Amsterdam and a château in the Louis XIV's France, and from the coffee plantations of Port au Prince, where the great Mayfair fortune is made and the legacy of their dark power is almost destroyed, to Civil War New Orleans, The Witching Hour is a luminous, deeply enchanting novel.
Ghost – Kat Blackthorne
Ames
I wanted to shake her and scream, "You don't have to be afraid anymore, you have me."
And then chain her to my bed and yell, "You should be very afraid now that you have me."
I inhabited a form that was what every legend and dark tale warned little girls like her about.
I'd slaughtered a thousand times over and I'd do so a thousand more.
But the worst thing I'd ever do… would be what I did to her.

Blythe
If kept running, I wouldn't break. If I kept hiding, I wouldn't cry.
And if I kept moving he wouldn't find me.
Running from an impossible evil landed me between the claws of something ancient and horrifying. I went to the masquerade as a fox. How ironic, because I didn't feel clever, sly or brave. I was a wounded rabbit waiting for teeth.
And more than one set of fangs found me.
The worst part of all?
I liked it.
The grown-up ghost story for anyone who loves Halloween and is ready to meet and fall in love with their new favorite monster.
Tricks and treats lurk around every jack o'lantern and gravestone in this grown-up Halloween-themed paranormal monster romance. Meet witches, vampires, wolves, ghouls, and maybe a few odd birds and pirates too. Sink your teeth into this paranormal urban fantasy romance and get ready for all the Halloween vibes.
Come to Ash Grove with an open mind, choose your mask, sit, and stay a spell… if you dare.
Payback's a Witch – Lana Harper
Emmy Harlow is a witch but not a very powerful one—in part because she hasn't been home to the magical town of Thistle Grove in years. Her self-imposed exile has a lot to do with a complicated family history and a desire to forge her own way in the world, and only the very tiniest bit to do with Gareth Blackmoore, heir to the most powerful magical family in town and casual breaker of hearts and destroyer of dreams.
But when a spellcasting tournament that her family serves as arbiters for approaches, it turns out the pull of tradition (or the truly impressive parental guilt trip that comes with it) is strong enough to bring Emmy back. She's determined to do her familial duty; spend some quality time with her best friend, Linden Thorn; and get back to her real life in Chicago.
On her first night home, Emmy runs into Talia Avramov—an all-around badass adept in the darker magical arts—who is fresh off a bad breakup . . . with Gareth Blackmoore. Talia had let herself be charmed, only to discover that Gareth was also seeing Linden—unbeknownst to either of them. And now she and Linden want revenge. Only one question stands: Is Emmy in?
But most concerning of all: Why can't she stop thinking about the terrifyingly competent, devastatingly gorgeous, wickedly charming Talia Avramov?
Wishful Thinking – Celestine Martin
Love is the trickiest spell of all.

Lucinda Caraway loves living in Freya Grove, the mystic seaside town where charms, hexes, and magical beings of all kinds are the norm. She spends her days teaching high school history and her nights reading tea leaves and tending to her conjure garden. It's a good life . . . but she can't stop wishing for more.

Until one night, that wish turns into a spell, and suddenly Lucy can't say no. Not to a public karaoke performance. Not to running a 10K. And, most alarmingly, not to her high school crush, Alexander Dwyer, who needs her help unjinxing his new house—which just happens to be right across the street from hers.

Alex has spent the last ten years traveling the world on adventures Lucy has only ever dreamed of, and he's planning to leave again as soon as his house is safe to sell. But until Lucy can unhex herself, she and Alex are stuck together. And with so much magic in the air, maybe the next spell Lucy casts will be the one that convinces him to stay.
Her Halloween Treat – Tiffany Reisz

Trick…or wicked treat!

It was a devastating dirty trick—Joey Silvia just found out her boyfriend of two years is married. What. A. Dick. Joey knows her best chance to get over one guy is to get under another. Of course, heading home to her family's remote cabin in Oregon poses some challenges in the "available men" department…until she discovers this cabin comes with its own hot handyman!

Holy crap, Chris Steffensen. When did her brother's best friend turn into a hard-bodied pile of blond-bearded hotness? He's the perfect Halloween treat—and a surprisingly dirty rebound guy. For a couple of weeks, anyway. Except that Chris has other ideas…like proving to Joey that this blast from the past is a whole lot more than a naughty Halloween hookup.
The Kiss Curse – Erin Sterling
Gwyn Jones is perfectly happy with her life in Graves Glen. She, her mom, and her cousin have formed a new and powerful coven; she's running a successful witchcraft shop, Something Wicked; and she's started mentoring some of the younger witches in town. As Halloween approaches, there's only one problem—Llewellyn "Wells" Penhallow.
Wells has come to Graves Glen to re-establish his family's connection to the town they founded as well as to make a new life for himself after years of being the dutiful son in Wales. When he opens up a shop of his own, Penhallow's, just across the street from Something Wicked, he quickly learns he's gotten more than he bargained for in going up against Gwyn.
When their professional competition leads to a very personal—and very hot—kiss, both Wells and Gwyn are determined to stay away from each other, convinced the kiss was just a magical fluke. But when a mysterious new coven of witches come to town and Gwyn's powers begin fading, she and Wells must work together to figure out just what these new witches want and how to restore Gwyn's magic before it's too late.
Other Genres To Try
For those who have developed a penchant for the unique charm of a spooky romance, there's a myriad of genres and sub-genres waiting to be explored that capture similar atmospheric allure and emotional resonance. Here's a guide for the curious souls looking to expand their reading horizons:
Gothic Romance: Rooted in mystery and moody atmospheres, gothic romance novels often take place in brooding settings like haunted mansions or isolated castles. They intricately weave together elements of romance and horror, making them an excellent choice for fans of Halloween romance.
Paranormal Romance: A broad category, paranormal romance encompasses relationships involving supernatural entities like vampires, werewolves, ghosts, or witches. These tales are brimming with passion, magic, and sometimes, a hint of danger.
Urban Fantasy: Typically set in city landscapes, urban fantasy blends the mundane with the magical. Romantic subplots are common, and they intertwine with narratives about hidden magical realms, supernatural creatures, and age-old battles.
Cozy Mysteries with Romantic Elements: Not overtly romantic or spooky, cozy mysteries often revolve around charming communities with quirky characters. Many titles in this genre have underlying romantic threads and occasionally, a touch of the supernatural, making them light-hearted reads for Halloween romance enthusiasts.
Historical Fantasy Romance: Transporting readers to bygone eras where magic is real, these novels combine historical settings with fantastical elements and romantic subplots. Dive into medieval Europe with sorceresses or Victorian England with shadowy creatures and watch love tales unfold.
Dark Fantasy: For those who appreciate the eerier side of Halloween romance, dark fantasy offers tales where love blossoms in grim, often foreboding worlds, and where not every story may have a happy ending.
Frequently Asked Questions
What is dark romance novels?
Dark romance novels are a subgenre of romance that delve into themes of danger, taboo, and moral ambiguity, often featuring intense and sometimes disturbing relationships or scenarios. These stories may explore power dynamics, complex psychological elements, and situations that challenge traditional romantic conventions.
What is open door romance book?
An open door romance book refers to a romance novel that contains explicit romantic or sexual scenes, allowing readers "inside the bedroom door" during intimate moments. This contrasts with "closed door" romance where intimate scenes happen off-page or are only hinted at.
What are some spicy romance novels?
Spicy romance novels are those that contain explicit romantic and sexual content, often with detailed and steamy descriptions of intimate encounters. Popular spicy romance authors include E.L. James, Sylvia Day, and J. Kenner, among others.
Who is the best paranormal romance writer?
Determining the "best" paranormal romance writer is subjective, but some of the most recognized and acclaimed authors in this genre include J.R. Ward, Patricia Briggs, Nalini Singh, and Laurell K. Hamilton. Their works often combine elements of fantasy, the supernatural, and romance, and have garnered large fanbases due to their unique storytelling and engaging characters.
---
As the leaves turn golden and the nights grow longer, the merging of romance with Halloween's mystique offers readers a captivating blend of heartbeats and heart-throbs. From spine-tingling encounters in moonlit graveyards to passionate moments amidst the glow of jack-o'-lanterns, this unique genre holds a magic all its own. Whether you're a seasoned reader or just embarking on this literary journey, Halloween romance books promise tales that are both hauntingly beautiful and passionately spellbinding. Until next time, may your reading be filled with both chills and thrills!