Told from the perspective of a mother and daughter, Regretting You Colleen Hoover is a novel about family, first love, grief, and betrayal that will touch the hearts of both mothers and daughters. People Magazine called it a 'a poignant, addictive read' and Booklist called it an 'engrossing read'. Which meant that we just had to give it a read ourselves! So, check out our thoughts below.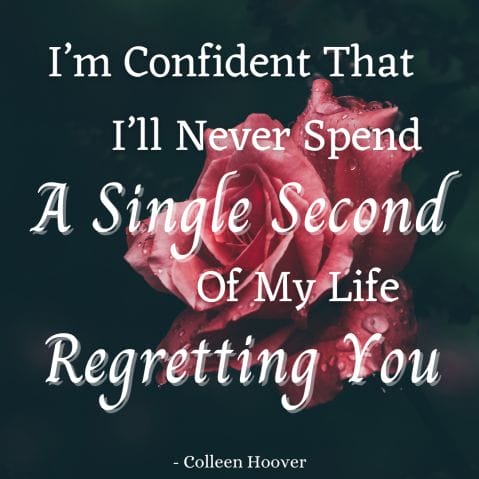 Regretting You
Morgan Grant doesn't want her sixteen-year-old daughter, Clara, to make the same mistakes she did. By getting pregnant and marrying way too young, Morgan put her own dreams on hold. But with warring personalities and conflicting goals, Morgan and Clara find it difficult to co-exist. The only one who can bring peace to the household is Chris, Morgan's husband and Clara's father. But Chris is involved in a tragic and questionable accident. And the mother and daughter are falling further apart.
Detailed Description
Regretting You is written from the perspective of two characters, Morgan and her teenage daughter Clara. In the introduction we are introduced to Morgan as a teenager, she has a steady boyfriend, Chris and her sister Jenny is dating Chris's friend, Jonah. The two couples spend a lot of time hanging out together and although Morgan and Chris are happy together, Morgan can't help but feel there is a spark missing. A spark that she only seems to find when she locks eyes with Jonah, someone who is forbidden as he is her sister's boyfriend and her boyfriend's best friend. Things change rapidly for Morgan though when she discovers her period is late and that she is pregnant at 16.
We then fast forward to when Clara, Morgan's daughter, is 16, almost 17. Chris and Morgan stayed together after she became pregnant, married and have raised Clara together. Jenny is still very much involved in their lives and is a confidant to Clara. Jonah is only recently back on the scene after quickly moving away after Morgan discovered she was pregnant. Jonah and Jenny are back together and they have a small baby together, Elijah.
Clara is doing well in school and she has aspirations to become an actor, a dream her mother very much opposes. Morgan thinks that Clara should study a more practical degree in college so that she has something to fall back on if acting doesn't work out. Clara also has a crush on a boy in her school, Miller. But for reasons that she doesn't understand he seems to be avoiding her and as he also already has a girlfriend he is off limits.
Morgan is happy enough in her life but she does sometimes feel that she lives for everyone else and not herself. She didn't go further in her education after having a baby and she has never pursued a career, instead becoming a housewife and looking after her family.
When Miller splits up with his girlfriend and Clara begins to spend more time with him, her father forbids it , as Miller's father has a bad reputation. Clara already begins to rebel against this and conflicts arise.
Suddenly everyone's lives change when a tragedy strikes involving Chris and Jenny. In the aftermath Morgan realises that she will need to start living for herself. But as secrets become unearthed Morgan will end up questioning everything she knew about her life and the people in it. The reverberations of the secrets rock Morgan and Jonah's lives as they grapple to come to terms with the unthinkable truth.
Morgan does her best to protect Clara from the truth but this pushes the two further apart. And as Clara moves to seek solace from Miller further conflict sparks as Morgan is determined that her daughter won't make the same mistakes that she did. In the midst of the turmoil the only person that Morgan can turn to is the person that she feels she shouldn't turn to as she tries to deny the attraction she has always felt to someone forbidden.
Secrets and teenage rebellion drive mother and daughter further and further apart as Clara's life threatens to go off the rails. Is there anything that can save thier relationships and indeed themselves?
The Review – ★★★★✩
Regretting You was a very fast read, despite being 365 pages long it seemed to zoom by. As the story is told from the viewpoint of both Morgan and teenage Clara at points it can seem a little young adult from Clara's viewpoint but the Morgan chapters save the book from being fully YA if that isn't your thing. At it's core this is a book about a mother and daughter relationship and it is very relatable story. Expanding on from the mother/daughter dynamic it is also a story about young first love and missed opportunities. About what could have happened and what other possibilities there are. This was definitely an engrossing, emotional read. It keeps you well invested in the outcome as things fall further and further apart for Morgan and Clara. We would definitely recommend this title as a must read!
What did you think about Regretting You Colleen Hoover? Let us know!