All caught up on Virgin River season 4? Can't wait for Virgin River season 5? Us either! It might be difficult to wait patiently for our favourite faces to grace us on the big screen again, so in the meantime here are some killer shows like Virgin River.
We hope some of these will satisfy your heartwarming family drama needs, if not – let us know what we're missing!
Table of Contents [CLICK HERE TO OPEN]
Shows Like Virgin River
Firefly Lane (2021 – Present)
Starring: Katherine Heigl, Sarah Chalke
Based on the popular novel by Kristin Hannah, Firefly Lane tells the moving story of two best friends and their obstacles throughout their decades-long friendship.
Virgin River fans will surely love the heartwarming themes of friendship in this show!
Where to Watch: Netflix

Sweet Magnolias (2020 – Present)
Starring: JoAnna Garcia Swisher, Brooke Elliot, Heather Headley
Three South Carolina women, best friends since high school, shepherd one another through the complexities of romance, career, and family.
With a focus on family and friendship drama, this Netflix show will for sure appeal to those who like Virgin River!
Where to Watch: Netflix

Chesapeake Shores (2016-2022)
Starring: Meghan Ory, Jesse Metcalfe, Laci J Mailey, Robert Buckley, and more!
A young woman returns to her hometown to help save her sister's failing inn, where she contends with memories and faces from her past.
With its core focus being on family dynamics, this is definitely one of the shows like Virgin River, watch now on the Hallmark Channel!
Where to Watch: Hallmark

Gilmore Girls (2000 – 2007)
Starring: Alexis Bledel, Lauren Graham
Set in a storybook Connecticut town populated by an eclectic mix of dreamers, artists and everyday folk, this multigenerational drama about family and friendship centers around Lorelai Gilmore and her daughter, Rory. Lorelai owns the town's bed-and-breakfast, the Dragonfly Inn, with best friend/chef Sookie, and contends with weekly dinners with eccentric, well-off parents Richard and Emily Gilmore (who always have something to say about their daughter's life). After high school, Rory attends Yale University but frequently returns to Stars Hollow to visit her mom.
If you're looking for a heartwarming, reliable show like Virgin River, this is a great bet. Probably one of the most famous and long-standing shows of all time, this is a must-see.
Where to Watch: Netflix

Ginny & Georgia (2021)
Starring: Antonia Gentry, Brianne Howey
Free-spirited Georgia and her two kids, Ginny and Austin, move north in search of a fresh start but find that the road to new beginnings can be bumpy.
This one-season Netflix drama is perfect for a quick fix of family drama in an exciting new town. Just like Virgin River, we'll follow some interesting characters that will leave our hearts breaking and our emotions driven into overdrive!
Where to Watch: Netflix

This Is Us (2016 – 2022)
Starring: Chrissy Metz, Sterling K Brown, Justin Hartley, Mandy Moore
The Pearson family's generational story unfolds in this emotional drama. In moments of love, joy, triumph and heartbreak, revelations emerge from parents Jack and Rebecca's past, while triplets Kate, Randall and Kevin discover deeper meaning in their present day lives. Successful businessman and father Randall searches for information about his biological parents. Kate finds love and self-acceptance while battling obesity. Kevin pursues a more meaningful career, which brings some difficult choices.
With a generational story focusing on the trials and tribulations of family and friends, it's clear why fans of Virgin River might love this show! This heartfelt 6-season drama is sure to satiate your Virgin River fix. You might see a familiar face with Alexandra Breckenridge, who stars in both This Is Us and Virgin River!
Where to Watch: Hulu

Hart of Dixie (2011 – 2015)
Starring: Rachel Bilson, Jaime King, Wilson Bethel, Cress Williams, Scott Porter, Tim Matheson (recognise this name?)
New York doctor Zoe Hart (Rachel Bilson) has reached a crossroads in her life when she decides to accept an offer from a stranger to work with him at his practice in Bluebell Alabama. When she arrives in town, she discovers that the man has died and left her his half of the practice in his will, something that doesn't exactly make her new partner happy. Despite the shock of Southern life and some less-than-hospitable town folk, Zoe decides to give her new life a chance and discovers a new side of herself in the process.
A charming town not dissimilar to Virgin River, and a familiar cast member, this show will definitely appeal to those who love the setting of Virgin River (and Tim Matheson).
Where to Watch: Amazon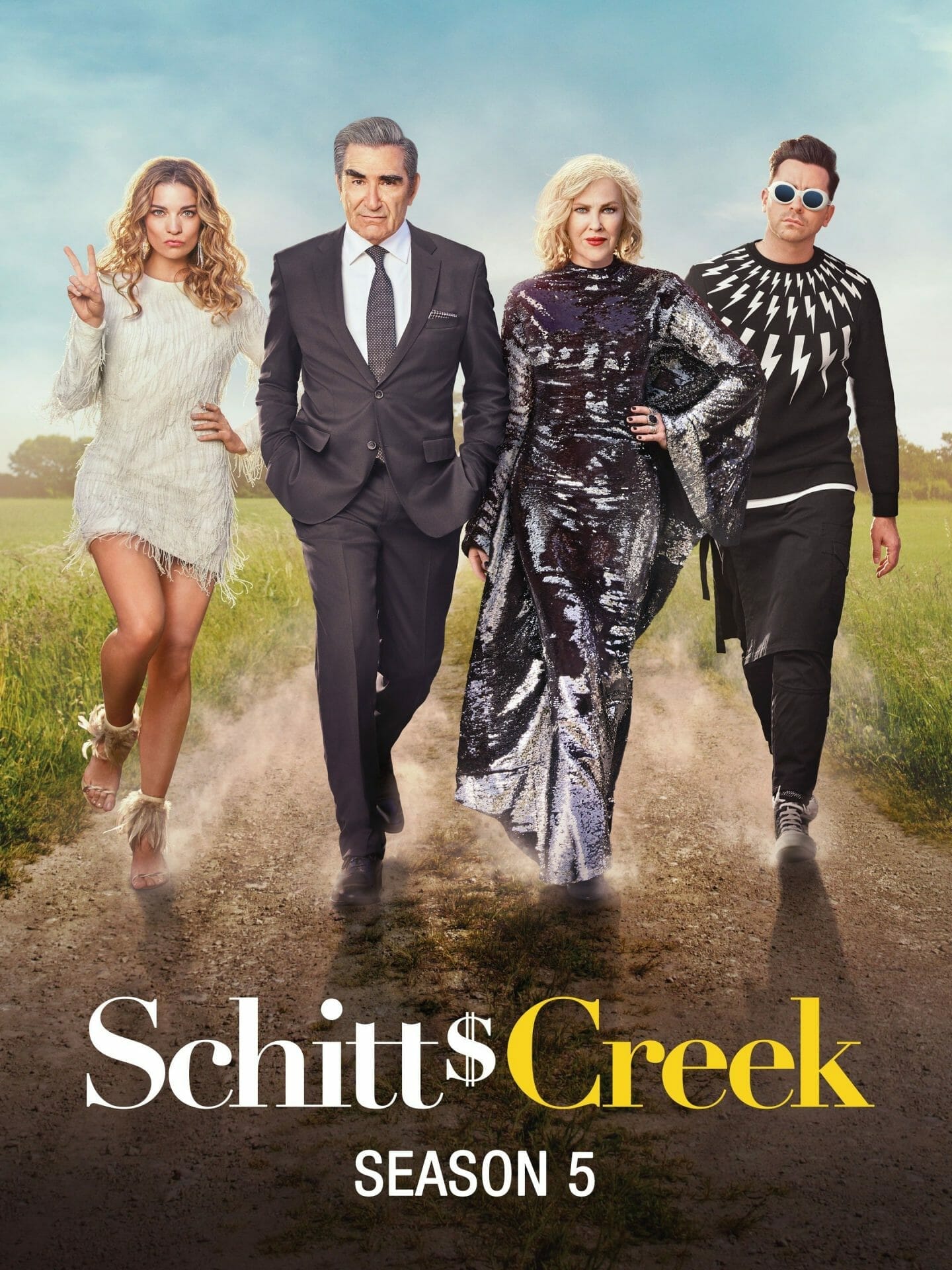 Schitt's Creek (2015 – 2020)
Starring: Eugene Levy, Catherine O'Hara, Daniel Levy, Annie Murphy, Chris Elliot
In the sitcom "Schitt's Creek," a wealthy couple — video store magnate Johnny and his soap opera star wife Moira — suddenly find themselves completely broke. With only one remaining asset, a small town called Schitt's Creek, which the Roses bought years earlier as a joke, this once-wealthy couple must give up life as they know it. With their two spoiled children in tow and their pampered lives behind them, the Rose family is forced to face their newfound poverty head-on and come together as a family to survive.
Schitt's Creek is a hugely popular family-driven drama. More comedy-focused than drama, this might be ideal for those waiting for Virgin River, but not quite ready to cry their heart out while they wait.
Where to Watch: Netflix

Northern Rescue (2019 – Present)
Starring: William Baldwin, Kathleen Robertson, Amalia Williamson, Spencer MacPherson, Taylor Thorne
After his wife dies, search and rescue commander John West uproots his three children, moving the family from Boston to his rural hometown of Turtle Island Bay. The death affects each of their lives as John and his kids cope with their loss. Along the way, John faces situations that challenge him personally and professionally while his offspring deal with typical issues that face kids and teenagers, including school and friendships.
With its heavy focus on family values, this show is an understated gem, even amongst our shows like Virgin River.
Where to Watch: Netflix

Cedar Cove (2013 – 2015)
Starring: Andie MacDowell, Dylan Neal, Bruce Boxleitner, Barbara Niven, Brennan Elliot
Cedar Cove is a small lakeside town full of romance and drama. One person in the middle of it all is Judge Olivia Lockhart, whose municipal court unveils the town's secrets and serves as a microcosm of the personal issues that she faces with her own family and friends. Also, Jack Griffith, the editor of the local newspaper, uncovers what goes on behind the courtroom's doors.
Who needs a big city when you have a small auspicious lakeside town? This drama has the perfect amount of romance, drama, comedy and mystery brewing beneath its surface. Perfect for those who love Virgin River, but want to delve a little more into the mystery genre.
Where to Watch: Amazon

Jane the Virgin (2014 – 2019)
Starring: Gina Rodriguez, Andrea Navedo, Justin Baldoni
Jane Villanueva, the daughter of a teen mother, grew up determined not to repeat her mom's mistakes. Jane is studying to be a teacher, and she is engaged to a handsome detective who supports her decision to remain a virgin until marriage, but a routine visit to the clinic turns her life upside down. Inseminated by a specimen meant for a patient in the next room, Jane is in a situation made only more insane when she learns that the sperm donor is her boss, Rafael. As her meticulously planned life gets more like the telenovelas she loves, she faces a lot of complicated decisions about the future.
Although more cutesy and a little less drama-heavy, Jane the Virgin is a show like Virgin River because the characters are so lovable – we seriously can't stop thinking about them!
Where to Watch: Netflix

Outlander (2014 – Present)
Starring: Catriona Balfe, Sam Heughan, Sophie Skelton, Richard Rankin
After serving as a British Army nurse in World War II, Claire Randall is enjoying a second honeymoon in Scotland with husband Frank, an MI6 officer looking forward to a new career as an Oxford historian. Suddenly, Claire is transported to 1743 and into a mysterious world where her freedom and life are threatened. To survive, she marries Jamie Fraser, a strapping Scots warrior with a complicated past and a disarming sense of humor. A passionate relationship ensues, and Claire is caught between two vastly different men in two inharmonious lives.
Don't be fooled by the Historical factor! Although it might not seem like a show like Virgin River, it is reminiscent with its excitement, drama, and constant plot twists!
Where to Watch: Starz

Everwood (2002 – 2006)
Starring: Treat Williams, Gregory Smith, Emily VanCamp, Debra Mooney
World-renowned brain surgeon Dr. Andrew Brown finds his life changed forever after his wife dies. He leaves glamorous Manhattan and his prosperous medical practice for the idyllic small town of Everwood, Colo. — which he chooses because of his late wife's emotional attachment to the town — taking his two kids, Delia and Ephram, with him. The show revolves around the family's relationships as they adjust to small-town life and the kids' relationships with their peers, both as friends and in the dating world.
Maintaining the small-town family-driven vibe? This 4-season drama is perfect for those wanting a Virgin River-esque show with a bit of a throwback.
Where to Watch: Amazon

Uncoupled (2022 – Present)
Starring: Neil Patrick Harris, Tisha Campbell, Emerson Brooks
A man has had his life turned upside down after his partner walks out on him after 17 years.
Fans of the actor would love to see his new adventure that is pretty mature. The writing gets stronger with each episode, and the balance between comedy and other hard-hitting emotions is well-maintained. Being compared to Ricky Gervais' After Life – this emotional rollercoaster is for sure worth a watch for Virgin River fans wanting to branch a little further into the emotional shows.
Where to Watch: Netflix

Call The Midwife (2012 – Present)
Starring: Jennifer Agutter, Annabelle Apsion, Lina Bassett, Leonie Elliot, Helen George
Adapted by Heidi Thomas from the best-selling memoirs of Jennifer Worth, this drama series is a moving, funny, colorful look at midwifery and family in 1950s East End London. It follows newly qualified midwife Jenny, who joins an eccentric, lovable community of nuns who are nurses at Nonnatus House. Jenny is surprised to find herself at a convent — she thought she was being sent to a small private hospital — and is initially daunted by her surroundings, most notably the formidable Sister Evangelina and the unconventional Sister Monica Joan. But Jenny gradually begins to find her way and develops incredible friendships among the nurses, as they are drawn into the lives and homes of the women and families they treat.
If your favourite part of Virgin River is the heartwarming sensation when characters you care about see some happiness in their lives, then this show is an underrated gem. With emotional scenes that make you weep, this show still manages to leave you smiling.
Where to Watch: Netflix
Frequently Asked Questions
What show is most like Virgin River?
The following list of shows are some series that are most like Virgin River
Firefly Lane
Sweet Magnolias
Chesapeake Shores
This Is Us
Hart Of Dixie
Cedar Cove
Gilmore Girls
Ginny & Georgia
Everwood
Northern Rescue
Are there any series similar to Virgin River?
The following series are similar to Virgin River:
Firefly Lane
Sweet Magnolias
Chesapeake Shores
This Is Us
Hart Of Dixie
Cedar Cove
Gilmore Girls
Ginny & Georgia
Everwood
Northern Rescue
Are Hart of Dixie and Virgin River the same?
Hart of Dixie and Virgin River are very similar in a lot of ways – the small town setting, a lead character in a medical profession, a hot bartender and lots of romance. And Tim Matheson of course! The shows are slightly different in that Hart Of Dixie was more light-hearted than the more serious Virgin River.
Do you have any shows like Virgin River that we missed? Be sure to let us know!
Did we find your next drama fix? Share it with your Netflix buddies!