Get An Exclusive Look Inside WRAPPED IN SILK by MJ Fields
And Enter To Win An Amazon Gift Card & Signed Paperback Book!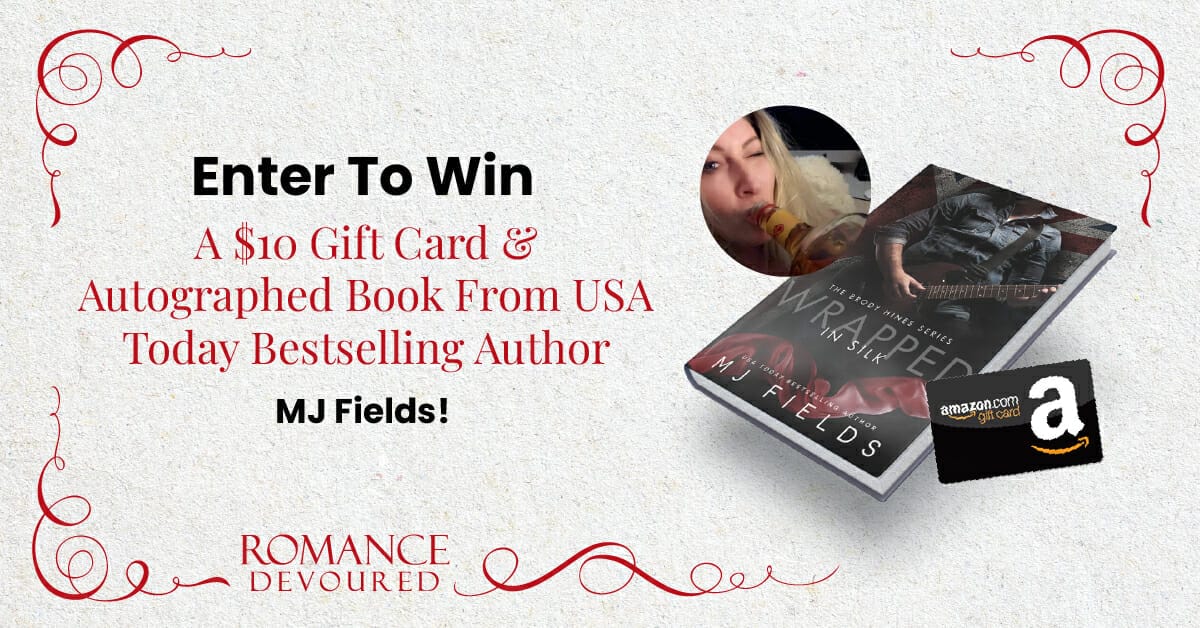 USA Today Bestselling Author MJ Fields is celebrating her new book, WRAPPED IN SILK (The Brody Hines Series 1), by giving away amazing prizes to 4 lucky winners! Click here to enter!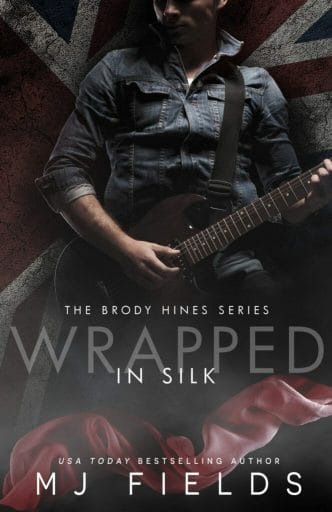 A highly emotional, sensitive story about second chances at life and love.
Emma, mother to seven-year-old London, finds herself separated and on the verge of divorce. She is not looking for love, just a happy life and the ability to take care of her daughter.
Brody is one of the most popular rock stars in the world, who is also going through a divorce. An extremely attractive man—possibly the most attractive man that Emma has ever seen—with a British accent and piercing, intense, blue-green eyes.
While visiting a friend in New York City, Emma runs into Brody, literally. Brody knows he has to have her, and Emma knows she doesn't have time for a distraction while on her quest to rebuild her life and take care of the most important part of it—London.
Will Emma ignore the powerful attraction she feels for him, or will she allow him to be the perfect distraction for her first weekend without her daughter?
Get Your Copy Here
---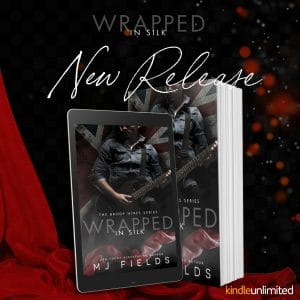 Excerpt from Wrapped In Silk
I sit up and look around. Yet another hotel room littered with luggage. Leather cases that carry more than what I actually need, but not all that belongs to me, all neatly packed. Changing hotels with frequency, due to the volume of the female fandom who are now scouring the city in hopes of finding me, a newly separated musician whose life has been in the public eye more than I ever wanted, is a bother, to say the least.
I slide to the edge of the bed, a California king, and pause before standing, because gone are the days I can stand and stretch without worry that some twat is trying to get a picture of me to sell to some media outlet that dare classify themselves as reporters of actual news. How in the bloody hell a separation is newsworthy is absurd, yet here I am, making sure the curtains are drawn so my cock doesn't end up on the internet.
After putting on pajamas—pants and a shirt—which I clearly don't wear to bed, I cautiously grab the newspaper to see if today will be my lucky day. The one in which I'm not splashed all over the Times, giving me hope I can carry on with life amongst the millions of people who reside in New York City, who are far more fascinating than I, and who would love the publicity that I despise.
Closing the door, I unfold the paper and see my name on the front page of the paper.
"The front fucking page?" I sputter as I sit on the sofa and unfold the paper, revealing my soon-to-be ex-wife with another man.
Red hot rage washes through me, and I tear the damn thing in half.
Three fucking years of marriage, and I step off stage at the end of my last show of the US tour, and instead of being greeted by my wife, I was greeted by a man who handed me papers and said, "You have been served."
"Rock on," was my response, which made me look like a blithering idiot. I hadn't a clue as to what being served even meant until my manager pulled me into the green room, where I read the paperwork.
Ariel wanted a separation. I hadn't even known she was unhappy. No, we didn't spend a lot of time together, but we knew this would be the way our life would be. I was in a band, and she's a runway model. We both traveled a lot and enjoyed the lifestyle that our professions afforded us, and we both enjoyed the times between our prospective stages, naked and between bedsheets, all over the world.
I thought I loved her, but now I know that it to be fallacious.
Love, the kind of love my soul bleeds onto pages of notebooks and is carried out through notes and lyrics, the kind of love I write about, does not provoke rage or die even after one's last breath. Love is never-ending, and mine for her is dead.
The rage, however, is ever present. I have always hated my personal life being more important to my fans than my art. One of my songs, "BlueLove,"rumored to have been written about our marriage struggles, which is untrue,has been number one since the news of our separation was deemed newsworthy. The Brody Hines band's biggest hit in the US. This pisses me off, regardless of the amount of money it brings in.
My ill temper toward the media, and the fact that I've told them to fuck off every chance I got, upset my label. Therefore, a PR agent was given the task of "dealing with me." We didn't see eye to eye, and I decided it was in my best interest to hire my own since I was contractually obligated to Lion's Den for only one more album. Then I will be telling them to fuck off, as well.
I don't see eye to eye with Lila either. However, her realistic approach and bluntness are rare; therefore, I am trying my best to allow her to do her job.
She told me that at six-foot-three and one hundred and ninety-nine pounds, with my accent and "looks," it makes it impossible for the fans not to spot me. And instead of pushing me into interviews, she's assisted me in moving about the city to stay as invisible as possible. My labels PR prick threw me to the wolves purposely to keep "Blue Love" at the top of the charts.
Nearly crawling out of my skin, and needing to expel some energy, I disguise myself as best I can, shoving my thick brown hair under a baseball hat and throwing on sunglasses and trainers that have seen better days, and head out for a run.
I take the service elevator down and try to remember something else my publicist said, "Be grateful you don't have children with her."
And I am.
---
Meet USA Today Bestselling Author MJ Fields
MJ Fields is a USA Today bestselling author of contemporary and new adult romance novels. She lives in New York with her daughter and fur babies; smoochie faced Newfie, Theo and rescue queen / troublemaker / St. Bernard and Great Pyrenees mix (we think) Eleanor.
When she's not locked away in the cave, she enjoys spending time with her family, chasing her dogs, live music, the theatre, singing off key, dancing to her own beat, listening to audio books, and reading of course.
Forever Steel!
Join MJ's mailing list.
Visit her website here.
Stalk her Facebook here.
Follow her on Twitter here.
Follow her on Instagram here.
Interview With MJ Fields
Q: Where are you from?
MJF: Upstate NY, Fingerlakes region.
Q: Tell us a little more about your self?
MJF: I have an associates degree and am 7 credits away from earning my bachelors in History (I am in no hurry). Hats off to all the teachers and prayers… so many prayers. I love learning and choose to read or take classes/ course on various subjects of interest.
My Family is amazing. I have two sisters and two brothers, three nephews and three nieces. And I have the most amazing gift from God and her name is Ally and two fur babies who are a constant topic I could talk about. I have a huge extended family and I would rather spend my time with them than doing anything else in the world. My family extends from blood to those who are family by choice. Some of my best friends / sisters have been made in the book world.
Q: What inspired you to write your first book?
MJF: A dream.
Q: Do you have a specific writing style?
MJF: I've heard I do. Apparently I am authentic, raw, and gritty. The heat of my books draws you in, but the heart keeps you coming back for more. (And I love it)
Q: How did you come up with the title?
MJF: As the storyline becomes clear in my head, the title does as well. Now, I tend to use names of the main character however, that is subject to change.
Q: What books have most influenced your life most? Do you have a mentor?
MJF: EL James opened doors to people like me who are drawn to the erotic nature of people and see past sex as being just a physical act. She made it all right to talk about the emotions involved in the taboo. CJ Roberts showed even the darkest of people are loveable, and Sylvia Day made it alright for a strong woman to love a man who needed to have power in every facet of his life, yet still remain a strong woman.
Q: Do you have any advice for other writers?
MJF: By the buckets. Do not force a story, it's either there or it's not. Do not write something that is not your own, that's plagiarism. Write what's in your heart because readers can feel it in theirs. Don't do it for the money, because it's feast or famine and don't even start if you are not one hundred percent sure it is what your heart is telling you to do.
Q: Do you have anything specific that you want to say to your readers?
MJF: A million things. Thank you for taking time to read my books. Thanks for sending e-mail, letters, messages, telling me that you laughed, cried, felt, and enjoyed my writing. Thank you for sharing a part of you with me. Thank you for being the reason I get to do this everyday, and thank you for sharing the love of my books.
Enter to win amazing prizes from MJ Fields
Click Here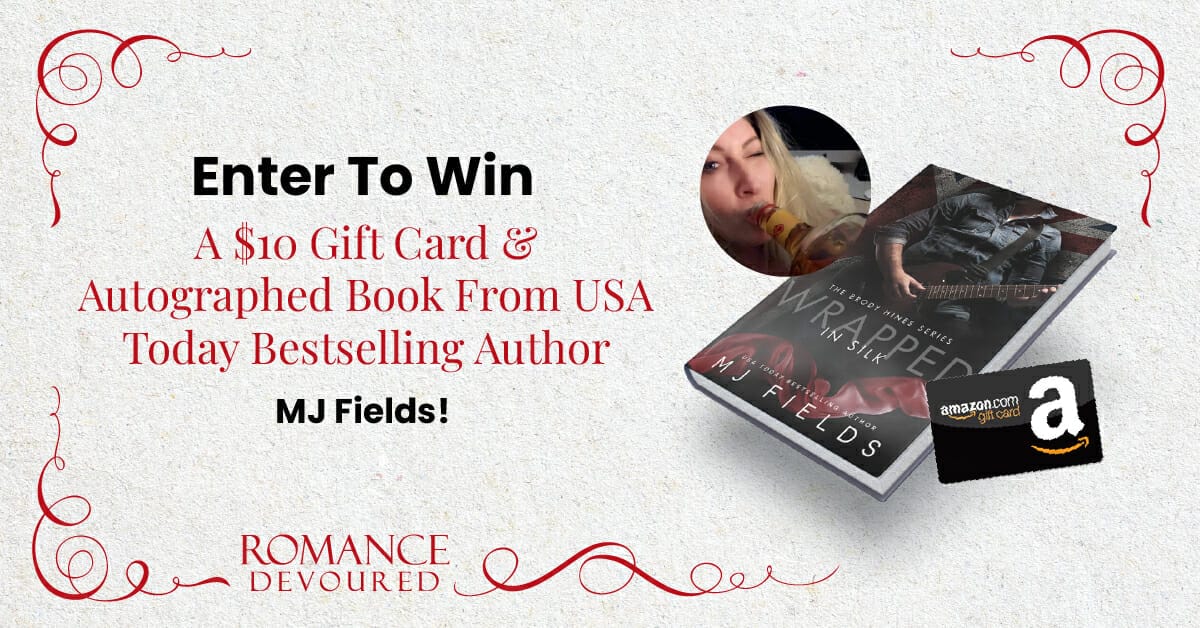 Got your copy of WRAPPED IN SILK? Tell us your thoughts in the comments below.
Like this post? Check out THE DANTES by Day Leclaire.