Get An Exclusive Look Inside WHEN A DUKE DESIRES A LASS by Collette Cameron
And Enter To Win A $20 Amazon Gift Card & Signed Paperback Book!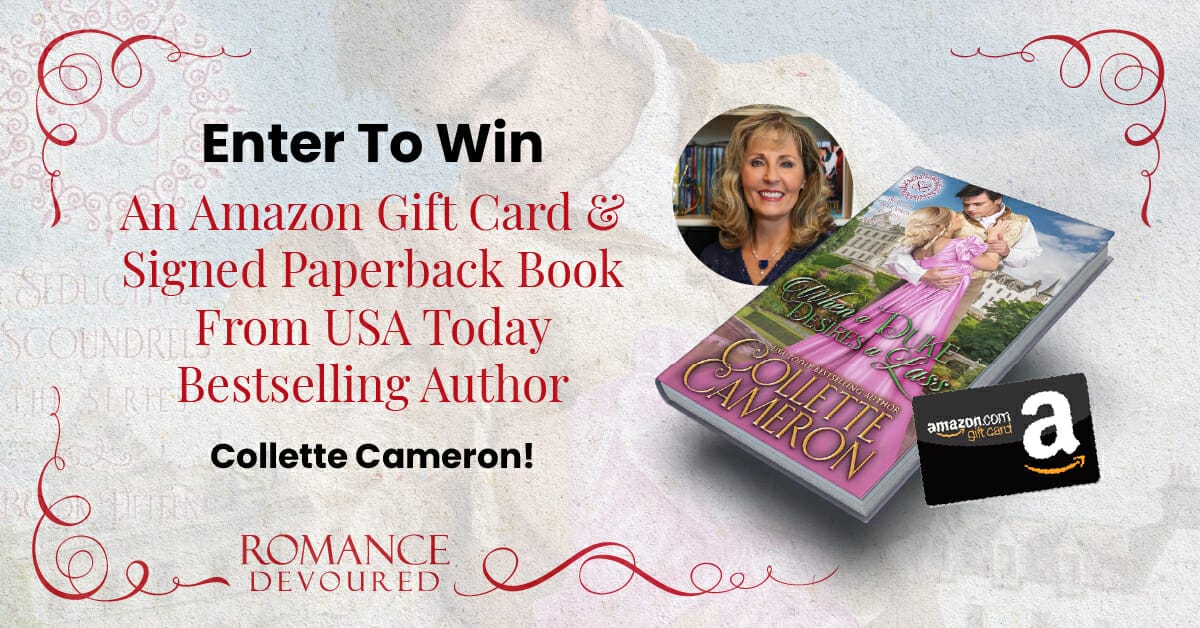 USA Today Bestselling Author Collette Cameron is celebrating her new book WHEN A DUKE DESIRES A LASS (Seductive Scoundrels Book 15) by giving away amazing prizes to 4 lucky winners! Click here to enter!
The only thing these opposites have in common is a desire to not marry…
Tobias Forsyth, Duke of Heatherston, owes his niece a proper Come Out. But as a confirmed bachelor, he has no idea how to fulfill his commitment. Fortunately, to his astonishment and intense pleasure, the gorgeous widow he's admired from afar for so long is willing to help. Now, if only he could convince the reluctant object of his affection to give him a chance…
Emily Grenville is bored. But that doesn't mean she ever intends to marry again. Not with the ugly secret her husband saddled her with before his death. So, she'll have to continue rebuffing the advances of every interested man—even the ruggedly handsome Scot who has somehow managed to occupy her every waking thought…
It's not long before their time spent in forced proximity leads to much deeper feelings and desires. But when Emily's secret is divulged, can the fragile romance she's only started to enjoy with Tobias survive?
Get Your Copy Here:
---
Meet USA Today Bestselling Author Collette Cameron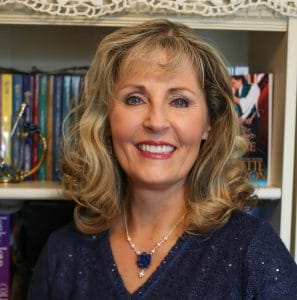 USA Today Bestselling, award-winning author COLLETTE CAMERON® scribbles Scottish and Regency historical romance novels featuring dashing rogues, rakes, and scoundrels and the strong heroines who reform them. Blessed with an overactive and witty muse that won't stop whispering new romantic romps in her ear, she's lived in Oregon her entire life. Although she dreams of living in Scotland part-time. A confessed Cadbury chocoholic, you'll always find a dash of inspiration and a pinch of humor in her sweet-to-spicy timeless romances®.
Interview With Collette Cameron
Q: What got you into writing?
CC: The answer to that question is twofold. First, I've been an avid reader since childhood, but I fell in love with historical romance as a teenager. After reading for decades and having a niggling notion that I might want to write a book someday, I decided to give it a shot.
The second part of the answer was that when I was seriously thinking of writing a book, my youngest went to college. I'd just finished my Master's Degree in teaching and found myself with a bad case of empty-nest syndrome. I needed something to fill my time, so I decided to see if I could write a book around a scene that I had running through my head for weeks. I did, and The Highlander's Heiress, Castle Brides Book 1 was the result.
Q: How do you come up with ideas for your books?
CC: Oh, coming up with the ideas is the easy part. Finding time to write all of them is what is hard. I'm a character-driven author, so once I know my characters well, I carve out a story for them. I'm a punster, so I never know the entire story, just bits and pieces that I weave together. Often, secondary characters will end up with their own books too.
Q: What is your favorite trope to write and why?
CC: I adore historical romance, particularly Victorian, Scottish, and Regency. I read my first Regency when a girlfriend at school snuck me a book she'd taken from her mom to read. It was really tame…a Barbara Cartland Regency, but it was enough to hook me.
I am a history buff, and writing historical romances gives me a chance to poke around searching for historical facts. I also get to travel for research. I spent two weeks in Scotland researching my Heart of a Scot Series.
I have ideas for other tropes, but I've stuck with historical romance (over fifty books).
Q: What is your book about?
CC: WHEN A DUKE DESIRES A LASS is slightly different than my usual Scottish Regencies. For one thing, the heroine is older and a widow, and the hero is a confirmed bachelor. Circumstances keep throwing them together, but they are too different, and the timing is never right for a romance to blossom between them. I saved their story for the last one in my Seductive Scoundrels Series. Many readers kept asking when Emily Grenville would get her happy ever after, so they were eager to see her find true love too.
Q: How many books have you published and which is your favorite?
CC: WHEN A DUKE DESIRES A LASS is my 52nd historical romance. Asking an author which book is their favorite is like asking a parent which child is their favorite. LOL. I honestly don't have a favorite. There are certain characters I identify with more than others, and because of things going on in my life while I wrote them, I am more emotionally invested in a few books.
Q: What do you like to do when you're not writing?
CC: I'm an avid gardener, and I also enjoy interior decorating, baking, hiking, strolling on the beach, and traveling. Like most authors, I love to read, usually surrounded by my dachshunds.
Q: What is your favorite part of being a published author?
CC: Oh, this is an easy one. I LOVE interacting with my readers. I've made so many good friends over the past nine years. When I get to see them in person, it's like a family reunion!
This Or That Questions:
Coffee or Tea? Both! Coffee in the morning and tea in the afternoon.
Morning or Night? Morning!
City or Country? Country.
Print or Ebook? Print.
Summer or Winter? Summer
Early or Late? Early.
Readers, follow Collette Cameron around the web at:
Newsletter (Get a FREE book!)
Facebook
Pinterest
Bookbub
Collette's Chèris VIP Reader Group
Instagram
Goodreads
Enter To Win Amazing Prizes From Author Collette Cameron
Click Here
Did you get yours copy of WHEN A DUKE DERSIRES A LASS? Let us know your thoughts in the comments.
Like this post? You might also enjoy SCANDALOUS LITTLE OBSESSION by Rachael Brownell