Get An Exclusive Look Inside TEMPT HER by Kelly Finley
And Enter To Win A Signed Paperback Book + SWAG!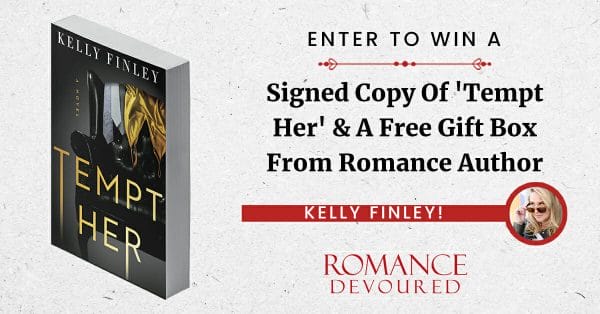 Romance Author Kelly Finley is celebrating the release of her new book, Tempt Her, by giving away amazing prizes to 7 lucky winners! Click here to enter.
Behind every good woman are three men ready to tempt her.
I've snapped the necks of evil men already — but there's one I never got to, and he took the most from me.
So when a blonde beauty queen opens the door with tears in her eyes, heads are gonna roll. But I have my orders. I'm just here to paint the walls, not save a snobby seductress from a cruel man.
Except my men have other plans…
With Luke and Mateo's blood rushing south, I'm the only one thinking clearly. Getting involved with a senator's wife would screw us all sideways. Ain't it my luck…that's exactly what they want.
Although they know how to tempt me, loss is the only truth I know — and for years, Luke and Mateo have been the one good thing in my life, and my bed.
But this woman isn't just looking for romance; she wants revenge.
And you can resist Stacey Evans like you can resist gravity. You'll fall for her no matter what.
From the "Queen of Spice," author Kelly Finley, comes an all-new steamy standalone that will burn your cheeks and pages. Tempt Her is a multi-POV, why choose, revenge romance with an HEA all will crave.
Get Your Copy Here
---
Excerpt From Tempt Her by Kelly Finley
Am I that lonely? Am I so desperate for anyone that I'd risk my vengeful husband catching me? Mind fucking another man?
Yes. I don't even need sex. I just need kindness.
My husband, Gentry, boasts, agreeing with Ford, acting like the white paint was his choice all along, but I'm not listening to his hot air. My hot fantasy keeps returning, providing all the escape I need.
I can feel the three men: Ford, Mateo, and Luke.
The fourth, my abusive husband, can go to hell. There's a golf course waiting there for him.
But the others?
They stall my breath.
Any one of them giving me just an hour of relief from my isolation; it makes me ache with a wet pain spreading between my lonely thighs, needing a caring touch, not a cruel one.
"We'll get the paint this afternoon." That grabs my ear as Ford addresses Gentry, "We can start tomorrow morning at nine."
"Ten," Gentry orders. "We have a breakfast meeting first, and then my wife can let you in."
Hell, yes, I'll let them in—each one or all three—welcome to Stacey's dirty little mind. Here's your VIP pass.
"Stacey," Gentry barks as he coils his glare my way, "tomorrow, you'll serve these men."
And what should I trust?
The glint of lust across Ford's eyes at the idea of me serving him.
Or the snake wrapped around Gentry's pupils, deciding if he should strike?
Desire or doom?
I don't know what's next as Ford steels his stare, and Gentry turns back.
But when Mateo quickly grins at me. And then when Luke dares to look at me again, letting the older guys hash out their terms like a pissing contest, he grins and doesn't look away. It's cute and cocky, mixing with care and confidence, lifting the corner of his sweet lips, and maybe… maybe at least one man… can be my hope.
---
Meet The Author Of Tempt Her by Kelly Finley
Kelly Finley hates writing bios but appreciates that you're curious. So here you go…
She lives in the Carolinas with her sexy husband and cherished family. A rebel with many causes, she fancies black leather, dirty jokes, big hearts, and smart mouths. Dedicated to writing books featuring characters with proud love, shameless heat, brave hearts, and whip-smart minds—she's most likely at her keyboard putting the next spicy story on the page for you right now.
She likes to call it #shamelessfiction.
Interview With Kelly Finley
Q: Hi Kelly, thanks for hanging with us today. Can you tell us what your book's about?
KF: Honestly, my book is about a woman who is married to a jerk, and I think way too many of us have known one of those. He uses her and takes her for granted. We meet her at her lowest point, when she's had enough. When three men come into her life, and she's like, wait, this is what romance feels like? I want more of this!
Q: What is one thing you hope readers will take away from your book?
KF: I wanted to write a book about a woman who makes every romance reader pump her fist and bite her lip. It's rare to read a bada** woman who also gets to be spicy and sexy, but that's the kind of shameless, summer read I wanted to give readers. I can imagine readers on the beach, or by the pool or curled up a sofa, laughing or fanning themselves.
Q: What is your favorite trope to write and why?
KF: I like the redemption trope for my FMCs. I want us to grow with her and cheer her on. I always try to write a woman who makes us proud, one we can see parts of ourselves in and one who has a happy ending.
Q: Why did you choose your setting?
KF: All of my books so far have been based in the Lowcountry in the South. It's a sultry setting that clashes the wealthy with the rest of us. It's small-town but exotic at the same time. Also, I'm Southern, so I write with a lot of Southern humor and snark.
Q: What were some challenges while writing this book?
KF: Confession: I know this book is going to be TOO spicy for some. It was a challenge, trying not to let that dissuade me because I know lots of readers love the spice and so do I. So I kept telling myself to be fearless. But I always add in a great plot, a lot of angst, and characters with passion and growth. Just writing spice is like plain spaghetti noodles. I want to load up the story with romance with yummy sauce and cheesy goodness we love too.
Q: What is your favorite part of being a published author?
KF: It's so true; I love my readers. I won't stop writing because I have to. The stories are burning inside me. But meeting my readers and interacting with them is so much fun. I'm active on social media and my Discord app (Kelly Finley's Lemonheads). My readers make me laugh, they encourage me to keep going. I truly write for them now. I cherish them.
Q: Anything else you wanted to tell us about?
KF: Sorta. I just want to give my humble two romance lover cents. I'd like to encourage romance readers to have no shame. No shame in what they read, no shame towards what others read. No shame in what anyone chooses to write or read. Life is tough enough, and we all need an escape for a few hours. As long as someone finds their joy in a book, that's all that matters. That's it. I'm stepping off my shameless soapbox now.
This or That Questions:
Coffee or Tea? Coffee, lots of it
Book or Movie? Book. Unless it's a sexy movie
Morning or Night? Morning, it's when I write
City or Country? Neither. I pick the beach
Summer or Winter? Summer, I love the heat
Early or Late? Early. I value time.
Enter To Win Amazing Prizes From Kelly Finley
Click Here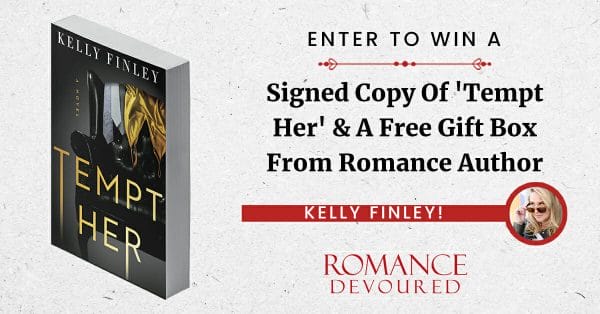 Got your copy of TEMPT HER by Kelly Finley? Let us know in the comments!
Like this post? Check out COLLIDE by A. Akinosho >>