Get An Exclusive Look Inside Collide by A. Akinosho
And Enter To Win A $10 Gift Card & Signed Paperback Book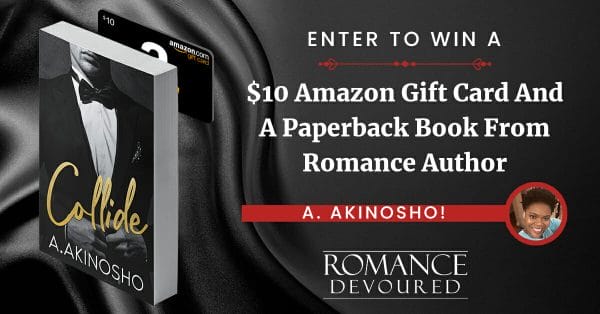 Romance Author A. Akinosho is celebrating the release of her new book, Collide: An Age Gap Insta Love Romance, by giving away amazing prizes to 2 lucky winners! Click here to enter.

His goal is to take her from her fiancé.
Her goal is to stay loyal to her fiancé.
Tate.
I'm a confirmed bachelor that's sworn off marriage. My life is perfect until she clings to me in a chaotic restaurant. Minutes later, I watched as another man put a ring on her finger.
I don't care if I must break her engagement to get her. It's simple. I want her. I'm the guy that gets whatever I want, so getting her should be easy.
Then, I find out that I either: Marry her or Walk away.
Can I walk away and watch her marry the fiancé? Hell no!
Lande.
He's a rich confirmed bachelor. Our paths would have never crossed had I not been knocked on my ass in a restaurant and I cling to him. I thanked him for helping me and went my merry way, accepting my fiancé's proposal minutes after.
Days later, I find myself working in his home, now I see him every day. I'm drawn to him like a moth to a flame. I just need to remind myself of three things every day.
I am engaged.
I can't break my engagement.
I must keep my vow.
Long as I mantra all three daily, it should be easy-peasy working for him, right?
Get Your Copy Of Collide by A. Alinosho Here
---

Excerpt from Collide by A. Akinosho
"She looks too young for you. What is she like, nineteen or max twenty-one?" He gives me a
questioning frown.
"Even better," I smirk, and he laughs, shaking his head. "Move," I say to him, and he slides out
of my view. I almost wish he hadn't because a guy kneels before her, and she looks surprised.
He's proposing, and she's nodding. He puts the ring on her finger as the crowd claps in
excitement. Good thing we can't hear them. I would hate to hear him professing some cliché
undying love line to her.
Unexpectedly, my heart races.
I feel sweaty and can't stop staring at her smiling and the guy
wrapping his arms around her. He kisses her gently. A flush of jealousy rips through me. I want
to pull her from him and take her somewhere he can't find her. A myriad of unpleasant emotions
all come at me. This is crazy, and why did he have to propose to her tonight? Almost like he's
sending me a message that she's taken.
Fuck that!
"Well, looks like that guy already beat you to her. Better luck next time. Get back out there. She's
a closed case." He mocks.
"They are not married yet," I retort, surprising us both.
"Do you even know her name?" he challenges, raising his eyebrow questioning my messed-up
statement.
---
Meet The Author of Collide by A. Akinosho

A. Akinosho lives in her own little nest in Illinois. An avid reader and enjoy reading thrillers, suspense and romance novels (partial to romance genre). When, she's not reading or keeping up with life. She enjoys writing and creating twist to stories. She loves writing about diverse characters, friendship and overcoming challenges through, what is perceived as a weakness.
Interview with A. Akinosho
Q: How long does it take you to write a book?
AA: It depends on the story. Each story is different. I've written a book in a month and another in 3 months, and I have a book I just completed, and it took me a year. Every story takes its own pace.
Q: What is your real-life work schedule like when writing?
AA: I write mostly at night because it's very quiet and I feel the words flow better. I focus more on the weekend and try to write Friday through Sunday. I Spend the rest of the week coming up with ideas or researching stuff on the story I'm writing.
Q: What are your favorite books to read?
AA: I'm partial to the romance genre. I do sometimes read thrillers.
Q: Where do you get your information or ideas for your books?
AA: Ideas come from everyday life and things around me.
Q: How do you create your main characters?
AA: Most of my female characters are created from my everyday life and stories with friends with a little twist. The male characters are where I have to dig deeper on their features on what to convey about them.
Q: What might your next book be about?
AA: My next book is about a prince recovering from an accident and a young lady that's trying to find her way after the loss of her parents. They find solace with each other, and romance blooms but their romance is doomed before it begins. I hope to release it July 2023
Q: Can you describe your writing space?
AA: My pace varies. Some weekends I can write as much as 20k words and some weekends. I can barely get 3k words in. The story determines the pace.
Q: What would you say is the most difficult part of writing a book?
AA: For me the most difficult part is getting the words right for the reader to connect with the characters and the emotion the characters are experiencing.
Q: What do you like to do when you're not writing?
AA: When I'm not writing, I'm reading a book or cooking. Mostly reading.
Q: Have you experienced writer's block, and how do you handle it?
AA: I haven't experienced writer's block. I have enough stories but sometimes I don't feel like typing, not sure why the act of typing just doesn't seem to work for me sometimes. In those moments I take a paper and start to write. Which is more work when I have to later retype the words, but I get the words out of my head.
Q: What is your favorite part of being a writer?
AA: When someone tells me they enjoyed my book and they read it all night.
Enter To Win Amazing Prizes From A. Akinosho
Click Here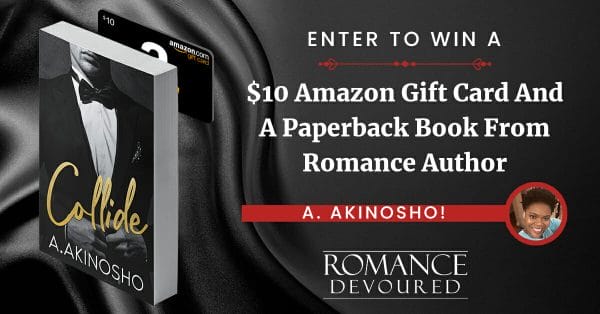 Got your copy of COLLIDE by A. Akinosho? Tell us your thoughts in the comments.
Like this post? Check out ACCEPTING LOVE by Becca Jameson >>