What's better than getting the HOTTEST new book releases by bestselling authors? How about getting those same romance books FREE online? See all the juicy details below!
Click here to to enter our "Everybody Wins" free romance book giveaway! >>
Each month, Romance Devoured teams up with the hottest romance authors in town to bring you an amazing new reading experience in the genre you love + the opportunity to win some unbelievable prizes!
Make sure you bookmark & visit this page often!
We will be updating our content with each & every free romance book giveaway!
We're kicking off this month's giveaway with a BILLIONAIRE ROMANCE theme!
Click below to enter for a chance to win a free Kindle Paperwhite plus all of the books you see here!
HURRY! This Exclusive Giveaway Ends August 2, 2021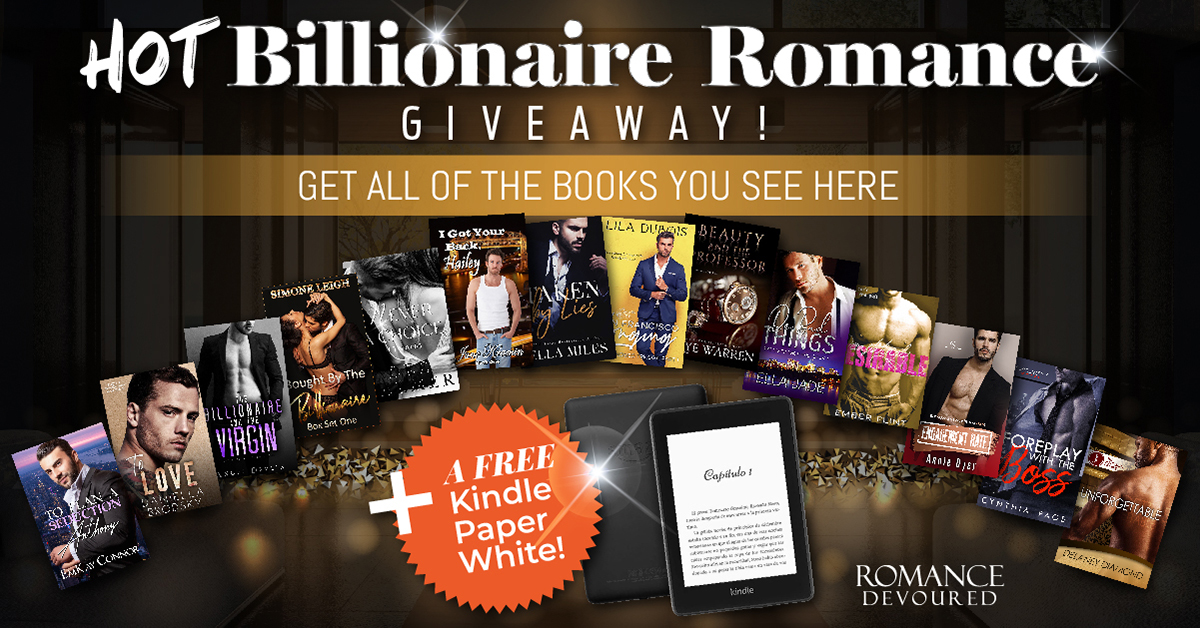 ONE (1) Grand Prize Winner Will Get A Free Kindle Paperwhite + All Of The Books Below!
***EVERYONE WHO ENTERS*** will also get a digital copy of all 15 books!
So Enter Now!
Here Are The Romance Books, Free Online, Everyone Who Enters Gets To Win!
Enter the giveaway above to download them all!
Beauty and the Professor by NYT & USA Today Bestselling Author Skye Warren

"I love this Beauty and the Beast story that Skye Warren has crafted. She puts a twist to this classic tale that makes it different and deliciously erotic." – Nina's Literary Escape

Once upon a time there was a beautiful college student…
Erin cleans Mr. Morris's house twice a week to pay her tuition. The reclusive ex-soldier intimidates her, but she can't help but feel sympathy for him. Then she walks in on him touching himself, and she has much darker, much more sensual feelings.
And a beastly professor with scars he can't hide…
Blake Morris knows he's scarred both inside and out. He's reclusive and surly. Nowhere near good enough for the smart and beautiful young woman who cleans his house.
---
To Love by Bestselling Author Daniella Brodsky
A #1 NEW RELEASE
Don't ask how I ever agreed to be his fake girlfriend…
And then fiancée…
But from our very first kiss the line between real and fake is fuzzy at best.
The first time I saw him, another woman threw a drink in his face.
That should have been a sign.
As if I needed another one, he also turns out to be my boss.
But he made me an offer I couldn't refuse.
How hard can it be to fake it, especially when it feels like we're not faking at all?
I can do anything for three weeks, right?
It's not like I'm going to let myself fall in love with a man
who's been officially named Sydney's Most Wicked Billionaire Playboy.
No matter how many times he winds up in my bed.
Then we tell each other our real reasons for the sham.
And it becomes impossible to pretend I'm pretending.
Confused? Try being me.
Especially when Aiden looks at me like I'm the only woman in the world, his strong muscles looking divine and his fingers working their magic as they trace my curves.
---
Taken By Lies by USA Today Bestselling Author Ella Miles
I was taken.
Kidnapped by a boy I thought I could love.
Then he sold me as if I were property.
For three years I endured.
Beatings.
Torture.
Pain.
I never broke.
I was strong, determined, resilient.
But then one day it happened…I broke.
Setting me free.
I should have run away, found a new life, and started over.
Instead, I returned.
To find the man who sold me.
Seen Enough? Click Here To Enter!
---
San Francisco Longing by Award-Winning Author Lila Dubois
When Christiana discovered the secret BDSM club she threw caution to the wind and snuck in, hoping only to watch the things she'd been fantasizing about.
Until James. 
Dominant and charming, he's everything she never knew she needed.
And he wants her. 
Three amazing nights together, but then the party's over. He thinks he'll see her again. Christiana knows this is the end.
But how can she say goodbye to the man who claimed her, body and soul?
---
The Billionaire and the Virgin by Angel Devlin
Fourteen years after losing his wife, Vee; and unborn child; Henry finds himself no longer fulfilled by his property empire and Club S – his fantasy club where he seeks no-strings satisfaction.
Then Vee's half-sister comes to visit. The Amelia he remembers was 9 years old, not this 23-year-old very attractive blonde. Within hours, she's turning Henry's life upside-down. Is Henry finally ready to live life again, or will he continue to close himself off from love?
---
Bought By The Billionaire: Box Set One by Bestselling Author Simone Leigh
She Got More Than She Bargained for!
Elizabeth is a student working in a dead-end hotel job to makes ends meet, but dreaming of a better life. When she foolishly decides to shower in the penthouse bathroom of one of the hotel guests, it has consequences she did not expect.
The Master Series is a tale of Cinderella Erotic Romance, a Billionaire, Alpha Male Master, a submissive woman, BDSM and bondage.
Readers of this tale risk shortage of breath, hot flushes and wet panties.
---
To Plan a Seduction by Bestselling Author EmKay Connor
Just one hour. That's the promise billionaire Anthony Ferrari makes to himself when pressured by his younger sister to attend her latest fund-raising event. One hour and then he can retreat to his high-rise condo to spend the rest of the evening with his favorite companion—a tumbler of Glenfiddich 1937. But some promises are made to be broken. At least that's what Anthony tells himself when his interest is hooked by an elegant blonde with a knack for disappearing.
Tiffany Delaney—Delaney to her clients—has worked her ass off to earn a rep as one of the best event planners in New York City. Thanks to a last minute break when her competition flakes out on what promises to be one of the holiday season's premier events, her success is virtually guaranteed. Too bad about that policy she has on not mixing business and pleasure because a one-night stand with the super-hot guy in a tux who keeps trapping her in dark corners would be the perfect way to celebrate.
When Anthony discovers the mysterious woman he can't stop fantasizing about is the city's most in-demand event planner, he hires her to plan a perfect, over-the-top romantic Valentine's Day evening for two. What Tiffany doesn't know is that the dream date she's planning is a scene for seduction…hers!
---
Foreplay With The Boss by Cynthia Page
My boss is teaching me to be bolder in the boardroom…and the bedroom.
I'm not bold enough to take over my father's company, but I've sworn to do whatever it takes to learn. Even if it means working for Jameson Stone, the cocky billionaire CEO of Craze Advertising, who's as hard and unmovable as his name implies. He tells me to demand what I want instead of backing down, something I've always struggled with—in the boardroom and the bedroom. There are things I want to try, things I've only read in my romance novels, but have been too afraid to ask for.
When my boldness lessons turn into foreplay lessons, it's nearly impossible not to fall, and if I'm not careful, I'll end up losing everything I've worked for to a man who'll always choose business over me.
Seen Enough? Click Here To Enter!
---
Never A Choice by Bestselling Author Dee Palmer
This is a short, sexy as all hell story, and if you loved Christain, Jesse or Gideon you will no doubt fall for Mr Stone in this Novella and even more in the full-length novels of The Choices Trilogy.
Sexy, dark and dominant Daniel Stone always gets what he wants and he has his greatest prize in Bethany Stone. Their chemistry is explosive, his desires are demanding and Bethany is learning a whole new way of life choosing to be with him. The challenges they have both overcome were immense and now it's time to live a normal life.
Can life with rich alpha Daniel Stone, ever be normal?
---
Do Bad Things by USA Today Bestselling Author Ella Jade
My mother is dying. Without the experimental trial she'll succumb to her cancer. Our bills are out of control and I'm desperate. Desperate enough to accept a mysterious, sexy stranger's inappropriate proposal.
The terms…
My body is his to do as he pleases
He doesn't care about my pleasure
I say yes and I get paid
Deny him one time and it all ends
I should stop what I started, but it didn't take long to become addicted to his forbidden touch. Now all I want is for him to do bad things…
---
Unforgettable by USA Today Bestselling Author Delaney Diamond
She offered everything he never knew he needed…
Ivy Johnson is stunned when Lucas Baylor makes an appearance at her family's event in Seattle. She hasn't seen him in nine years and never expected to again. Avoiding him is a must. She can't let him uncover her secret, but Lucas won't be denied. When her deception is revealed, it throws his life into a tailspin and forces them to face the truth of their feelings for each other—feelings they've both tried in vain to forget.
---
Devastatingly Desirable by Bestselling Author Ember Flint
Lara Mason has big dreams and a great passion for everything that inspires confidence and sex appeal, but she is shy and closed off, she has never been in love and has forgotten what it is like to be touched by a real man. When a sexy British, giant gentleman crashes her boring evening plans, she can't do much but hold on tight as a tidal wave of lust sweeps her under.
Aston Henley has money and power written all over his big body, he keeps everyone he meets at arm's length and his imposing stature scares everybody off. His black-and-white life lacks passion and desire, he is always traveling for work and settling down is the furthest thing from his mind, but everything changes in an instant when he gazes for the first time into a pair of dark eyes that pierce him to the marrow.
There's nothing he can't do but dive head first into a whirlwind of all-encompassing, raunchy love.
This is more than a one-night-stand: there is an unstoppable, devastating pull between them and there's nothing they can do to resist it. They don't understand the power of the electrical current linking them and making them want to touch, taste, own and never let go of the other, but they can't deny it's there.
---
I Got Your Back, Hailey by June Kramin
When Hailey stumbles upon a backpack full of money on her nightly jog, she escapes under gunfire with Parker – a man she'd met only moments sooner. Leaving the security of her secret identity behind, they put together the pieces of Hailey's past and try to put a stop to the man that wants her dead. Falling in love in the middle of it all was the last thing either one of them expected.
---
Engagement Rate by Annie Dyer
He's gorgeous. He's successful. And he's technically my employer. Introducing Jackson Callaghan, who looks like no lawyer ever should.
I shouldn't be noticing how he wears a suit or thinking about what his hair looks like in the mornings. Instead, I'm meant to be sticking to just three things:
Growing my marketing business
Buying my cheating, arrogant ex out of said business
Never getting involved with anyone I work with. Ever. Again.
London, England. The residence of the queen, suited City boys and the man who won't give up: Jackson Callaghan. With his tattoos and a talent for charming, he's set his sights on one thing other than his career – me.
Just one night won't hurt, will it? A simple hook up isn't really breaking my own rules.
What happens when a hook up leaves you hooked?
---
Vicious Billionaire by Bestselling Author L. Steele
Seven snarly, grumpy jerkfaces.
Seven years ago.
One secret.
I will not stop until I hunt down every last person responsible for the incident.
Until then… I fight, I build my empire
Become a billionaire in my own right.
Women… they are simply irritants.
So why is every encounter so empty?
Meaningless.
What am I searching for…?
Who am I in quest of..?
Will I know her when I see her?
How will it be to hold her, have her, possess her,
Make her… MINE!
This is the prequel to the Big Bad Billionaires, an enemies to lovers, fake relationship, billionaire romance series.
Time To Enter! Click Here For Your Shot At Winning!
---
Want even more romance books free online? Check out our Nora Roberts Collection here.
Who will be your next binge-worthy favorite? Let us know below in the comments.