What's better than getting the HOTTEST new book releases by bestselling authors? How about getting those same romance books FREE online? See all the juicy details below!
Click here to to enter our "Everybody Wins" free romance book giveaway! >>
Each month, Romance Devoured teams up with the hottest romance authors in town to bring you an amazing new reading experience in the genre you love + the opportunity to win some unbelievable prizes!
Make sure you bookmark & visit this page often!
We will be updating our content with each & every free romance book giveaway!
This month's giveaway is HISTORICAL ROMANCE!
Click below to enter for a chance to win a free Kindle Paperwhite plus all of the books you see here!
HURRY! This Exclusive Giveaway Ends October 4, 2021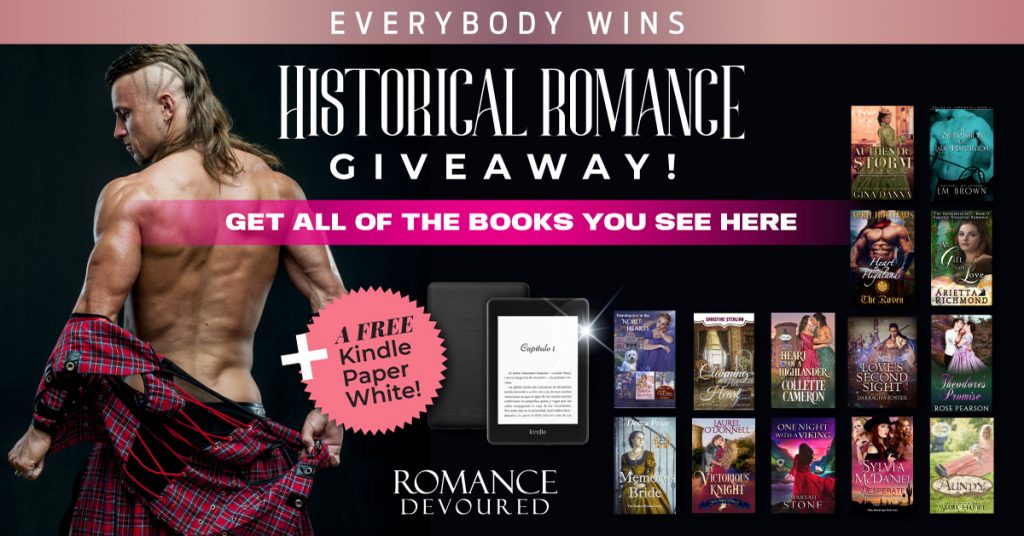 ONE (1) Grand Prize Winner Will Get A Free Kindle Paperwhite + All Of The Books Below!
***EVERYONE WHO ENTERS*** will also get a digital copy of all 14 books!
Here Are The Romance Books, Free Online, Everyone Who Enters Gets To Win!
Enter the giveaway above to download them all!
Desperate: A Lipstick And Lead Novel by USA Today Bestselling Author Sylvia Mc Daniel

They Always Get Their Man!
In 1880 Zenith Texas, the McKenzie sisters, Meg, Annabelle and Ruby find themselves penniless after the death of their father. When the bank threatens foreclosure, the women realize they need a way to support themselves. They have three options; marriage, women's work or… following in their papa's footstep.
Memory's Bride by Decca Price

Will love set her free or chain her to the past?
A spinster at 26, Claire Burton casts off her claustrophobic existence in her parents' conventional home and embraces a new life in the remote Welsh foothills, in the home of the man she once hoped to marry. There, she devotes herself to preserving the memory of her lover, a popular Victorian novelist, whose death made her a wealthy woman. But her inheritance and the resulting scandal chain her to the past and isolate her. Even her family casts her off.
Despite the stain on her reputation, two men soon pay court, both boyhood friends of Claire's lost love. They will draw her into a web of dark secrets that could cost Claire her life.

Heart Of A Highlander by USA Today Bestselling Author Collette Camron

How can she love the man responsible for her husband's death?
When Frenchwoman Giselle McTavish married a Scotsman, she never expected to be widowed and left to bring up their son alone and determined he will be raised in Scotland. Even though Highlander Hugh Ferguson—the man she holds responsible for her husband's death—also lives at Craiglocky Keep. As time passes, she struggles to overcome loneliness, homesickness as well as fight the warm feelings Hugh now stirs.

My Victorious Knight by Laurel O'Donnell

Lady Elora of Kingston knows her place, her duty – to marry a man she hardly knows and certainly does not love. Before she weds, Elora wants to experience real passion. Just one kiss. One magical kiss. One kiss will change her life forever.

When Julian meets Lady Elora, the sister of the undefeated champion, he becomes embroiled in two battles, one for his personal glory and one for his heart, with the outcomes of both very much in peril.
Seen Enough? Click Here To Enter!
Discover Romance Books Free Online!
Heart Of The Highlands by Award-Winning Author April Holthaus

Forced to wed a ruthless English Lord, Adelyn Scott welcomed death over marriage, but had no idea her wish would come true until she discovered her husband's body lying dead in his chamber on the night of their wedding.
As commander for the king's personal guard, Eamon MacLeish's loyalty has never been questioned. Until the day a mysterious woman arrived seeking an asylum and stole his heart. As Adelyn and Eamon piece together clues surrounding her husband's murder, Eamon must choose between his loyalty or his heart. For one path would ultimately lead to her death, and the other path leads to his.
Aundy by USA Today Bestselling Author Shanna Hatfield

Desperate for a better life, Aundy Thorsen agrees to leave Chicago to fulfill a farmer's request for a mail-order bride in Pendleton, Oregon. Widowed before she has the opportunity to truly become a wife, Aundy learns to manage the farm even though her determination upsets a few neighbors.

Garrett Nash is a busy rancher and respected member of the community. When his neighbor passes away, leaving behind a plucky widow, Garrett appoints himself her protector and guardian. His admiration for her tenacious spirit soon turns into something more. He just needs to convince Aundy to give love another try.
Claiming Her Heart by Award-Winning Author Christine Sterling

Debutante Peyton Fuller's life consists of friends, parties, and waiting for her beau to propose to her. With little knowledge of politics and fighting, her cossetted world changes overnight as soldiers stream into Harrisburg to prepare for a war between the states. As they march past her door, she catches the eye of one soldier who makes her question everything.

Union Colonel Mason Stout gets a second chance to maintain his military career as the training officer for what may be the worst war imaginable. Still recovering from a crippling injury, he meets a local female volunteer who draws him as no other woman has. Unfortunately, he has seen the horrors of war and vows to make no woman his widow.

Will Peyton be able to resist her inconvenient attraction to the handsome colonel for the beau she thought was her true love? As the nation poses on the brink of war, another battle brews between their hearts. Will Peyton and Mason find victory in each other? Can he claim her heart?
The Submission Of Lady Pennington by Bestselling Author Em Brown

Lady Pennington is no demure Regency miss, and she has her eyes set on Mr. Cedman Ashley, once an alpha Master at the Inn of the Red Chrysanthemum, where members engage in taboo forms of debauchery.

But Master Ashley had hung up his flogger years ago, vowing never again to take up his wicked ways…until his hand is forced by the beautiful and clever Lady Pennington.
Authentic Storm by USA Today Bestselling Author Gina Danna

1856: A wealthy plantation owner sends his educated, biracial daughter to NY to keep her safe from the growing intolerance of his wife. But Jaquita Fontaine discovers that a free woman of color is not exactly welcome up north. Jaquita struggles to live while facing prejudices that prevent her from even buying food. When a handsome abolitionist comes to her aid, Jaquita is grateful, but as she begins to fall for her charming knight-in-shining-armor, their affair could put her in even more danger.

NY attorney Thomas McHenry III comes from a staunch abolitionist family, but wants more than attend meetings and send donations. He's campaigning for a Senate seat to push the end of slavery into law. Jaquita's intelligence and beauty rivals that of any 'acceptable' young ladies, but the color of her skin could destroy his chances at the ballot box.

As the country heads towards Civil War, Jaquita and Thomas must find if their love for each other can withstand the war, or will it ultimately crumble?
Love's Second Sight by Bestselling Author Darragha Foster

She's a powerful, independent woman in an age ruled by greedy men and desperate gods. She trusts no-one. Not a man, not a deity, not her own powerful second sight. Then a lost Norseman washes ashore. Can she resist his charms, the desires of a king and the whims of a god? Hell yes.
Seen Enough? Click Here To Enter!
Discover Romance Books Free Online!
A Gift Of Love by Award-Winning Author Arietta Richmond

Eleven years ago, Monique Clermont and Lord Charles Rockingham shared a passionate few months, before the conflict between her acting career and his desire to travel, before he inherited the title of Earl of Stanningfield, tore them apart.

For that eleven years, Monique has kept a secret. Now she is dying, and must face a difficult choice. A choice that can, really, result in only one thing. She writes a letter, to be delivered to Charles after her death, and sends him a gift of love – the love that has not faded, no matter how many years they have been apart.)
Theodore's Promise by Rose Pearson

Eleanor wants nothing more than to marry Theodore and love him for the rest of her life. He pledges his love for her and presents her with his grandmother's ring. When he leaves to make his fortune for their future, he promises he'll return.

Eleanor remains devoted and waits five long years. Theodore finally returns, but she has accepted another man's proposal. The Theodore she now sees is a changed man, harsh and cruel—and harboring secrets that keep them apart.

Longing for them to be together, Eleanor repeatedly tries win him back. But will his secrets keep them apart and leave her with a broken heart?
One Night With A Viking by Bestselling Author Mariah Stone

She's settling for second best. He'll take what he wants. Can a cautious modern woman find true love with a raging alpha Viking?

Rebecca knows she's not in love. But after her abusive and chaotic upbringing, marrying for stability doesn't sound half bad. Unfortunately, she might not make it to the church on time after she tumbles hundreds of years into the past and into the arms of a beefy Viking.

When a chance to return home arises, will Rebecca play it safe or cast her lot with an impulsive Viking?
Introduction To The Nobel Hearts Series: Books 1-3 by Anna St. Claire

Maggie Winters had everything she always wished for, including a betrothed she loved.

Her parents die and her guardian forces her to marry a stranger to pay his debts. She disappears from her betrothed's life leaving only a scribbled note in her wake.

Time To Enter! Click Here For Your Shot At Winning!
Discover Romance Books Free Online!
Want even more romance books free online? Check out our Nora Roberts Collection here.
Who will be your next binge-worthy favorite? Let us know below in the comments.