What's better than getting the hottest new book releases by your favorite bestselling authors? How about getting them for FREE? Now you can read romance books online free! See all the juicy details below!
Click here to to enter our "Everybody Wins" free romance books online giveaway! >>
Each month, Romance Devoured teams up with the hottest romance authors in town to bring you an amazing new reading experience in the genre you love + the opportunity to win some unbelievable prizes!
Make sure you bookmark & visit this page often!
We will be updating our content with each & every free romance book giveaway!
This month's giveaway is: BAD B*TCHES OF ROMANCE!
Click below to enter for a chance to win a free Kindle Paperwhite + all of the books you see here!
HURRY! This Exclusive Giveaway Ends November 1st, 2021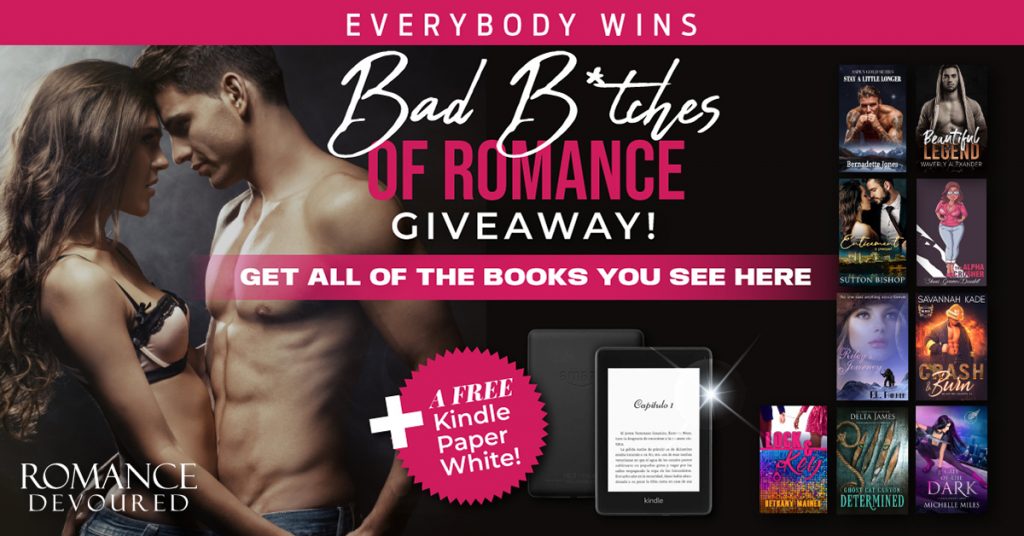 ONE (1) Grand Prize Winner Will Get A Kindle Paperwhite + All Of The Books Below!
***EVERYONE WHO ENTERS*** will also get a digital copy of all 9 books!
Here Are The Romance Books Online Free, Everyone Who Enters Gets To Win!
Enter the giveaway above to download them all!
Beautiful Legend by Waverly Alexander

He barged into my life my junior year of college. Brooding, mysterious, and barely talks to anyone—Joshua Travin is allegedly as skilled in the bedroom as he is on the rugby field. He's everywhere I go, always watching. Despite his obvious distaste for me, I find a familiar comfort in his green eyes.
I've spent every day since I was seven hiding my past, trying to forget the attack that killed my mother and my sister. The attack I barely survived. Now, I never let anyone in. Even the people who would consider me a friend? They don't know the real me.
Determined: Ghost Cat Canyon by USA Today Bestselling Author Delta James

An ancient tale tells of a powerful shifter who loses his heart to a human.
Their love is doomed by a father who disapproves.
Is the curse still alive and well?
Cade Waverly is a decorated member of Delta Force. He has come back to his small town in the Idaho Panhandle to lay his mother to rest.
Trey Mitchell is the self-assured girl next door who has loved him for as long as she can remember.
After a night of secret and undeniable passion, Cade leaves her sleeping in order to return to his unit and to keep her safe from the dangers that lurk everywhere in Looking Glass Falls.
When their paths cross in the Capitol, will Cade and Trey find the courage to face down the evil that kept them apart?
Crash & Burn by Award-Winning Author Savannah Kade

He knew from the moment he saw her…
But Sebastian Kane's hesitation cost him dearly, and new-in-town Maggie is already dating a fellow firefighter. But even his loyalty to the brotherhood can't keep Sebastian away when danger is on Maggie's doorstep. Or maybe already inside her house…
Maggie fled to tiny Redemption hoping to leave behind a painful betrayal, but her hopes for a fresh start die quickly. The most notorious serial killer in the tri-state area has left Maggie a gift in her aunt's house… letting her know that Sebastian wasn't the only one who wanted her the first time he saw her.
How can Sebastian keep her safe when she's bound and determined to prove her aunt's innocence by taunting a dangerous predator?
Call Of The Dark by Michelle Miles

If you love Indiana Jones and Lara Croft, meet Anna Walker. She's tasked with finding the five Holy Relics before Lucifer and his army of demons and fallen angels. But will she accept her quest or stand back and watch the forces of evil destroy mankind?
Seen Enough? Click Here To Enter!
Read Romance Books Online Free!
Lock & Key by Award-Winning Author Bethany Maines

Trust fund baby Lachlan "Lock" St. George is on a three-day bender in an attempt to avoid his father. Kiara "Key" Kincannon is working her way through law school as a process server delivering notifications of lawsuits to rich assholes. When the two meet at Club Primo, they're handcuffed together by club owner—and Key's uncle—Mac Kincannon, to "keep them out of trouble." But while sparks fly between the two, bullets are also flying through the club. A dangerous gang is hunting Mac, and Lock and Key may be the only ones who can keep him alive—if they can work together.
Stay A Little Longer by Bernadette Jones

Death didn't frighten Gage Ewing. Living scared the hell out of him.
The Healer
Doctor Gage Ewing is on the run from a past he can never forget. No matter how many people he saves in hospitals or on the crime-ridden streets, he can never be forgiven for the one who died. Spencer, Colorado was supposed to be another temporary stop on his neverending road. But he made a mistake. He got involved.
The Soldier
IrishMist "Ivy" Vaughn has been fighting to stay alive since the age of twelve, trained with warrior skills to be whatever is demanded of her. No permanent home. Living out of a duffel bag. Changing personas at the ring of a phone. Spencer, Colorado was supposed to be a place to bury her past and start over. Will they let her walk away?
Sometimes the past won't let you go.
Riley's Journey by Bestselling Author P.L. Parker

The research project was only for an "extended period."
No one said anything about forever!
Deceived and betrayed, Riley is sent back 40,000 years to be the mate of a man she'd never before met. Her journey will take her into a world fraught with dangers—a world made more treacherous by savage beasts, primitive Neanderthals, and the incursion of the aggressive Cro-Magnon man.
Enticement: A Prequel by Sutton Bishop

Badass Birdie Whitmire doesn't play well with others, and when she does, it's on her terms. She enjoys control, no bullshit or drama, and believes in manifestations and listening to her intuition.
But what happens when she puts a request out into the universe one fated evening, and the result far exceeds her expectations? Birdie is suddenly on a path she could not have anticipated, one that has her asking herself, "What's next?"
*This is the prequel to the full-length Enticement, releasing 2022.
The Alpha Crusher by Bestselling Author Shani Greene-Dowdell

"We were standing chest to chest in a standoff. Before I realized his intention, he lowered his head and dropped a kiss on my lips. It was brief, but he was close enough for me to inhale his masculine scent intermixed with cologne. I was shaken, and it took me several seconds to regain my composure to slap him across the face."
~*~
Ward Levine is overbearing and charming.
When he strides onto one of my sites and announces he wants to buy my company, he doesn't know he has met his match.
I'm Myra McBride, and I own M & M construction, one of the top construction agencies in NYC.
When I walk into a room, people stop talking.
I'm well respected and equally connected.
Dealing with Ward will be no different.
It doesn't matter that his uncle is a senator and his family is filthy rich.
We're neck and neck with the same attitude.
Neither of us will back down easily.
But once sparks start flying, who will break first?
Time To Enter! Click Here For Your Shot At Winning!
Read Romance Books Online Free!
Want even more free romance books online? Discover More Romance Books Free Online Here.>>
Who will be your next binge-worthy favorite? Let us know below in the comments.