What's better than getting the hottest new book releases by your favorite bestselling authors? How about getting them for FREE? Now you can read romance books online free! See all the juicy details below!
Click here to to enter our "Everybody Wins" free romance books online giveaway! >>
Each month, Romance Devoured teams up with the hottest romance authors in town to bring you an amazing new reading experience in the genre you love + the opportunity to win some unbelievable prizes!
Make sure you bookmark & visit this page often!
We will be updating our content with each & every free romance book giveaway!
This month's giveaway is: INTERNATIONAL WINE DAY – ALL ROMANCE GENRES!
Click below to enter for a chance to win a t-shirt from our sponsor at BookishBoutique + all of the books you see here!
HURRY! This Exclusive Giveaway Ends May 30th, 2022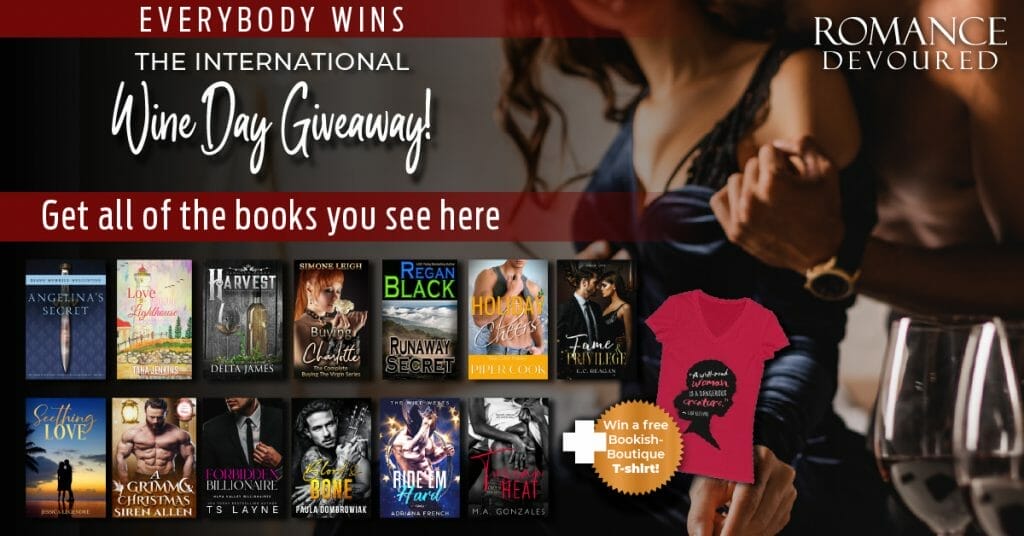 ONE (1) Grand Prize Winner Will Get A BookishBoutique Tshirt + All Of The Books Below!
***EVERYONE WHO ENTERS*** will also get a digital copy of all 13 books!
So Enter Now!
Here Are The Romance Books Online Free, Everyone Who Enters Gets To Win!
Enter the giveaway above to download them all!
Buying Charlotte by Simone Leigh

The penniless Charlotte dreams of a bright future. But she has nothing to sell but herself and her virginity.
She chooses to auction both to the highest bidder. Charlotte's buyer becomes her Master and he chooses to share her with his friend.
But when she later returns to them, as the relationship between the Three develops, it becomes clear that there is more to Charlotte than a young woman in need of money.
Runaway Secret by USA Today Bestselling Author Regan Black

Marissa Richland joined the Taylor Point Task Force as a forensic analyst under an assumed name to protect a priceless secret. But when drug smugglers hijack a school bus, her past could lay waste to the one thing in her life she can't lose.
DEA Special Agent Sean Grady lost the love of his life during an operation to take down a notorious drug lord. All he wants is one more chance to even the score, no matter where the trail leads him…
Blood & Bone by Paula Dombrowiak

It wasn't the clear blue of his eyes that held so much pain, or the well-defined forearms of a practiced guitar player that drew me in.
It was his story.
He told me I wouldn't be able to handle it, that I wouldn't like the ending. As I sit in a cold metal chair in the basement of a Catholic Church, I know he is right.
Love At The Lighthouse by Award-Winning Author Tana Jenkins

Ten years ago, if you'd told Sydney St. James her best friend and adventure partner extraordinaire would one day become her enemy, she wouldn't have believed you. Find out about the rift she never saw coming in Love at the Lighthouse, the prequel to Sailing into the Heart, a sweet, enemies-to-lovers island romance about old love and new beginnings.
Seen Enough? Click Here To Enter!
Read Romance Books Online Free!
Fame & Privilege by L.C. Reagan

Billionaire Jenn Cooper has run her own movie studio for the last 3 years with the utmost success. Everything in her life has been easy due to the wealth and privilege she's been afforded. Ryan Price is a young and talented manager in Hollywood who represents up-and-coming starlet Julia Belle. What will happen when Price and Cooper try to collaborate on one of Hollywood's most promising stories to date? Let's just say that things in Hollywood never follow the script.
Seething Love by Jessica Legendre

When Kate's entire being is challenged by George, a man of her same caliber – both in looks and appetite for success – she crumbles under the pressure of her lust. The once career-driven woman finds herself being driven mad by a man who gives her exactly what she needs.
Holiday Cheers by Piper Cook

My strict upbringing led me to make a lot of bad choices when I finally tasted freedom for the first time.
With the help of my best friend, I've come to terms with the guilt of falling short of other's expectations.
Then the same handsome bouncer I spill a drink on saves me from a bathroom mishap and has me throwing caution to the wind.
Jax is the night in shining armor that could literally charm the pants off me.
Can I stand up for what I want and allow my heart to be my guide?
Forbidden Billionaire by USA Today Bestselling Author TS Layne

She was only supposed to be a one-night stand… Let's face it. I'm a jerk with a big bank account, and that means I call the shots. Until Macey McCaslin. There's only one word to describe the smart, sexy, take-no-prisoners she-devil. Unforgettable. And while we may have made an agreement, she's bent on breaking the rules as much as I am. This may cost me everything, but I'm not staying away…
Angelina's Secret by Award-Winning Author Diane Merrill Wigginton

Angelina Stewart is a beautiful, bold, independent woman hiding a terrible secret. After returning home from a sea voyage, she is touted as a hero for saving her family's ship and crew from a band of ruthless pirates, but Angelina feels like such a fraud.
The Duke of Bayonne, A.K.A. Pirate Captain, Jude Deveraux, takes what he wants from the world as he and best friend, Honore live each day as if it were their last. That is until the day Jude discovers that the only thing he truly wants is to capture the untamed heart of fiery tempered Angelina for his own.
Seen Enough? Click Here To Enter!
Read Romance Books Online Free!
Harvest: Tangled Vines by USA Today Bestselling Author Delta James

Having triumphed over being kidnapped, turned against her will and sold to a pack of wolf-shifters, Stephanie Savik is now on her way to a new job as the assistant vintner at the Luna de Lobo Vineyard. To celebrate her success, she opts to spend the night in San Francisco.
Alexander Charles was also turned without his consent—the difference being it was done by his best friend in order to save his life. Xander is now second-in-command at Luna de Lobo.
Neither believes that they will ever experience the wondrous phenomenon known as a fated mate. Imagine their surprise when they discover how wrong they are in the unlikeliest place… the famed BDSM club, Torch Light.
A Grimm Christmas by USA Today Bestselling Author Siren Allen

This villain has fallen hard. He's willing to do anything for his mate. Even celebrate holidays as humans do. Though he's turned his back on his villainous ways, his enemies haven't turned their backs on him. Now, he needs to protect not only his mate, but their first Christmas also.
Ride 'Em Hard by Adriana French

Lexi Parker, sent on a fool's errand to convince Chase to go back to Hollywood and start filming again, has no idea what she's in for.
Chase has Lexi so hot and confused she doesn't know what she wants. And if she did, she'd be too embarrassed to tell him.
Luckily for her, Chase knows exactly what she needs, and he's going to give her the ride of her life, over and over again.
Tuscan Heat by M.A. Gonzales

All her life, Marlina has done what is expected of her. Married the right man, went to the right schools, and even landed the proper jobs. She still felt dreadfully incomplete. Something was missing. She is blindsided when her husband files for divorce. Driving home the hurt by admitting he never loved her.
On impulse, she leaves everything behind and breaks free from the things that always held her back. Retreating to Tuscany, the only place she has ever been happy, she's ready to put the past behind her and embark on a new adventure. Who knew that new adventure would come in the form of her childhood friend's older brother, Gabriel De Luca ?
Time To Enter! Click Here For Your Shot At Winning!
Read Romance Books Online Free!
Want even more free romance books online? Discover More Romance Books Free Online Here.>>
Who will be your next binge-worthy favorite? Let us know below in the comments.