What's better than getting the hottest new book releases by your favorite bestselling authors? How about getting them for FREE? Now you can read romance books online free! See all the juicy details below!
Click here to to enter our "Everybody Wins" free romance books online giveaway! >>
Each month, Romance Devoured teams up with the hottest romance authors in town to bring you an amazing new reading experience in the genre you love + the opportunity to win some unbelievable prizes!
Make sure you bookmark & visit this page often!
We will be updating our content with each & every free romance book giveaway!
This month's giveaway is: INTERNATIONAL MEN'S DAY – ALL ROMANCE GENRES!
Click below to enter for a chance to win a $25 Amazon Gift Card + all of the books you see here!
HURRY! This Exclusive Giveaway Ends Nov 28th, 2022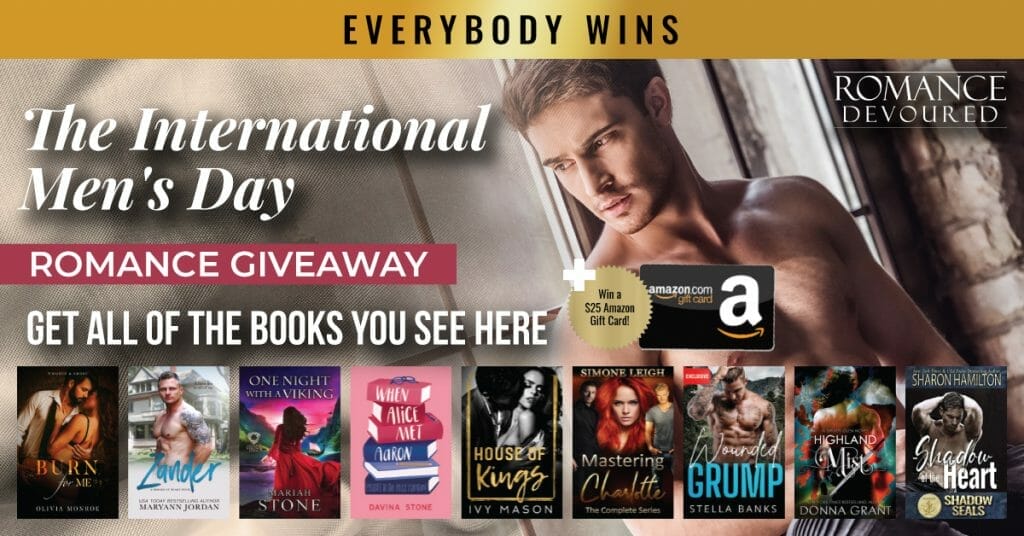 ONE (1) Grand Prize Winner Will Get A $25 Amazon Gift Card + All Of The Books Below!
***EVERYONE WHO ENTERS*** will also get a digital copy of all 9 books!
So Enter Now!
Here Are The Romance Books Online Free, Everyone Who Enters Gets To Win!
Enter the giveaway above to download them all!
Mastering Charlotte by Simone Leigh

The Boys Are Back in Town…
Two Friends…
One Week…
One Virgin…
It was all supposed to be about sex…
A bit of fun…
No-one mentioned love.
Shadow Of The Heart by USA Today & NYT Bestselling Author Sharon Hamilton

A man broken by service to his country…
Betrayed by the system that trained him…
A chance at a HEA gone forever, her life slipping through his fingers…
She was going to be Brady Rogers' forever woman, but she was lost to him thanks to sex traffickers who kidnapped her mission group in Mexico two years ago. After six months pouring over intel, he'd found her, but was prohibited from engaging with the enemy…
One Night With A Viking by Mariah Stone

Rebecca knows she's not in love. But after her abusive and chaotic upbringing, marrying for stability doesn't sound half bad. Unfortunately, she might not make it to the church on time after she tumbles hundreds of years into the past and into the arms of a beefy Viking.
Jarl Magnus swings his axe first and asks questions later. So when he sees a stunning woman in the middle of a battlefield, he follows his instincts to protect her. Even though saving the girl has surrounded them both with bloodthirsty enemies.
Highland Mist by NYT & USA Today Bestselling Author Donna Grant

One prophecy to save the world. Two realms fighting for control. Three Druid sisters who hold the key to salvation and the hearts of the men who would love them.
Join New York Times bestselling author Donna Grant as she transports you into the dark and dangerous world of the Druids.
Seen Enough? Click Here To Enter!
Read Romance Books Online Free!
Burn For Me by Olivia Monroe

Lillian Rouse is new in town and determined to rebuild her life after a divorce. With everything new: a place to live, and a job in a new city, she sees an exciting future within her grasp. What she doesn't take into account, is the handsome man who calls himself Smoke to overwhelm her senses.
Zack Smoker has worked hard to build his new company, and the last thing he was looking for was a woman to invade his mind. Especially one with little to no good experience in the bedroom. Only the first time he stares into her whiskey-colored eyes, he's caught in a wave of desire that he can't escape from.
Zander by USA Today Bestselling Author Maryann Jordan

Zander. Serious to a fault, he had no time for anything other than focusing on running his bar, Grimm's. Until he saw her… and pushed her away… right into danger.
Racked with guilt over what happened, he could not stay away from her hospital room. Hoping Sleeping Beauty could hear him and know that he was near.
What started as guilt, became so much more. But, when Rosalie awoke, would she remember the night he pushed her away? Or just remember the man who rescued her?
When Alice Met Aaron by Davina Stone

Painfully shy bookworm, Alice Montgomery has always dreamed of meeting her very own Mr Darcy.
Just not like this… in the middle of a panic attack before her final uni exam.
But love works in mysterious ways, and sometimes life's worst moments can have the best consequences.
House Of Kings by Ivy Mason

I'm brutal, heartless, and savage,
But I have one weakness…
Her.
Wounded Grump by Stella Banks

Wounded Grump is a steamy instalove novella featuring a handsome ex-Marine hero who falls in love with his gorgeous physical therapist. And with a one-hour read time it's the perfect read for a lunchbreak, or right before bed. Enjoy!
Seen Enough? Click Here To Enter!
Read Romance Books Online Free!
Time To Enter! Click Here For Your Shot At Winning!
Read Romance Books Online Free!
Want even more free romance books online? Discover More Romance Books Free Online Here.>>
Who will be your next binge-worthy favorite? Let us know below in the comments.