Get An Exclusive Look Inside ROGUE ENFORCER by Grace Goodwin
And Enter To Win An Amazon Gift Card & Signed Paperback Book!
USA Today Bestselling Author Grace Goodwin is celebrating her new book, ROGUE ENFORCER (Interstellar Brides Program Book 22), by giving away amazing prizes to 4 lucky winners! Click here to enter!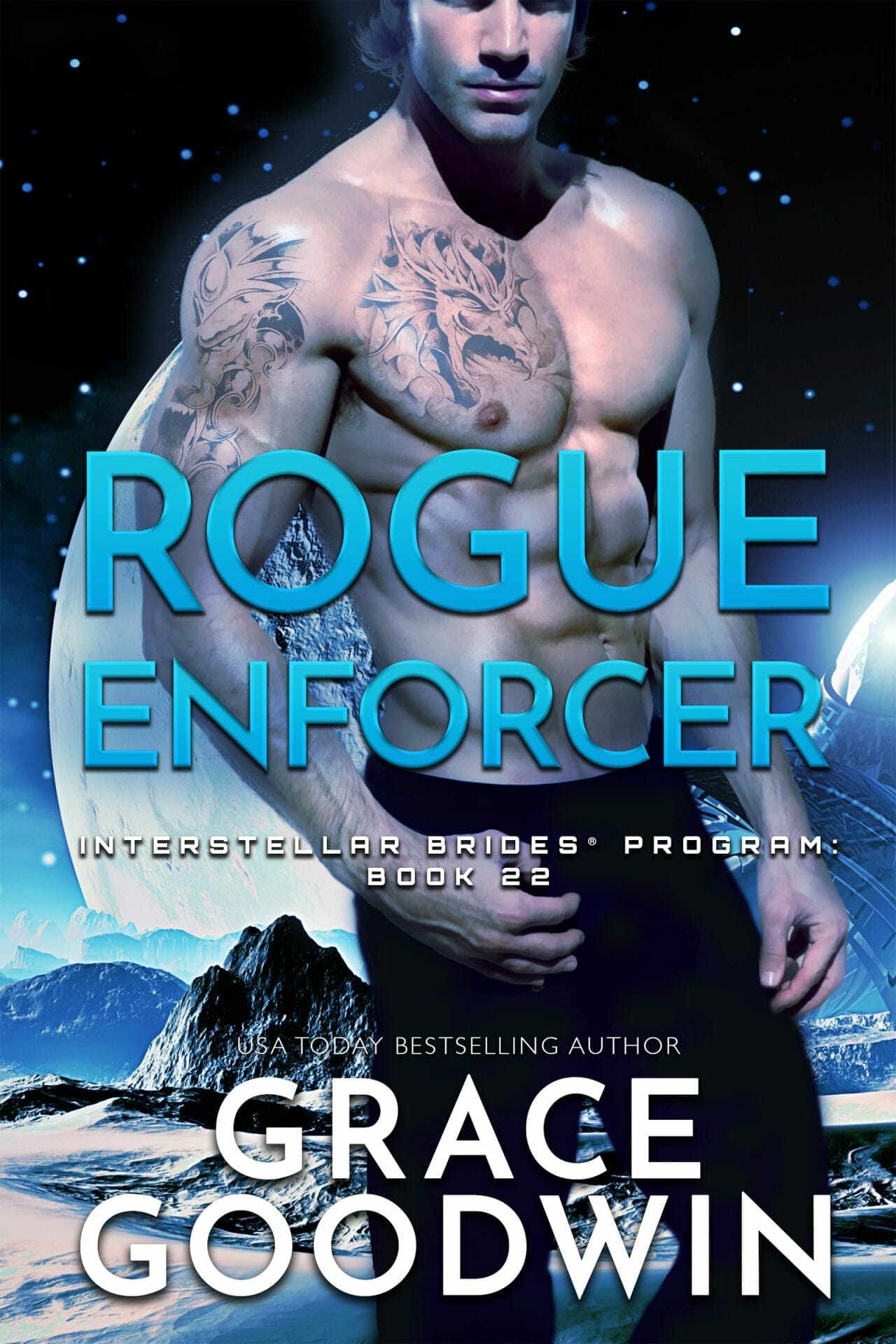 Cormac of Styx Legion knows his value to his people. He is an enforcer, a weapon to be wielded. Nothing more. He is accepted but not loved. Feared but not welcomed. He is brutal, efficient and utterly alone.
When he receives a coded message claiming he has been matched with an Interstellar Bride, he knows the match must be a terrible miscalculation. When his bride turns out to be a young, innocent human, there is nothing he can do but protect her until the error can be corrected. Rogue 5 is no place for a naïve female, especially one as beautiful, sensitive and completely WRONG for him as Abigail Gregg.
Cormac vows to protect her. Shelter her. Hide his darkness. Make sure she is mated to a worthy male, not a killer. But gods help him, she won't leave him the F#CK alone. She won't stop tempting him to touch her. To tame her. To give in and take what he wants.
When Cormac—her 'perfect' matched mate—claims she's a mistake, Abigail Gregg has had enough bullsh!t from men on every planet. If Cormac doesn't want her, she'll find someone she wants. A male with mountains of muscle, scars, tattoos, a rebel attitude and fangs. God, yes please. A male with fangs who's not afraid to bite.
Get Your Copy Here
---
Excerpt from Rogue Enforcer
The doctor remained kneeling, keeping himself low enough that I didn't have to crane my neck to speak to him. Trouble was, I didn't want to talk to him. I wanted my mate. I wanted clothes. I wanted to feel safe and protected and like I belonged somewhere.
"Where is Cormac? He's from Styx legion. Do you know where he is?"
The Prillon doctor's dark eyes narrowed. "How do you know him?"
Oh no. Warden Egara said I had to lie. Scratch that. She'd told me Cormac would be here waiting for me and we would pretend to know each other. No one was supposed to know I was an Interstellar Bride, or the whole spy thing Styx legion was doing for the Intelligence Core would be exposed, and I would put my new mate in danger. So where was he?
"I—"
Before I could finish making up a plausible story, a sliding door opened, and the biggest, scariest bastard I'd ever seen stomped into the room like he was going to kill everyone inside. He was huge, his shoulders at least twice as wide as mine. Legs like tree trunks. He was covered head to toe in some kind of armor in shades of gray and black, and a silver band wrapped around his upper arm on one side. Worse, he was covered in gadgets and weapons I had never seen before. I recognized a large, serrated blade as a dagger, and he had a shiny silver space pistol as well as a huge rifle strapped across his back.
"No weapons in transport. I don't care what legion you're from. You know the rules."
The golden Prillon stood between the giant and me, blocking my view. I leaned to the side, peeking around his legs to study the markings the intruder had painted onto his face and neck in a pattern that looked like something I'd once seen in a documentary about Navy SEALs who camouflaged their skin when they were on a mission. Was this terrifying alien on some kind of military operation? And why was my entire body suddenly on high alert, code red, heart pounding, mouth gone dry?
I licked my lips as I stared at the strongest, most frightening being I had ever seen—and that was saying something because I knew some Atlans back on Earth. The beasts didn't make my pulse race or my breasts grow heavy. I'd never once wanted to run to one of the warlords and rip his clothes off to discover if the muscles I could see under their armor were real.
The intruder's gaze locked on my lips, and I ran my tongue over them again, unable to stop myself from taunting the monster.
---
Meet USA Today Bestselling Author Grace Goodwin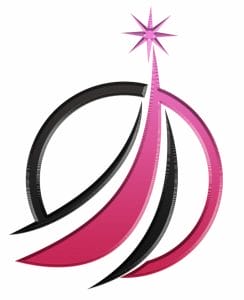 Grace Goodwin is a USA Today and international bestselling author of Sci-Fi and Paranormal romance with more than one million books sold. Grace's titles are available worldwide in multiple languages in ebook, print and audio formats. Grace is an avid reader, an escape room enthusiast, sci-fi nerd, coffee fanatic, and an eternal optimist forever believing that Earth will, some day, have a Star Trek style future. Grace loves to hear from readers.
Interview with Grace Goodwin
Q: Hi Grace. Tell us a little more about yourself.
GG: I have two rescue dogs that I absolutely adore. I've been married to my high school sweetheart a VERY long time. I have ADHD and didn't discover that fact until last year when my son was diagnosed in his twenties. My life makes SO much more sense now. LOL. And I started out writing historical romance but hated the research. Science is my gig. MUCH more fun.
Q: Favorite book when you were a kid?
GG: As a little girl I adored Cinderella. As I got a bit older I loved THE BLUE SWORD by Robin McKinley. It had everything. A romance. Magic. A really scary bad guy and a kick a** heroine. I really wanted to be Harry Crewe. (That's a girl's name, btw. LOL)
Q: How many bookshelves are in your house?
GG: LOL. I don't even know. Ummm…7 or 8? Most of them are 6ft or taller. I might have a book problem.
Q: What do you like to do when you're not writing?
GG: I love binging a series on Netflix. But lately I've rediscovered an old love for gaming. I'm working my way through a Star Trek game as well as Mass Effect. (Another sci-fi game, of course.) I have found that I REALLY love blowing up bad guys. Like, REALLY love it. Who knew?
Q: What was your dream job as a kid?
GG: When I was ten I told my dad I wanted to be president of the US (God forbid. I was crazy.) At eleven I started my first story in a wide-rule notebook on a Saturday. Since then, I've always wanted to be a writer.
Q: What is your favorite food?
GG: Coffee. Is coffee a food? If it must be something I can chew (kinda) then I'd go with chocolate cake.
Q: How do you handle writer's block?
GG: I pace. I pace and pace and pace, mumbling to myself. Then I sit down with a sharpened #2 pencil and a blank yellow legal pad and I write down the most ridiculous things I can think of until I have a list of twenty possibilities. Usually that is enough to get me going again. If not…rinse and repeat.
This Or That Questions:
Coffee or Tea? COFFEE
Coke or Pepsi? COKE
Book or Movie? Depends. I love sci-fi flicks with the aliens, ships and special effects!
Morning or Night? NIGHT. Although I've tried to force myself to be a morning person. Never works.
Shower or Bath? Shower
City or Country? City
Print or Ebook? Ebook so I can adjust the font
Spiders or Snakes? SNAKES, but this is not a fair question to ask a woman…
Summer or Winter? Winter. I hate being hot.
Early or Late? Late.
Haunted Mansion or Un-haunted Shack? Un-haunted shack!!!
Enter to win amazing prizes from Grace Goodwin
Click Here
Got your copy of ROGUE ENFORCER by Grace Goodwin? Let us know your thoughts in the comments below.
Like this post? Check out WRAPPED IN SILK by MJ Fields.