Get An Exclusive Look Inside MASKED DURID by T. Elizabeth Guthrie
And Enter To Win A $10 Gift Card, Paperback Book, & More!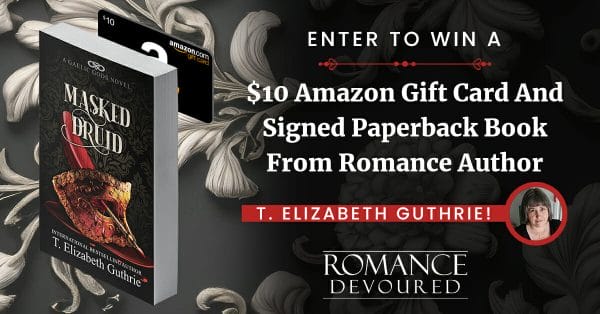 Romance Author T. Elizabeth Guthrie is celebrating the release of her new book, Masked Druid, by giving away amazing prizes to 2 lucky winners! Click here to enter.

Alexandra Martin, fresh from a bad breakup, heads to Scotland for two weeks to forget her woes and do some work. Using the time to gather her thoughts for her next book, she chooses Arisaig as her final destination. The town is a perfect setting. Especially when your favorite genres are horror and romance and she's just in time for the annual masked ball.
The locals tell her that Mac an tSaoir Castle is haunted and it's THE place to check out if she wants story ideas. Trying to figure out how to meet the recluse and ask him, she happens to run into him at the pub.
Dougal McIntyre owns the castle that sits on the shores of Loch Nan Ceall. He only comes into town once a week for a pint, to catch up on the news then goes home. This time, there is a beautiful American wanting his attention. After explaining who she is and what she wants, on the spur of the moment, he invites her to his home.
But there's one condition, she has to spend the night.
Will the ghosts of his ancestors scare her to death? Or will the adventure of a lifetime end in romance?
Get Your Copy Of Masked Druid by T. Elizabeth Guthrie
---
Excerpt from Masked Druid by T. Elizabeth Guthrie
Alex turned to look at him with disbelief on her face. "Not bad? Seriously, I've never
seen anything like that." Not being able to keep her mouth shut, she asked him if he was trying to
compensate for something?
"You cheeky wench." He smiled again and leaned down to whisper into her ear. "Any
time you want proof that I am NOT trying to compensate for anything, you let me know."
"I didn't mean to say that out loud." She was caught red-handed and now tried to
backpedal to get that foot out of her mouth.
"Any time. Any place."
---
Meet The Author

T. Elizabeth Guthrie is a wife, mom and BamMaw. She's been writing since she was a child, selling her first story while in high school where she'd write naughty romantic stories for her friends. These days she can be found at home in Florida with her two cats and a dog that snores like a freight train. She loves to write a bit of everything, and you'll see that reflected in the many anthologies she loves to participate in. However, her love for anything paranormal usually comes to the forefront in almost everything she does. Science Fiction is a close second but even then, she finds a way to make it as strange as possible. You can keep up with her and her works by visiting her website.
Interview with T. Elizabeth Guthrie
Q: If your book was made into a movie, who would star in it?
TEG: The hero is based off of Manu Bennett because I loved him in Spartacus.
Q: Why did you choose your setting?
TEG: I absolutely love Scotland and everything about it. I'm also part Scot on me mums side.
Q: What is a typical writing day like for you? What inspires you?
TEG: A typical writing day is when my family is in bed, the house is quiet, and I can immerse myself in the story. I always try to get one or two chapters done a night.
Q: Name a few of your favorite authors or books.
TEG: My favorite author is Sherrilyn Kenyon and I've been blessed to be a part of the anthology called Sanctuary, with her. I have all her Dark Hunter books. Another favorite is Carol Shaughnessy.
Q: What are you reading right now?
TEG: I'm reading a book by Carol Shaughnessy called Mitch (Drakken Brotherhood).
Q: How many bookshelves are in your home?
TEG: I currently have eight that run from floor to ceiling, and they are all full.
'THIS OR THAT' QUESTIONS:
Coke or Pepsi? …..Pepsi
Morning or Night? .….Morning
City or Country? …..Country
Summer or Winter? ……Winter
Early or Late? …..Early
Shower or Bath? ….Shower
Enter To Win Amazing Prized From T. Elizabeth Guthrie
Click Here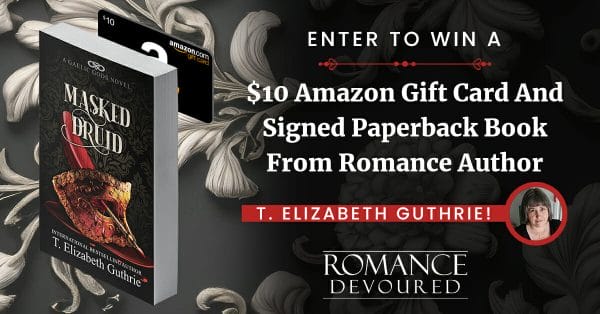 Got your copy of MASKED DRUID by T. Elizabeth Guthrie? Let us know your thoughts in the comments.
Liked this post? Check out CONTROL by Melissa Cassera>>