Get An Exclusive Look Inside CONTROL by Melissa Cassera
And Enter To Win A $25 Gift Card & Signed Paperback Book!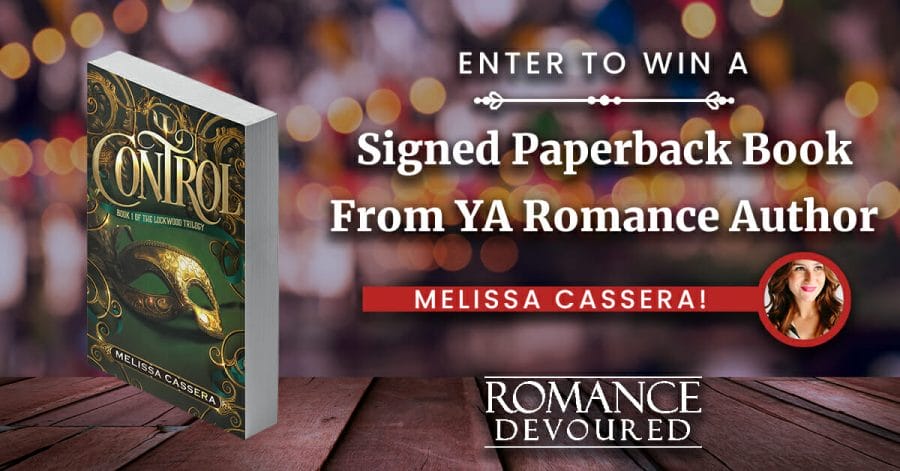 Award-Winning Author Melissa Cassera is celebrating the release of her new book, Control (The Lockwood Trilogy Book 1), by giving away amazing prizes to 5 lucky winners! Click here to enter.

Gossip Girl meets Wednesday in this YA paranormal thriller full of twists, turns & angsty romance.
For Natalie Covington and Henry Thorne, only one thing is certain: things are about to get out of control.
18-year-old Natalie has big ambitions but very little control over her situation. She's trapped at an elite boarding school on a private island, where cell phones are forbidden, militant guards line the iron gates, and her practically prearranged boyfriend has eyes for another girl.
Everything changes when a mysterious new student arrives named Henry Thorne. Henry is a "precog"—a hidden society of people who can see the future, and who are forbidden to reveal their powers. When Henry has a grisly vision of Natalie being murdered, he ultimately decides to save her and face the consequences. But the consequences of changing the future are more dangerous than Henry imagined, unlocking a wide conspiracy among his kind that's linked to Natalie's past, and a desire that threatens to consume them.
CONTROL is the first installment in The Lockwood Trilogy. This fast-paced Upper YA/New Adult Paranormal Romance is filled with thrilling turns, self-discovery, spicy language, light steam, and a cliffhanger ending that will leave you obsessing for more.
$0.99 For A Limited Time!
Get Your Copy Here
---

Excerpt from Control by Melissa Cassera
It's a student I don't recognize, standing and clutching his chest—it looks like he's having trouble breathing. He staggers backward, eyes popped wide, a look of sheer terror on his face. No one is helping him. Why is no one helping him?
I rush to the edge of the stage, heart thundering in my chest. I can hear Jack shouting after me. I turn back to him—his glare makes my skin crackle with anxiety, like I've been caught doing something illicit. My shoes smack to the ground below and I bolt ahead, shoving my way through Lockwood's elite, and get to the student just as he crashes to the floor.
I lean over him and grab onto his arms. His eyes are squeezed shut, like he never wants to open them again.
"Hey," I whisper.
He stirs. His eyes flutter open and clash with mine. They're deep green with flecks of gold. Intense. Like he's staring into my soul.
"Are you okay?" I say.
His breathing accelerates, then his fingers snap around my wrists, his nails digging into my flesh as his gaze darkens. His jaw clenches, nostrils flared—the savage pounding of his pulse strums against my skin.
Every alarm sounds in my body—get out of here!—but all reason has just left the building.
I can't move. I can't think. There's something about this stranger that I just have to know.
---
Meet The Author

Melissa Cassera is a Professional Screenwriter, Author, and award-winning Publicity Expert based in Washington State.
Melissa and her work have been featured in Variety, LA Times, Success Magazine, and Fast Company. She was named one of the nation's Top Personal Branding Experts by The Huffington Post.
On-screen, Melissa is the writer of THE OBSESSION THRILLOGY (Lifetime Network's first trilogy of movies.) She is also the writer of the films SECRET LIVES OF COLLEGE ESCORTS, NIGHTMARE NEIGHBORHOOD MOMS, MOMMY'S LITTLE STAR, DADDY'S PERFECT LITTLE GIRL, HER STOLEN PAST, and GIRL FOLLOWED. Melissa also sold an eight-episode dark comedy series, ADDICTED, to Fullscreen. She has two additional feature films, WHO KILLED OUR FATHER and NIGHTMARE PAGEANT MOMS, coming to Lifetime Network in 2023, and six additional film projects in active development.
When Melissa is not whipping together obsession-worthy words, she can be found drinking too much coffee, playing at the lake with her dogs, or getting lost in the romance section of a bookstore.
Interview with Melissa Cassera
Q: What started your interest in writing?
MC: I used to write soap operas about my classmates when I was a kid but they weren't quite "age appropriate" and when a teacher found one of the installments, they shut it down. I went to college for Public Relations but didn't write fiction again until my mid-thirties. It started as a fun way to write something other than media pitches or marketing copy and then it unfolded into a greater interest.
Q: Is it challenging being a working screenwriter and author?
MC: It can be challenging to juggle time and energy for a variety of projects. I write thriller movies and fantasy/paranormal books – different genres – but I do use quite a bit of thriller components in my novels. The nice part of being a working screenwriter is that I'm inherently good at structure, but the challenge is that you have so little real estate in a script to say what you need, meanwhile it feels like endless real estate in a novel. I have to shift my brain a bit between projects.
Q: Where did the inspiration for Control come from?
MC: Control started as a script about adults raveled in political intrigue, with the central issue of seeing someone's grim future, someone you don't know, and being forbidden to change that vision. I later reimagined and reworked the story in high school, dealing with the politics and angst of that era, keeping the central issue. I love TV shows from the 2010 period (Gossip Girl, Pretty Little Liars) and the stuff we had when I was a teen (Beverly Hills 90210, Fear, Clueless, Cruel Intentions). So I wanted to create something nostalgic for those times!
Q: Are any parts of the book based on real life?
MC: Henry's coffee obsession is all me. Natalie ignoring trauma and letting herself get distracted by other things is certainly something I used to do as a teen. I live in Washington State and the setting is fictional but loosely based on the San Juan Islands.
Q: What are your favorite scenes to write?
MC: I love push/pull romantic angst and tension, where characters want to say something but can't bring themselves to for a variety of reasons. Taking flaws in communication and blowing that up, then building tension through other ways of communication, is really exciting for me. I'm also really passionate about letting my characters be flawed and messy, not always having the perfect response or making the right decision.
Q: How do you pick your characters' names?
MC: One of my favorite shows of all time is The Tudors, starring Natalie Dormer and Jonathan Rhys Myers, who play Anne and Henry. I cobbled together their names – Natalie is my FMC and Henry is my MMC (though he's nothing like Henry VIII)
Q: When is the sequel to Control coming out? Any teasers?
MC: The sequel UNRAVEL is set for November but I'm hoping to release it a month or two earlier. There are a lot of unsolved mysteries in Book 1 and it ends on a big cliffhanger. Book 2 follows the POV of Natalie and Wes, and we learn a lot through his perspective. It's not a "love triangle" story, it's 3 people raveled up in a larger conspiracy and trying to unravel from the circumstances. For fans of Henry and Natalie, there are a lot of swoon-worthy moments. Readers will get answers to their burning questions, and then there's a giant twist in the end.
Enter To Win Amazing Prizes From Melissa Cassera
Click Here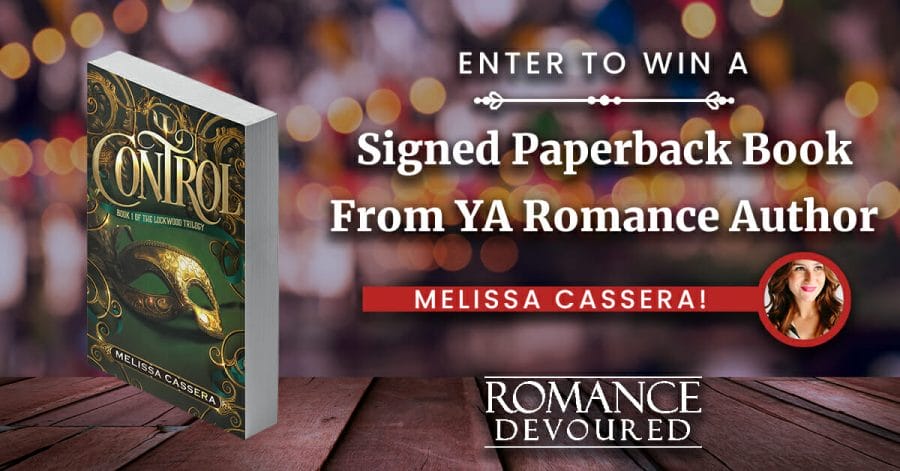 Got your copy of CONTROL by Melissa Cassera? Let us know your thoughts in the comments.
Like this post? Check out Claiming Callie by Lacy Jane >>