Happy Place By Emily Henry has already been named one of the most anticipated books of 2023! The latest offering from the bestselling author of Beach Read and Book Lovers, is a heartwarming and delightful novel featuring an abundance of romance, clever banter, and lovable characters. With its focus on fake relationships and an awkward vacation, readers are sure to be enchanted from start to finish.
Luckily, the wait is over! Follow along as we explore the wonderful new world crafted by bestselling author Emily Henry!
Table of Contents [CLICK HERE TO OPEN]
Happy Place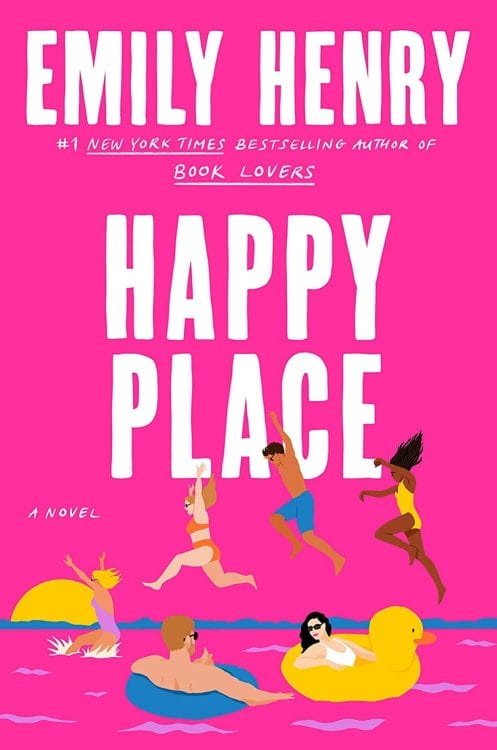 Named a Most Anticipated Book of 2023 by BuzzFeed ∙ Paste Magazine ∙ Southern Living ∙ and more!

A couple who broke up months ago pretend to still be together for their annual weeklong vacation with their best friends in this glittering and wise new novel from #1 New York Times bestselling author Emily Henry.

Harriet and Wyn have been the perfect couple since they met in college—they go together like salt and pepper, honey and tea, lobster and rolls. Except, now—for reasons they're still not discussing—they don't.

They broke up five months ago. And still haven't told their best friends.

Which is how they find themselves sharing a bedroom at the Maine cottage that has been their friend group's yearly getaway for the last decade. Their annual respite from the world, where for one vibrant, blissful week they leave behind their daily lives; have copious amounts of cheese, wine, and seafood; and soak up the salty coastal air with the people who understand them most.

Only this year, Harriet and Wyn are lying through their teeth while trying not to notice how desperately they still want each other. Because the cottage is for sale and this is the last week they'll all have together in this place. They can't stand to break their friends' hearts, and so they'll play their parts. Harriet will be the driven surgical resident who never starts a fight, and Wyn will be the laid-back charmer who never lets the cracks show. It's a flawless plan (if you look at it from a great distance and through a pair of sunscreen-smeared sunglasses). After years of being in love, how hard can it be to fake it for one week…in front of those who know you best?
About The Author
Living and writing in the Northern Ohio River region that spans both Cincinnati and Kentucky. Henry is a full-time writer and proofreader. She earned a degree in creative writing from Hope College and the now-defunct New York Center for Art & Media Studies. Henry's authorial career began with the release of her first young adult novel, The Love That Split the World, in January 2016. This was followed by multiple successful young adult novels. In 2020, Henry's first adult fiction romance, Beach Read, gained widespread acclaim. Her works have been showcased in several renowned publications, including BuzzFeed, O, The Oprah Magazine, Entertainment Weekly, The New York Times, The Skimm, and Shondaland. In 2021 and 2022, she continued her writing by publishing People We Meet on Vacation and Book Lovers, respectively.
Our Review
Emily Henry is known for her continuity in the quality of her signature contemporary romance novels. Thankfully, Happy Place is no exception!
Fans of People We Meet on Vacation will appreciate the narrative structure of this novel. The book is written in an engaging non-chronological structure that alternates between the 'present day' and flashbacks through Harriet's past. Such narratives are difficult to do well, and Henry seems to be carving her way into proving her abilities! We are thrown into the couple's history all while fleshing out the ensemble cast alongside Harriet's dark history.
Speaking of an ensemble cast; that's right! This is Henry's first swing at a sprawling cast. It shouldn't come as a surprise that, despite having many new complex characters to curate relationships between, Emily Henry manages to do it amazingly. She is a master at teasing tensions and rising emotions between even the most 'minor' of characters. Through this cast, she is able to better portray how messy and difficult growing up can be.
"Things change, but we stretch and grow and make room for one another. Our love is a place we can always come back to, and it will be waiting, the same as it ever was. You belong here.

Emily Henry
The flashbacks to the Happy Place leave a bittersweet sensation. We can all relate to wanting to go back in time and relive memories with people that we just don't seem to fit with any more. This yearning for the impossible was truly tragic, and my heart truly aches for Harriet. The difficulties between the trio did not seem trivial or silly, but rather genuine difficulties that three friends are desperately trying to overcome to find their way back to each other.
Harriet is a wonderfully imperfect and well-rounded character. Despite her flaws, her weak backbone, and her yearning for the past; you will love her. We were rooting for Harriet the entire way through the novel – and we know you will too!
---
Frequently Asked Questions
What is Happy Place by Emily Henry about?
Happy Place is about Harriet and Wyn, who were a couple since college. Except they have since split up but they haven't told their close friends. When it's time for all the friends to get together for their annual vacation they decide to pretend to still be together. Will the vacation rekindle the romance or will their friends find out their ruse?
What order should I read Emily Henry books?
Emily Henry books are mostly standalone titles so they can be read in any order but here it is the full list of Emily Henry books in publication order:
People We Meet On Vacation (2021)
You & Me on Vacation (2021)
Book Lovers (2022)
Happy Place (2023)
Be sure to click and check out our reviews to find your next Emily Henry book!
Is Emily Henry writing a new book?
Happy Place only just released! If you want to keep updated on Henry's newest projects, subscribe to her Grocery List!
We hope that just like us you can't wait to get your hands on Happy Place by Emily Henry!
And remember to check back for our review!