Get An Exclusive Look Inside FIRST COMES LOVE by Nicole French
And Enter To Win A Signed Paperback Book!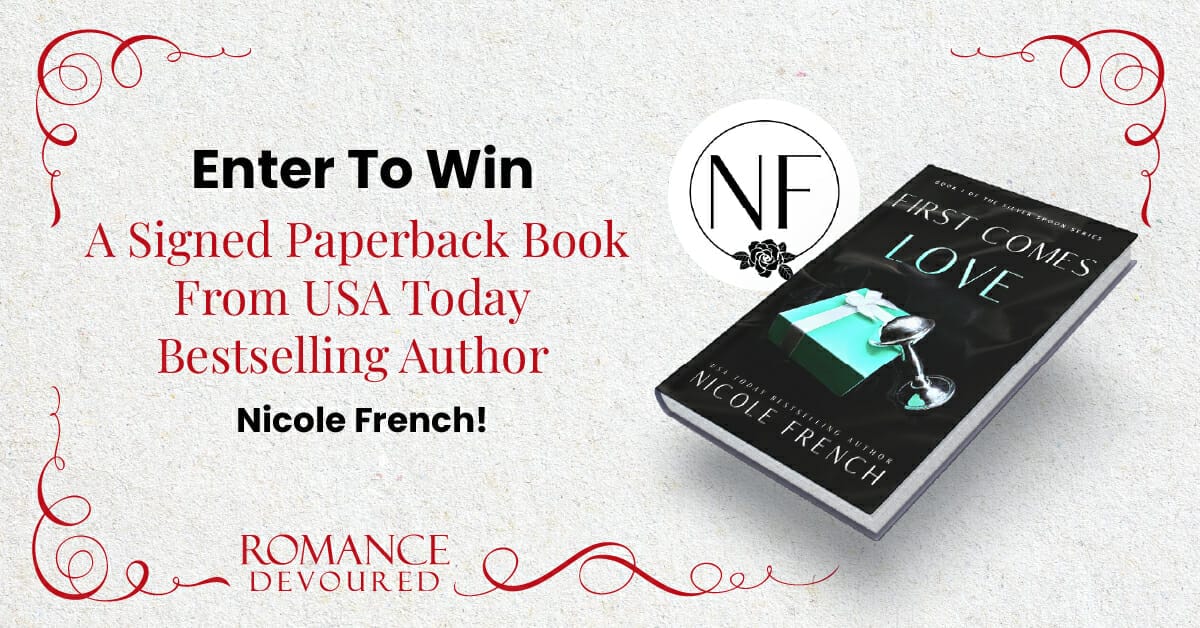 USA Today Bestselling Author Nicole French is celebrating her book, FIRST COMES LOVE (A Secret Baby, Second Chance Romance), by giving away an amazing prize to 1 lucky winner! Click here to enter!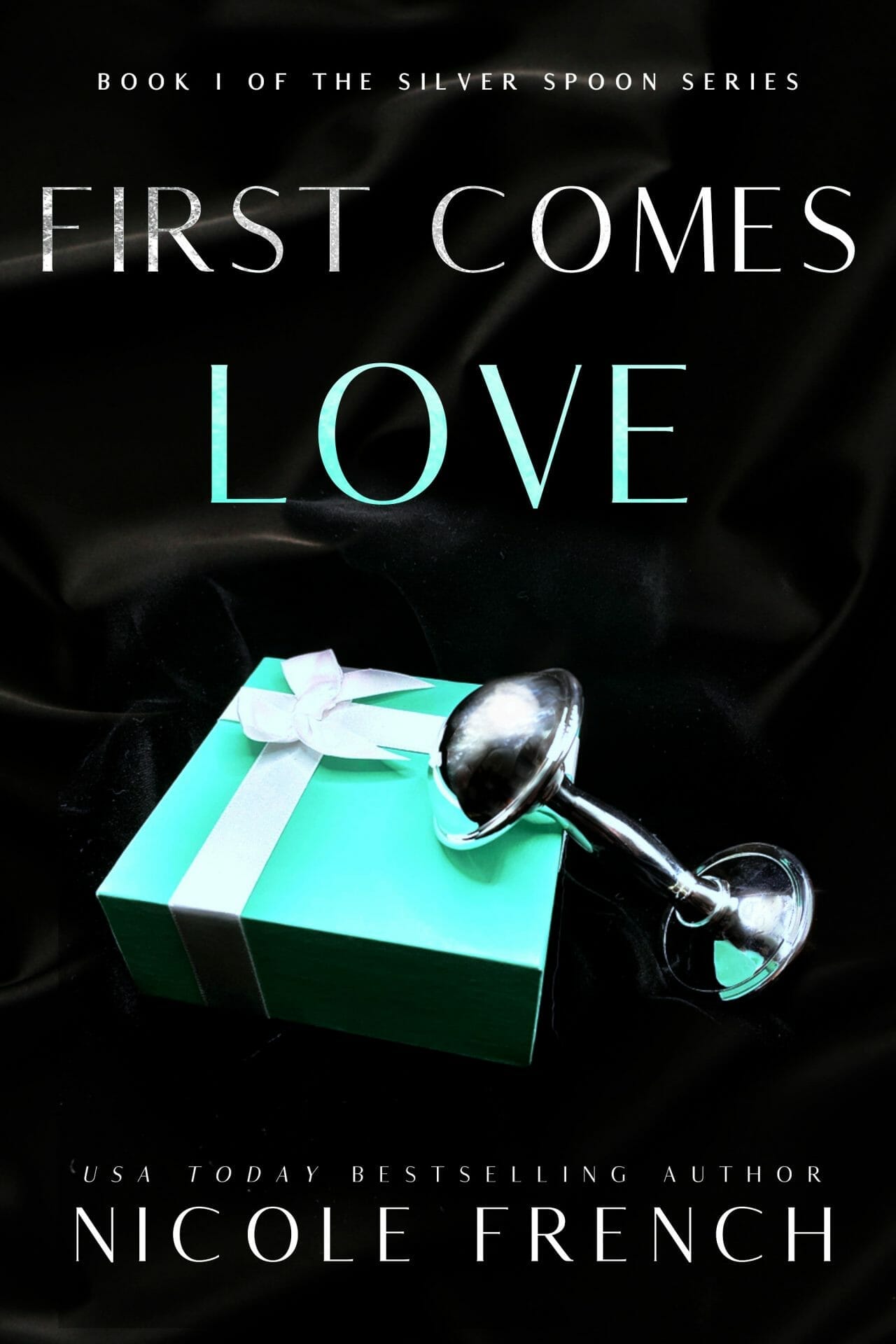 Xavier Parker gets what he wants.
Richer than God. Hotter than fire. Colder than ice.
Father of my child.
And he has no idea.
As London's top restauranteur, he has the golden touch, but he rules his world with an iron fist.
Now he's back in New York with two objectives:
Open the newest hotspot in the city.
And win back my heart, five years after he broke it.
I'd run in the opposite direction, but it's been so long…
And Xavier knows my recipe.
Passion. Pleasure. Just the right kind of pain.
Imagine his surprise when a little girl opens my door instead of me.
A stubborn, button-nosed four-year-old whose shiny black hair and bright blue eyes look just like his.
There's a secret in this house, and he won't stop until he figures it out.
Because Xavier Parker gets what he wants.
And now that includes his daughter.
Get Your Copy Here
---
Excerpt from First Comes Love
"You haven't changed either, have you?" I asked. "Just as arrogant as ever."
He was too. And I hated that it turned me on so much.
His sapphire eyes glinted, though suddenly, he turned away. "Well. I've earned it."
His blue eyes dilated with clear, hypnotic desire as he waited out my response. And I knew the same expression was echoed in mine but couldn't quite hate myself for it. Whatever pull he once had on me, it was still here. I was once again a moth drawn to a bright blue flame.
Slowly, as if to touch a wild animal, Xavier reached out a finger and hovered it over my jaw, above my chin, down my neck. I could feel goose bumps rising, despite the fact that he didn't touch me. Not yet. It was a tease, a preview of what he might do. A reminder of what he had once done.
But as soon as his finger made soft contact, just in the hollow above my clavicle, I remembered.
This wasn't a dream.
This was real.
Xavier was here and clearly as icy and dangerous as ever.
Touching me.
Wanting me.
And through this growing haze of champagne, there was absolutely no way I would be able to keep the secret I'd been holding for years if he did more than that.
I couldn't just think of myself here, I had someone else far more important to protect. I had to think of Sofia.
My daughter.
His daughter.
And he had no idea. Nor would he ever.
"No," I said clearly, jerking out of reach. "Oh, no. I—"
I cut myself off, looking around. Lord, where was my overprotective brother when I needed him? But all I saw were nameless faces, people awash in alcohol and laughter, riches and wealth and confidence that had absolutely nothing to do with me.
I turned back to find Xavier still watching me with a different kind of expression. Not one of patient waiting. But instead, like a victor. Like he had walked out of one of my beloved Austen novels. But he wasn't the hero. He was the villain who had just captured his prize.
"Shall we?" he asked as the waitress returned, giggling with the requested bottle.
I blinked between him and the girl, who looked like she would be more than happy to share the drink with him in my place. And he wasn't exactly correcting her either.
"No, I don't think so," I said. And then I turned on my heel and left.
---
Meet USA Today Bestselling Author Nicole French
Nicole French is a USA Today bestselling author of contemporary romance. She's also a hopeless romantic, low-key fashion addict, and total bookworm. When not writing, she is hanging out with her family, chasing her cats, or going on dates with her husband. In her spare time, she likes to go running or practice the piano, but never seems to do either one of these things as often as she should.
Interview with Nicole French
Q: Hi Nicole. Can you tell us something about yourself that isn't in your bio?
NF: I had a lead role in one of my high school musicals. I played a disgruntled mother and had a soprano solo. It was terrifying and a lot of fun.
Q: Tell us about your hero. What motivates him?
NF: Xavier is a clash, a marriage of opposites. He is confrontational, stubborn, scarred, and at six-foot-five, almost literally larger than life. He also has an artist's touch, particularly with food (considering he is a chef), is incredibly perceptive, and is sensitive to sudden shifts in mood.
The clash of his personality reflects the clashing worlds he grew up in and the way he consistently feels torn between them. On the one hand, he was mostly raised by his mother, a Japanese cook in a humble south London neighborhood. On the other, he was pulled by the specter of his father, a duke who took him in after his mother's birth. His sensitivity, attention to nuance, and ability to love come from his mother while his all-consuming desire for success, sharp tongue, and short fuse come from—well, if not directly learned from, certainly in reaction to his relationship with his dad.
Q: Is any part of your story or the characters based on personal experience?
NF: Francesca has a lot of the same struggles I did when I was a new parent. I had a lot of the same anxieties about transitioning from what I thought my life was supposed to be (cute twenty-something, intellectual, future professor) into what it became (stay-at-home mom/stepmom, not as cute thirty-something, full-time writer). Just like Frankie, I've spent plenty of time wondering what might have been and questioning my value. I think most of us go through that transition at some point (maybe several) in our lives, regardless of whether or not it relates to parenthood.
Q: What was the highlight of writing this book?
NF: Finishing! It's my first release in about eighteen months, which is a long time for a romance writer. I was overwhelmed by relief. Like, yes, that's right. I do know how to do this.
Q: What is a typical writing day like for you? What inspires you?
NF: I'm not actually a creature of habit, so any day that is typical actually cramps my style. The pandemic was horrible for my writing in part because of the requirement of staying at home so much. Most of my day is already pretty routine with family (meals, school drop-off, pickups, etc.), so my writing thrives when I can take advantage of the few hours I'm afforded legitimate spontaneity. When the world started to reopen and I could write in coffee shops, etc. again, that's when the book finally got done. It gave me the freedom to move back and forth from my office to other places, choose new neighborhoods, take walks, and so forth.
Q: Any advice for new writers?
NF: Learn about structure. Grab your favorite book in the genre you want to write and sit down and map out how the story is told. Outline it chapter by chapter. Note the climaxes, the separate story arcs, the expositions, the resolutions, and so forth. Draw it on a piece of paper and think about how the writer connected the different parts together by the end. Then throw it away and do it again for another book and another. There are a lot of things that go into good storytelling, but a book's rhythm is a big one that is often missing, in my opinion.
This Or That Questions:
Coffee or Tea? Coffee
Coke or Pepsi? Neither. I'm not a soda drinker.
Book or Movie? Book
Morning or Night? Night, please.
Shower or Bath? Bath.
City or Country? City.
Print or Ebook? Ebook, shockingly.
Spiders or Snakes? Snakes.
Summer or Winter? Winter. I puddle.
Early or Late? Late.
Haunted Mansion or Un-haunted Shack? The shack for sure.
Enter To Win An Amazing Prize From Nicole French
Click Here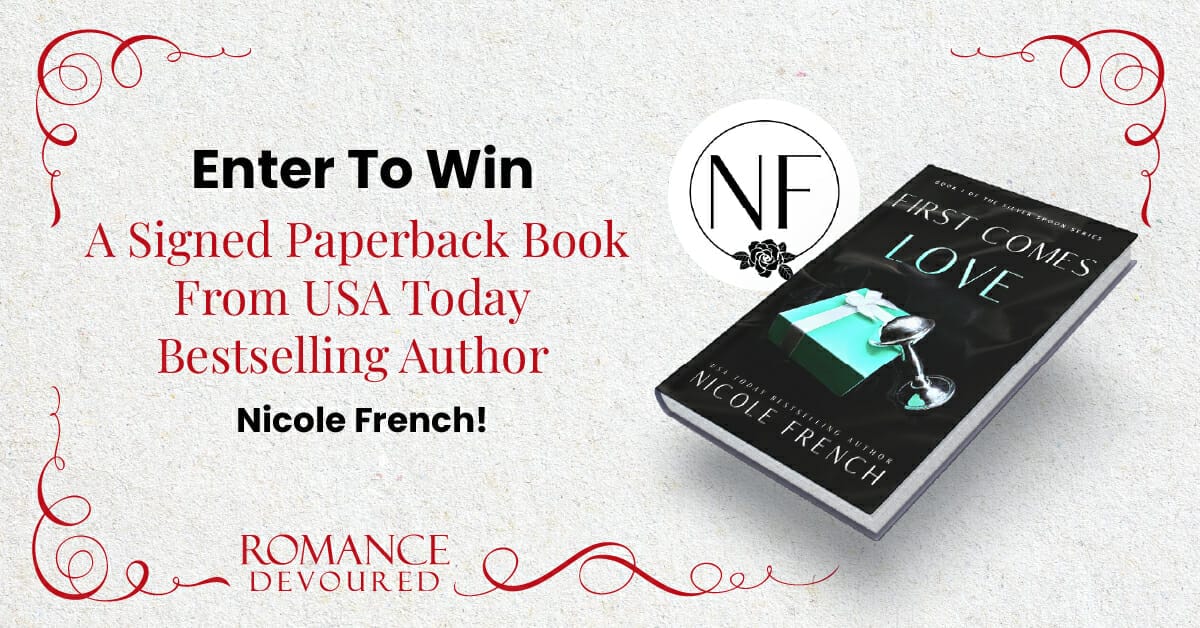 Got your copy of FIRST COMES LOVE by Nicole French? Tell us your thoughts in the comments below.
Like this post? Check out WRAPPED IN SILK by MJ Fields next!