Get An Exclusive Look Inside LOVE AND TEQUILA MAKE HER CRAZY by Brittanee Nicole
And Enter To Win A Gift Card And Autographed Book!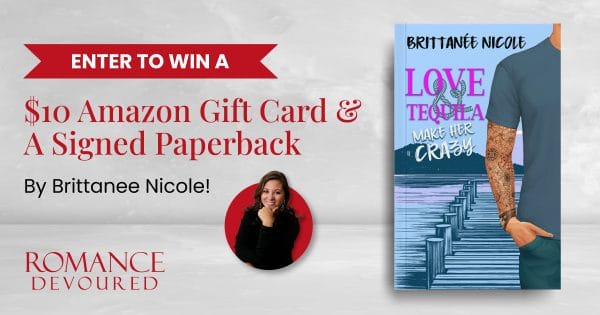 Romance author Brittanee Nicole is celebrating the release of her new book, LOVE AND TEQUILA MAKE HER CRAZY (Bristol Bay Book 3), by giving away an amazing prize to four lucky winners! Click here to enter!
Nate Pearson was my first everything.
My first friend, first love, and first heartbreak. Now he's just my ex-husband.
It's been three years. It's time to let go of the past. When a man covered in tattoos walks into the bar where I work, with a guitar case slung over his back and a determined swagger, I think I'm finally ready to move on…until I see his guitar. I'd recognize it anywhere. It was the last gift Nate ever received from his father.
The man holding the guitar is different than the one I left behind in Nashville, but one thing remains the same, Nate Pearson will always be the love of my life.
The reasons why I asked for a divorce haven't changed. Only problem is, Nate Pearson says he still loves me, and this time he's playing for keeps.
Authors Note: Love & Tequila Make Her Crazy is a brother's best friend, steamy, full-length, stand-alone, contemporary second-chance romance filled with emotion, that features both Nate and Amelia's past and present.
Trigger warning: Death of a parent, 9/11, and sexual assault.
Get Your Copy Here
---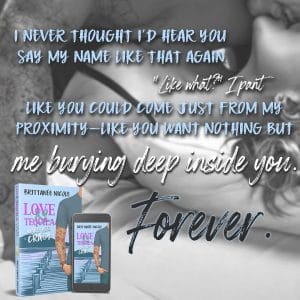 Excerpt from Love And Tequila Make Her Crazy
Shaking the memories from my mind, I pull three shot glasses onto the bar. I need a reset after that little moment. I mix three of my favorite shot—chocolate cake—and place three lemons on the edges. "Bottoms up," I say to my two friends and go to hand them each one.
Before I can grab them, fingers circle the tiny glass, and my eyes remain on the ink on the forearm which belongs to the hand. "Don't mind if I do," the voice I know better than my own says.
Squeezing my eyes shut, I whisper to Shawn, "Please tell me there isn't really a man with blue eyes standing in front of us."
The voice interrupts my conversation with Shawn. "Oh, chocolate cake. Shoulda known, Cookie. You always needed your chocolate."
I open my eyes and glare at him.
Nate Fucking Pearson.
God, why does he have to be so damn good-looking? If I were the type of girl to go weak in the knees, now would be the moment for that. But I don't have the capacity to indulge in moments like this. He'd stolen that ability from me.
Behind me, Hailey laughs. "Did he just call you Cookie? Oh dude, that's not going to end well for you."
I feel Shawn inching away from me, and I grab his hand, pulling him close. There is no way I can make it through this conversation without other people around. I can't be trusted alone with this man. Even after all these years.
He's a man. When did that happen? Last time I saw him he was still a boy. I mean, I'd been twenty-seven and thought we were grown-ups, but the man before me is different. He's hardened. The scruff on his face is light but it makes him seem older. Sexier.
Fuck.
And the lines around his eyes. They're new. There was a time when he couldn't get a pimple without me knowing. I knew every inch of that face. But not anymore. The years we've been away from each other are written all over his face. I wonder what he thinks of how I look.
Dammit, Amelia, no you don't. You don't wonder anything about him because he's nothing to you.
Nate chuckles as he puts the shot glass back down and looks up at Hailey. "I'd call her my wife, but she'd probably throw something at me. So, Cookie sounds safer, right, wifey?"
My chin stiffens, and my knees begin to betray me. Not now, I tell my inferior body parts. Keep it together.
The hardest words to mutter burn my tongue on the way out. "That's ex-wifey to you."
---
Meet Author Brittanee Nicole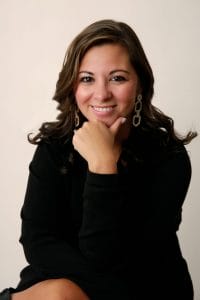 Brittanee is an author and practicing lawyer who lives in Rhode Island with her husband and two children. Her town is a character in itself in all of her books. When she is not writing she enjoys spending time outdoors by the water with her children, reading at the beach or by the pool (or really anywhere), dancing with her friends, singing Karaoke, spinning, bike riding and boating.
Interview with Brittanee Nicole
Q: Hi, Brittanee! Can you tell us a little more about your book?
BN: Love & Tequila Make Her Crazy is a book about growing up, about the love next door, and about how hard it can be to turn that into the forever kind of love even if you both want it to work. The book explores how much work goes into marriage, how communication is imperative and difficult when you're young, and how obstacles and tragedy can derail even the most perfect love story. But it is the love that rises from the ashes that can be the strongest and most beautiful because both characters really have to work for it.
Q: Tell us about your hero. What motivates him?
BN: Nate Pearson lost his father at a young age on September 11th and this loss shapes his entire life. He has a tremendous amount of guilt and a need to make his father proud.
Q: Why did you choose your setting?
BN: All of my books take place in Bristol, Rhode Island which is actually really the town where I live. The town would be the perfect setting for a Hallmark movie, with its idyllic harbor and the red, white, and blue that lines the main road known as Hope Street. Many of the restaurants and local businesses appear in my books, as do some of my favorite landmarks.
Q: Do you listen to music while writing? Share your Spotify list with us!
BN: Nate is actually a musician and many of the songs that went through my head while writing are listed on the book's play list and the Spotify is linked to the Kindle Copy.
Q: How many books have you published, and which is your favorite?
BN: Love & Tequila Make Her Crazy is the third book in the Bristol Bay Series and fourth I've published. It is also my favorite. I think there is something so special about Amelia and Nate's love story.
Q: Where can our readers find you on social media?
Tiktok
Instagram
Facebook Readers Group
Steamy Romance Reads Facebook Group
This Or That Questions:
Coffee or Tea– Coffee
Book or Movie– Book
Morning or Night– Morning
Shower or Bath– Shower
Print or e-book– E-book
Summer or Winter– Summer
Enter To Win Amazing Prizes From Author Brittanee Nicole
Click Here To Enter Now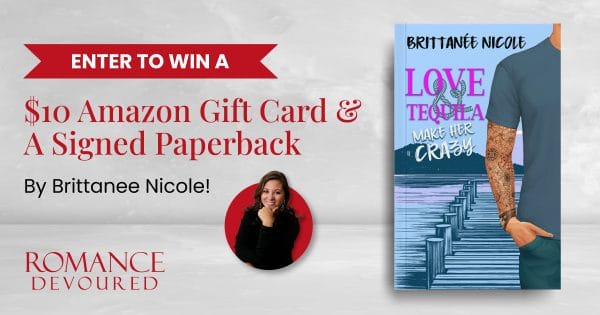 Did you get your copy of LOVE AND TEQUILA MAKE HERE CRAZY by Brittanee Nicole? Let us know your thoughts in the comments below.
Like this post? You might also enjoy ONLY A FLING by Delancey Stewart.