Get An Exclusive Look Inside BARGAIN WITH A BEAST by Grace Goodwin
And Enter To Win An Amazon Gift Card & Signed Paperback Book!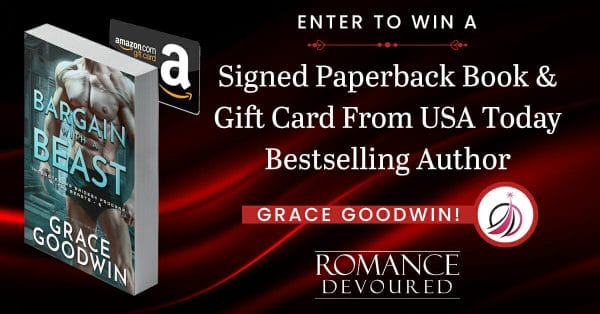 USA Today Bestselling Author Grace Goodwin is celebrating her new book, BARGAIN WITH A BEAST (Interstellar Brides Program: The Beasts Book 6), by giving away amazing prizes to 4 lucky winners! Click here to enter!

Adrian Davis thought getting on a real-life, 'beam me up, Scotty', transport pad was adventure enough. Visiting her mother—and the Atlan beast her mom had chosen as a mate—on another planet? Setting foot in an Atlan prison? Completely crazy.
Like totally, bat-shit, what-the-hell-was-she-doing-with-her-life crazy.
She was supposed to spend a few days wandering around with her twin sister, seeing the sights, expanding her horizons. The trip was supposed to be a much needed break from the hectic schedule she was keeping in school. She was only nineteen. She had plans. Finish college. Medical school. Husband. House. Two-point-five perfect kids and a golden retriever named Buddy.
All that changed with one roar of pain. She heard him. A beast. He was out of control, locked behind an impenetrable wall, alone. Suffering the agony of mating fever.
Ready to die. Forsaken.
Adrian can't let him go. She will have to fight a centuries old system, warlords on another world, and the beast himself to get what she wants.
To save him.
To keep him for herself.
Get Your Copy Here
---

Excerpt from Bargain With A Beast
I was going to kiss him. He was trying to be honorable, hadn't touched me yet.
Was I going to allow him to get away with that?
No freaking way.
I moved slowly, afraid I would startle him. He was holding on by a thread and I intended to break it.
I claimed his mouth, hands resting on his shoulders once more. I touched nothing else. His hands remained at his sides. Knuckles white. His neck muscles snapped into thick strands as if he were being attacked.
With a sound of pain, he tore his mouth away and turned his head to the side, to escape me.
I tried not to let it bother me, but I'd never exactly taken off all my clothes and literally begged a man to have sex with me before. Being rejected like this hurt. Made me feel stupid. I had been so sure if I could get close, tempt him, he would be unable to resist.
Guess the joke was on me. He'd fought mating fever for 'years'. I was not sexy enough to—
"Mine!" The word was bellowed by a deep, deep voice I'd never heard before.
One large hand wrapped around my waist, the other circled one thigh as Kovo lifted me off my feet and moved until my back was against the wall. He held me there and transformed. Jaw grew wider. Shoulders broader. Muscles seemed to swell up and make more muscles. He got taller. Every single part of him grew. But it was the eyes that made my heart skip a beat, resume, then pound so hard I thought my ribs might bust open.
Facing me was not a calm and collected man. This was a raging beast and I had thrown him the proverbial bone.
Me.
Meet USA Today Bestselling Author Grace Goodwin

Grace Goodwin is a USA Today and international bestselling author of Sci-Fi and Paranormal romance with more than one million books sold. Grace's titles are available worldwide in multiple languages in ebook, print and audio formats. Grace is an avid reader, an escape room enthusiast, sci-fi nerd, coffee fanatic, and an eternal optimist forever believing that Earth will, some day, have a Star Trek style future. Grace loves to hear from readers.
Interview with Grace Goodwin
Q: Hi, Grace! Tell us a little something about yourself that isn't in your bio.
GG: I've always been near-sighted. Blind as a bat. My mom said is was because I read too many books. lol.
Q: What is your favorite trope to write and why?
GG: I love to write forsaken heroes. The guys who sacrificed everything to fight for what they believe in but have nothing but honor left to fight for. I love to write heroes who have no hope because redeeming them, giving them a happily-ever-after and going on the journey of teaching them about unconditional love and acceptance heals something inside me every time I finish a book. I love my guys. What can I say?
Q: What is Bargain with a Beast about?
GG: This hero has so many secrets I'm not sure I discovered all of them while writing the book.
Q: Tell us about your hero. What motivates him?
Warlord Kovo is an Atlan beast who served many years fighting in the Coalition Fleet. He worked directly with the Intelligence Core and took dangerous missions no one else could handle. Mating fever was the one enemy he could not vanquish. Knowing he was not going to survive much longer without a mate, his last mission required he be executed to save someone he cares deeply about. He agreed to use his impending death to help another complete their assignment.
Q: Describe your main character in three words.
GG: Honorable. Loyal. Freaking-tough. (the hyphen makes that one word, right?)
Q: If your book was made into a movie, who would star in it?
GG: Juicy! Hmmm. Jensen Ackles (Dean from Supernatural – except supersized because my aliens are almost eight feet tall) and…was there another question? Dean. We were talking about a super-sized Dean…
This Or That Questions:
Coffee or Tea? Coffee, if there's cream. No cream = tea
Coke or Pepsi? Coke
Book or Movie? Book
Morning or Night? Night and it's not even close.
Spiders or Snakes? Snakes, I have to save the little bull snake babies in our backyard from my dogs fairly often. See spider = Dead spider.
Haunted Mansion or Un-haunted Shack? Shack, 110%
Enter to win amazing prizes from Grace Goodwin
Click Here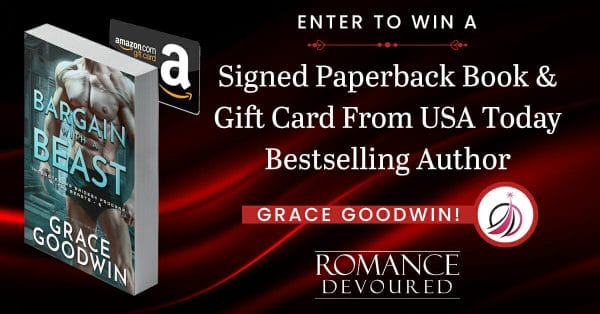 Got your copy of BARGAIN WITH A BEAST by Grace Goodwin? Let us know your thoughts in the comments below.
Like this post? Check out ROGUE ENFORCER by Grace Goodwin.