Get An Exclusive Look Inside A CHRISTMAS LOVE SONG by Alandra Knight
And Enter To Win A Signed Book + An Amazon Gift Card!
Romance author Alandra Knight is celebrating the release of her new book, A CHRISTMAS LOVE SONG, by giving away some amazing prizes to 3 lucky winners! Click here to enter!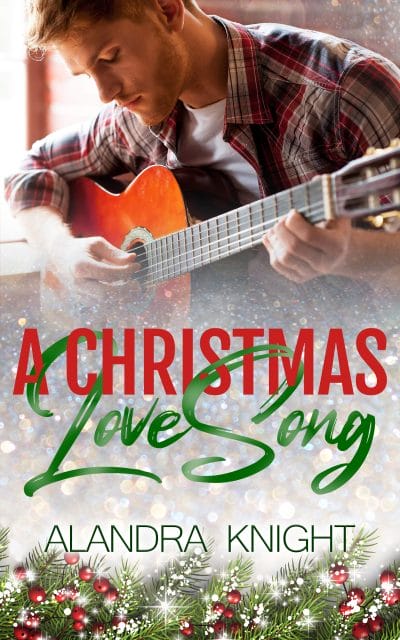 Tis the season for Christmas music
We need a new high school music teacher…just not HER
Serenity-flighty as hell-Rivers
The only girl I was in love with enough to make beautiful soul felt music with,
I really thought we'd grow old together.
Until she did a number one hit on my heart and hightailed it out of town
without so much as a goodbye,
taking the song in my heart with her.
Now she's back and it's going to take a Christmas miracle to avoid her
considering we've been chosen as Co directors for this year's school Christmas program.
I can do this as long as I get lost in the music and lyrics and ignore
the heart playing that familiar Christmas Love song
Will the song help us remember our love
or are we way off key this time?
Get Your Copy Here:
---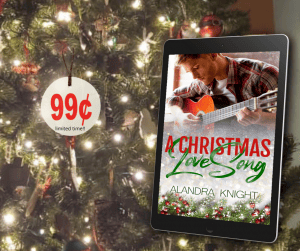 Excerpt from A Christmas Love Song
The bright stage lights are blinding as I hold the last note of the final song of the night. I've already come back out twice after the "final" song, but this is definitely the last one. The ivory crochet dress that falls just above my knees may be lightweight, but the denim jacket on over it makes me feel like I'm dancing and singing in a blazing inferno.
I'm roasting up here on stage.
My brown cowgirl boots and matching hat, completing my look, don't help the cool-down factor either, my long brown hair is most likely in a huge disarray from all the dancing, singing, and sweating I've been doing up here on stage. My chestnut eyes are burning with the need for relief from the bright lights shining in them. Up here on stage, I am Summer Storm. Out there, in the real world? My birth name is Serenity Rivers. I do miss my hometown.
That was then, and this is now. I bow to my audience.
"Thank you, Houston!" I shout in appreciation of their standing ovation. I walk off the stage, passing my guitar to the stagehand on my way to the back.
"Hey, you have an interview in twenty," my manager, Cheyenne, says as she tries to tussle my hair.
"Thanks," I respond nonchalantly. All I really want to do is go back to my RV, take a long hot shower, slip into some comfy clothes, and snuggle up with my longtime duet partner and call it a night. I head out to my RV to freshen up a little bit and to get away from the hustle and bustle of the backstage. As I enter the RV, I ~
---
Meet Alandra Knight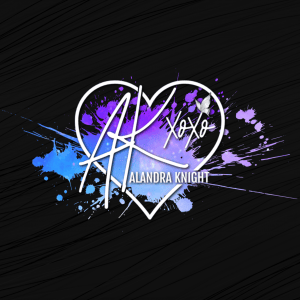 Alandra Knight is a contemporary-real feel romance writer. Her stories are classified as page turning, unpredictable, full of heart felt moments, hot and heavy love scenes and swoon worthy characters.
Interview with Alandra Knight
Q: A Christmas Love Song is part of your Finding Our Forever Series. Do you need to read the other books before enjoying this one?
AK: Kale (the leading male in A Christmas Love Song) is the son of Xander Brentwood (who is the leading male in Handcuffed to You). So the short answer is no, you don't have to, but I think you are going to want to know their stories once you get to know this family.
Q: What is your favorite part of being a published author?
AK: Definitely having my own reader group. Alandra's Knight Club. We get together every Thursday night for a virtual happy hour. It's just a lot of fun to be able to interact with everyone. I've met so many amazing people along the way. I love my Knight Club, it's the home of the best readers on FB. I would love it if you joined us!! https://www.facebook.com/groups/729469010770621/
Q: How many books have you published and which is your favorite?
AK: I have Second Time Around, Handcuffed to You, Stacked Against Us, Let Me Love You More, The Chase, Doctor Arrogance, Mistletoe Mischief, Need for Therapy and of course as of December 20th A Christmas Love Story … so nine total. Each one of my books is very special to me in one way or another, but I'd have to say that my favorite that I've written so far is Let Me Love You More.
Q: How do you handle bad reviews? I saw one that said your books are unrealistic…
AK: I think with everything you just have to take it with a grain of salt (so to speak). I am not everyone's cup of tea or shot of Whiskey and I am okay with that. As far as it being unrealistic, last I knew I wrote fiction which wasn't real life. I will just say that my books all have elements of realism. It could definitely happen.
Q: Do you like audiobooks? Is that something you've considered for your books? Who would you have narrate your characters if you ever put it into an audiobook?
AK: I do LOVE audiobooks, audible fanatic in fact my roommate has a standing joke that audiobooks is how stuff gets done. They really need to bring back audible escape… Yes, actually I have been looking into it for my own books, so you never know right? As far as who would narrate. It depends on the character. There are so many amazing narrators, Jason Clarke, Joe Arden, Savanah Peachwood, Maxine Mitchell, Tim Paige, Jacob Morgan the list is so long, and they are all very talented so how does one just pick? Although, Doctor Arrogance is on audio through The Cocky Hero Club who had the talents of Grace Grant and Jack Dupont narrate the books.
This Or That Questions
Coffee or Tea? COFFEE
Book or Movie? BOOKS
Morning or Night? Early morning…(before 6:30 lol)
Shower or Bath? Baths
City or Country? Country
Print or Ebook? Ebooks
Readers, you can follow Alandra Knight around the web at:
Website
Facebook
Facebook Hangout
Instagram
Amazon
Goodreads
Bookbub
Enter to win a free autographed paperback book & gift card from Alandra Knight
Click Here To Enter Now

Have you read A Christmas Love Song by Alandra Knight? Let us know your thoughts in the comments.
Like this post? You might also enjoy Rediscovering Us by Daphne Elliot.