Mark your calendars and get excited – 365 Days Part 2 is coming soon! On April 27th 2022, the 365 Days story will continue in the upcoming Netflix movie 365 Days: This Day. So, check out everything you need to know and some fun facts about the leading cast!
Table of Contents [CLICK HERE TO OPEN]
365 Days (365 Dni)
Starring: Anna-Maria Sieklucka, Michele Morrone
Massimo is a member of the Sicilian mafia family and Laura is a sales director. Whilst on a trip to Sicily trying to save her relationship, she does not expect that she will be kidnapped. Massimo was the one who kidnapped her and gives her 365 days to fall in love with him. Based on the book 365 Dni by Blanka Lipińska, this movie is one you don't want to miss.
The first movie in the series, 365 Days (365 Dni) is based on the book of the same name by Polish Author Blanka Lipińska. It was released theatrically in Poland on February 7 2020. The movie gained global attention though when it was released onto Netflix on June 7 2020. It quickly became one of the most watched movies across the world, including the USA. Despite the high popularity the movie has received criticism as it is perceived to glorify the mafia. Other highlighted issues with the movie include the violence, including sexual violence. Comparisons have been drawn with the 50 Shades Of Grey books (from British author EL James) and movies. Despite these criticisms the movie has remained highly popular and a sequel was commissioned by Netflix which is due to be released very soon!
365 Days Plot – Recap
Warning: Potential spoilers ahead! Proceed with caution!
So let's recap what happened in the first movie so we are up to speed and ready for the next movie!
We begin by meeting Massimo on the beach with his father where Massimo sees a beautiful woman. But suddenly they are ambushed by black market dealers, Massimo survives the attack but his father does not. Fast forward five years and Massimo has now taken his father's place as the head of the Torricelli crime family.
When we first come across Laura Biel she is unhappy in her relationship with her boyfriend. Then when he leaves her alone on a walk in Etna she is kidnapped by Massimo.
When Massimo takes Laura to his Villa he tells her that he spotted her on the beach five years previously and has been in love with her ever since. He says that he has kidnapped her and will keep her imprisoned for 365 days in the hope that she will fall in love with him. Massimo also promises Laura that he will not have sex with her without her consent.
Massimo maintains this promise. After an argument where Laura falls into the sea and almost drowns Massimo tells her that he was scared that he would lose her. After this the couple have sex several times.
When the couple attend a masquerade ball Laura is threatened by Anna, who is an ex-girlfriend of Massimo. Worried for her safety Massimo sends Laura back to her family in Warsaw. When Massimo joins Laura in Warsaw she declares her love for him and he asks her to marry him.
When they go back to Italy, wedding preparations are under way. Laura mentions that she doesn't feel well and then she reveals to Olga (her best friend that accompanied the couple to Italy to be Laura's bridesmaid) that she is pregnant. Before Laura gets chance to tell Massimo, he receives a phone call from a Torricelli informant telling him that the rival mafia family are going to kill Laura. Laura's car enters a tunnel but doesn't come out the other side, leaving a distraught Massimo. And this is how the movie ended!
365 Days: This Day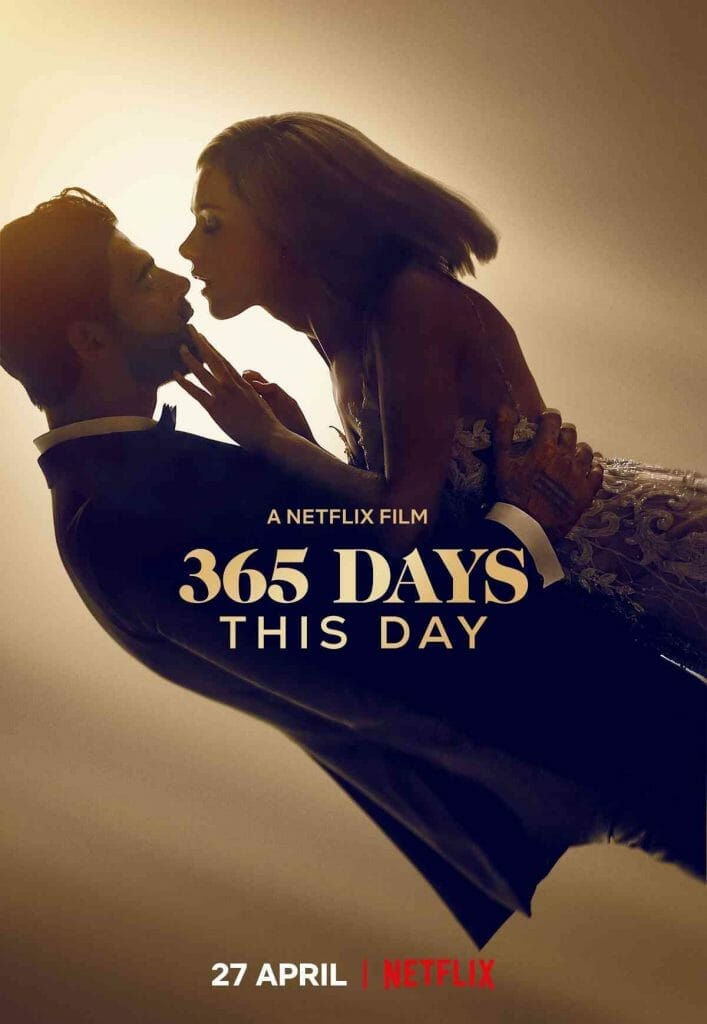 Starring: Anna-Maria Sieklucka, Michele Morrone
In this sequel to 365 Days Laura and Massimo are back and stronger than ever. However, Massimo's family ties and a mysterious man bidding for Laura's heart complicate the lovers' lives.
The Release Date
Put it in your diaries, mark your calendars because the 365 Days sequel will be released onto Netflix worldwide on April 27 2022.
Check out the official Netflix trailer for 365 Days: This Day here!
The Plot
What can we expect from This Day? As the first movie 365 Days ended on a huge cliffhanger we have been left wondering! As the first movie generally followed the plot of the first book it is expected that the second movie will follow suit. We do know that Anna Maria Sieklucka is back as Laura so unsurprisingly she survives the assassination attempt.
So what else do we know about the second movie? A new character arrives in the form of Adriano, who turns out to be Massimo's evil twin brother. There's also a secondary romance upcoming for Olga. Also, a threat appears to Laura and Massimo's relationship in the form of another new character, Nachos who also ends up kidnapping Laura. And as previously happened with Laura and Massimo Laura begins to develop feelings for her captor. Which is going to leave us with an explosive love triangle!
The Cast
Michele Morrone and Anna Maria Sieklucka are reprising their roles as the main characters Don Massimo Torricelli and Laura Biel.
The rest of the confirmed cast is as follows:

Bronisław Wrocławski as Mario
Otar Saralidze as Domenico
Magdalena Lamparska as Olga
Simone Susinna as Marcelo "Nacho" Matos
Grażyna Szapołowska as Klara Biel (Laura's mother)
Tomasz Stockinger as Tomasz Biel (Laura's father)
Fun Facts About The Cast
Michele Morrone
He Is Italian
Morrone was born in Reggio Calabria, Italy.
Harry Potter Inspired Him To Become An Actor
Morrone was the youngest of four. He grew up with three older sisters. After watching a Harry Potter film at the age of 11, he decided to become an actor. He started by acting in an after school program at his middle school. And then he studied professional acting in a theater in the city of Pavia, at the Teatro Fraschini di Pavia.
He's Also A Musician
As well as acting, Morrone took an interest in music. He is a professional guitarist and singer. By watching YouTube videos, he learned how to play the guitar at the age of 25. He's even released an album Dark Room. It has several songs featured in the official 365 Days soundtrack including one of his most famous songs, "Feel It".
He Has His Own Clothing Brand
Morrone makes his own designs in collaboration with fashion designer Chiara Pollano for his women's beachwear clothing brand, AurumRoma. And after he confirmed the creation of the company via his Instagram story, the website crashed due to heavy traffic.
Anna Maria Sieklucka
She Is From Poland
Sieklucka was born in Lublin, the largest city in eastern Poland. She studied at the Wrocław-based Faculty of Puppetry of AST National Academy of Theatre Arts and graduated on 2018.
She Has One Other Acting Credit
Prior to her role in 365 Days, Sieklucka had only starred in one other show. A Polish show called Na dobre i na zle. It's focused around the life of paramedics and hospital staff. And Sieklucka was only in it for one episode.
She Can Speak Multiple Languages
Sieklucka is fluent in Polish, German, English and French!
She Was Hesitant To Accept The Role of Laura
After reading the script, Sieklucka was initially hesitant to take the role. And she has described the filming as a challenge too.
Frequently Asked Questions
What is 365 Days: This Day about?
365 Days: This Day continues the story of Laura and Massimo. The movie follows the plot of the second book in the series. Massimo's evil twin enter the picture and causes disruption between the couple. And with another mystery man making a bid for Laura's heart there are further troubles ahead.
Does Laura end up with Massimo or Nacho?
Spoiler Alert! Although This Day ends on another cliffhanger, it seems as though Laura will end up with Massimo if they can overcome their differences.
Is there gonna be another 365 Days?
365 Days part 2 has just released on April 27 2022. It has also been confirmed that there will be a third movie based on the third book The Next 365 Days.
Will there be a Part 3 of 365 Days?
Yes, Netflix has confirmed that there will be a part 3 of 365 days. The third movie will be based on the third book, The Next 365 Days. Michele Morrone and Anna Maria Sieklucka will be reprising their roles as the main characters Don Massimo Torricelli and Laura Biel. This will be the final movie though and Massimo and Laura's story will come to an end.
How Many books are there in 365 days?
There are three books in the 365 Days series by Polish Author Blanka Lipińska. The three books are titled 365 Days, 365 Days: This Day and The Next 365 Days. The third book hasn't been released yet but The Next 365 Days will be out on September 27 2022.
Are you excited for 365 Days This Day? Let us know!