Things We Hide From The Light is the sequel to TikTok's latest craze: Lucy Score's Things We Never Got Over. THE INSTANT SUNDAY TIMES BESTSELLER FROM THE NEW YORK TIMES MILLION-COPY BESTSELLING AUTHOR LUCY SCORE.
As the second novel in a trilogy of spicy, heart-fluttering romance, this novel needs to be bumped up to #1 on your to-read list! With familiar faces, small-town vibes, and an adorable little puppy, Things We Hide From The Light is a strong instalment to the well-beloved Knockmout series. Come with us and take a look at this bestselling novel!
Table of Contents [CLICK HERE TO OPEN]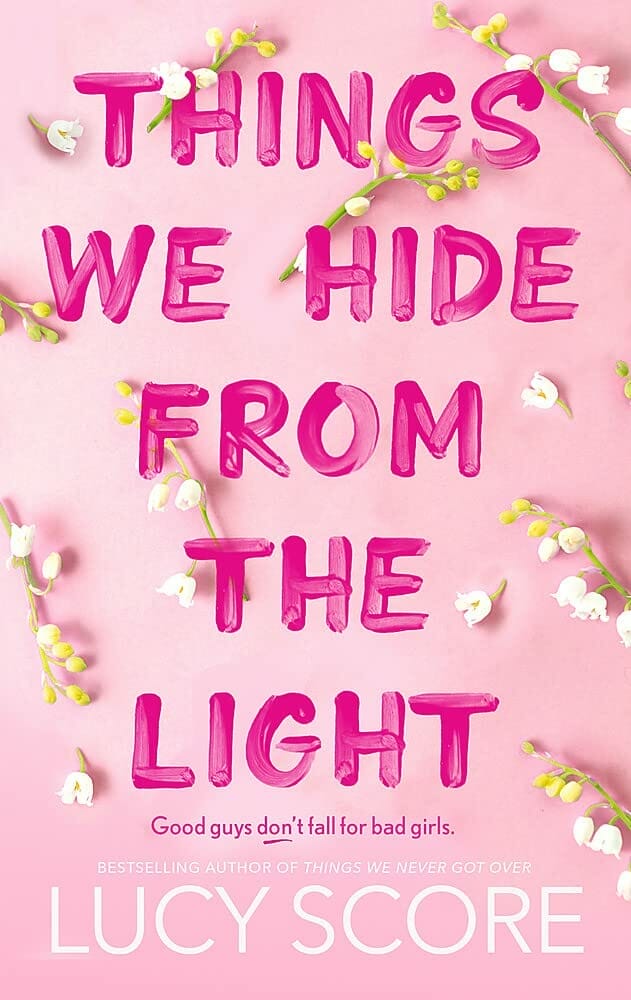 Things We Hide From the Light
Bestselling author Lucy Score returns to Knockemout, Virginia, following fan-favorite Things We Never Got Over with Knox's brother Nash's story.
"I'm starting to understand that maybe life isn't something to get through with the least amount of discomfort possible. Maybe it's about experiencing it all. The good, the bad, and everything in between."
Full Description
Nash Morgan was always known as the good Morgan brother, with a smile and a wink for everyone. But now, this chief of police is recovering from being shot and his Southern charm has been overshadowed by panic attacks and nightmares. He feels like a broody shell of the man he once was. Nash isn't about to let anyone in his life know he's struggling. But his new next-door neighbor, smart and sexy Lina, sees his shadows. As a rule, she's not a fan of physical contact unless she initiates it, but for some reason Nash's touch is different. He feels it too. The physical connection between them is incendiary, grounding him and making her wonder if exploring it is worth the risk.
Too bad Lina's got secrets of her own, and if Nash finds out the real reason she's in town, he'll never forgive her. Besides, she doesn't do relationships. Ever. A hot, short-term fling with a local cop? Absolutely. Sign her up. A relationship with a man who expects her to plant roots? No freaking way. Once she gets what she's after, she has no intention of sticking around. But Knockemout has a way of getting under people's skin. And once Nash decides to make Lina his, he's not about to be dissuaded…even if it means facing the danger that nearly killed him.
Our Review
Were you waiting for this sequel just as much as we were? It did not disappoint!
Lina is such a relatable main character. As well as being badass, independent, and kind of sassy, her freak-outs over her relationship with Nash had us laughing. We've all been there. It isn't only her relationship with Nash that had us keeled over, her interactions with her friends and other characters were so memorable and fun.
Moving onto our resident HUNK: Nash. He fills in the role of romantic interest differently than most other romance novels. Nash struggles with managing his PTSD, making him a very real, cerebral character. We see a lot of vulnerability in his character. Not only that, but he shows himself to be stubborn, sweet, and a bit of a pain in the ass. His character is really robust and doesn't fall flat like a lot of men in the contemporary romance genre.
Also, another stray from the genre is the size of the book. With over 600 pages, this isn't your typical romance novel. The book is filled with other subplots which happen alongside the slow-burn of Lina & Nash's relationship. This is a really nice touch of realism in a genre which can be a little out-of-touch at tomes.
And without going into too much detail… spice lovers will be more than satisfied with Things We Hide from the Light 😉
---
Frequently Asked Questions
What is Things We Hide from the Light about?
In Things We Hide from the Light we follow police Chief Nash Morgan and his slow, steamy, tender romance with Angelina. As a sequel of the first novel in the Knockemout series Things We Never Got Over, we see a lot of familiar faces.
Is Things We Hide from the Light a sequel?
Things We Hide from the Light is the sequel of Things We Never Got Over. The Knockmout series has two novels in the series, with one more on its way!
Things We Never Got Over
Things We Hide form the Light
Things We Left Behind
Are Naomi and Knox in Things We Hide from the Light?
We have good news! The whole gang are here! We'll see lots of fun interactions with Naomi, Knox, Waylay and more! These scenes tend to be regarded as the fan-favorites in the novel, so we hope you look forward to it!
---