Love is in the air, and on the pitch! If you're a fan of both soccer and romance novels, you're in for a treat. From steamy locker room encounters to heartwarming stories of love across borders, soccer romance books offer the perfect combination of passion, drama, and of course, plenty of goals. So lace up your cleats and get ready to score some love points as we dive into the world of soccer romance novels.
Table of Contents [CLICK HERE TO OPEN]
Soccer Romance Books List
Get ready to fall in love with The Beautiful Game! These books offer a unique and exciting way to experience both the thrill of the game and the passion of love. From forbidden romances between players and coaches to steamy locker room encounters, soccer romance novels have it all. Whether you're a die-hard soccer fan or simply love a good love story, this book list will have you cheering for more. So lace up your boots, grab a seat on the sidelines, and get ready to score some goals with our top picks for soccer romance books.
Rock Bottom Girl – Lucy Score
Downsized, broke, and dumped, 38-year-old Marley sneaks home to her childhood bedroom in the town she couldn't wait to escape twenty years ago. Not much has changed in Culpepper. The cool kids are still cool. Now they just own car dealerships and live in McMansions next door. Oh, and the whole town is still talking about that Homecoming she ruined her senior year.
Desperate for a new start, Marley accepts a temporary teaching position. Can the girl banned from all future Culpepper High Homecomings keep the losing-est girls soccer team in school history from killing each other and prevent carpal tunnel in a bunch of phone-clutching gym class students?
Maybe with the help of Jake Weston, high school bad boy turned sexy good guy. When the school rumor mill sends Marley to the principal's office to sign an ethics contract, the tattooed track coach, dog dad, and teacher of the year becomes her new fake boyfriend and alibi—for a price. The Deal: He'll teach her how to coach if she teaches him how to be in a relationship.
Who knew a fake boyfriend could deliver such real orgasms? But it's all temporary. The guy. The job. The team. There's too much history. Rock bottom can't turn into a foundation for happily ever after. Can it?
First Flight, Final Fall – C.W. Farnsworth
What do you do when you encounter the famous footballer voted "Sexiest Athlete Alive" three years running on a soccer field in Germany? If you're Saylor Scott, you challenge him to a shoot-out. And win.
Saylor's goals have always involved the literal kind constructed from posts and netting. Her single-minded focus has cost her a lot, but it's also earned her recognition as the top female college player in the US. She doesn't get attached, she never gets distracted, and she could care less what anyone thinks of her.
Meeting Adler Beck, the notorious player celebrated worldwide and coveted by women everywhere, challenges her indifference. But Saylor perfected the art of appearing unbothered a long time ago, and her scoring percentage is even higher off the pitch. Might as well add a gorgeous German to the tally.
Because only a fool would fall for a superstar known for breaking hearts alongside records. And no one has ever accused Saylor Scott of being a fool.
Red Card – Carrie Aarons
London is Leah Watson's fresh start. When she secures the perfect internship during her study abroad semester, with an infamous celebrity public relations firm, she is determined to forge her own path – one that is nothing like her life back in Oklahoma. That plan is tested when British football's bad boy, Killian Ramsey, decides that she's the one he wants and he's playing for keeps.
Killian is one bloody good football player. After a tragedy shattered his entire world, the cocky and arrogant face he puts on for the media is a complete lie. When he meets Leah, his heart starts to beat for the first time in years. But when the feelings get too real, his perfectly constructed facade starts to slip.
Will he risk it all to be with her – taking whatever penalties are thrown his way – or will he play it safe?
Challenge – Amy Daws
Camden Harris, the famously hot, hulk of a footballer is laid up in a London hospital. But his busted knee doesn't stop him from running his well-practiced game on Indie Porter—his redheaded spitfire of a doctor. She's not his type, not even close. But she could be the perfect distraction from the soul-crushing damage this injury could cost him.
Indie's tired of her naivety putting a target on her back. As a gifted child, she's let her education take the front seat her whole life. But a fling with a footballer like Camden might be just what she needs to grab life by the balls. And he could be the perfect guy for the plan she's been sitting on for over two years.
But when feelings make a final play, there's no amount of medicine that can heal the damage to their hearts.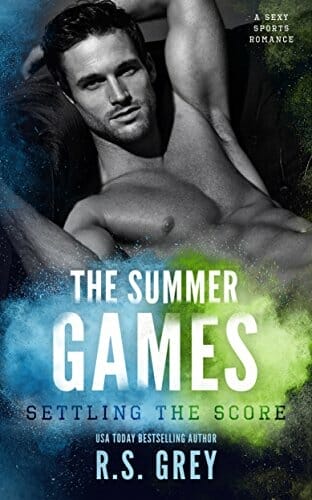 The Summer Games – Settling The Score – RS Grey
As an Olympic rookie, Andie Foster has spent far more time in her cleats than between the sheets. For 21 years, her Friday nights have consisted of blocking shots rather than taking them. But now that she's landed in Rio, she's ready to see for herself if the rumors about the Olympic Village are true:
As Andie walks the line between rumor and reality, she's forced into the path of Frederick Archibald, a decorated Olympic swimmer and owner of a sexy British accent—too bad he's unavailable in a way that "it's complicated" doesn't even begin to explain.
It doesn't matter that he has abs that could bring peace to the Middle East and a smile that makes even the Queen blush; Andie fully intends on keeping her focus on the soccer field. But the Village is small. Suffocating. Everywhere Andie goes, Freddie happens to be there—shirtless, wet from the pool, and determined to show her a whole new meaning of the phrase "international affairs".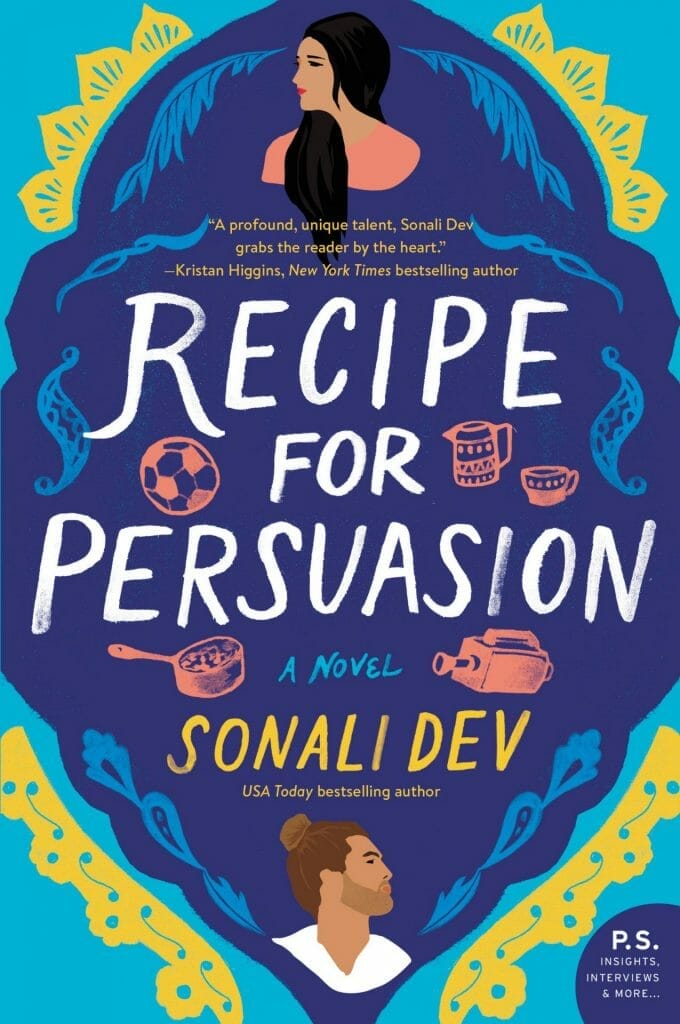 Recipe for Persuasion – Sonali Dev
Chef Ashna Raje desperately needs a new strategy. How else can she save her beloved restaurant and prove to her estranged, overachieving mother that she isn't a complete screw up? When she's asked to join the cast of Cooking with the Stars, the latest hit reality show teaming chefs with celebrities, it seems like just the leap of faith she needs to put her restaurant back on the map. She's a chef, what's the worst that could happen? Rico Silva, that's what.
Being paired with a celebrity who was her first love, the man who ghosted her at the worst possible time in her life, only proves what Ashna has always believed: leaps of faith are a recipe for disaster.
FIFA winning soccer star Rico Silva isn't too happy to be paired up with Ashna either. Losing Ashna years ago almost destroyed him. The only silver lining to this bizarre situation is that he can finally prove to Ashna that he's definitely over her.
But when their catastrophic first meeting goes viral, social media becomes obsessed with their chemistry. The competition on the show is fierce…and so is the simmering desire between Ashna and Rico. Every minute they spend together rekindles feelings that pull them toward their disastrous past. Will letting go again be another recipe for heartbreak—or a recipe for persuasion…?
Everything For you – Chloe Liese
Gear up for an all-the-feels, steamy slow-burn in this enemies-to-lovers sports romance about fighting for love when life's taught you it's a losing game.
Everything for You is a grumpy-sunshine, enemies-to-lovers, age gap sports romance about an upbeat rising soccer star with anxiety and his curmudgeonly veteran teammate who lives with chronic pain. Complete with nosy senior citizens, nosier siblings, and a meddling coach, this standalone slow burn is the fifth in a series of novels about a Swedish-American family of five brothers, two sisters, and their wild adventures as they each find happily ever after.
For The Win – Sara Rider
Lainey Lukas has sacrificed everything—sleep, family, carbs, a life—to earn her spot as the top player and captain of the Seattle Falcons women's soccer team. She's determined to lead her team to a national championship and finally earn the sport the respect it deserves—and nothing will throw her off her game. When Lainey's hero Gabe Havelak, star of the Seattle Surge, crashes her team's first press conference—making the Falcons look like a joke to the local media and humiliating Lainey in the process—she's hell-bent on revenge.

Charming, confident Gabe is practically a god to Seattle soccer fans, but he doesn't mind a little friendly competition from tough-as-nails Lainey, with her top-notch athletic skills, her mile-long legs, and her girl-next-door freckles. But when he learns the Falcons are booting the Surge from their coveted practice space to the notoriously cursed Cricket Field, those warm feelings give way to crippling superstition. With his contract up for renewal and his thirty-fourth birthday just weeks away, Gabe will risk anything to protect his position with the Surge.

The rivals agree to settle their differences in a Battle of the Sexes competition—a test of skills, fitness, and willpower. At first the situation seems win-win: Gabe gets the chance to earn back the Surge's practice space, and Lainey's team will finally get some much-deserved media attention. But as the friction between them becomes hot enough to spark and smolder, Lainey and Gabe are entering new territory—and with both of their careers on the line, love might just be the toughest opponent of all.
The Second Coming – Carrie Aarons
Jude Davies is my country's prodigy on the pitch. More famous than the nobility in Buckingham Palace, he and his merry band of scoundrels rule the Rogue Football Academy and the London nightlife scene alike.
And now, he's aiming his well-honed set of skills directly at me. His devilish charm is lethal, but with the tragic hand life has dealt me, distractions like him aren't an option.
Plus, we're only playing a game. One of convenience, where he needs me to save his reputation, and I need his money to save the one person I love.
That's the thing about going toe-to-toe with the next football legend. He's faster, stronger, and will destroy me every time.
The Setup – Meghan Quinn
I've fallen victim to a heinous act. An act so vile, so downright dirty, that I'm not sure as a twenty-year-old man I'll ever recover. Brace yourself, because what I'm about to tell you might have you gasping in secondhand horror. Ready? Here it goes . . . I've recently become the pawn of a meddling mom. Yes . . . A MEDDLING MOM–who's been trying to set me up all summer.
Now, I understand it's not a crime for a mother to want her child to fall in love, but when she makes it her relentless MISSION, the heinous act should be classified as a misdemeanor at least. Of course, my mom, the evil matriarch in the devil's leggings, made her final stab at finding a girl for me days before I went back to college. And I hate to admit it, but she saved a doozy for last.
A titan in black skinny jeans. A boss of nonchalance. And a girl who would not only turn my life upside down, but do it while juggling a soccer ball, looking effortlessly gorgeous around campus, and is one hundred percent against relationships. Of any sort. Thanks, Mom.
Sweet On The Greek – Talia Hibbert
For millionaire footballer Nikolas Christou, one look is all it takes. The minute he sees Aria Granger, he's a goner. Playboy Nik knows lust—intimately—but his need for Aria goes far beyond that. Of course, the plus-sized beauty isn't interested in romance… but Nik isn't interested in giving up.

Aria Granger has sworn off relationships for her own good. After all, her ex nearly murdered her best friend, so clearly her taste is questionable. When charming, gorgeous Nik bounds into her life, Aria can't decide if he's as innocent as he seems… or if her bullsh*t-ometer is broken.

The super-sweet sports star claims he needs a fake girlfriend to protect him from 'misunderstandings'. And Aria, with her tattoos, piercings and dangerous scowl, fits the bill. But there's no way a guy as handsome as Nik can be that bad at handling relationships. Can he?
Lessons In Losing It – Jessica Peterson
Just friends…
That's all I want to be with Rachel Collins, the sexy American student I meet at a party in my adopted hometown of Madrid. I'm looking for the real deal—someone who'll stick around Spain for more than a semester—so I resolve to keep her at arm's length. Even if she is gorgeous as hell. Smart. And as crazy about sports as I am.

But friends don't kiss. They don't do sleepovers. And they definitely don't get rug burn from having the best sex ever on the living room carpet.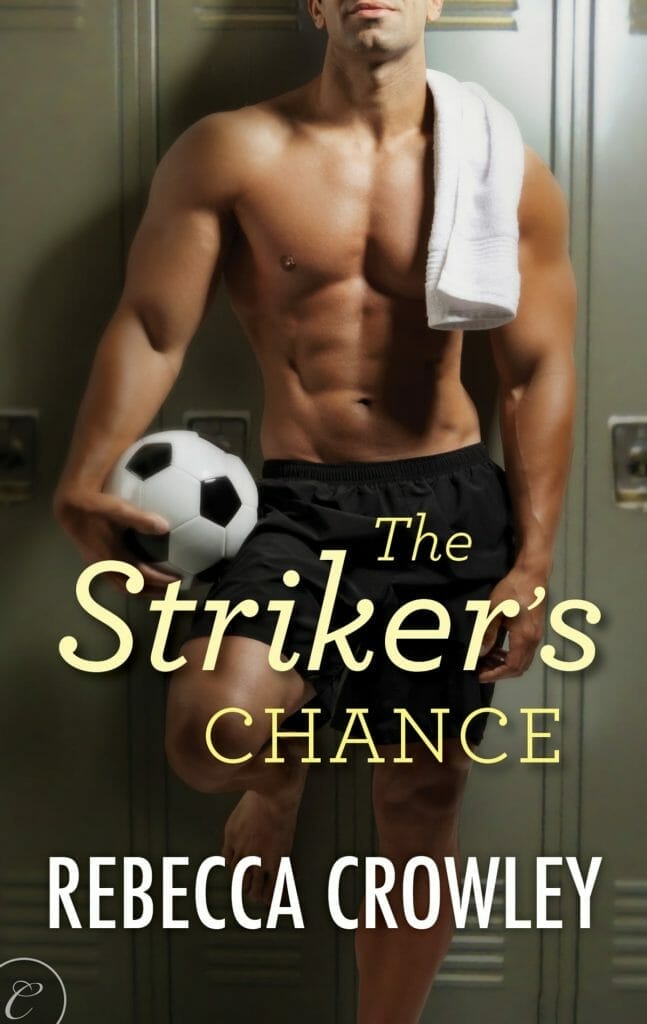 The Strikers Chance – Rebecca Crowley
Landing the PR contract for North Carolina's new soccer team could take Holly Taylor's career to the next level. Her task? Make Kepler "Killer" de Klerk, an athlete with a party-hard reputation, a star. But revamping the sexy footballer's image while battling her unwanted attraction to him is easier said than done.
The car accident that derailed Kepler's European career also gave him some much-needed perspective. He's ready to give up on fame and focus on the game he loves. The last thing he needs is a headstrong brunette pushing him back into the spotlight, even if butting heads with her is the most fun he's had in ages.
The more time Holly spends with Kepler, the more she sees how different he is from his tabloid persona. But when she's offered her dream job for a price, she finds herself torn between the career she's spent years building and the man she doesn't want to give up.
He's A Keeper – Stacy Travis
Drunk-texting a grumpy soccer star? Best worst decision of my life. Especially when the player is the sinfully handsome, foul-mouthed Holden Sanders… my new library assistant.The benched bad boy needed an image makeover, I needed to save my job, and his star status was just what the library ordered to raise awareness for our fundraising campaign. The press can't get enough of Mr. Growly reading to kids.
It's win-win and completely platonic.
Until I need a shoulder to cry on after drowning my heartbreak in too many margaritas. I only typed that invitation to his brawny biceps and perfect pectorals for fun–I never meant to hit send. Holden isn't the kind of guy to care about tears and feelings, least of all mine. He's made it clear good girls aren't his type.
But he shows up–with his strapping shoulder, a box of tissues, and a supersized bag of Doritos. That's when I realize there's more to him than meets the eye. One soulful, smoldering mistake of a kiss has me craving more, and the heat between us quickly builds to a blaze neither of us can control.
Hard To Hold – K Bromberg
The contract with Major League Soccer was supposed to help repair my damaged reputation. Then I discovered that I'd made a deal with the devil: the player I'm supposed to recruit is none other than the bad boy, star Premier League footballer, Rush McKenzie. British. Tattooed. Sexy. A man currently at the center of a huge scandal. The goal? To convince him to stay in the States. But what's wrong with a little fun in the meantime? No strings. No sweet nothings. Just a way to pass the time while we're both struggling to prove our true selves to the world.

If someone found out our relationship was anything more than professional, it would only serve to prove all our critics right.
Only When It's Us – Chloe Liese
Ryder: Ever since she sat next to me in class and gave me death eyes, Willa Sutter's been on my shit list. Why she hates me, I don't know. What I do know is that Willa is the kind of chaos I don't need in my tidy life. She's the next generation of women's soccer. Wild hair, wilder eyes. Bee-stung lips that should be illegal. And a temper that makes the devil seem friendly.
She's a thorn in my side, a menacing, cantankerous, pain-in-the-ass who's turned our Business Mathematics course into a goddamn gladiator arena. I'll leave this war zone unscathed, coming out on top…And if I have my way with that crazy-haired, ball-busting hellion, that will be in more than one sense of the word.
Willa: Rather than give me the lecture notes I missed like every other instructor I've had, my asshole professor tells me to get them from the silent, surly flannel-wearing mountain man sitting next to me in class. Well, I tried. And what did I get from Ryder Bergman? Ignored. What a complete lumbersexual neanderthal. Mangy beard and mangier hair. Frayed ball cap that hides his eyes. And a stubborn refusal to acknowledge my existence.
I've battled men before, but with Ryder, it's war. I'll get those notes and crack that Sasquatch nut if it's the last thing I do, then I'll have him at my mercy. Victory will have never tasted so sweet.
The Player – Claire Contreras
I'm naturally gifted on the field and between the sheets. With flashy cars and enough media attention to put the Royal Family to shame, I'm the definition of Most Eligible Bachelor.
Every man wants to be me and every woman wants to tame me.
Until Camila.
The moment I lay eyes on her, I know I have to have her.
She wants to keep me at arm's length.
I want her naked in my bed.
She thinks our worlds are too different.
All I want her to think about is screaming my name.
She says I'm bad news.
I have three weeks to prove her wrong.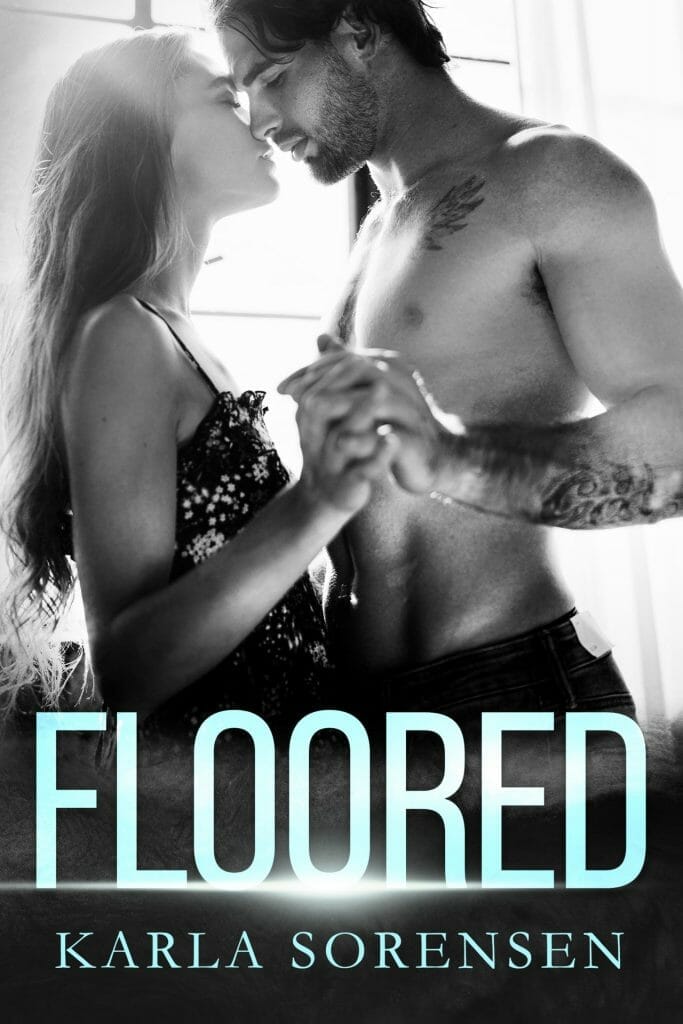 Floored – Karla Sorensen
Have you heard the one about the impulsive American grad student and the broody Brit who argued about which kind of football was better?

It's a good story, especially because it ends with me clutching a pregnancy test in my tiny Oxford flat.

In my defense, it was never meant to be more than a harmless flirtation. But he was just sitting there, with his accent and his muscles and his tattoos, telling me that his football was better than the one I grew up watching my brother play. Next thing I knew, that flirtation got a whole lot hotter and even though I wasn't sure I'd ever see him again—my mystery Brit—it was the kind of night a girl goes to her grave remembering.

You know how the story goes though … a few weeks later, the impulsive girl gets a little pukey, and sees a sports headline featuring her mystery Brit kicking the black and white ball that got us into this mess.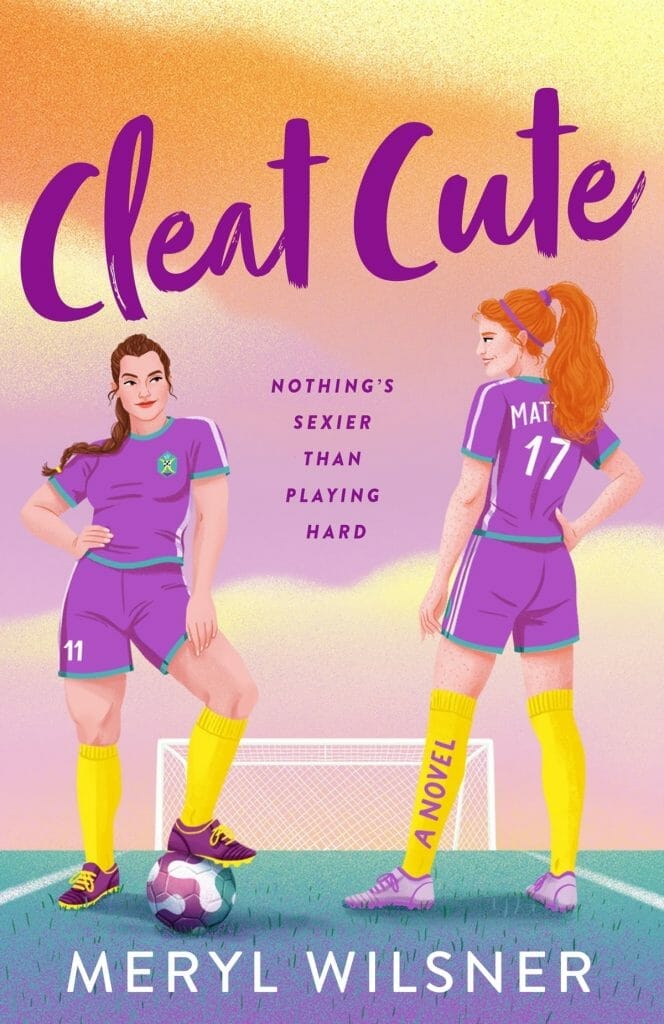 Cleat Cute – Meryl Wilsner
Grace Henderson has been a star of the US Women's National Team for ten years, even though she's only 26. But when she's sidelined with an injury, a bold new upstart, Phoebe Matthews, takes her spot. 22-year-old Phoebe is everything Grace isn't—a gregarious jokester who plays with a joy that Grace lost somewhere along the way. The last thing Grace expects is to become teammates with benefits with this class clown she sees as her rival.
Phoebe Matthews is too focused on her first season as a professional soccer player to think about seducing her longtime idol. But when Grace ends up making the first move, they can't keep their hands off of each other.
As the World Cup approaches and Grace works her way back from injury, a miscommunication leaves the women with hilariously different perspectives on their relationship. But they're on the same page on the field, realizing they can play together instead of vying for the same position. With every tackle the tension between them grows, and both players soon have to decide what's more important—being together or making the roster.
Kulti – Mariana Zapata
"Trust me, I've wanted to punch you in the face a time or five."
When the man you worshipped as a kid becomes your coach, it's supposed to be the greatest thing in the world. Keywords: supposed to. It didn't take a week for twenty-seven-year-old Sal Casillas to wonder what she'd seen in the international soccer icon.
Scoring Wilder – R.S. Grey
With Olympic tryouts on the horizon, the last thing Kinsley Bryant needs to add to her plate is Liam Wilder. He's a professional soccer player, America's favorite bad boy and all the qualities that makes girls swoon. And he's strictly off limits. Her coaches have made that perfectly clear. But that just makes him all the more enticing.
Other Sports Romance Genres
While soccer romance books may be the perfect match for fans of the beautiful game, they're not the only option when it comes to sports-themed romance. In fact, there are countless other types of sports romance novels that are just as thrilling and engaging as soccer romances. Football, hockey, and baseball are just a few examples of sports that have inspired their own subgenres of romance novels. Football romance novels often focus on the intense rivalries and passion between players on the field, while hockey romance novels may feature the grit and determination of players both on and off the ice. Baseball romance novels often highlight the individual and team achievements of players as they navigate both their careers and their love lives. Other sports such as basketball, boxing, and even surfing have also inspired their own romantic tales. So whether you're a die-hard fan of soccer or another sport, there's sure to be a sports romance novel out there that will score a goal with your heart.
Frequently Asked Questions
What is sports romance?
Sports romance is a genre of romance novels that features athletes, coaches, and other individuals involved in sports as the main characters. These books typically focus on the romantic relationships between these characters, as well as the challenges they face both on and off the field. Sports romance novels often include themes of passion, perseverance, and dedication, which can provide readers with a unique perspective on the lives of athletes. In addition to football romance, other popular subgenres of sports romance include hockey romance, baseball romance, and more.
Is sports romance a genre?
Yes, sports romance is a genre that includes subgenres such as football romance, hockey romance, baseball romance, and more. These books often revolve around the romantic relationships between athletes, coaches, and other individuals involved in sports. The stories may highlight the challenges and obstacles faced by athletes, as well as the passion and dedication required to succeed in their respective sports. Sports romance novels can provide readers with a unique and exciting glimpse into the world of sports while also delivering a satisfying romantic storyline.
What is soccer romance?
Soccer romance refers to the subgenre of romance novels that feature soccer or football as a prominent aspect of the plot or setting. These books typically focus on the romantic relationships and dramas that unfold among soccer players, coaches, fans, and other characters associated with the sport. Soccer romance novels often include themes such as passion, competition, teamwork, and personal growth, as well as steamy scenes set against the backdrop of the beautiful game. Overall, soccer romance offers readers a unique and exciting way to experience both love and soccer in a single story.
---
Love and soccer may seem like an unlikely match, but the world of soccer romance novels proves that they're a winning combination. These books offer a thrilling and entertaining way to experience the highs and lows of the beautiful game while also indulging in the passion and drama of romance. From forbidden romances to steamy locker room encounters, soccer romance novels have it all. So whether you're a die-hard soccer fan or simply looking for a new way to experience the power of love, these books are sure to score a goal with your heart. So what are you waiting for? Dive into our book list of the top soccer romance novels and let the games begin!"