It's always nice to hear appreciative words from others, but finding the perfect romantic quote to express your own feelings can be difficult. Maybe you're shy, afraid of rejection, or similarly just not very creative.
We've felt this way too. However, we've come up with a solution!
To sum up, what better way to inspire oneself then to consult the romance experts for inspiration? For example, all those writers of romantic songs, books, and movies must know what they're talking about. Certainly, since they write romance for a living!
Therefore, we've scoured the chart-toppers and put together a list of our 123 favorite romantic quotes below so you're guaranteed to find the perfect romantic quote for every occasion!
Romantic Quote: Song Lyrics and Melodies
Firstly, there's a reason love songs are classic. Subsequently, when you don't know how to say it, say it with a song! Most importantly, though, if you're not musically talented, you can borrow inspiration from these romantic hits.
#123. "All of me loves all of you. Love your curves and all your edges, all your perfect imperfections. Give your all to me. I'll give my all to you." – All of Me by John Legend (Get it On Amazon)
#122. "It's always better when we're together." – Better Together by Jack Johnson (Get it on Amazon) 
#121. "Now you're my whole life. Now you're my whole world. We'll look back someday at this moment that we're in and I'll look at you and say, 'and I thought I loved you then'." – Then by Brad Paisley (Get it on Amazon) 
#120. "You know it's true. Everything I do, I do it for you." – Everything I Do by Bryan Adams (Get it on Amazon) 
#119. "Take me into your lovin' arms. Kiss me under the light of a thousand stars."

– Thinking Out Loud by Ed Sheeran (Get it on Amazon) 
#118. "I'll never stop trying. I'll never stop watching as you leave. I'll never stop losing my breath every time I see you looking back at me. I'll never stop holding your hand. I'll never stop opening your door. I'll never stop choosing you babe. I'll never get used to you." – Never Stop by SafetySuit (Get it on Amazon) 
#117. "You're every minute of my every day. Whatever comes our way, we'll see it through. And you know that's what our love can do." – Everything by Michael Buble (Get it on Amazon) 
#116. "The more I see you, the more I want you. Somehow this feeling just grows and grows. With every sigh, I become more mad about you." – The More I See You by Michael Buble (Get it on Amazon) 
#115. "I keep you with me in my heart. You make it easier when life gets hard. Lucky I'm in love with my best friend." – Lucky by Jason Mraz & Colbie Caillat (Get it on Amazon)  
#114. "I won't hesitate. No more, no more. It cannot wait, I'm yours." – I'm Yours by Jason Mraz (Get it on Amazon) 
#113. "Take my hand, take my whole life too. For I can't help falling in love with you."

– Can't Help Falling in Love by Elvis Presley (Get it on Amazon) 
Likewise, there are these additional winners as well! That is to say, get your playlist ready! Most importantly, grab a notebook to write down any quotes you want to remember. And finally, get ready to dance too.
#112. "Every little thing you do, I do adore." – I Do Adore by Mindy Gledhill (Get it on Amazon)  
#111. "I cross my heart and promise to give all I've got to give to make all your dreams come true. In all the world, you'll never find a love as true as mine." – I Cross My Heart by George Strait (Get it on Amazon) 
#110. "There's nothing that I wouldn't do to make you feel my love." – Make You Feel My Love by Adele (Get it on Amazon) 
#109. "You are the best thing that's ever been mine." – Mine by Taylor Swift (Get it on Amazon) 
#108. "I don't want good and I don't want good enough. I want can't sleep, can't breathe, without your love." – I Want Crazy by Hunter Hayes (Get it on Amazon) 
#107. "When you say you love me, for a moment, there's no one else alive." – When You Say You Love Me by Josh Groban (Get it on Amazon) 
#106. "When I see your face, there's not a thing that I would change 'cause you're amazing just the way you are."

– Just The Way You Are by Bruno Mars (Get it on Amazon) 
#105. "I need to know I can see your smile each morning. Look into your eyes each night. For the rest of my life, here with you, near with you. Oh, I need to be next to you. Right here with you is where I belong." – Need To Be Next To You by Sara Evans (Get it on Amazon) 
Romantic Quote: Movies and Film
We love rom-coms & tear-jerkers alike! More importantly, these gems will help you channel your inner Ryan Gosling! Grab the popcorn and get ready to binge watch. That is to say, these quotes are so good, they'll certainly make you want to watch the entire movie. On the other hand, this could be a great excuse to cuddle that special someone!
#104. "I want all of you, forever. You and me, every day."

– The Notebook (Watch it on Amazon) 
#103. "It's like, in that moment, the whole universe existed just to bring us together." – Serendipity (Watch it on Amazon)  
#102. "It was a million tiny little things like that. When you added them all up, they meant we were supposed to be together." – Sleepless in Seattle (Watch it on Amazon) 
#101. "Why would you want to marry me for, anyhow?" "So I can kiss you anytime I want." – Sweet Home Alabama (Watch it on Amazon) 
#100. "Our love is like the wind. I can't see it, but I can feel it." – A Walk to Remember (Watch it on Amazon) 
#99. "I vow to fiercely love you in all your forms, now and forever. I promise to never forget that this is a once in a lifetime love. I vow to love you, and no matter what challenges might carry us apart, we will always find a way back to each other." – The Vow (Watch it on Amazon) 
#98. "If I could ask God one thing, it would be to stop the moon. Stop the moon and make this night and your beauty last forever." – A Knight's Tale (Watch it on Amazon) 
#97. "Life is not the amount of breaths you take, it's the moments that take your breath away." – Hitch (Watch it on Amazon) 
#96. "Most of all, I'm scared of walking out of this room and never feeling the rest of my whole life the way I feel when I'm with you."

– Dirty Dancing (Watch it on Amazon) 
Need more? Certainly, a binge watch of the following classic romantic movies is in order. Moreover, make it a dinner date with pizza and wine.
#95. "Death cannot stop true love. All it can do is delay it for a while." – The Princess Bride (Watch it on Amazon) 
#94. "I am who I am because of you. You are every reason, every hope, and every dream I've ever had." – The Notebook (Watch it on Amazon) 
#93. "I guarantee there'll be tough times. I guarantee that at some point, one or both of us is gonna want to get out of this thing. But I also guarantee that if I don't ask you to be mine, I'll regret it for the rest of my life, because I know, in my heart, you're the only one for me." – Runaway Bride (Watch it on Amazon) 
#92. "I have not slept for fear I would wake to find all this a dream." – Ever After (Watch is on Amazon) 
#91. "Love is a leap!" – Kate and Leopold (Watch it on Amazon) 
#90. "You want the moon? Just say the word and I'll throw a lasso around it and pull it down."

– It's a Wonderful Life (Watch it on Amazon) 
#89. "After all … I'm just a girl, standing in front of a boy, asking him to love her." – Notting Hill (Watch it on Amazon) 
#88. "You are so beautiful it hurts." – Pearl Harbor (Watch it on Amazon) 
#87. "I promise to love you forever, every single day of forever." – Twilight (Watch it on Amazon) 
#86. "I wanted it to be you. I wanted it to be you so badly." – You've Got Mail (Watch it on Amazon) 
#85. "There is so much to say. I cannot find the words. Except for these – I love you!" – Somewhere in Time (Watch it on Amazon) 
Romantic Quote: For Boyfriends and Husbands
It's the twenty-first century, ladies! Therefore, it's time to make you man feel appreciated. Similarly, if you're single and crushing, consider making the first move with these quotes!  Likewise, these quotes are also perfect for gay couples to use. That is to say, love is love!
#84. "A flower cannot blossom without sunshine, and man cannot live without love." – Max Muller
#83. "I seem to have loved you in numberless forms, numberless times, in life after life, in age after age forever." – Rabindranath Tagore
#82. "You never lose by loving. You always lose by holding back." – Barbara De Angelis
#81. "Loving is not just looking at each other, it's looking in the same direction." – Antoine de Saint-Exupéry
#80. "The real lover is a man who can thrill you by kissing your forehead or smiling into your eyes or just staring into space."

– Marilyn Monroe
Similarly, you can make the man in your life feel extra loved with these delightful additions. For instance…
#79. "All you need is love. But a little chocolate now and then doesn't hurt." – Charles Schulz
#78. "I wasn't expecting you. I didn't think that we would end up together. The single most extraordinary thing I've ever done with my life is fall in love with you. I've never been seen so completely, loved so passionately and protected so fiercely." – Beth Pearson
#77. "Don't forget I'm just a girl, standing in front of a boy, asking him to love her." – Anna Scott
#76. "I love that you are my person and I am yours, that whatever door we come to, we will open it together." – A.R. Asher
#75. "You are my greatest adventure."

– Mr. Incredible
Likewise, don't forget about these gems:
#74. "I would rather share one lifetime with you than face all the ages of this world alone." – Arwen, Lord of the Rings
#73. "I'm not perfect. I'll annoy you, piss you off, say stupid things, then take it all back. But put that all aside and you'll never find a person who cares or loves you more than me." – Unknown
#72. "They say when you meet the love of your life, time stops, and that's true." – Daniel Wallace
Romantic Quote By Nora Roberts
Above all, it's no surprise the queen of romance novels, Nora Roberts, has written some of our favorite romantic quotes! Take the following, for example…
#71. "Damn me to hell or take me to heaven, but for God's sake, do it now…." – Nora Roberts, The Stanislaski Brothers: Mikhail and Alex (Get it from Amazon) 
#70. "When you find somebody you love, all the way through, and she loves you—even with your weaknesses, your flaws, everything starts to click into place. And if you can talk to her, and she listens, if she makes you laugh, and makes you think, makes you want, makes you see who you really are, and who you are is better, just better with her, you'd be crazy not to want to spend the rest of your life with her." – Nora Roberts, Happy Ever After (Get it from Amazon) 
#69. "It's hard to resist a bad boy who's a good man."

– Nora Roberts, Happy Ever After (Get it from Amazon)  
It's even harder to resist these similar quotes that are written in the same vein …
#68. "Do you know how many ways love can hit you? So it makes you happy, or miserable? It makes you sick in the belly or hurt in the heart. It makes everything brighter and sharper, or it blurs all the edges. It makes you feel like a king or a fool. Every way love can hit you, it's hit me when it comes to you." – Nora Roberts, Black Hills (Get it from Amazon) 
#67. "I've never been the one. Not for anybody."
He closed the distance between them.
"You'll get used to it." He tipped her face up to his, kissed her.
"Why? Why am I the one?"
"Because my life opened up, and it flooded with color when you walked back into it."
– Nora Roberts, Vision in White (Get it from Amazon) 
#66. "A woman with romance in her life lived as grandly as a queen, because her heart was treasured." – Nora Roberts, Bed of Roses (Get it on Amazon) 
Romantic Quote: For Fans of Outlander
If you're an Outlander fan, then you already know the show is at no loss for romantic quotes by everyone's favorite Scot! That is to say, we had to add our favorite Jamie Fraser lines! In short, Jamie must be the romantic male lead on television right now. Meanwhile, Claire Fraser is the envy of many women.
#65. "Your face is my heart, Sassenach. And the love of you is my soul." – Jamie Fraser, Outlander
#64. "Ye werena the first lass I kissed, but I swear you'll be the last." – Jamie Fraser, Outlander
#63. "I always wake when you do, Sassenach. I sleep ill without ye by my side."

– Jamie Fraser, Outlander

 
Feeling inspired yet? But wait, there's more! For instance, these additional Jamie gems:
#62. "I can bear pain myself, but I couldna bear yours. That would take more strength than I have." – Jamie Fraser, Outlander
#61. "When the day shall come that we do part, if my last words are not 'I love you', ye'll ken it was because I didna have time." – Jamie Fraser, Outlander
#60. "Oh, aye, Sassenach, I am your master. And you're mine. Seems I canna possess your soul without losing my own." – Jamie Fraser, Outlander
*Watch Outlander on Netflix or check out the book by Diana Gabaldon.*
Romantic Quote: Weddings and Proposals
Firstly, you need to pop the question. Secondly, you need to write your vows. Thirdly, you'll need the perfect playlist for the big day. In short, we got you covered! Above all, these quotes will have you feeling the love on your big day. 
#59. "Happily ever after starts here!" – Author Unknown
#58. "My whole heart, for my whole life." – Author Unknown
#57. "You will forever be my always."

– Author Unknown
Furthermore, weddings are the ultimate expressions of love! That is to say, we love weddings and can't get enough of these quotes.
#56. "It was always you." – Author Unknown 
#55. "It's by your side I make my home." – Loving Wings by Dave Matthews Band (Get it on Amazon) 
#54. "From this day forward, you shall not walk alone. Your heart shall be my shelter and my arms will be your home." – Author Unknown
#53. "So this is love. So this is what makes life divine." – Disney's Cinderella
#52. "I choose you. My whole heart will be yours forever. This is a beautiful start to a lifelong love letter." – I Choose You by Sara Bareilles (Get it on Amazon) 
#51. "From this moment, life has begun. From this moment, you are the one. Right beside you is where I belong. From this moment on."

– From This Moment On by Shania Twain (Get it on Amazon)
However, the spotlight might be on the happy couple. Meanwhile, your guests will also be soaking up the love. Guests of honor might like to use these quotes, for example, go give a killer speech and therefore toast to the bride & groom!  
#50. "I swear, by the moon and stars in the sky, I'll be there. For better or worse, till death do us part, I'll love you with every beat of my heart. I swear." – I Swear by John Michael Montgomery (Get it on Amazon) 
Romantic Quote: Marriage and Long Term Relationships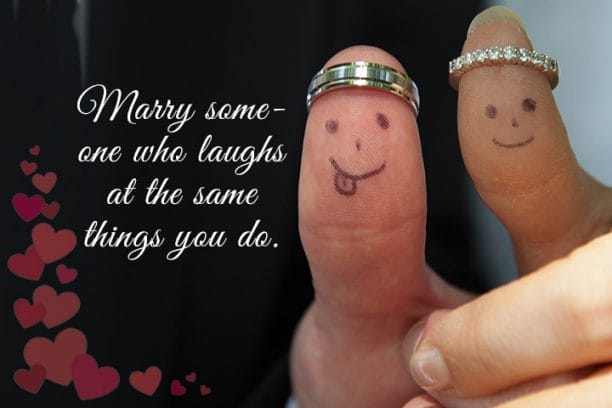 The honeymoon might be over, however your love is just beginning! To clarify, long term relationships can be difficult. Therefore, keep the magic alive with these sweet nothings. These quotes are truly inspiring. For instance, take the following examples…
# 49. "A successful marriage requires falling in love many times, always with the same person." – Mignon McLaughlin
#48. "Real love isn't just a euphoric, spontaneous feeling – it's a deliberate choice; a plan to love each other for better and worse, for richer and poorer, in sickness and in health." – Seth Adam Smith
#47. "A perfect marriage is just two imperfect people who refuse to give up on each other." – Author Unknown
#46. "Mature love has a bliss not even imagined by newlyweds."

– Boyd K. Packer
So, maybe the secret to a happy marriage is in one of these wholesome quotes? For instance, this next quote:
#45. "Marriage is a mosaic you build with your spouse. Millions of tiny moments that create your love story." – Jennifer Smith
#44. "The best thing to hold onto in life is each other." – Audrey Hepburn
#43. "Love is that condition in which the happiness of another person is essential to your own." – Robert A. Heinlein
#42. "A true love story never ends." – Author Unknown
#41. "I choose you and I'll choose you over and over and over. Without pause, without a doubt, in a heartbeat. I'll keep choosing you."

– Author Unknown
Furthermore, these quotes are just so adorable! Take these for example:
#40. "You're pretty much my most favorite of all time, in the history of ever." – Author Unknown 
#39. "Because of you, I can feel myself slowly, but surely, becoming the me I have always dreamed of being." – Tyler Knott Gregson
Romantic Quote: Anime and Manga
Firstly, we admit anime characters can be dramatic with their declarations of love. Secondly, we don't care because they get the point across! Perhaps we can learn from them! Thirdly, here are some our favorite sweet anime moments. 
#38. "Heh, I guess somehow without me knowing, it just feels so natural now, to have Kagome by my side." – Inuyasha
#37. "The moment you find the courage to give up your life for someone would be the moment you understand love."

– Kenshin Himura, Rurouni Kenshin
#36. "Love is like a mirror that reflects your bad side. Especially when it's unrequited, you get envious, jealous, prejudiced, and resentful. You have to face all sorts of emotions, but there's no reason to find that shameful." – Margery Daw, Shakugan No Shana
#35. "Love, passion, why do we get caught up by such troublesome feelings? The mind couldn't ever get things straight, and you lose control to know what is sensible. Deep down it's all so vexing." – Usui Takumi, Maid Sama
#34.  "Love is never as simple as sharing the same path." – Khamsin, Shakugan No Shana
#33. "I want to be with you. From now on, I want to spend all and every single one of my days until I die with you, and only you." – Naruto Uzumaki, Naruto
#32. "Of course I'll stay with you. No matter what happens. Forever and ever."

– Nagisa Furukawa, Clannad
Most importantly, who can resist swooning for these? Certainly these quote inspire entire monologues of romantic words. For instance, check out the following examples: 
#31. "If it's possible for one person to be hurt by another, then it's possible for that person to be healed by another." – Sohma Hatori, Fruits Basket
#30. "Even If I lose this feeling, I'm sure that I'll just fall in love with you all over again." – Syaoran Li, Cardcaptor Sakura
#29. "You may not believe me but, even before he told me his name, I felt as if I already knew who he was." – Takashi Nanami, We Were There!
#28. "I was younger then. I wasn't afraid of anything. I didn't think about dying for a second. I thought I was invincible. Then I met some girl. I wanted to live. I started to think like that. For the first time, I was afraid of death. I had never felt like that before." – Spike Spiegel, Cowboy Bebop
#27. "Don't ever lie, even if it's about your feelings." – Misaki Ayuzawa, Maid Sama
#26. "When it comes to people you really love, you don't care about yourself."

– Kurosawa Yamato, Junjou Romantica
Meanwhile, we're feeling very kawaii as a result of these quotes. We could add many more. However, here are just a few more of our favorites.
#25. "It was like you brought color to my life. You changed my life, all by yourself." – Sawaka Kuronuma, Reaching You
#24. "I can't forget the times we spent alone together. They leave me wanting more." – Sawako Kuronuma, Reaching You
#23. "Someday my memories will fade, and her voice, her actions, I might forget them as well. But I will always remember that I loved Saber." – Shirou Emiya, Fate Stay Night
Romantic Quote: Young Adult Fiction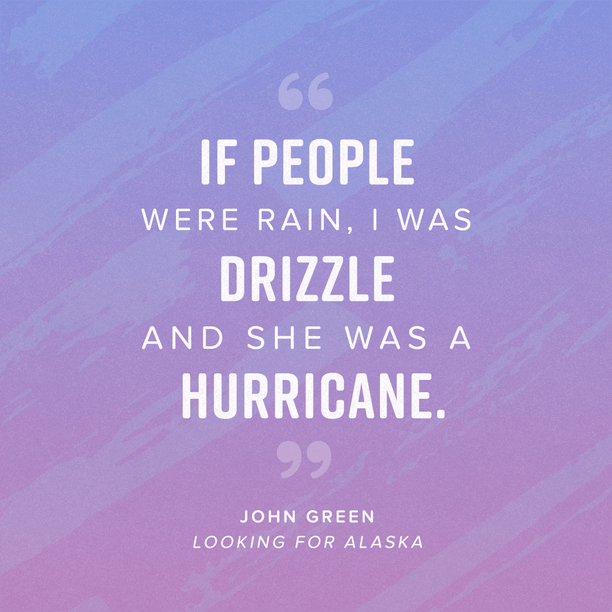 There's something about coming-of-age love that always leaves a lasting impression. Therefore, we had to include the best lines from our favorite YA Romance novels. That is to say, this is a bit like highlighting our favorite passages. To clarify, though, we would never do that to a real book. Check out these examples.
#22. "The way I feel about him is like a heartbeat—soft and persistent, underlying everything."

– Simon vs The Homosapiens Agenda by Becky Albertalli (Get it on Amazon) 
#21. "I didn't know you this morning, and now I don't remember not knowing you." – The Sun is Also a Star by Nicola Yoon (Get it on Amazon) 
#20. "If we had our entire lives ahead of us I bet you'd get tired of me telling you how much I love you because I'm positive that's the path we were heading on. But because we're about to die, I want to say it as many times as I want—I love you, I love you, I love you, I love you." – They Both Die at the End by Adam Silvera (Get it on Amazon)
#19. "I'm not going far. I'll always be here. Just an inch away. I promise."  – Five Feet Apart by Rachael Lippincott (Get it on Amazon) 
#18. "If longing is madness, then none of us are sane." – Crier's War by Nina Varela (Get it on Amazon) 
#17. "Who made this boy think I had time for him? Got me out here wasting all my good words. But then he smiles. Dimples popping out on both cheeks like billboards for joy and I stumble over my own feet."

– With the Fire on High by Elizabeth Acevedo (Get it on Amazon) 
Do you think the author's skill is the result of a real life romance? We like to think so! That is to say, these quotes are just too good. For instance, take the following examples…
#16. "I thought, this is the most incredible thing I have ever seen, and I had better keep it a safe distance away from me. I thought, if someone like that ever loved me, it would set me on fire. And then I was a careless fool, and I fell in love with you anyway." – Red, White, and Royal Blue by Casey McQuiston (Get it on Amazon) 
#15. "The thing is, you don't forfeit your whole world to prove your feelings to someone. You bring your worlds together. You get more world, not less." – Opposite of Always by Justin A. Reynolds (Get it on Amazon) 
#14. "I would teach my body to regrow my heart each time I gave it to him, over and over and over again. Heart after heart after heart—every one of them his." – The Gentleman's Guide to Getting Lucky by Mackenzi Lee (Get it on Amazon) 
#13. "Love is a powerful thing, more powerful than blood, although both run through us like a river."

– Legendborn by Tracy Deonn (Get it on Amazon) 
Certainly, we could add a million more examples to this list! However, you might get a tummy ache from all the sweetness. Therefore, we'll subsequently leave you with these two final excellent YA romantic quote instances. 
#12. "He looked at you the same way you look at roads. […] Like where they go frightens you, and you love them for it." – The Merciful Crow by Margaret Owen (Get it on Amazon) 
#11. "It feels like the world is going to explode when I kiss you." – The Upside of Falling by Alex Light (Get it on Amazon) 
Romantic Quote: Long Distance Relationships
In today's digital age, more people are subsequently forming relationships online. For instance, through phone apps, social media, and for example chat rooms. As a result, this trend comes with unique challenges. Such as, for example, geographical distance. As such, it's no wonder there are romantic quotes just for this occasion!
#10. "Distance means so little when someone means so much." – Author Unknown
#9. "How lucky am I to have someone who makes saying goodbye so hard." – A.A. Milne
#8. "Love's involved with spending time together, but spending time apart can lead to loving even more." – Tyler, Remember Me (Watch it on Amazon) 
#7. "Tonight, I will look up at the moon and I will know that somewhere you are looking at it too."

– Dear John by Nicholas Sparks (Get it on Amazon) 
Above all, Nicholas Sparks (author of The Notebook) certainly is a national treasure in the same vein as Nora Roberts when it comes to romance! Therefore, we couldn't resist listing several examples of his famous romantic lines! In that same vein, get ready for these last few powerful romantic quotes. For instance, we love this next example:
#6. "The reason it hurts so much to separate is because our souls are connected." – The Notebook (Watch it on Amazon) 
#5. "While I sleep, I dream of you, and when I wake, I long to hold you in my arms. If anything, our time apart has only made me more certain that I want to spend my nights by your side, and my days with your heart." – Nights in Rodanthe
#4. "True love cannot be contained by borders; it penetrates miles, zip codes, and state lines." – Author Unknown
#3. "When two people are meant for each other, no time is too long, no distance is too far; no one can ever tear them apart."

– Author Unknown
#2. "Distance is not for the fearful, it's for the bold. It's for those who are willing to spend a lot of time alone in exchange for a little time with the one they love. It's for those who know a good thing when they see it, even if they don't see it nearly enough." – Meghan Daum
And, finally, our number one quote! Certainly, we wish we knew the author of this one. However, whoever said it firstly, we think it's the perfect embodiment of that sweet longing we feel when we're missing someone. Moreover, this is a quote that, when you close your eyes, you can feel what the author is saying. Most importantly, it says a lot in very few words. It's powerful. To clarify, it doesn't get better than this expression:
#1. "I can't wait until I can roll over at 2 AM to find your lips, instead of a text."

– Author Unknown

Certainly, that was a long list. However, we're betting you're in full love-mode now and ready to express those feelings. So, what are you waiting for? Go tell that special person how you feel. Most importantly, love is the simple things in life. That is to say, if words fail you, try showing how you feel with your actions. A simple act of kindness goes a long way.
As a result, your kind gesture might be the nudge they need to make the first move! 
That is to say, we hope you enjoyed this list!
In conclusion, which of these was your favorite romantic quote? Similarly, do you have a favorite romantic quote that we missed? Let us know in the comments!
If you like this post, then check out these Beautiful Relationship Love Quotes!