Prepared to set sail on a sea of swashbuckling romance? We've collected a trove of 24 captivating pirate romance books that will surely have you craving the salty air of the seven seas!
These books are full of passion, adventure, and enough romantic plunder to make Blackbeard blush. So batten down the hatches and get ready to be swept away by the tempting tales of love on the high seas.
Table of Contents [CLICK HERE TO OPEN]
Pirate Romance Book List
It's time to embark on a literary voyage filled with hook-handed heroes, captivating wenches, and enough steamy encounters to throw you overboard. Get ready to hoist the anchor and immerse yourself in the tantalizing world of pirate romance.
The Pirate Lord – Sabrina Jeffries & Deborah Martin
A Splendid Opportunity
A shipload of women—theirs for the taking! Pirate captain Gideon Horn couldn't be more delighted. His men are tired of wandering the high seas and want to settle down with wives on the uncharted island paradise they've discovered. And the women are bound to be grateful to be rescued from the life of drudgery awaiting them in New South Wales . . .
Lord, he's so clever!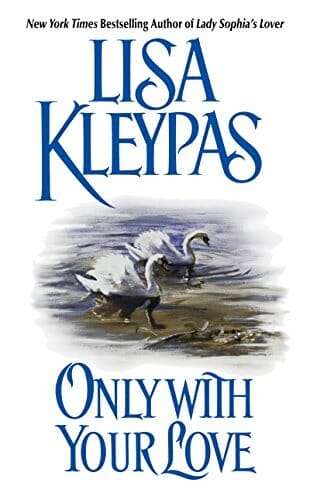 Only With Your Love – Lisa Kleypas
Celia Vallerand fears for her life as she stares into the deep, arresting eyes of the dashing man who purchased her from the brigands who had abducted her. But it soon becomes clear that it's her virtue, not her life, that's in danger. The rugged, powerful renegade known only as "Griffin" arouses desires in Celia as dangerous as they are forbidden. And though she knows she must resist him, she fears she may be unable to do so.
Regency Pirates: The Pirate Next Door – Jennifer Ashley
He certainly doesn't look like the gentlemen on her list—Grayson Finley, Viscount Stoke, is tall and sun-bronzed, muscular and blue-eyed. He wears dress so casual as to be unclothed—long coats, leather breeches, shirts without collar or cravat, and he carries pistols wherever he goes. And the way Grayson smiles at Alexandra whenever they pass in the street—sinful, blood-warming—turns her inside out.
In the middle of the night Alexandra hears shouting coming from the house next door. She rushes over in time to save Grayson from death. Death at the hands of his former best friend.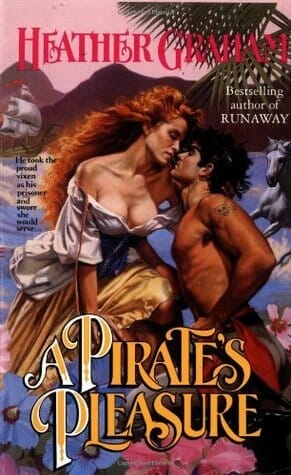 A Pirate's Pleasure – Heather Graham
He took the proud vixen as his prisoner and swore she would serve . . .

She was his defiant captive.

With her flame gold-hair and azure eyes, Skye Kinsdale was a prize beyond compare. Betrothed to a lord she'd never met, she set sail for America sworn to reject him on sight until the infamous pirate Silver Hawk seized her ship and banished all other men from her life. Burning with rage and passion, she was determined to destroy the arrogant buccaneer, to be free at any cost . . .

He was her keeper . . . and her slave
Captured – Beverly Jenkins
Captured is a high-stakes historical romance from Beverly Jenkins, award-winning author of Night Song and Jewel, in which a stunning young slave and a roguish privateer share forbidden passion on the high seas.
Seduced by a Pirate – Eloisa James
Seduced by a Pirate is an original, RITA-award winning e-novella from New York Times bestselling author Eloisa James. Sir Griffin Barry is one of the most feared pirates on the high seas, piloting the Flying Poppy, a ship he named after the wife whom he fondly (if vaguely) remembers, since they were together only a matter of hours.
What happens when a pirate decides to come home to his wife…if she is his wife, given that the marriage was never consummated? And what happens when that pirate strolls through his front door and is met by…
Well, that's a surprise!
Looking For A Hero – Patti Berg
Sometimes the most unusual things wash up on the beach, but nothing stranger or more exciting than the cutlass-wielding pirate Kate Cameron finds on her own treasure island.
By his own admission he's pillaged, plundered, and taken one or two lives. But Kate has a knack for looking beneath the surface and soon realizes that maybe, just maybe, Morgan's heart isn't as black as the history books claim.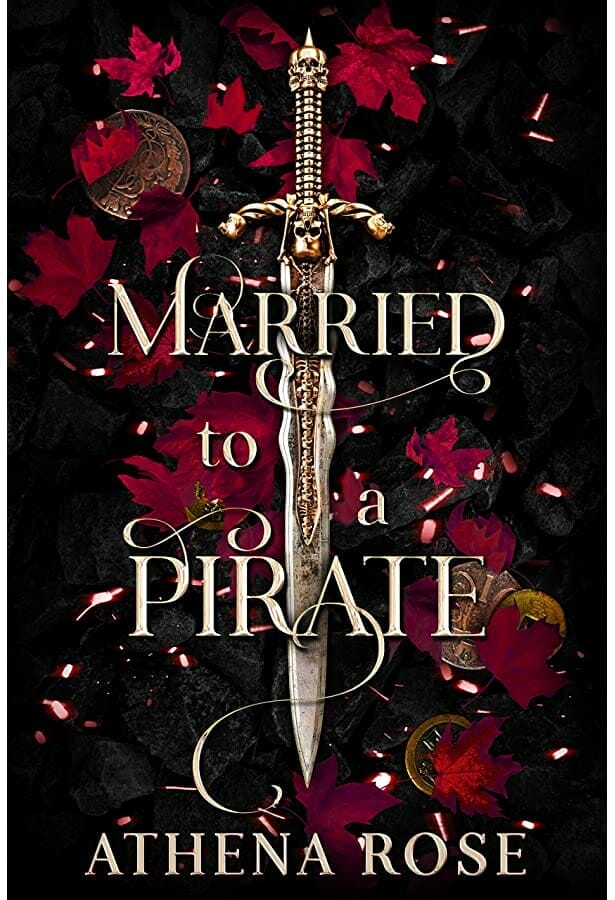 Married to a Pirate: A Dark Pirate Romance Books – Athena Rose
Georgette Harrington had never imagined that her life would be turned upside down in a single night. She was set to marry the handsome Prince Edward, a life of luxury and riches laid out before her. But the fates had other plans, and a band of ruthless pirates invaded the palace, taking her as their captive.
With each passing day, she finds herself falling deeper and deeper in love with the man who holds her captive.
Captive of the Pirate King: A Standalone Pirate Romance Book – Rebecca F. Kenney
Veronica wants nothing more than to find her brother, who sailed away years ago. But when Veronica's ship is captured by pirates, she's determined to save her own skin, while keeping her magic and her gender a secret. Disguised as male, she finagles a spot as a cabin boy aboard the buccaneers' vessel–which is bound for Ravensbeck, a stronghold where the Pirate King holds sway. He may have the answers Veronica seeks–but getting those answers could cost her more than she's willing to pay.
A Pirate's Love (Avon Historical Romance) – Johanna Lindsey
Sailing westward toward the Caribbean sun, young Bettina Verlaine obediently sets out to fulfill the promise made by her father–but not by her heart — a prearranged marriage destined not to be…once the notorious Captain Tristan's pirate ship appears on the horizon.
Abducted by the bold and handsome brigand, the pale-haired beauty surrenders her innocence in the warm caress of the tropical winds — detesting her virile captor for enslaving her. . .yet loving him for the passionate spell he casts over fragile, yearning heart.
Savage of the Sea: Scottish Pirate Romance – Eliza Knight
When Highland pirate prince, Shaw "Savage" MacDougall was invited to a deadly feast, he didn't know that saving a wee lass would forever change his future.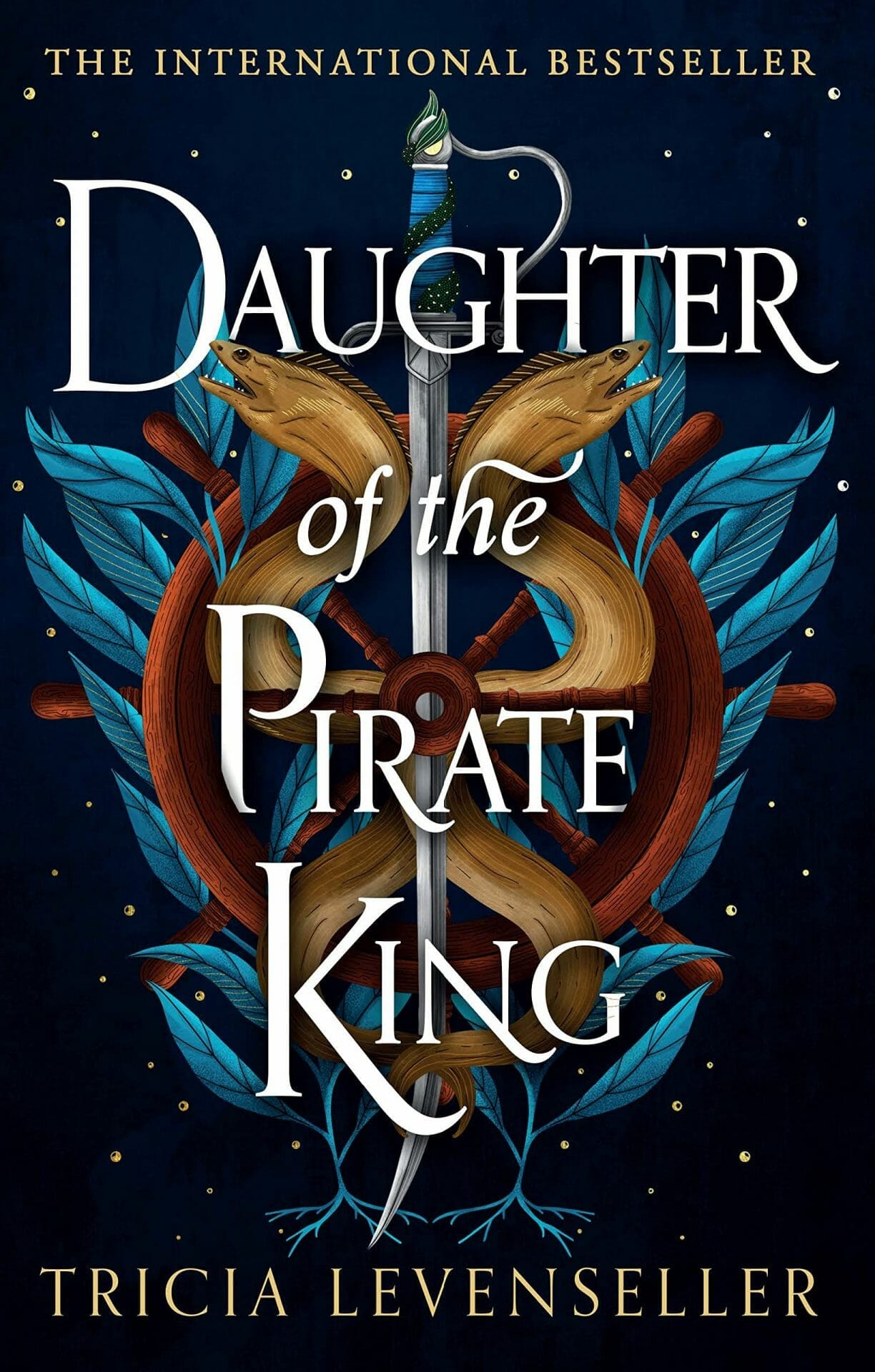 Daughter of the Pirate King – Tricia Levenseller
There will be plenty of time for me to beat him soundly once I've gotten what I came for.

Sent on a mission to retrieve an ancient hidden map—the key to a legendary treasure trove—seventeen-year-old pirate captain Alosa deliberately allows herself to be captured by her enemies, giving her the perfect opportunity to search their ship.

More than a match for the ruthless pirate crew, Alosa has only one thing standing between her and the map: her captor, the unexpectedly clever and unfairly attractive first mate Riden. But not to worry, for Alosa has a few tricks up her sleeve, and no lone pirate can stop the Daughter of the Pirate King.
Kidnapped by the Pirate – Keira Andrews
Will an innocent captive surrender to this pirate's sinful touch?
Kidnapped by the Pirate by Keira Andrews is a breeches-ripping gay romance featuring a tough pirate too afraid to love, a plucky captive half his age, enemies to lovers, first times and exploration, and of course a happy ending.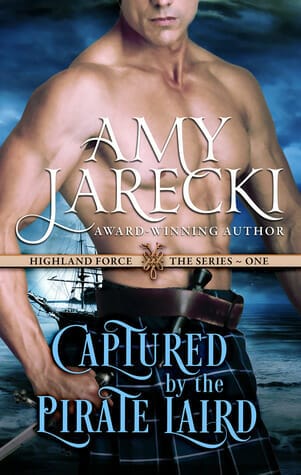 Captured by the Pirate Laird – Amy Jarecki
Wed by proxy to a baron old enough to be her grandfather, Lady Anne trudges up the gangway of a galleon that will deliver her into the arms of a tyrant. Crestfallen, she believes her disastrous life cannot get worse—until she awakes to the blasts of cannon fire.
With no other choice, Laird MacLeod takes Anne to his crumbling keep on the isle of Raasay and sends a letter of ransom to her husband. In time, Anne grows to understand MacLeod's plight and finds it increasingly difficult to resist Calum's unsettling charm—until the baron sends a reply agreeing to terms.
The Price of Pleasure – Kresley Cole
Kresley Cole returns with a breathtaking romantic saga of love, honor, and passion unbound — as a man of duty faces his greatest trial, and a young castaway discovers her greatest desire….
The Other Miss Bridgerton – Julia Quinn
While visiting a friend on the Dorset coast, Poppy is pleasantly surprised to discover a smugglers' hideaway tucked inside a cave. But her delight turns to dismay when two pirates kidnap her and take her aboard a ship, leaving her bound and gagged on the captain's bed…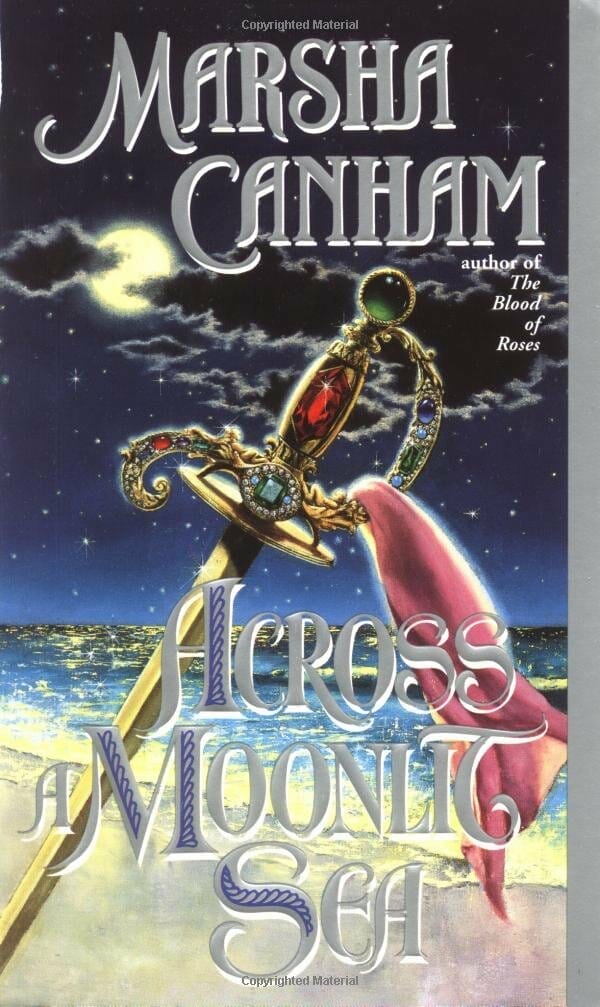 Across a Moonlit Sea – Marsha Canham
A rip roaring high seas adventure set in Elizabethan England when dashing privateers known as sea hawks banded together to guard their country and their queen against the Invincible Armada being amassed by Spain. Simon Dante, the Pirate Wolf, meets his match in battle and in love when he crosses swords with Isabeau Spence. Together they join forces with Sir Francis Drake on a daring attack on Cadiz.
Island Flame – Karen Robards
Lady Catherine Aldley was en route to London when pirates attacked her ship. Just in time, Captain Jonathan Hale rescued her from his own men, sweeping her into his arms, staking his claim on the pampered daughter of England's ambassador to Portugal. All Catherine had were her wits and the will to beat her captor at his own game. His searing kisses kindled unfamiliar passions, but she vowed to make him her prisoner of desire…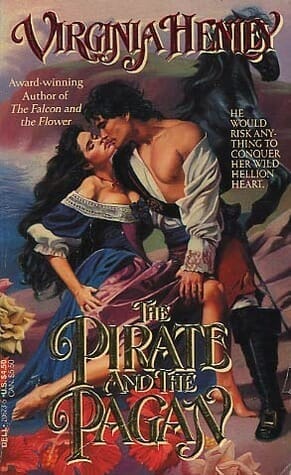 The Pirate and the Pagan – Virginia Henley
Wild as a pagan goddess, Lady Summer galloped her stallion along the Cornish coast. She had dabbled in the smuggler's game to save her family estate, but a wealthy marriage would better serve her purpose now. Lord Ruark Helford seemed the answer to her reckless prayers. But as his hot, hungry kisses drew her toward deception and irresistible acts of love, she had to hesitate. Would this arrogant, handsome lord be her ticket to heaven–or hell?
Gentle Rogue – Johanna Lindsey
Heartsick and desperate to return home to America, Georgina Anderson boards the Maiden Anne disguised as a cabin boy, never dreaming she'll be forced into intimate servitude at the whim of the ship's irrepressible captain, James Mallory.
The black sheep of a proud and tempestuous family, the handsome ex-pirate once swore no woman alive could entice him into matrimony. But on the high seas his resolve will be weakened by an unrestrained passion and by the high-spirited beauty whose love of freedom and adventure rivals his own.
Guardian Angel – Julie Garwood
The Marquess of Cainewood vows to hunt down the pirate wretch in revenge for his brother's death. But when Jade, an enchanting vision of rippling red hair and eyes of jewel-green, appears at his door to beg desperately for his protection, the Marquess agrees to keep her safe from the villains who want her dead.
Jade is infuriating, exasperating, and gorgeous. No woman has ever befuddled him so, nor so deeply aroused his desire. But as Jade answers Caine's knowing caresses with an innocent, wild abandon, they are drawn into a web of treachery that will test the very heart of their love…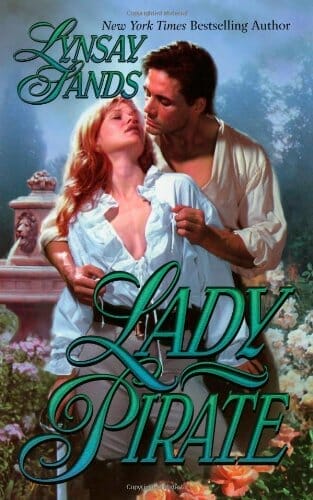 Lady Pirate – Lynsay Sands
No executor would ever hand over the estate to an unmarried pirate wench and her infamous crew. The will distinctly states that in order to inherit, Valoree must be married to a nobleman . . . and pregnant.
Upon learning that, the virgin captain is ready to return to the seas—but her crew has other ideas.
Sea of Ruin – Pam Godwin
Bennett Sharp is on the run.
Wanted for piracy, she fears neither God nor death nor man.
Except Priest Farrell.
The unfaithful, stormy-eyed libertine hunts her with terrifying possessiveness. Nothing will stop him from coming for her. Not his unforgivable betrayal. Not when she's captured by the ice-cold pirate hunter, Lord Ashley Cutler.
She must escape Ashley's prison and Priest's deceit. But can she walk away from their twisted desires?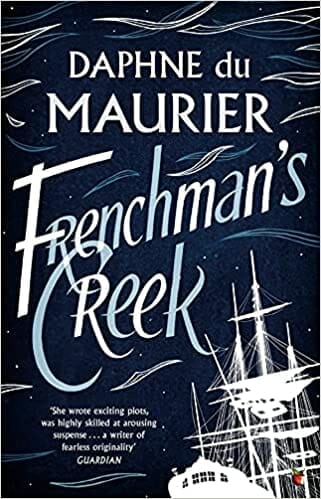 Frenchman's Creek – Daphne du Maurirt (A Pirate Romance Book)
Bored and restless in London's Restoration Court, Lady Dona escapes into the British countryside with her restlessness and thirst for adventure as her only guides. Eventually Dona lands in remote Navron, looking for peace of mind in its solitary woods and hidden creeks. She finds the passion her spirit craves in the love of a daring French pirate who is being hunted by all of Cornwall. Together, they embark upon a quest rife with danger and glory, one which bestows upon Dona the ultimate choice: sacrifice her lover to certain death or risk her own life to save him.
Other Books Genres You May Enjoy
Pirate Romance books are a common trope within the Historical Romance genre. If you've exhausted all of the possibilities for treasure-hunting vagabonds, why not try dipping your toes into some of these sub-catagories of Historical Fiction?
Regency Romance Books
The Secret Service of Tea and Treason – India Holton
A Rogue's Rules for Seduction – Eva Leigh
Royalty Romance Books
Red, White & Royal Blue – Casey McQuiston
A Nordic King – Karina Halle
The Selection – Kiera Cass
Scottish Historical Romance Books
Beyond the Highland Mist – Karen Marie Moning
In Bed with a Highlander – Maya Banks
Frequently Asked Questions about Pirate Romance Books
What is steamy romance books?
Steamy romance books are books which contain some sexual content. However, we note that this content is usually milder in nature and not as explicit as spicy romance novels. These are more prevalent in contemporary novels.
Are pirate romance books a genre?
Whilst not an official genre, it falls somewhere in Historical Fiction.
What is closed door romance books?
The easiest way to define a closed door romance is a book that centers on a romantic relationship developing people that has no on-page sex scenes. The door is proverbially closed to the reader. If a sex scene occurs, it is up to the reader's imagination only!
---
Enjoyed these Pirate Romance books? Why not try some Mafia Romance Books?