Get An Exclusive Look Inside LOST IN LITTLE HAVANA by Caridad Pineiro
And Enter To Win A $15 Gift Card + Free Book!
New York Times Bestselling Author Caridad Pineiro is celebrating her book LOST IN LITTLE HAVANA (South Beach Security Book 1) by giving away amazing prizes to 3 lucky winners! Click here to enter.
Each brush with death
Makes their shared desire harder to ignore
Detective Roni Lopez has been keeping a secret from Detective Trey Gonzalez her whole life. When his partner is gunned down in a Miami Beach nightclub, she has a new secret to keep. Trey can't know that she's working for Internal Affairs—just like he can't know that she's always loved him. But when their lives are on the line, she has to make some tough choices about what really matters…
From Harlequin Intrigue: Seek thrills. Solve crimes. Justice served.
Discover more action-packed stories in the South Beach Security series. All books are stand-alone with uplifting endings but were published in the following order:
1: Lost in Little Havana
2: Brickell Avenue Ambush
3: Biscayne Bay Breach
Get Your Copy Here
Excerpt From Lost In Little Havana by Caridad Pineiro
Roni rode the elevators to the lobby and strolled out onto the steps of the hotel. She looked around and realized that Trey was sitting off to one side of the wide veranda at the front of the hotel.
He sauntered to her and laid a hand at her waist. "Are you okay?"
"I am," she said, and they walked toward the valet at the curb.
"Mia and Carolina said Wilson took you into his private room. What happened in there?" he asked, searching her features for any sign of upset.
"You're not going to believe me when I tell you." She displayed the card with the phone number and said, "He wanted a gaming partner."
Trey examined the card as they reached the curb. A valet rushed up to them and he passed the man the ticket for the convertible. The young man sprinted away to get their car.
"I don't get it," Trey said and returned the card.
"We played a video game. All night. And it turns out Miles is his half brother."
Trey shook his head. "The weird feeling Mia and Carolina got was—"
"Off, but not in a way we should worry about. I mean, it is weird, but aren't there a lot of eccentric millionaires?" she said with a quick wobble of her head.
Trey cursed, but just then a car turned the corner with the screech of tires on the pavement and veered into the wrong lane of traffic in front of the hotel. The dark muzzle of a gun poked from the driver's-side window.
"Get down," Trey screamed and hauled her to the ground behind a parked car, covering her body with his as a spray of gunfire pinged against vehicles and shattered glass.
After the gunfire had ended, he helped her sit up. "You okay?"
"I'm okay," she said, even though there was a burning sensation along her right arm.
Trey muttered a curse. "You're hit."
There was only a small graze on her upper arm. "I'm okay," she said and accepted his help to get to her feet. She wobbled on the high heels, but he steadied her.
"Are you sure?" he asked even as a police car jerked to a halt in front of the hotel, lights flashing, casting eerie red and blue lights that battled with the neon from the buildings along the strip. A second cruiser arrived a second later and the officers streamed from their vehicles to check on those who had been on the sidewalk when the shooting started.
Trey and Roni did the same. Trey pulled his out from his pocket and Roni slipped her hand beneath the hem of the dress to the holder wrapped high around her thigh. They showed the badges to the officers and civilians they helped.
Luckily no pedestrians or hotel patrons had been shot, and there were only minor injuries from people diving out of the way to avoid the gunfire. The EMTs tended to them and Roni. After, Trey and Roni worked with the other officers to take down names and get as many firsthand accounts as they could about the car and shooter.
Captain Rogers arrived in a squad car just as they were heading into the hotel to request the videos from their security cameras. "Lopez. Gonzalez. Do you have any idea if this was related to your investigation?"
Sadly, there had been a number of shootings on Ocean Drive and nearby areas. "It's possible, but we can't say for sure," she said.
Rogers gestured to her arm, which had been bandaged by one of the EMTs "Are you okay?"
She nodded. "I'm fine and we have witness accounts of the car and driver as well as our own observations."
"Good. Let's go see what those security videos have for us," Rogers said.
---
Meet The Author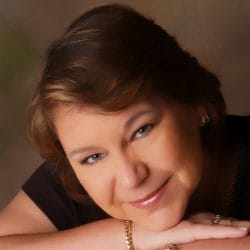 Caridad Pineiro is a transplanted Long Island girl who has fallen in love with the Jersey Shore. When Caridad isn't taking long strolls along the boardwalk, she's also a NY Times and USA Today bestselling author with over a million romance novels sold worldwide. Caridad is passionate about writing and helping others explore and develop their skills as writers. She is a founding member of the Liberty States Fiction Writers and has presented workshops at the RT Book Club Convention, Romance Writers of America National Conference as well as various writing organizations throughout the country. You can connect with Caridad at her website. For more information about Caridad, visit www.caridad.com.
Interview With Caridad Pineiro
Q: Welcome, Caridad! Tell us about your publishing journey. Did you always want to be an author?
CP: In the fifth grade, my English teacher made us write a book to put in a class lending Iibrary . I had always made stories up in my head, but that assignment made me realize I could put those stories down on paper. I went home and started writing and I knew from then on that I wanted to be an author.
Q: What is your favorite trope to write and why?
CP: I actually have two favorite tropes: friends to lovers and second chance at love.
Lost in Little Havana is about friends to lovers since Trey and Roni have grown up together but neither of them has acted on their mutual attraction. But when their investigations bring deadly danger, they finally give in to their feelings.
Q: What is your book about?
CP: Even though Lost in Little Havana is a romantic suspense, it's also about the importance of family and friends. When Trey and Roni find themselves in danger, it's family and friends that help to keep them safe and solve the mystery of Trey's murdered partner and stop the human trafficking ring that Roni was investigating.
Q: Tell us about your heroine. What inspired her quirks and struggles?
CP: Roni is a strong powerful woman who is trying to make it in the very masculine dominated world of the Miami Beach Police Department. She's proven herself to be a smart and brave detective, but she also wants to have a personal life with her family and the right man. The only problem is that she hasn't worked up the courage to let Trey know just how she feels about him after years of being friends.
Q: Tell us about your hero. What motivates him?
CP: Trey comes for a long line of men who have served their country both as Marines and on the police force. He's trying to make a name for himself apart from the legacy of his family and the security agency they've founded. When he's shot during an investigation and his partner is murdered, he's determined to find out who is responsible. But when those investigations threaten Roni's life and his, Trey knows he has to call on his family to help solve the crimes.
Q: Why did you choose your setting?
CP: One of the fun things about being a writer is going to all kinds of different places in my stories. Since starting to write for Harlequin Intrigue, I've been able to visit Colorado, Seattle, and Idaho and I thought it was time for a totally different locale. Because of that, I decided on the Miami area to give readers a chance of pace. I also chose Miami because I'd been there a number of times and I think that gives greater authenticity when describing the locations.
Q: What do you like to do when you're not writing?
CP: When I'm not writing, I like to cook, garden, bowl, take strolls on the boardwalk and last but not least, read. I am blessed to live close to the beach and the best time of year is the summer because the weather is great and I get to sit under my beach umbrella and just read for hours.
This Or That Questions:
Coffee or Tea? Coffee in the morning and tea in the afternoon.
Coke or Pepsi? Neither. Diet Dr. Pepper
Book or Movie? Hands down BOOK
Morning or Night? Morning
Shower or Bath? Shower
City or Country? Country
Print or Ebook? Print
Spiders or Snakes? Ugh. Neither.
Summer or Winter? Summer
Early or Late? Early
Haunted Mansion or Un-haunted Shack? Un-haunted shack.
Enter To Win Amazing Prizes From Caridad Pineiro
Click Here.
Got your copy of LOST IN LITTLE HAVANA by Caridad Pineiro? Let us know your thoughts in the comments below.
Like this post? You might also enjoy BEYOND SALVATION by Barbara Nolan.