Zoe Matthews – Sweet Historical Romance
"Zoe Matthews tells fun, clean stories about people in difficult circumstances who find happily ever afters. Her stories are set in historical settings and have a good dollop of interesting little known historical facts. Very glad to have them in my library." Reviewer
"A wonderful love story I enjoyed reading it very much such a heart warming and clean romantic
Read. Just couldn't put it down. Mrs Matthews is a great author." Reviewer
"I love stories that depict the courage required mail order couples to have marriages. This is how I enjoy studying history!" Reviewer
Desert Dreams (Harvey Girls Romance Series, Book 1)
$0.99
or read FREE with Kindle Unlimited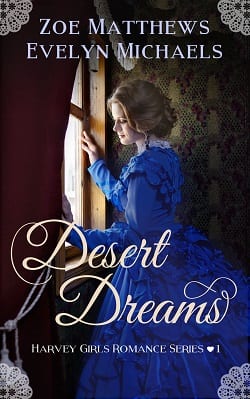 Lizzy grew up on a farm in Kansas as the oldest child of eight children. She spent her days caring for her siblings and working on the farm. One hot summer day, her parents gave her an ultimatum; marry a man her father chose for her or move out. Not wanting to marry a man who is almost as old as her father and knowing she was just another mouth to feed, she decides to apply for the position to be a waitress with the Fred Harvey Company, who owned many fine eating establishments along railroad lines, including the Santa Fe Railroads.
Three years later, Lizzy is still working as a Harvey Girl and enjoying her new life and her job at the El Tovar Hotel near the Grand Canyon. Then her life is about to drastically change once again when she meets widower Nicholas Montgomery and his two young sons. Will they both be able to put their pasts aside and admit their love for each other?

Read FREE with Kindle Unlimited
Desert Wishes (Harvey Girls Romance Series, Book 2)
$1.99
or read FREE with Kindle Unlimited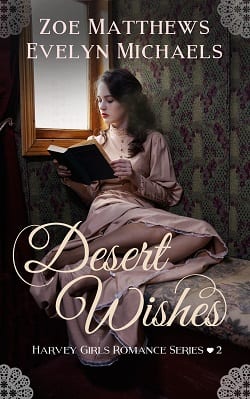 Emily has suffered the ultimate trial. She lost her soulmate in death only six months after they married. Having a difficult time coping with Cliff out of her life, a few weeks later she learns that she is pregnant with Cliff's child.
After her baby is born, she does everything she can to be a good mother to her daughter, but Emily's sister and her husband have other plans for the child, plans that don't include Emily.
In order to support her baby, Emily makes the hard decision to become a Harvey Girl. What happens next helps Emily see there is someone else she can trust, someone who offers her a new life so she can keep her baby, someone who shows her that love can happen twice in a lifetime.

Read FREE with Kindle Unlimited
An Unexpected Family (Orphan Train Romance Series, Book 1)
$0.99
or read FREE with Kindle Unlimited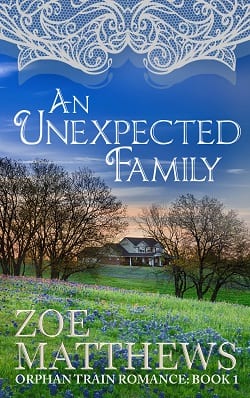 This series is based on a group of children from the Children's Aid Society, a New York orphanage who travel on an orphan train to Texas. Each story will feature some of the children and what happens to them as children and adults, while throwing a little sweet and inspirational romance into the mix.
In this story, Craig Parker,a local farmer, has been asking widowed Amanda Drake for over a year to marry him, to which Amanda has refused each time. They hear about a train full of orphans coming to their town in Texas and both want to adopt a child as a single parent. When meeting with the Town Council, they are both individually given permission to adopt.
Complications arise as Amanda must make a decision that will affect her future and the future of her crippled adopted daughter. Will a marriage of convenience to Craig be the right step to take or should she stay single and raise her daughter on her own? Will she find an unexpected family?

Read FREE with Kindle Unlimited
Also available on B&N
The Promise of a Family (Orphan Train Romance Series, Book 2)
$0.99
or read FREE with Kindle Unlimited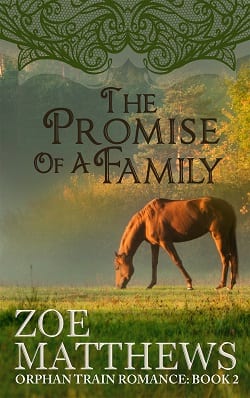 Lydia finds out at her father's deathbed that he has arranged for her to marry the son of an old family friend, Clinton, who owns a cattle ranch in Maple Grove, Texas. At first, Lydia rejects the idea, but then certain circumstances happen that make it so Lydia decides to honor her father's wishes and goes through with the marriage.
Five years later, Lydia and Clinton discover they will not be able to have children. They hear about an orphan train that will be arriving in Maple Grove. They decide together to adopt a baby or young child.
But on the day the orphans arrive in their town, they discover there aren't any babies or young children available. Should they adopt an older child? And if they do, will they be able to deal with all the problems that can go along with adopting older children? Will Lydia and Clinton get their promised family?

Read FREE with Kindle Unlimited
Mail-Order Brides of America: Iowa Destiny (Book 1)
$0.99
or read FREE with Kindle Unlimited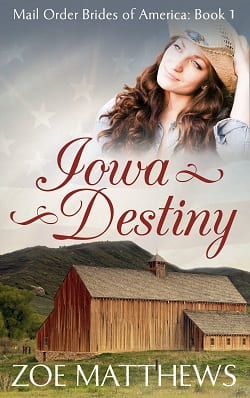 This series features an orphan girl who lives in "Mary's Home for Girls" which is located in North Carolina. As each girl becomes an adult, some choose to become a mail-order bride. Each story will be based in a different state and will be a stand-alone.
Having been abandoned as an infant, Savannah grew up in an orphanage in North Carolina. When she was 15 years old, she was given the opportunity to live in Mary's Home for Girls which was operated by a kind childless couple.
Five years later, Savannah knew it was time to leave and allow another girl to take her place. She decides to become a mail-order bride and starts to write Austin, a man who lives in Iowa.
Austin owns a farm he inherited. He loves working the land, but he is lonely and wants a wife to share his life with. After following advice from his best friend, he brings Savannah to Iowa to marry.
But marriage wasn't all he had expected. There are adjustments that needed to be made on both sides and neither of them realize they are hurting the other. Then the unthinkable happens and he loses his wheat harvest in one day. Austin decides he needs to leave and find a job so that they can make it through the winter months.
When he returns, will they both be able to forgive each other and make the changes needed? Will Savannah realize her Destiny is in Iowa with Austin?

Read FREE with Kindle Unlimited
Mail-Order Brides of America: Texas Hearts (Book 2)
$0.99
or read FREE with Kindle Unlimited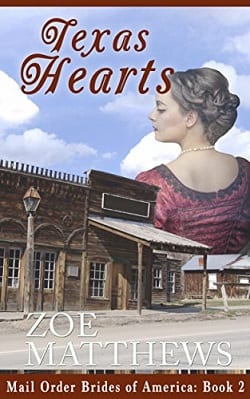 Clara is one of the lucky ones. At the age of fifteen she was chosen to live at Mary's Home for Girls, a home that takes in girls who need a second chance.
She wants to jump at the chance to leave the orphanage she had been living at for the past year, but there was one problem, she would have to leave her little brother,Cooper, behind. She decides to go, with the idea that in a few years she would be able to get a job and support Cooper.
Five years later, she is still at Mary's Home. She worked at a job she hated, making very little money. She knows she is never going to be able get her brother out of the orphanage with little money.
Then Clara receives a letter from Savannah, who became a mail-order bride a few months prior. Savannah is very happy with her new life. Clara decides to also become a mail-order bride and starts to write Walker, a man who is sheriff for a small town in Texas.
When Walker asks her to travel to Texas to marry him, she is ready to go and leave North Carolina behind. Except now she has another decision to make. Walker doesn't know about Cooper. Does she dare bring him along anyway? Will Walker be able to accept them both and form a new family?

Read FREE with Kindle Unlimited
About the Author: Zoe started writing as a young teenager and has kept that passion alive throughout her life. At any one time she can be found relaxing and devouring a good western romance novel or gathering information for one of her own future books.
She loves living in the high mountain deserts of the western United States. Her hobbies include photographing desert landscapes and her adorable grandchildren as well as dabbling in watercolors.
Contact Links: