Tuesday Romance Reads To Devour 6/18
Parental Guidance
Avery Flynn
$3.99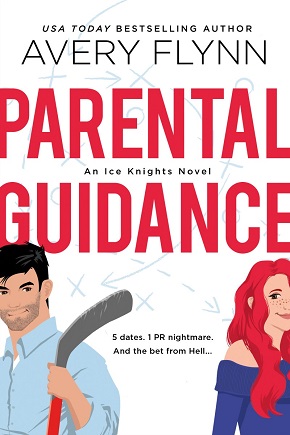 All I want is to play hockey on the Ice Knights, instead, I'm in a viral video for all the wrong reasons and my mom—yes, my mom—has taken over my dating apps. Then, when I think it can't get any worse, the fates deliver Zara Ambrose, a five-feet-nothing redhead with more freckles than inches and who'd rather be anywhere other than on a date with me.
Now a bet with her friends and my PR nightmare have us both stuck in this go-on-five-dates-with-the-same-person hell situation. But if we band together, we can get the whole thing over with and go on with our lives. It's perfect! No feelings. No future. No fuc— *ahem* fun. No naked fun.
What could go wrong? Nothing—as long as I remember the rules. Don't notice the way she looks in a dress. Don't react when she does that little shivery sigh thing whenever we touch. Don't think about the fact that she's never had a toe-curling orgasm that wasn't self-delivered and just how badly I want to change that.
Five dates—that's it—and then we go our separate ways. At least, that was the plan.
Nine: The Tale of Kevin Clearwater
T.M. Frazier
$3.99
Nine lives.
Nine inches.
One chance to make her his.
Preppy's brother is about to live up to the family legacy in more ways than one.
This is the story of Nine, The Tale of Kevin Clearwater.
Electricity
Claire Gem
$4.99
She's an electrician starting over with her son. New town, new job, new life.
He's a coworker who's interested in more than her ability to run conduit.
The building they're rewiring was once an insane asylum…
Mercedes Donohue pulled up roots in Atlanta when her marriage imploded. She's come back to New England, to the place where she was born. Mercy's focus is to stabilize her teenage son's life—he took the breakup pretty hard—and to establish her place, gain the respect of Progressive Electrical's team.
She never expected so many sparks to fly so soon, both on the job and after hours.
Daniel Gallagher has been alone since his fiancé's death. He'll never feel that way about any woman again, and will certainly won't try with another independent, strong-willed one. Then Mercy short-circuits his plans.
Although the asylum closed its doors over thirty-five years ago, it seems some of the patients never left . . .
If you like a heart-melting romance laced with healthy dose of supernatural thrills and chills, you'll love Electricity.
Blake's Bombshell
Loni Ree
FREE
"In the back of my mind, a thought whispers through – surely, after the week I've had, fate wouldn't be that cruel to me. Would it?" Famous last words. -Lucy Steele
All Lucy Steele wants is one night out to drink and forget the train wreck happening in her life. A hot stranger promises to distract her from her troubles, and she takes him up on his offer. But one spectacular night turns her entire life upside down when her mystery lover turns out to be a close associate of her family. To avoid more drama, Lucy runs from her new lover and tries to put the night behind her while she works on improving her life.
Blake David can't believe the gorgeous woman he let flee is his best friend's niece. When he can't forget Lucy, he decides to pursue her, but a misunderstanding causes him to walk away.
Blake and Lucy soon realize their powerful feelings aren't temporary, but while they have been fighting their feelings for each other, fate has stepped in and changed the game.
Fate drops a bombshell on Blake that changes everything but is it too late to mend fences with Lucy?
Blake's Bombshell is book 2 in the Ryan Family Series. The stories run concurrently, but it is better if you read them in order.