Tracy Ellen – Captivating! Delicious! Enthralling!
"⭐⭐⭐⭐⭐  I have read these books a gazillion times and love them! Tracy Ellen has talent to write great books! When I grow up I want to be like her Bel. You will love Anabel too. This box set is a great start to an addiction that's only cure is the next adventure! Would make a great gift!" Amazon Reviewer
"⭐⭐⭐⭐⭐  Anabel & Luke are my favorite book couple. They rock the smart & sexy to the max. I've actually read the whole series and recommend it highly. Endearing cast of characters round out the story."
Get in on the action with this amazing series by grabbing your copies below!
A Date With Fate
(The Adventures of Anabel Axelrod, Book 1)
FREE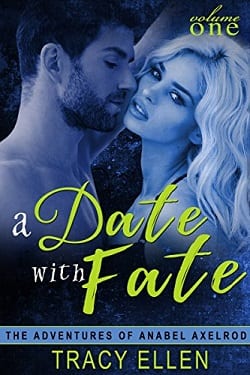 Reg. Price: 3.99
"Evanovich with lots more steam!"
SMART! SEXY! SASSY!
Meet Anabel Axelrod…witty, wicked, and all woman.
Anabel owns a bookstore in the small town she's lived in all her life. She is a girly-girl, a control enthusiast with rules about everything, and one determined woman. Determined not to fall in love and settle into a dull marriage with 2.5 kids.
Meet Luke Drake…brilliant, badass, and oh so built.
Luke is new in town. He is all powerful man, control is his middle name, and he's coolly determined. Determined to win Anabel, whatever it takes.
Eyes clash, worlds collide, and sparks fly when Anabel meets Luke, and she is appallingly fascinated by the sexy attraction she instantly feels for the not-too-tall, deliciously dark, definitely not handsome, but intriguingly hot man. But that's not her only problem. Many strange things are happening in the town of Northfield, Minnesota and Anabel is a magnet for trouble. From her family to her friends to Luke Drake, the sassy, blonde bookseller's perfectly uncomplicated life is suddenly turned chaotically upside down!
Will Anabel learn before it's too late that some rules are meant to be broken to find happiness and a certain mesmerizing complication might be worth the trouble–even if it kills her? Or will she learn that sometimes fate takes away our choices?
Don't miss this exciting debut book introducing a fabulously unique, ongoing series that is part steamy romance, part suspenseful mystery, and altogether wildly, belly-laughing fun! Enjoy the action, sexual fantasies & role playing, romance, witty banter, mystery, mayhem, friends, family, flashbacks, laughter, and an "OMG!" cliffhanger–all in one roller-coaster ride of a weekend! Get your FREE copy of A Date with Fate today!

Click here for all other available retailers >>
Box Set: The Adventures of Anabel Axelrod (Volumes I – III)
$5.99
Or Read Free With Kindle Unlimited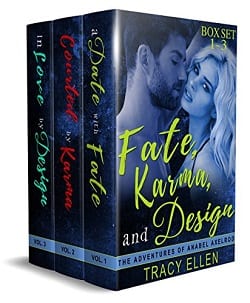 Reg. Price: 7.98
"Evanovich with lots more naughty steam!"
What happens when a brainy, blonde bookseller who's a magnet for trouble meets a not too tall, deliciously dark, and definitely not handsome new man in town operating under his own secret agenda? The Adventures of Anabel Axelrod ongoing series!
Join Anabel's world as she banters, spars, and drags her heels down the sometimes hilarious, sometimes treacherous, but always twisted path towards true love with the mysterious, seductive Luke Drake. From the first sparks of explosive attraction to the dreaded exclusive relationship, happily-ever-after has never been so wickedly fun or so excitingly dangerous! Pick up your Box Set today and join in the fun!
Come discover Tracy Ellen and The Adventures of Anabel Axelrod ongoing series! Earning hundreds of 5 STAR reviews, the series is filled with witty banter wonderfully depicted characters, thrilling action & suspense, and deliciously hot love scenes. The Adventures of Anabel Axelrod is a series that will captivate your interest forever. Reviewers often comment they are addicted to Anabel and read these books time and time again!

Adieu to Destiny (The Adventures of Anabel Axelrod Book 4)
$3.99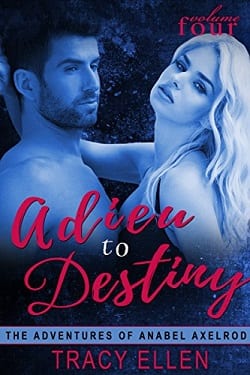 Love! Lust! Loyalty!
From fabulous girlfriend to freaking out fiancée, Anabel's white lace fantasies have never been about weddings. So when circumstances force her and Luke to wait on their engagement, Anabel lets out a huge sigh of relief.
Surrounded by crazed, pregnant brides-to-be all day, and having nightmares about Luke's Greek family legend of those predestined four babies all night, Anabel's secret relief quickly turns into a full-blown anxiety disorder at the thought of marriage–even to dreamy Luke Drake.
With little sleep, Anabel finds that dealing with a jealous murderess on the loose, nonstop family togetherness, big trouble brewing at Luke's company, and horrifying black circles developing under her eyes is no day at the park.
But then matters are taken out of Anabel's hands when Luke shockingly betrays and publicly dumps her. Stunned and furiously crushed by Luke's actions, Anabel discovers the lengths she is willing to go for love, lust, and loyalty, even as she uncovers the dark depths others will sink. You will not want to miss one word in the thrilling and tantalizing, Volume 4, Adieu to Destiny!
Fiending for more Anabel? FAMILY & FORTUNE, 5, COUPLED WITH CHANCE, 6, and THE KISS OF KISMET, 7, are available everywhere books are sold!

Click here for all other available retailers >>
Family & Fortune (The Adventures of Anabel Axelrod Book 5)
$3.99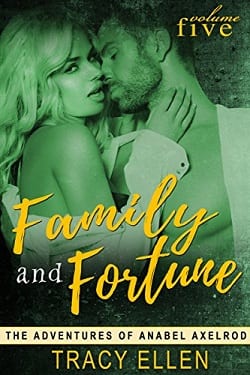 Sensual! Splendid! Shocking!
Floating on drama-free air, Anabel and Luke are reveling in their time spent together like a normal couple over the holidays before the Las Vegas weddings. But their sensual idyll can't last forever, especially when contrary to all the promises made in the ads, what happens in Vegas starts in Northfield. As the family weddings draw nearer, so does trouble. Anabel has to be on her toes like never before when confronted with a blackmailing ex-cousin, weird behavior from her niece, strangers asking odd questions in town, wedding havoc in the family, Vegas gangstas, jealous girlfriends, and a seriously freaky fan boy who may be more bite than bark. If Anabel doesn't play her tarot cards right, not even the talented Mr. Tricky can alter the shocking fortune destined to take her breath away–for good!

Click here for all other available retailers >>
Coupled with Chance (The Adventures of Anabel Axelrod Book 6)
$3.99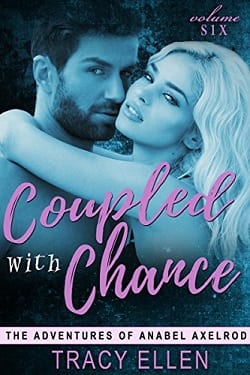 Sluggish, Still Single, and Shocked Senseless!
Anabel wakes up in her bed having overnight become the surrogate mother of four little boys. She's also swearing off destination vacation weddings as much too stressful.
But the stress has just begun!
Upon discovering that Luke has a past he forgot to share with the kidnapper-wannabe vampire-killer, Kyle Koch, Anabel questions if her fiancé will ever get the concept of partnership. Can Anabel take the chance to place her future happiness in the hands of a man with trust issues, even if those hands are magical?
Anabel and Luke's relationship will soon be put to the test. It will be trust or bust when the couple faces the demons from Luke's past, the Tasmanian devil in Anabel's family, and the hellishly darker side of parenting. After reading the compelling and enthralling COUPLED WITH CHANCE you may never look at relationships between couples, families, and friends quite the same way again!

Click here for all other available retailers >>
The Kiss of Kismet (The Adventures of Anabel Axelrod Book 7)
$3.99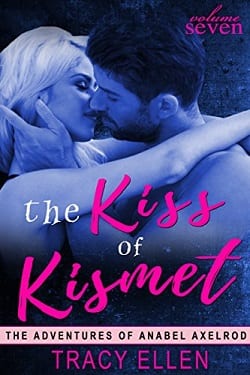 Captivating! Delicious! Enthralling!
Just because a girl has the pre-wedding terrors doesn't make her paranoid.
Practicing her new talent of situational awareness, Anabel Axelrod is sensing danger around every corner. She's convinced she's being stalked. Her best friend, Anna is convinced Anabel has a death wish.
With Luke's new business and the wedding extravaganza keeping him busy day and night, working in her bookstore is the only thing keeping Anabel from going crazy as she deals with threats to her comfort and future happiness coming from all directions.
Will Anabel be able to identify her true enemies to keep her promise to Luke to show up at their wedding on time, even if she wants to? Or will Anabel hop the next train to get out of town while she's still sane enough, and alive enough, to make a fast getaway!
Sparkling sexy and charmingly captivating, grab your copy today of The Kiss of Kismet, Volume VII in The Adventures of Anabel Axelrod ongoing series!

Click here for all other available retailers >>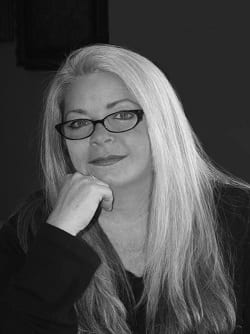 About the Author: Tracy Ellen was born in Indiana to middle-class parents, the third out of five hellions. As a kiddo, she often used her supernatural powers to compel her family members to listen to her talk and tell stories. When that tough crowd laughed of their own free will, Tracy knew the world would someday, somehow be her stage. Now she's a full-time author living her dream. She loves to write sexy, fun stories about strong, smart, & sassy women and the alpha men who love them. Tracy's resided in the Midwest her whole life–in a small town, on a farm, and in the big city. Currently, she lives in the suburbs of St Paul, Minnesota with her wonderful, incredibly tolerant husband and family.
Contact Links:
email: tracy@tracyellenink.com